Neighborhoods with the Best Farmers Markets in San Diego County
Neighborhoods with the Best Farmers Markets in San Diego County
At a farmers market, you can enjoy fresh, seasonal foods that are brought to you directly from the source (i.e. no storage, shipping, gassing, etc.). Meats, cheeses, and eggs are from animals that have natural diets, eat green grass, and are free of hormones and antibiotics. At any booth, you can talk to farmers and food artisans and learn about where the food comes from and how it's made. Farmers markets allow you to connect with your community as well as support your community by purchasing from local farmers and businesses. Buying food from farmers markets can also be environmentally friendly, since most local farms have minimal impact on the earth and don't transport their food from long distances.
While there are many farmers markets to go around, not all of them are weekly and operate like a well-oiled machine. If you like high-quality produce fresh from the farm, then you'll want to visit these neighborhoods with some of the best farmers markets in San Diego County.
Pacific Beach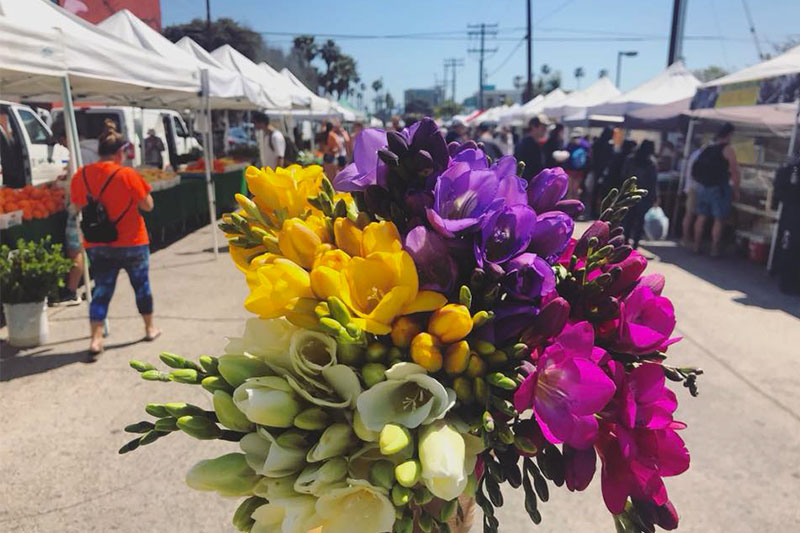 If you're heading toward the beach, you'll want to stop by the Pacific Beach Tuesday Farmers Market in the Pacific Beach neighborhood for some fresh produce to snack on while you enjoy the sand and surf. Located on Bayard Street between Garnet and Grand, the Pacific Beach Tuesday Farmers Market operates only on Tuesdays from 2 p.m. to 7 p.m. Here, you'll find a variety of fresh fruits, vegetables, cheeses, breads, eggs, and flowers, but also herbs, homemade spreads, dips, sauces, handcrafted artisan works, and most interestingly, gourmet dining options. "We love Da-Le Ranch and purchase our chicken, beef and sausage from them," said regular attendee Christine Brutschy Becker. "The California Olive has incredible olive oil and balsamic vinegars, and sometimes, the cheese man shows up."
Although this farmers market is cash-only, you can stop by the information booth to swipe your debit or credit card to purchase "Market Money," which is accepted by all vendors and never expires. This farmers market also accepts SNAP/EBT/CalFresh cards at its welcome booth as well as "Market Match," which allows the customer to receive up to $10 in matched EBT funds for additional fruits and vegetables, making it more affordable to purchase fresh produce.
North Park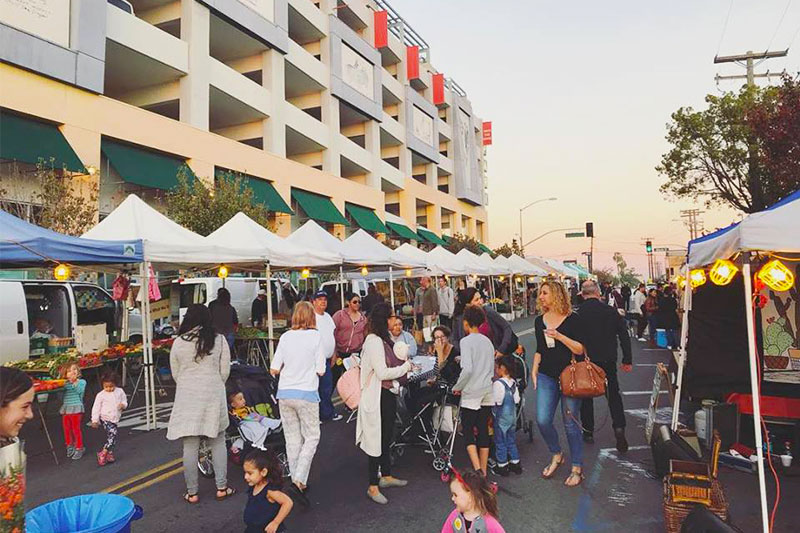 Open year-round, rain-or-shine is the North Park Thursday Market, which is open on Thursdays from 3 p.m. to 7:30 p.m. Located in the North Park neighborhood on North Park Way between 30th Street and Utah Street, this market offers pasture-raised meats, artisan breads, gourmet grocery items, gifts, home décor, globally-inspired on-site dining, and apparel choices from such vendors like Awakened Soul Apparel and Garminx. There are over 90 tents available at this family-friendly, outdoor event. Patrons can pay using EBT cards, and the market also offers the "Market Match" option to purchase fruits and vegetables at an affordable price point.
North Park's farmers market also includes a rotating San Diego-made crafters section as well as the Market Chef Demonstration Program, thanks to the support of Urban Solace Restaurant. Local chefs that offer demonstrations and recipes to attendees include Chef Matt Gordon (Urban Solace Restaurant), Chef Joanne Sherif (Cardamon Café and Bakery), Chef Abe Botello (West Coast Tavern), and Chef Rich Sweeney (Waypoint Public). You'll also find prepared food vendors offering a variety of international cuisine from North Park's only Indian food at Masala Cottage to Sabor Piri Piri's tastes of Africa.
Little Italy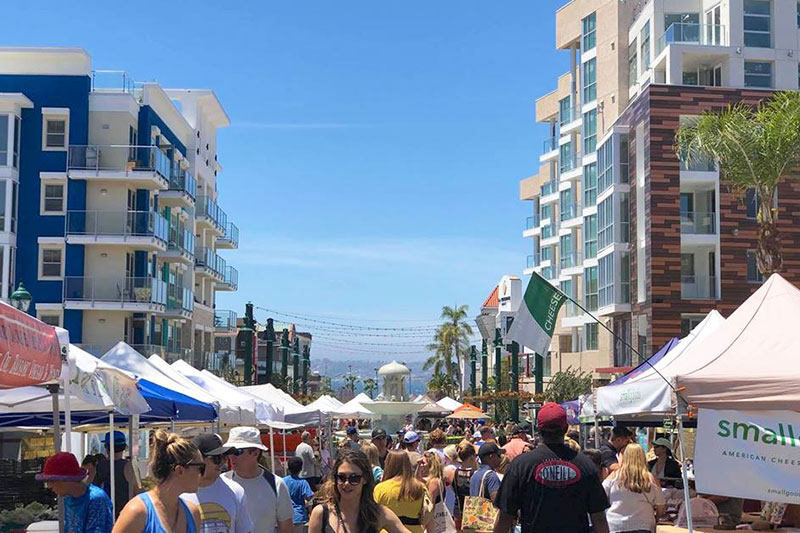 If you're in the historic neighborhood of Little Italy, then you'll want to stop by this bustling farmers market. Located on West Cedar Street between Kettner Boulevard and Front Street, the Little Italy Farmers Market, which is also known as the Little Italy Mercato, is open Saturdays year-round from 8 a.m. to 2 p.m. This farmers market supports family farms, local entrepreneurs, and offers gourmet grocery items. They have over 175 farmers and vendors, with a wide range of offerings from honey, nuts, locally made jams, seasonings, snacks, and artisan handcrafts. Some of the local farmers found in the market include the African Sisters Farm, Heritage Family Farms and Meljess Bees, JR Organics, Honeymoon Ranch, Rancho Mexico Lindo, Spring Hill Cheese, and more. "One of the best farmers markets around!" exclaimed attendee Christopher Buck Castorini. "I got plenty of fresh and organic items. The location is beautiful and most vendors are warm and inviting. Plus you're in Little Italy…great time!"