New Condo Joins River Oaks' Luxe Residential Landscape
New Condo Joins River Oaks' Luxe Residential Landscape
After a $100 million renovation, The River Oaks, a luxury condo building at the site of a mid-century apartment complex, is open in the upscale Houston neighborhood of the same name. As a testament to the development's high-end caliber, the building was initially offering a $14 million, 14,000-square-foot penthouse, but it was eventually split into two units asking $7.5 million each, according to the Houston Chronicle.
Units at The River Oaks start at $1.8 million and feature contemporary designs with vintage touches and modern art—allowing for a lock-and-leave set-up for the luxury crowd. Residents have access to high-end amenities including a 24-hour concierge, pet care, a dedicated dog park, massage rooms with an in-house masseuse, a dining room with catering, and even a "unique and luxurious mail room lounge."
The Houston Chronicle cited data from the Houston Association of Realtors showing that so far in 2018 (as of June), Houstonians have purchased 29 units in a mid- or high-rise building for at least $1 million apiece—up from 21 sales during the same period last year. Luxury condos are a growing sector of the Houston real estate market, and this new development joins others like it the high-end River Oaks neighborhood.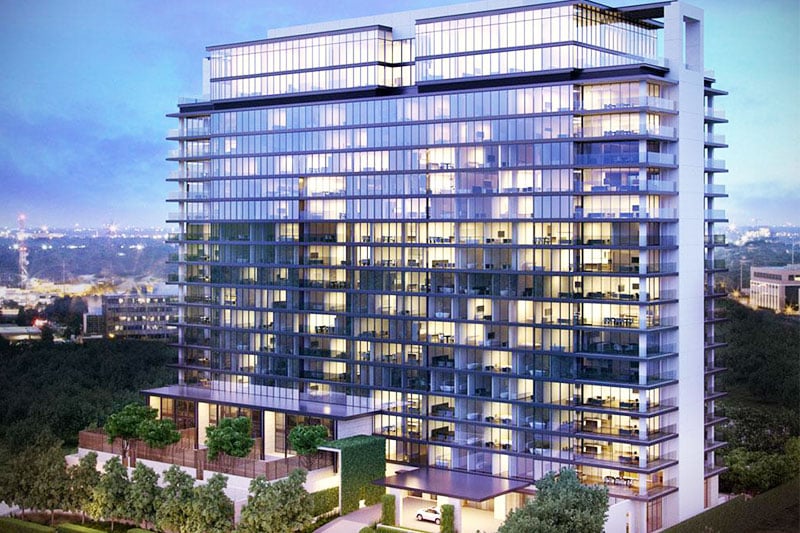 River Oaks Luxury Condos
The River Oaks joins The Wilshire in the River Oaks condominium scene. Opened in January 2018, The Wilshire is slightly more affordable than The River Oaks, with units starting at $699,000, but it doesn't skimp on luxury. The building has a spacious pool with cabana rooms and a "wet deck," overnight guest suites, a 24-hour concierge, and units with high-end finishes.
Another condo project in the neighborhood that opened recently—at the end of 2017—is the Arabella. Just down the road from the Wilshire, the building boasts prime views, spacious units, a dog salon, private elevator entries, and penthouses with terraces and "sky pools." Units here start at $1 million.
Single-Family Homes and Things to Do
Besides condos, River Oaks is known for sprawling estates occupied by well-to-do residents—so naturally, prices here are high. The current median sale price is $988,000, but houses can run up to $5 million.
Along Westheimer Road, residents can also enjoy numerous restaurants, wine bars, and nightlife stops clustered within the River Oaks District. Heading north to West Gray Street, there's the historic River Oaks Shopping Center. Boasting an art deco architectural style that dates back to the 1930s, the shopping center is visually distinct from many other locations in the city. The shopping center is also home to the historic River Oaks Theatre, a landmark that still appears nearly identical to how it looked when it opened a century ago. The neighborhood is also adjacent to Houston's most well-known shopping area, The Galleria, which includes many designer stores.
Besides shopping, the neighborhood is near Houston's Museum District, which includes the Menil Collection as well as some more under-the-radar institutions. River Oaks is also near Buffalo Bayou Park.