Phoenix Market Trends
New Developments Are Adding to Chandler's Booming Housing Market
Development of new residential communities in Chandler isn't slowing down. In fact, it's contributed to the booming housing market in the Valley. AV Homes of Arizona just purchased 18.8 acres at Gilbert Road and Ocotillo Road for just under $5 million, reports the Phoenix Business Journal.
"Builders are in need of more lots right now because the housing market is the best it's been since 2007," said Brian Rosella of Cushman & Wakefield in an article for Commercial Executive Magazine. "In the first quarter of 2018 we've seen a record number of residential land transactions. Overall volume and price per acre are up and we expect this to continue into 2019."
AV Homes plans to build 43 residential homes in the new development, which will be near the Quail Springs and Artesian Ranch neighborhoods, an area that typically features larger, reasonably-priced homes. With a booming housing market, AV homes joins multiple builders purchasing lots throughout Chandler to keep up with the demand of new homebuyers.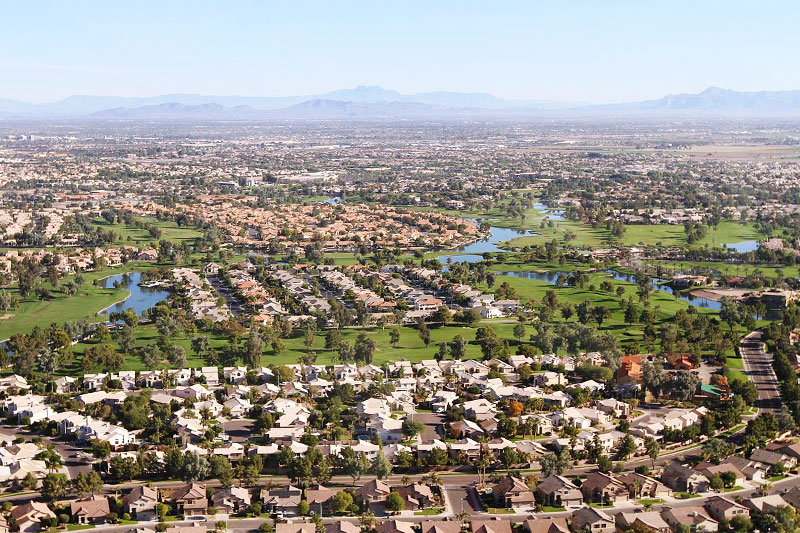 Chandler's Price Corridor is feeling the effects of a surging market for premiere real estate with the addition of high-end condominium communities. The area bordering neighborhoods like Clemente Ranch and Ocotillo was already a major draw for tech companies, making it one of the region's fastest-growing economic hubs.
Mattamy Homes also recently purchased undeveloped land at Pecos Road and Hartford Street, between San Marcos Estates and Southridge Estates, for $13.64 million. Dubbed Haven, the community is just over 37 acres and will host 179 detached single-family homes and 145 condo units.
Also, CalAtlantic began their newest enclave in Chandler—a gated community called Pescara. The community will consist of 46 homes and provide residents with easy access to shopping, dining, and high-performing schools within the Chandler Unified School District. The builder is currently selling homes priced in the high $400s and offering prospective homebuyers four floor plans to choose from ranging from 2,919 to 3,748 square feet.
One of the main reasons why Chandler has become favorable to homebuyers and builders as a prime location for new communities is likely due to several aspects of the city's rankings. Not only was Chandler touted as one of the best cities for veterans in Arizona, it was also chosen as one of the safest cities in America. In addition to its sterling reputation as a safe city and its affordable housing market, Chandler was also listed as one of the best cities to raise a family.