Chicago Local Life
4 Non-Boring Chicago Date Ideas
In a city as large and lively as Chicago, planning a date can be quite daunting. You might just end up defaulting to the classic dinner and a movie. We've taken the difficulty out of the search and found some date ideas that will make for a memorable night.
Ditch the dinner reservations and take a class on how to make your own gourmet dishes. Create something you can keep long after the date, and have a drink while doing it. Impress your date with breathtaking views of the city. Or, get moving and try out an exercise class that strays from the usual. Here is our list of four date ideas in Chicago and which neighborhoods you can find them in.
Take a Cooking Class
While a delicious meal out can be a good break from cooking at home, it can be expensive or difficult to get a table, especially on Valentine's Day. Taking a cooking class can not only help you ditch the microwaveable meals once and for all, but it can also be a way for you and your date to bond over making a meal together. And don't let the "class" part deter you from trying it out; the demos are informal, fun, theme-based, and can involve wine pairings.
Neighborhoods to Check Out:
River North: Located in The Merchandise Mart, The Chopping Block hosts cooking classes in demo kitchens designed to look like kitchens at home (there's also a location in Lincoln Square). Classes focus on specific dishes; are centered around global cuisines from Thailand, Spain, Greece, and more; or focus on specific cooking techniques. There are even occasional date-night themed classes.
Boystown: Nicknamed "The Party School of Cooking Classes," Get in the Kitchen specializes in "party" cooking classes that are BYOB, guarantee "hilarity," and provide opportunities to get to know other classmates or your date.
Bucktown: If you and your date want to get more serious about improving your culinary skills, Cook Au Vin is the place to go. The four-hour classes here teach participants how to cook entire French meals from start to finish, and classes start with bread and cheese before getting into the cooking. Bring your own bottle of wine because, after the lesson, the class sits down and enjoys the meal together.
Create Something Together
What better way to remember a date than to have a physical representation of the night? Throughout Chicago, there is an eclectic mix of DIY classes ranging from paint-and-drink classes to glassblowing and jewelry making. These events are perfect for first dates to break the ice or long-term couples looking to try something new.
Neighborhoods to Check Out: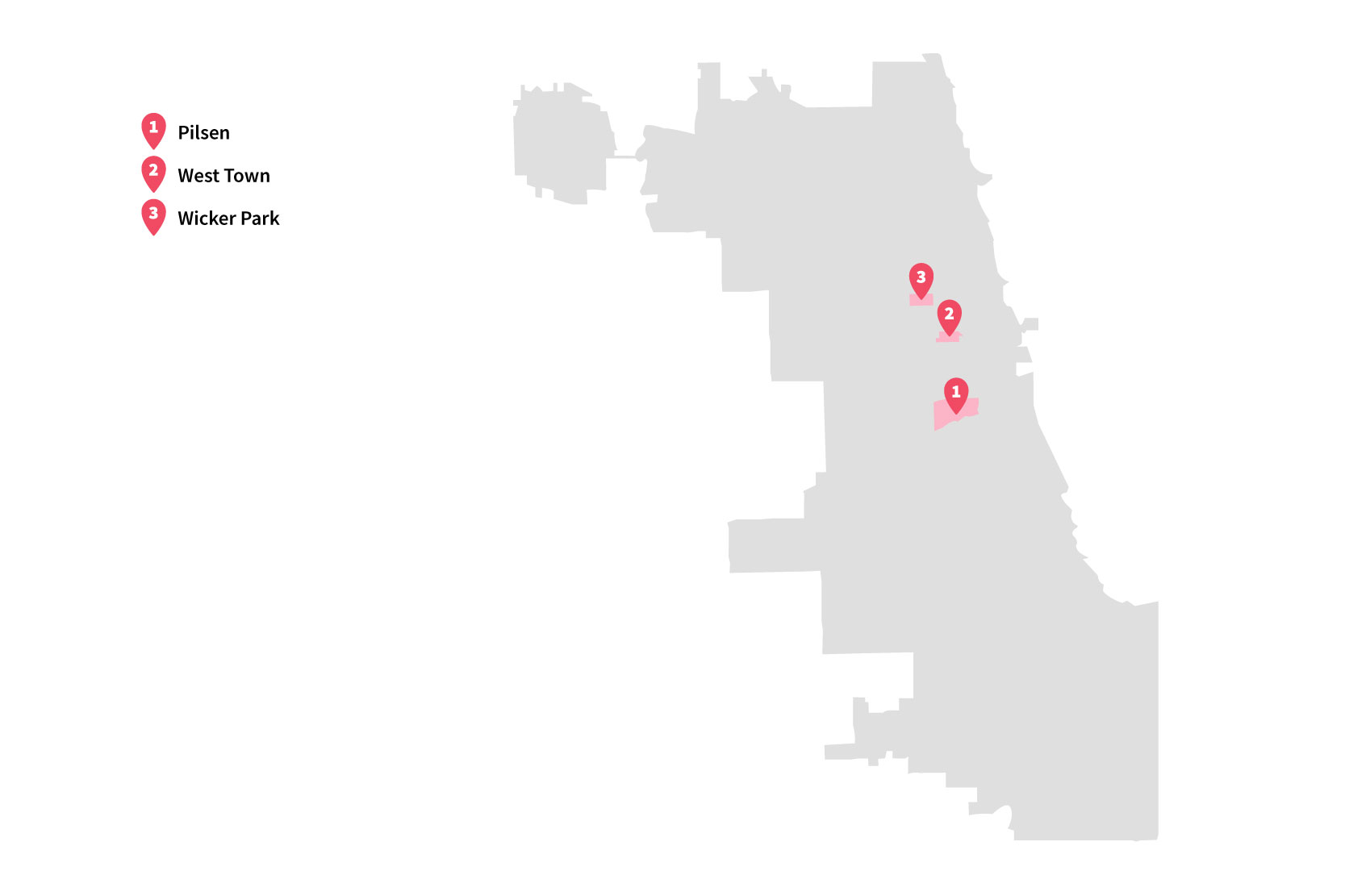 Pilsen: It's no surprise that this artsy neighborhood would be home to VIP Paints, an art studio that offers BYOB paint-and-sip nights as well as soy candle and soap making classes. The painting classes don't just stick to canvases; there are opportunities to paint your own wine glass, mug, or pint glass. For date night, keep an eye out for their couple classes where you paint one half of the canvas and your date paints the other.
West Town: While working with fire can be intimidating, the welcoming staff at Ignite Glass Blowing offers classes to beginners. Ignite hosts classes for creating your own drinking glass, trinkets, and small vases as well as themed classes like heart and cocktail glass classes for Valentine's Day.
Wicker Park: One Strange Bird curates goods from independent designers around the world as well as local artists. The store also has an art studio that hosts casual classes in terrarium making, jewelry making, and printmaking as well as paint-and-sips.
Have Dinner With a View
If you do opt to take your date out to dinner, make sure the view is something spectacular. Luckily in Chicago, there are plenty of breathtaking views—and not only of the city skyline. Check out one of these three restaurants that add ambiance and unforgettable scenery.
Neighborhoods to Check Out: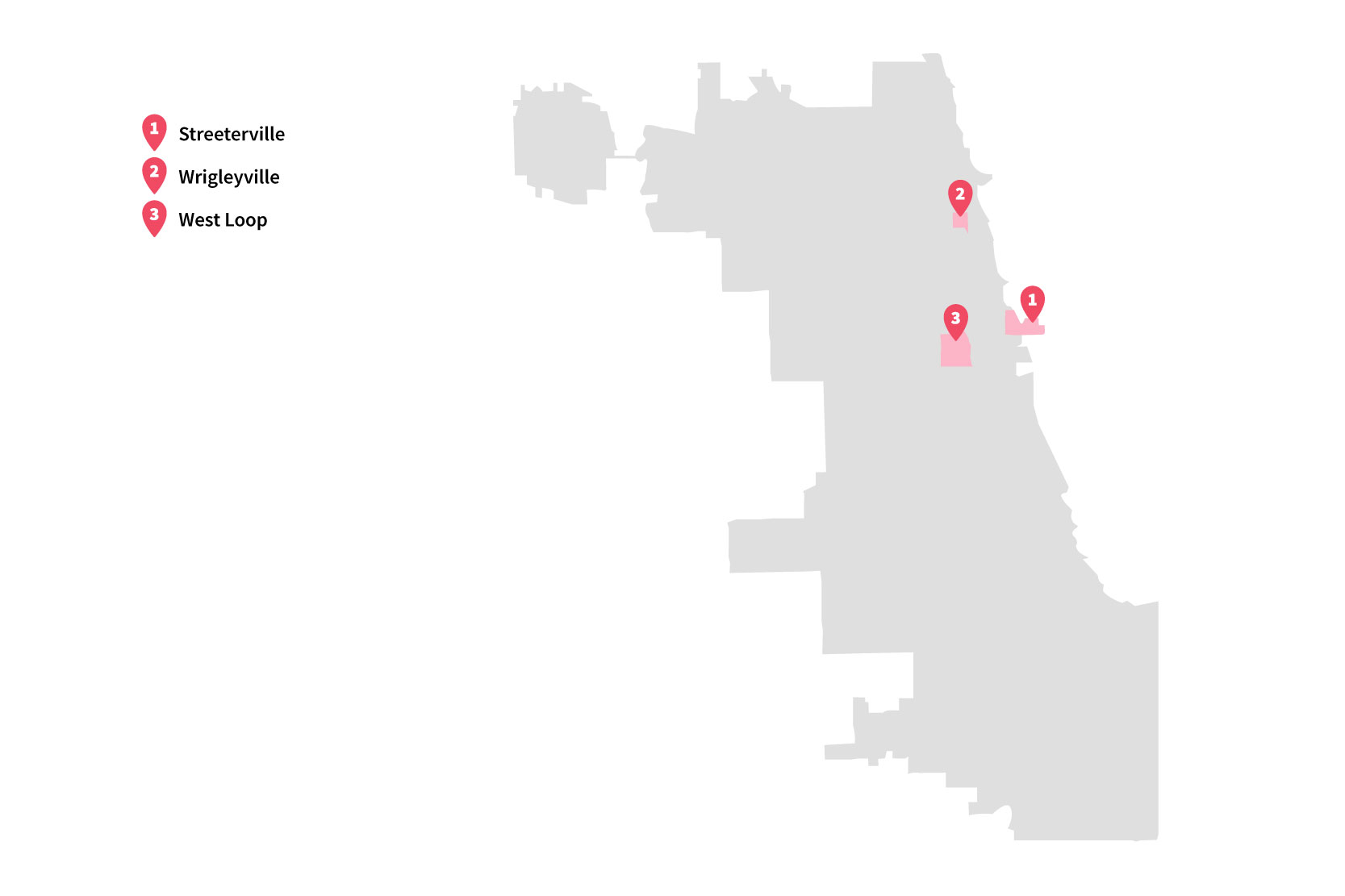 Streeterville: The Signature Room at the 95th in the former John Hancock Center has a dining room full of floor-to-ceiling windows that provide impressive views of Chicago. It's even been said that the views from the restrooms are some of the best in the city, too. Also, the food here is just as good as the views (try the seared sea scallops).
Wrigleyville: The two-story Dutch and Doc's has the perfect view of the iconic Wrigley Field marquee from the second floor. If the view isn't enough to draw you in, the food will be. Dutch and Doc's features upscale American dishes on both its brunch and dinner menus with favorites like stuffed French toast and crispy pork ribs.
West Loop: In a neighborhood known for some of the city's best restaurants (just walk down Randolph Street's Restaurant Row), Gibson's Italia offers excellent Italian dishes as well as a stunning view of the skyscrapers lining the river. Try to get a seat on the windows facing west to get the best view.
Get Physical
Physical exercise may not be the first thing that pops in your mind when you think of romance, but Chicago has a collection of fun and active date ideas. But don't worry—these won't be strenuous classes that prepare you for a marathon. These activities are intimate, could raise some friendly competition, or might introduce a new hobby you both may like.
Neighborhoods to Check Out: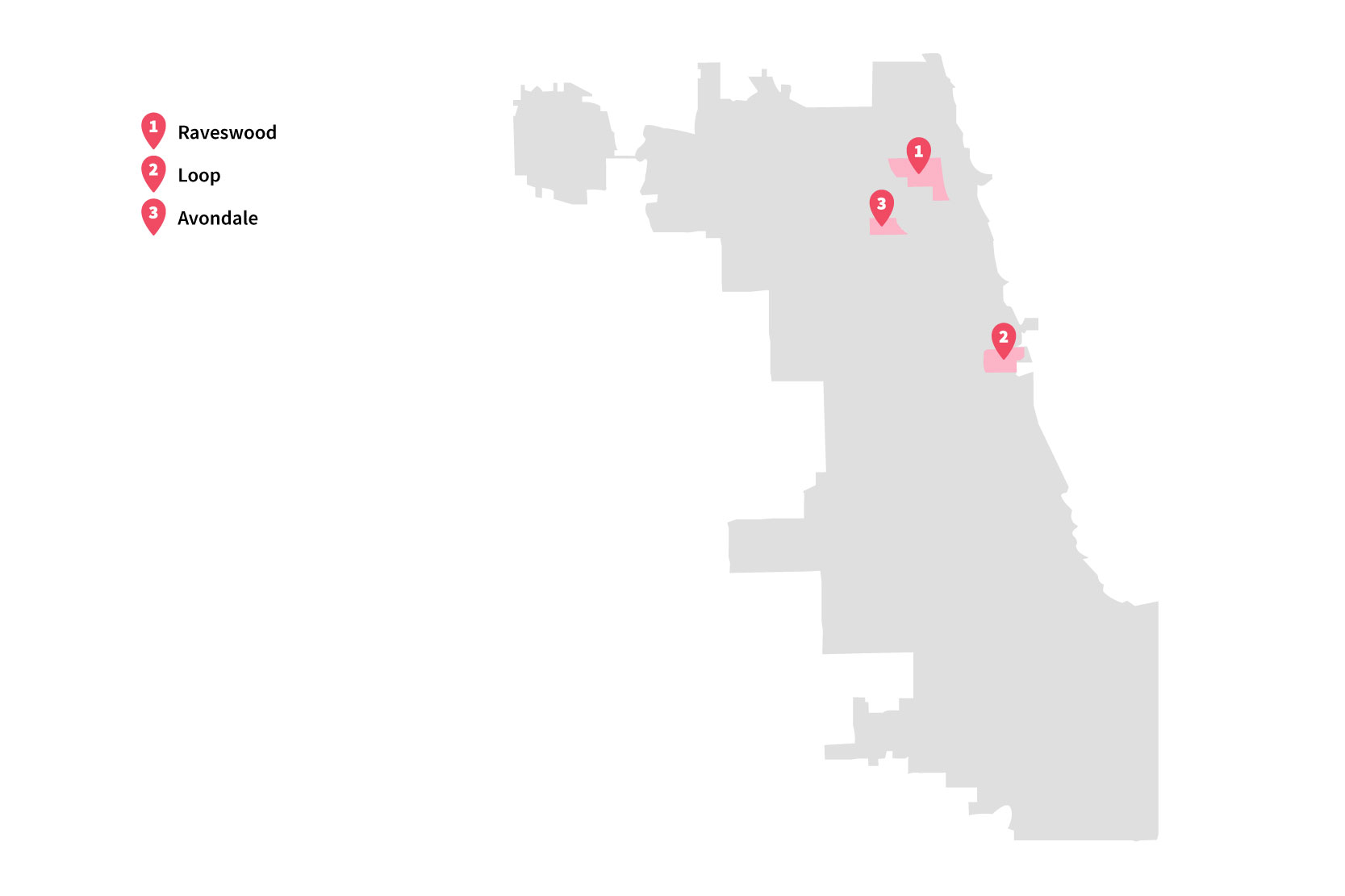 Ravenswood: A date at Ballroom Dance Chicago can be an intimate activity to try with your partner or a way to break the ice with a date. There are a variety of dance lessons offered, including swing, salsa, and ballroom in either a group or private setting. And if the date goes really well, maybe one day you'll revisit to take the "first dance" lessons for your wedding day.
Loop: Flight Club is not your average dart bar. Rent out a lane for an hour and take your date to what Flight Club calls "social darts." No matter your skill level, the club makes it easy for all players to have fun with multiplayer games and a full bar and food menu.
Avondale: Try out a new sport at climbing gym First Ascent. Learn the ropes in one of the beginner's classes, which teach the basics of rope and climbing skills in the indoor gym. Or, if you and your date have some climbing experience already, join in on a community session to meet climbers and ascend the walls.