Austin Real Estate
North Austin vs. South Austin
Residents of Austin regularly comment on their city's small-town vibes, considering the Texas capital more of an overgrown village than a real metropolis. Even so, Austin spans nearly 300 square miles and encompasses many neighborhoods, each with its own distinct personality.
But when discussing Austin's geography, locals frequently split the city into two large regions: North Austin and South Austin. Each area possesses its own particular perks and appeals. To help prospective homebuyers navigate the differences, here's a guide to the regional boundaries, most popular neighborhoods, highly trafficked businesses and community features, parks and outdoor spaces, and school districts.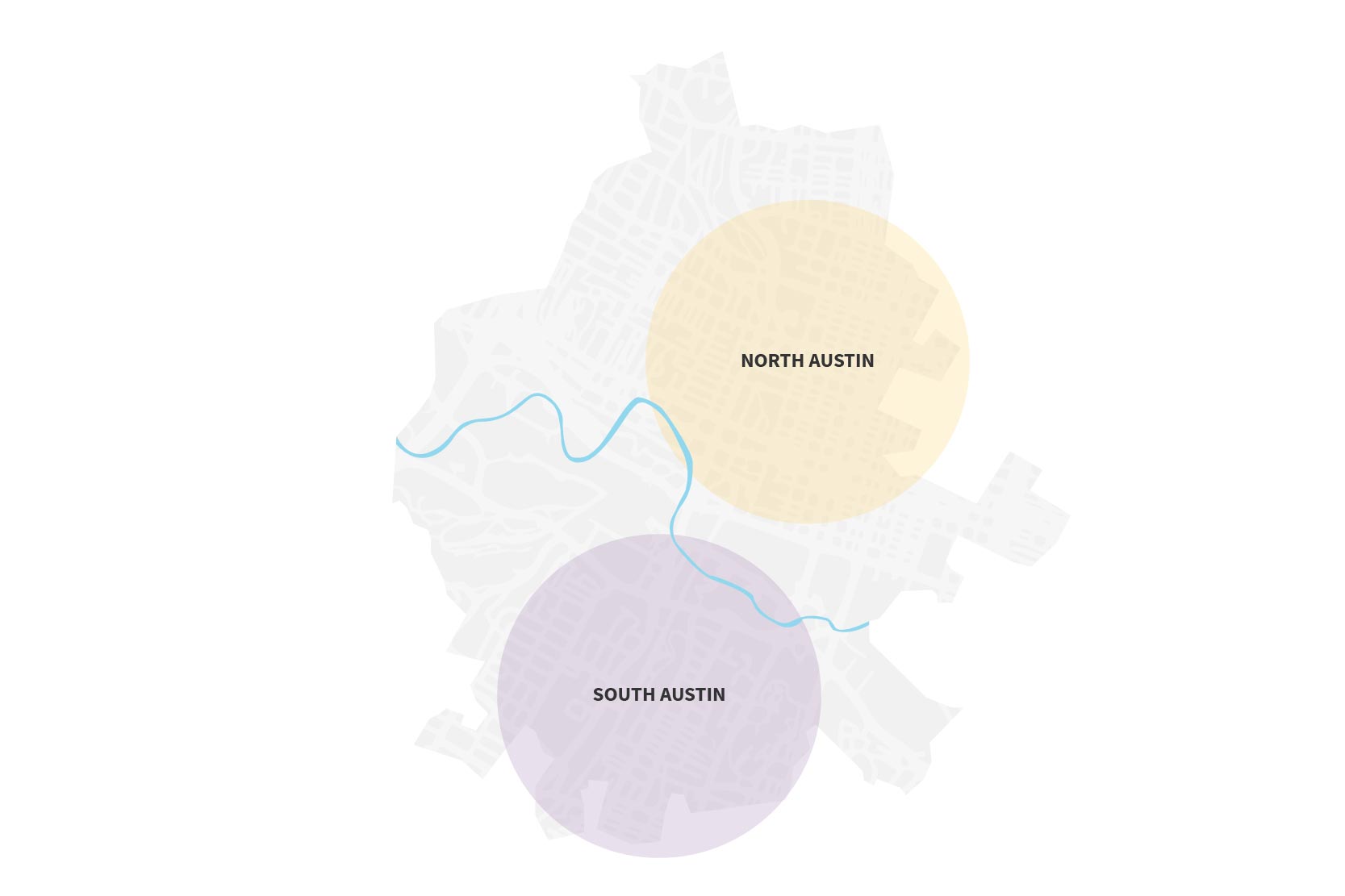 North Austin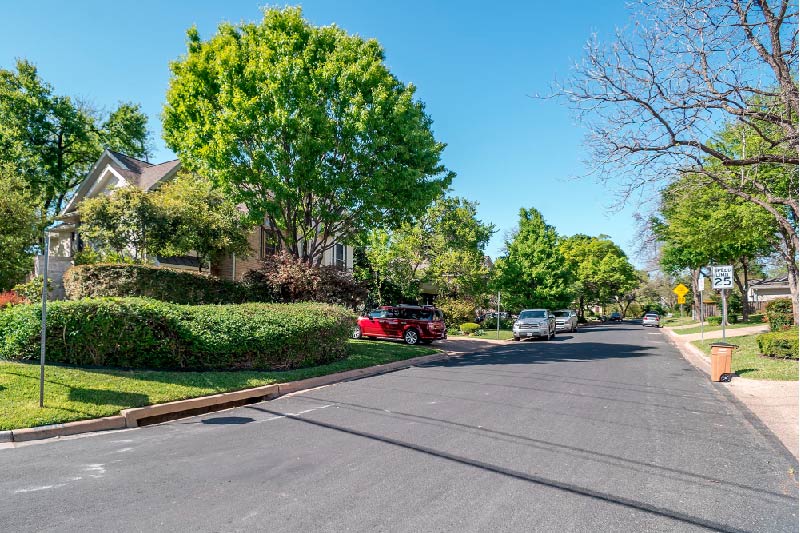 Location
Lady Bird Lake serves as the unofficial dividing line between the northern and southern factions of Austin, but the actual boundaries of "North Austin" and "South Austin" are a bit more nuanced than that. The area directly north of the lake, which encompasses major neighborhoods like Downtown Austin, East Austin, and the University of Texas, exist in a middle ground known as "Central Austin," preventing it from falling into the North Austin or South Austin categories.
North Austin falls between 45th Street on its southern border and Parmer Lane to the north. Its eastern boundary is the Mopac Expressway, and its western boundary is Interstate 35.
Notable Neighborhoods
Median sale price: $410,000
A charming North Austin enclave with easy access to the University of Texas campus, North Loop has a long-standing reputation as a serene, residential area filled with mostly single-family homes and tree-lined streets. However, a variety of businesses—including hotspots like local cafe and study hub Flightpath Coffeehouse, seasonal "nose-to-tail" restaurant Foreign and Domestic, and beloved craft beer spot Workhorse Bar—make it an attractive destination for Austin academics, tastemakers, and new arrivals in search of the city's signature "weirdness."
This is a pedestrian-friendly neighborhood with convenient bus route options, so residents can exist here quite happily without their own personal cars.
Median sale price: $505,000
Allandale's quiet blocks, abundant public greenspaces, and housing inventory dominated by single-family homes render this neighborhood a top choice for growing Austin families. It's also a dog-friendly area, so residents with pets will find plenty to love here.
Allandale's main drag along Burnet Road is a prime locale, and it's known for its abundance of popular bars and eateries, like Asian-fusion taqueria The Peached Tortilla, acclaimed New American eatery Barley Swine, funky Christmas-themed tavern Lala's Little Nugget, and casual outdoor pub (with its own dog park) Yard Bar.
Median sale price: $450,000
Filled with quaint mid-century homes, small-town charm, and plenty of community spirit, Crestview appeals to UT students and faculty, families seeking affordable homes within Austin proper, and anyone who doesn't want to sacrifice urban convenience or suburban peacefulness.
Crestview's active neighborhood association and local organizations—like Voices of the Violet Crown—bring residents together through community events, and those in search of food and drink options can head to Crestview favorites like classic Texas barbecue joint Stiles Switch BBQ, popular noodle eatery Michi Ramen, and neighborhood-focused cafe and live music venue Genuine Joe's Coffeehouse.
Median sale price: $172,000
Looking for a home in a neighborhood with excellent and highly convenient shopping options? North Burnet, a largely residential area on Austin's north side, hosts two of the city's largest outdoor shopping centers: The Domain and The Shops at Arbor Walk. The neighborhood's close proximity to the UT campus and Austin Community College makes it a strong pick for students, as does its relatively affordable housing prices.
In terms of restaurants and entertainment, North Burnet residents can choose from organic coffee houses like Summermoon Coffee Bar and local breweries such as Austin Beerworks, Adelbert's Brewery, Celis Brewery, and Oskar Blues Brewery.
Parks and Outdoor Spaces
Spanning nearly 300 acres of greenspace on the north side, Walnut Creek Metropolitan Park receives frequent accolades from locals, and it's largely considered one of the best parks in the entire city. Walnut Creek features abundant recreational options, from hiking and biking trails to athletic fields and courts to the Walnut Creek Municipal Pool. Residents can also spread out picnic blankets on the sizable lawns and enjoy the natural beauty of the streams weaving through the park.
If you're in search of an outdoor excursion that feels far away from the fast pace of the city, the North Star Greenbelt near North Burnet provides a happy medium. This small public greenspace includes almost one-and-a-half miles of scenic hiking trails, all nestled into areas of local vegetation sure to appease nature lovers.
Schools
In terms of higher education, Austin's crowning glory clearly lies with the University of Texas' flagship campus, located in Central Austin. However, North Austin's closer proximity to the university makes it a popular area for students and faculty seeking housing off-campus. The college's influence can be felt throughout North Austin's neighborhoods, thanks to campus properties like the Berry M. Whitaker Sports Complex in the North Loop. Also, Austin Community College's Highland Campus can be found in the northwest corner of North Burnet, appealing to North Austinites looking to attend college courses without a difficult commute.
The vast majority of public K-12 schools in North Austin fall within the Austin Independent School District, a system that regularly achieves high ratings from the Texas Education Agency and boasts a high school graduation rate of 90.7 percent.
South Austin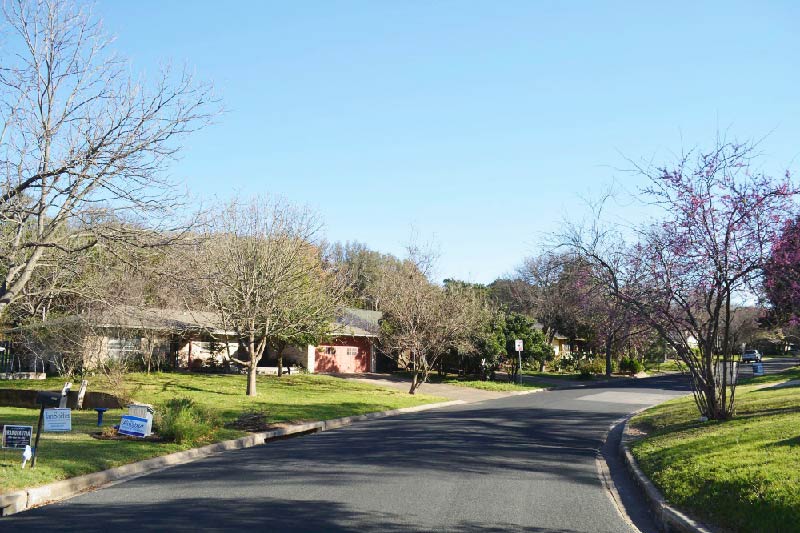 Location
Like North Austin, South Austin has distinct (albeit unofficial) eastern and western boundaries. On the east, the region is bordered by I-35, and its western limit runs along the Mopac Expressway. Lady Bird Lake's southern bank frames South Austin's northernmost side, while Slaughter Lane divides South Austin from the city's far south neighborhoods and suburbs.
Notable Neighborhoods
Median sale price: $584,000
A vibrant area featuring many of Austin's hottest dining and drinking destinations, Zilker also has the distinct honor of hosting one of the Texas capital's most significant annual cultural events: the Austin City Limits (ACL) Festival, which takes place in Zilker Metropolitan Park. Zilker claims a location directly adjacent to South Austin's northern border on Lady Bird Lake, making it a prime residential spot for Austinites with daily commutes to Downtown Austin and UT.
The restaurant and nightlife landscape of Zilker ranks among Austin's most innovative, thanks to celebrated locales like chic sushi restaurant Uchi, avant-garde New American bistro Odd Duck, and major brunch destination Mattie's (located in a beautiful 19th century farmhouse just outside the neighborhood).
Due to its short distance to downtown and its many community amenities, Zilker represents a competitive and comparatively high-priced real estate market.
Median sale price: $434,750
South Lamar, Zilker's slightly scrappier and funkier next door neighbor, currently finds itself in the midst of a massive rejuvenation. As the neighborhood continues to grow, property values in South Lamar are steadily rising.
The neighborhood's eponymous boulevard is now home to dozens of restaurants, bars, and fitness studios, all hoping to court the new influx of upwardly mobile residents who've chosen to settle here. However, plenty of long-standing local classics still operate in South Lamar, speaking to this region's status as a lively cross-section of recent arrivals and lifelong natives.
South Lamar features restaurants with notable histories, like the venerable Matt's El Rancho, a Tex-Mex institution that invented of the Bob Armstrong Dip, a queso variation with nationwide fame. Another local institution is Broken Spoke, one of Austin's oldest honky-tonks, which offers live music and dancing on a nightly basis. However, newer spots for dining and drinking also make a strong impression on the South Lamar scene, like Asian-influenced smokehouse and outdoor bar Loro, locally sourced coffee purveyors Patika, and gourmet doughnut mecca and lively cocktail bar Gourdough's Public House.
Median sale price: $598,750
Probably the most famous South Austin neighborhood (to non-Austinites, at least), South Congress counts among the city's biggest destinations for visitors, due to its eclectic shopping, impressive inventory of street art, and exciting dining and nightlife options. This area also contains a wide array of historic homes, appealing to architecture buffs. Because of its robust business district and convenient location, South Congress commands lofty real estate prices.
A major South Congress must-see exists on the neighborhood's northern border, where the Congress Avenue Bridge crosses the Colorado River and large groups of bats can be seen soaring over the bridge on a nightly basis during the warmer months of the year.
Music enthusiasts flock to South Congress for its performance venues like the Continental Club and quirky locales like beloved karaoke joint Ego's. The neighborhood's main drag of South Congress Avenue hosts popular restaurants, ranging from coffee shop and breakfast destinations to hip and modern American eateries. Some popular spots include the South Congress Hotel Central Standard, Tex-Mex-influenced brunch staple South Congress Cafe, and airy all-day bistro and wine bar June's.
Parks and Outdoor Spaces
Along with its status as one of the largest parks in all of Austin, Zilker Metropolitan Park's claim to fame largely centers around the ACL Festival, a massive music event that takes place every fall within this major South Austin greenspace. In addition to ACL's stages, Zilker Park also contains a segment of the Lady Bird Hike and Bike Trail, Barton Springs Municipal Pool, the Austin Nature and Science Center, and the Zilker Hillside Theatre. Zilker Park connects to the picturesque Barton Creek Greenbelt, providing even more opportunities for hiking, nature watching, and enjoying the beautiful outdoors.
Zilker Park isn't the only South Austin public space where you can catch a show. Just a few blocks away, Auditorium Shores also faces Lady Bird Lake, and this park includes performance venues like the ZACH Theatre, the Long Center, and the Dougherty Arts Center. Auditorium Shores also features the Liz Carpenter Splash Pad and plenty of open space for picnicking.
Schools
South Austin's major center for higher education, St. Edwards University, is a small liberal arts school with a scenic campus bordering South Congress to the east. In terms of public grade schools, South Austin, just like North Austin, also falls within the Austin Independent School District.