San Diego Local Life
San Diego Coffee Shops That Anchor Their Neighborhood
Even though San Diego is known for its top-notch food, craft beer, and some of the finest weather in the world, it also has a reputation for its coffee scene which now rivals many metropolitan areas across the United States.
Within the last two years, the number of independently owned coffee shops and local roasters has rapidly grown. Now, you can't find a neighborhood that doesn't have a cozy haven with superb coffee and espresso.
Here are some San Diego neighborhoods with beloved coffee shops.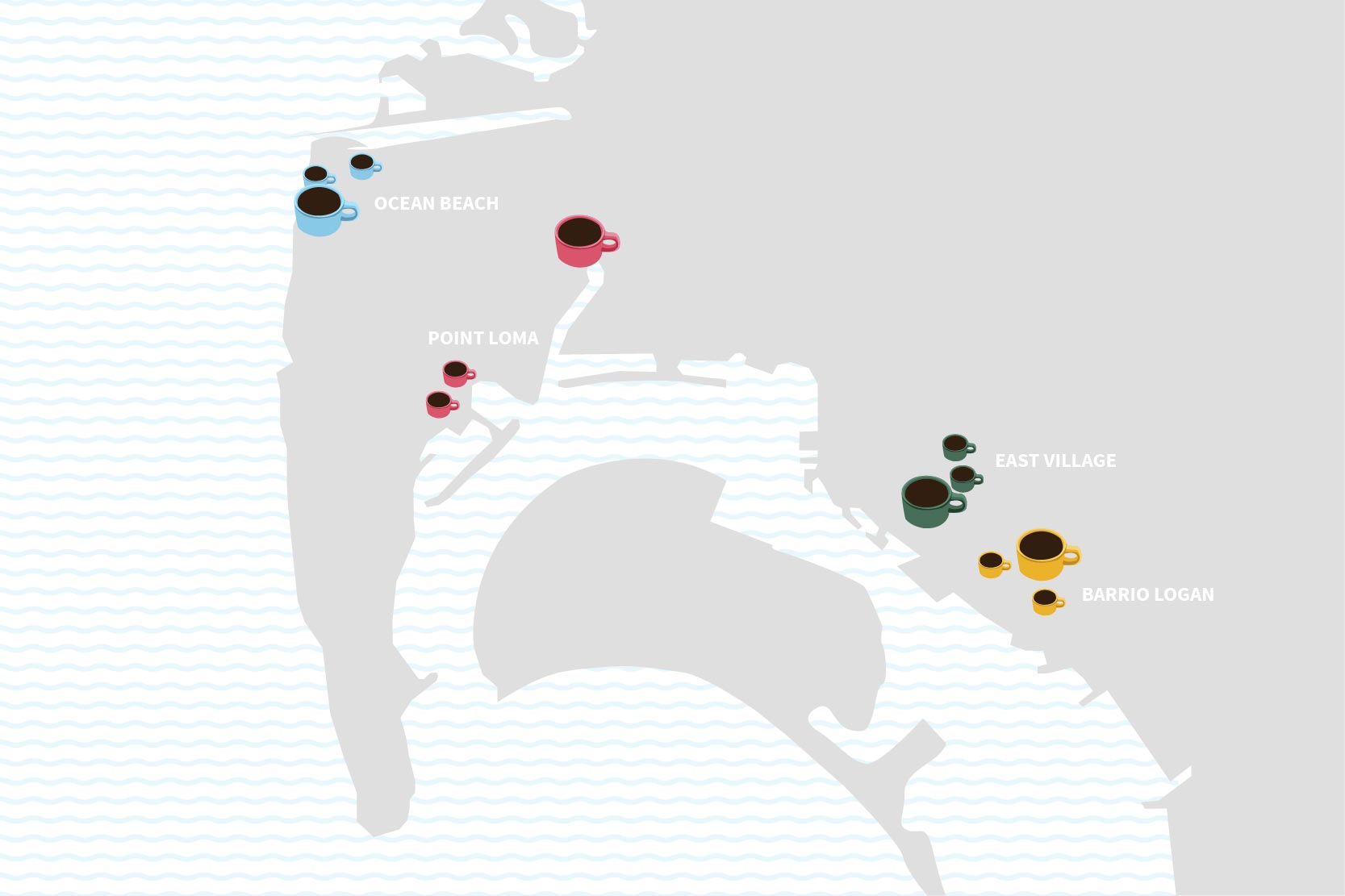 This eclectic neighborhood, the largest of the Downtown districts, has become an edgy mix of industrial chic and ultra-modern new constructions.
East Village consists of slick high-rises, spacious restaurants, cool boutiques, and stylish coffee shops. Touted as the art district, this urban oasis delivers a work-live-play environment that's both accessible and inspiring, especially for the many local artists who have live-in studios in this neighborhood.
Tucked between Petco Park and across the street from the Central Library, this coffee bar has a minimalist, artsy setting that mimics its surrounding neighborhood. With floor-to-ceiling windows that flood the chic industrial space with natural light, Bean Bar is a great place to get some work done, people watch, and—of course—refuel.
The Bean Bar strives to bring the community together with coffee, tea, and little bites like their popular Mediterranean toast (toast topped with arugula, hummus, veggies, hemp seeds, mozzarella, and a balsamic reduction). This space attracts many students from the NewSchool of Architecture & Design, and it's become a favorite spot for residents and local artists to connect over quality coffee.
Also Check Out:
This funky and laid-back seaside town sits between the Pacific Ocean to the west and the more posh community of Point Loma on the hill to the east. Ocean Beach—aka OB—is much less rowdy than the San Diego neighborhoods of Pacific Beach and Mission Beach, so if you're looking to live in more of a tranquil environment, you'll definitely find it here. Although Ocean Beach sits on prime waterfront real estate, the neighborhood still emanates a small-town atmosphere.
This open-air coffee shop with a relaxed atmosphere fits in perfectly in this laid-back neighborhood. Located just steps away from the beach, you can enjoy the salty ocean breeze while you sip your hot or cold drink.
With its seaside retreat feel and natural vibe due to all the lush foliage and fresh decor, this coffee shop is quite popular among residents. The employees, who are usually all OB locals, make sure that this hideout is warm and inviting to all its patrons. After spending just a few minutes at Jungle Java, you'll see just how much it's truly a reflection of the neighborhood—a family- and pet-friendly, tranquil, and inclusive space.
Also Check Out:
With natural beauty and a rich history, Point Loma is a jutted peninsula that borders the San Diego Bay and the Pacific Ocean. This San Diego neighborhood is one of the city's oldest communities, featuring luxury mansions, townhomes, condominiums, and multi-family homes. With endless amenities for its residents like dockside dining, pristine marinas, and miles of walking and hiking paths, this geological paradise provides residents with luxury living.
Nestled in the heart of Liberty Station, Moniker General provides an inviting space with cozy decor and an outdoor patio where people can work or socialize. The owners and staff here aim to promote the best goods in an environment that supports a lifestyle of "quality and intentionality."
Not only does this coffee house serve up refreshing drinks like a cold brew mojito, it also houses a general store where you can buy all sorts of cool knick-knacks from local artists. The building was retrofitted with custom wood furniture that captures the neighborhood's appreciation for nature, the outdoors, and its local creators.
Also Check Out:
Under the San Diego-Coronado Bridge sits Barrio Logan, a coastal area that's rich with culture. In addition to the numerous art galleries, the neighborhood is also home to Chicano Park, which includes the biggest collection of Chicano murals in the world.
Just like the art, the food here is nothing short of amazing. With tasty street tacos and Mexican fare from ¡SALUD!, and the added bonus of being close to the beach without the heftier prices of its surrounding communities, Barrio Logan has it all.
This establishment embraces the culture that surrounds it, and just as the Barrio Logan community has developed a space for community events and creativity, this coffee shop has too. Por Vida has hosted car and art shows, coffee throwdowns, and monthly flea markets.
Their decor features numerous local artists, and every six months, they rotate their artwork. Also, the windows at the front of the shop open up, so guests who are sitting on the metal stools have a view of all the other shops along the street.
Also Check Out: