San Diego Local Life
San Diego's Best Neighborhoods for Bars With Games
Sometimes, adulting is tough. And while we may have the luxury of having a drink or two at the bar, sometimes that just isn't enough. Sure you could play pool but that's old hat. Sometimes you really want to just let loose and have some fun at foosball table or a pinball machine.
That nostalgic sweet spot where you can be a kid again (in a very adult setting) is gaining steam across the country and especially here in San Diego. Here are our San Diego recs for bars and restaurants with games to tap into your competitive spirit while enjoying your favorite spirit.
Coin-Op Game Room - Gaslamp District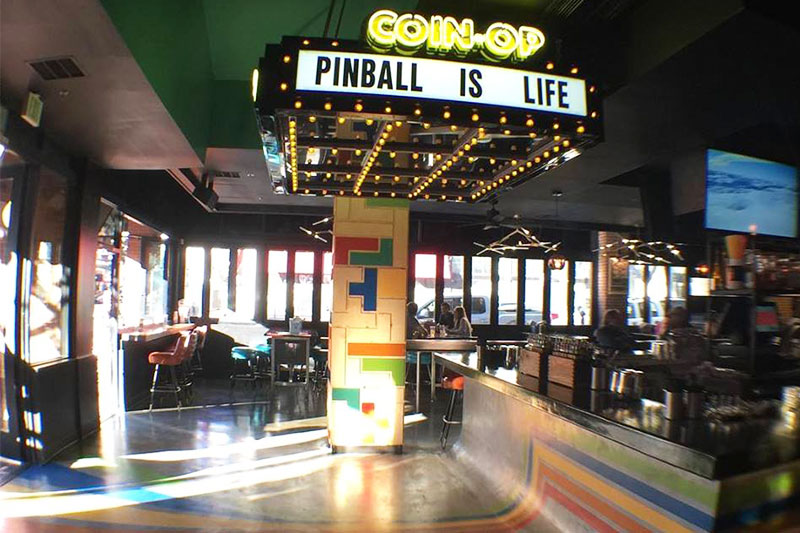 This Gaslamp District arcade (that also just so happens to have a bar) has over 50 arcade games with a heavy focus on classics, though you'll also find games from the 1990s and 2000s. Coin-Op Game Room also has 10 of the top 20 pinball machines of all time, according to Pinside, including Ghostbusters, Indiana Jones, Star Wars limited edition, and the Twilight Zone. Super Shot basketball games and skeeball machines are also available.
As for what to eat and drink, their food is made from scratch and great for sharing. They also have specialty ciders, cocktails made with homemade elixirs, and 16 beers on tap.
The Deck at Moonshine Flats - Gaslamp District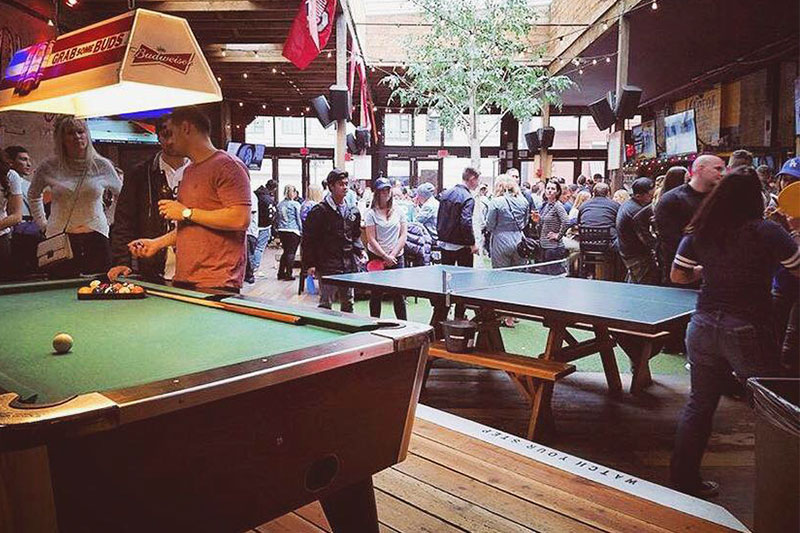 Also located in the Gaslamp, The Deck at Moonshine Flats has a wide variety of games, such as bucket ball, corn hole, shuffleboard, ring on a string, foosball, giant Jenga, ping pong, arcade games, and of course, pool. They're open daily and keep the lights on until 2 a.m. on weekends.
Drinks include both wine and moonshine while specialty drinks come in big red cups and mason jars. Their menu includes smokehouse meats, salads, sandwiches, flatbreads, and a special brunch menu on Saturdays and Sundays.
Park & Rec - University Heights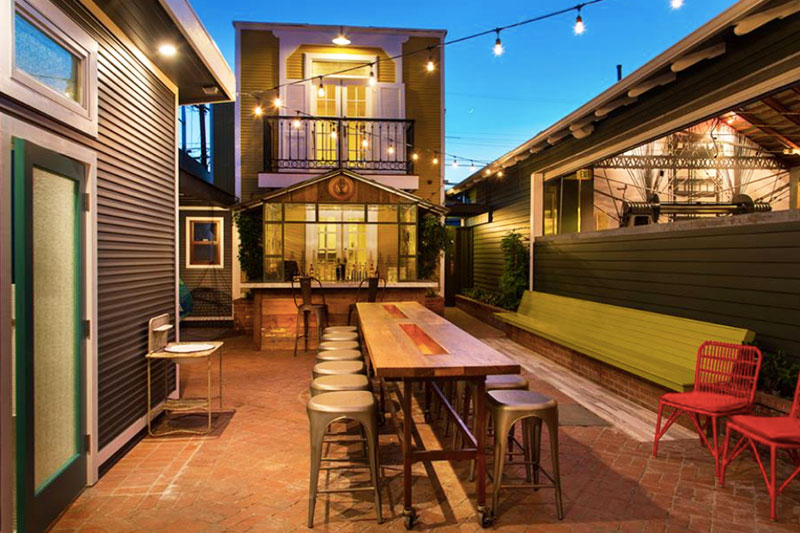 Located in University Heights, Park & Rec offers its guests the chance to play ping pong, shuffleboard, bean toss, and classic darts in a laid-back setting. Have a seat inside or enjoy the fresh air on the back patio with unique cocktails such as University Lights (cucumber gin, grapefruit cordial, lime, soda) or Love Dove (Blanco tequila, grapefruit liqueur, rosewater, lemon, soda). Or check out their happy hour, which offers classic drinks, wine, and bubbly for six bucks or less every Monday-Thursday from 4-6 p.m. and 10 p.m. to close. Don't forget to check out the food, which includes burgers as well as vegan options.
Draft Republic - La Jolla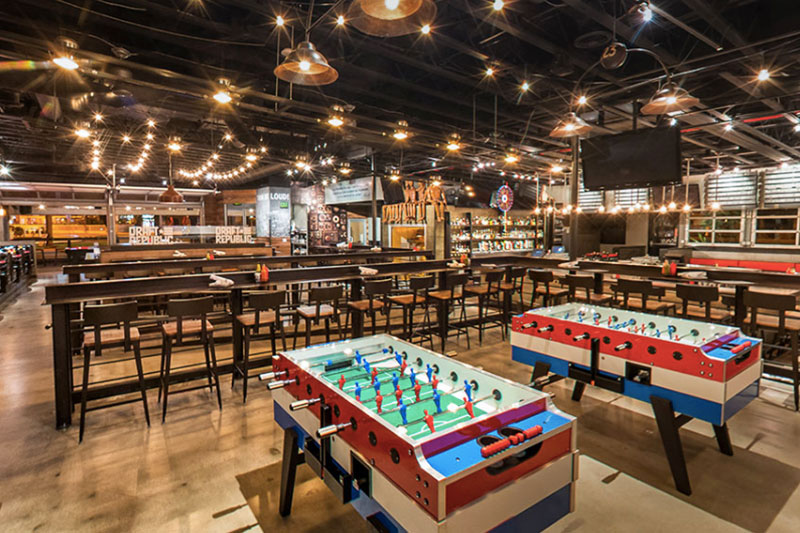 A great stop in La Jolla, Draft Republic has traditional favorites such as darts and pool, but also offers shuffleboard and foosball. You get plenty of space for gaming, but it's also a solid choice for dinner and drinks as well.
Their American cuisine menu includes traditional offerings such as mac 'n cheese, smoked ribs, Philly cheesesteak fries, and burgers including a bacon and blue burger, the tuna melt, veggie burger.
Happy hour includes $7 snacks, $2 draft beers, and a selection of wine and well cocktails. You'll have plenty of choices as they offer 38 beers on tap. Cocktails include The Hipster (Jim Bean, luxardo liqueur, lemon juice mint), The Socialist (Ketel one, lychee liqueur, lemon juice, sparkling wine), and the Angry Kiwi (Tito's vodka, Ancho Reyes Verde liqueur, kiwi juice, lime juice, agave, jalapeno, and a Tajin rim).
Stone Brewing World Bistro & Gardens - Liberty Station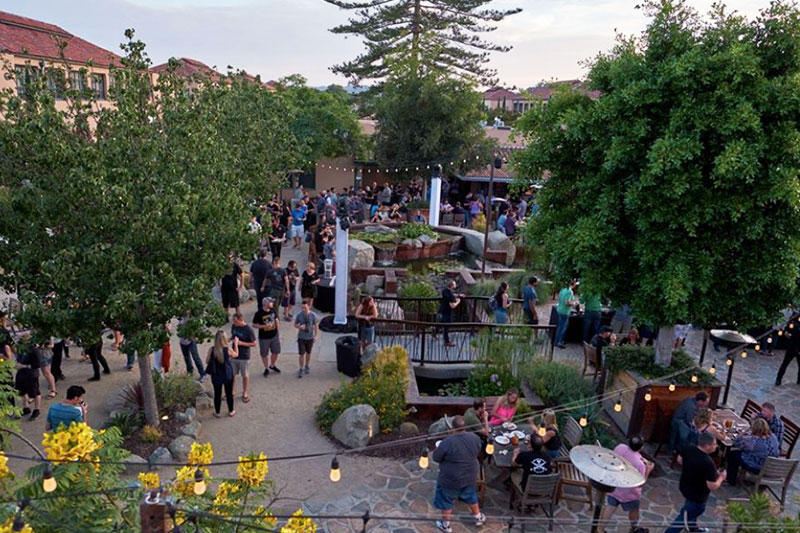 Located in Liberty Station, Stone Brewing World Bistro & Gardens offer a bocce ball court, tavern trivia, outdoor cinema space and garden, and indoor/outdoor dining and bars. They feature 40 taps of craft beers, including specialty beers from small breweries. The food has an artisanal flair, such as their stone-style hemp seed pretzels, tamarind glazed pork belly steamed buns, roasted bone marrow, and prime steak tartare.
Triple Crown Pub - Normal Heights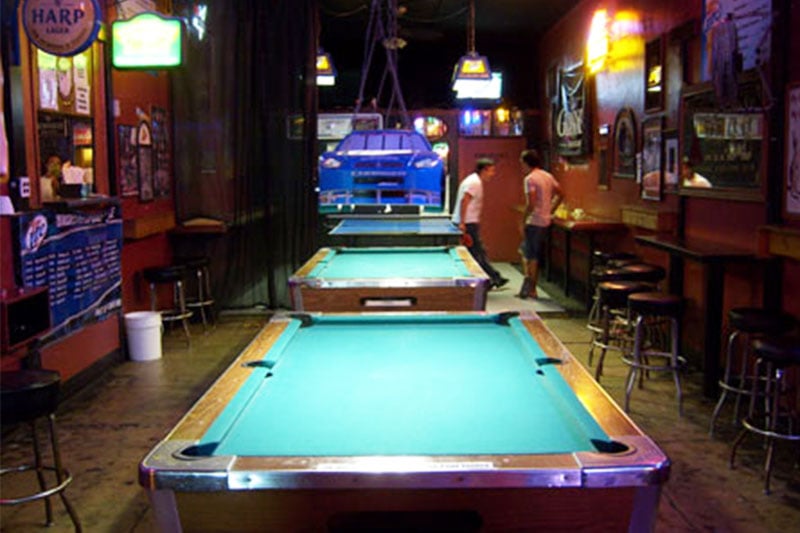 With full-sized shuffleboard and foosball, two ping pong tables, three pool tables, arcade basketball, three dart boards, and Tuesday Night Trivia (winner gets a free pitcher of beer), it's no wonder Triple Crown Pub made this list. This Normal Heights bar has an outdoor patio (where smoking is allowed) as well as 20 TVs throughout the property playing NFL, NBA, MLB, or NHL games.
While they have many mainstay beers, there are also many on rotation as well as imports and bottled beers. They also have a strong selection of wines.