National Local Life
The 10 Best Thrift Stores in Orlando
Thrifting is a great way to shop sustainably, support local businesses, and separate your style from the big-box stores. Luckily, Orlando has a growing number of thrift stores and consignment shops as well as chains such as Goodwill and Plato's Closet. If you're looking to declutter your home, spice up your wardrobe, or add a vintage vibe to your home, here are the 10 best thrift stores in Orlando.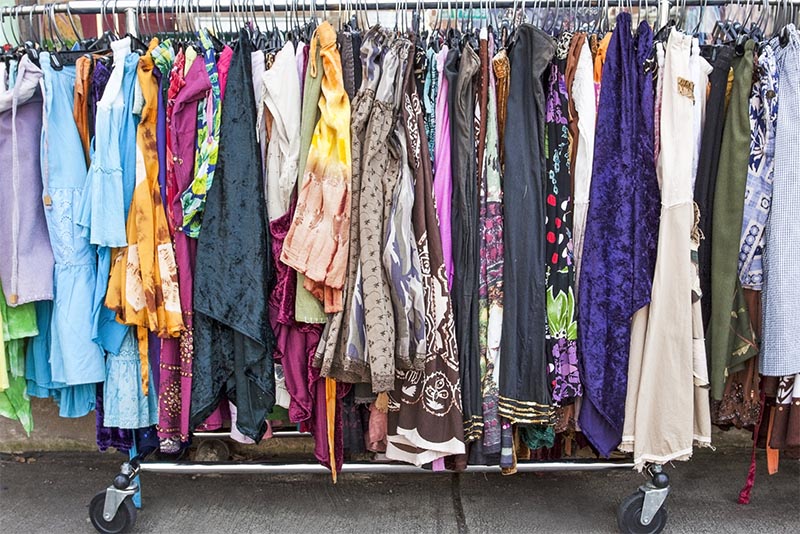 Located in the heart of the Milk District, Etoile Boutique is your one-stop-shop for vintage, handmade, and uncommon goods. Each week, Etoile Boutique adds over 100 new pieces to their collection, which includes vintage furniture, upcycled clothing, and pieces by local artists. Having recently expanded to feature an entire room dedicated to mid-century, modern, and bohemian furniture, art, and decor, Etoile Boutique has become a staple of the Milk District.
Adjectives features a unique selection of both modern and vintage furniture as well as home decor, gifts, and vintage clothing. With four locations around the Central Florida area, including Altamonte Springs, Winter Park, and Winter Garden, you could spend an entire day thrifting at Adjectives' stores alone.
Adjectives also works with local artisans and nonprofits to feature upscale vintage-inspired home decor as well as offering the opportunity to commission the store for custom work. If you're looking to learn how to upcycle vintage furniture yourself, Adjectives offers several workshops where you can learn to use chalk paint in your home, transform your next DIY project with Saltwash, and more.
Located in Winter Park, Avalon Exchange is a favorite alternative to Plato's Closet. Avalon Exchange purchases everything from contemporary and vintage clothing to designer pieces, so you never know what you're going to find. They post featured items to their Instagram throughout the day, so be sure to act fast if you spot something you like—items at Avalon Park are never there for very long.
Diversion recently opened up in Ivanhoe Village and prides itself on bringing sustainable fashion to the Orlando area. Along with vintage T-shirts dripping with nostalgia, what really sets Diversion apart from other thrift stores is their selection of leather and denim. From denim that was first seen in the 1970s and 1980s to leather jackets that'll have you wishing for cooler weather, Diversion offers vintage pieces from all eras.
Located in College Park, Warehaus Orlando offers both walk-in and guided appointments to take you around their shop. Full of retro furniture, Warehaus Orlando has statement pieces that will complement every room in your house. From old-school wardrobes to wicker barrel chairs, the folks at Warehaus Orlando can help bring your Pinterest board to life. Warehaus Orlando also regularly features popups, featuring vendors such as Planted Perfectly.
The upscale resale shop located in Audubon Park offers designer clothing and accessories at a great price. The collection is curated by Janet Acker, who has over 10 years of experience fashion merchandising for Neiman Marcus. From brands such as Chanel, Miu Miu, and Gucci, Chic Boutique is a great spot to check out and score some vintage designer pieces. They also put their inventory online, making exploring their unique catalog that much easier.
A few stores down from Chic Boutique is The Owl's Attic, a vintage clothing store with a hand-picked collection. Carrying pieces from the 1950s all the way through the 1990s, The Owl's Attic carries everything from perfect, deadstock items to worn-in, vintage pieces.
Heavily influenced by the music of decades past, The Owl's Attic is a great place to stock up on old band tees, including Motley Crue, The White Snake, The Who, and even John Lennon. You can explore their collection in their online shop.
If you're looking for vintage finds, the Audubon District is where you should head. The Lovely Boutique Market, located between The Owl's Attic and Chic Boutique, offers vintage clothing, mid-century furniture, and locally made goods.
The Lovely Boutique Market's collection is curated by over 40 collectors and artisans and focuses primarily on vintage and midcentury products. Whether you're looking for the perfect cocktail dress, a vintage rug, or a statement necklace, you're sure to find it at The Lovely Boutique Market.
With pieces dating back to the 1940s, Deja Vu Vintage carries a selection of vintage fashion and handmade accessories from indie designers across the globe. Located in Winter Park, Deja Vu Vintage is conveniently divided into three sections: vintage, handmade, and designer. Offering Oscar de la Renta and Dior, as well as a variety of vintage knick-knacks, Deja Vu Vintage will help you bring new life to your home and wardrobe.
Located in Mills 50, Retromended encourages its customers to forget the rules of fashion and have fun. With a unique collection of curated vintage fashion, Retromended takes special care to transform vintage pieces into modern and wearable. Whether it's swapping out buttons, shortening a sleeve, or moving a hem, when you buy a piece from Retromended, you can be assured that it's truly one-of-a-kind.