Washington D.C. Market Trends
The 5 Hottest Neighborhoods in Arlington, Virginia
Arlington County has many bragging rights to its name. With a median household income over $112,000, it's one of the richest counties in the United States. Then, there are all the companies and organizations that call Arlington home: Boeing, Rosetta Stone, and PBS, have all planted roots here. And of course Amazon is currently staffing up its HQ2 slated to open in the area.
Arlington is educated, wealthy, and wired, and its continual growth is keeping up with the needs of its current and future residents. In a county that stands tall, here are some communities in Arlington that really stand out.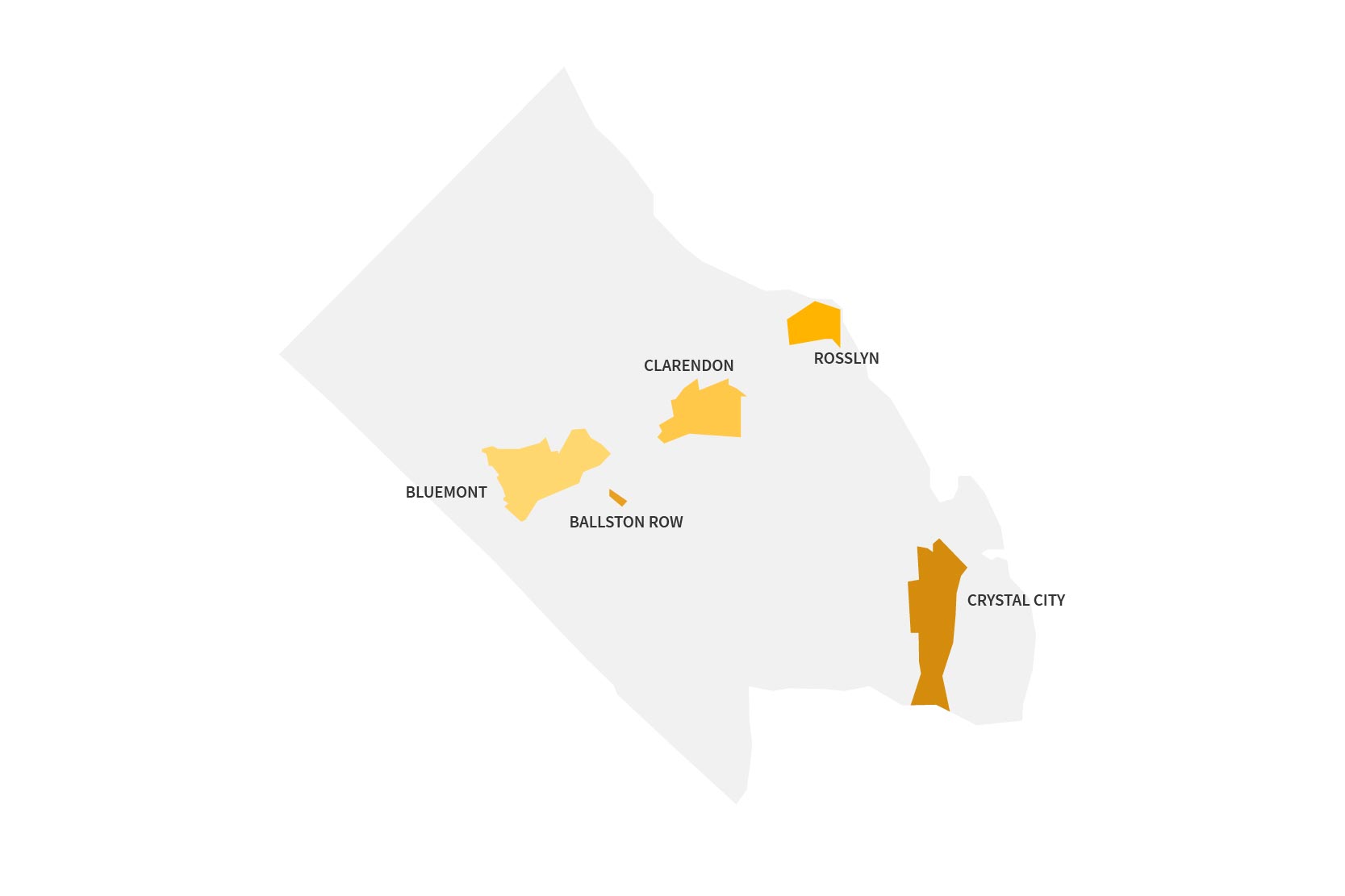 Crystal City is Arlington County's corporate hub. In the last 12 months, the neighborhood has drawn many new residents with the announcement of the second Amazon headquarters. The tech giant has committed to spending $2.5 billion to create National Landing, a new community that will include Crystal City, as well as parts of nearby Alexandria and Pentagon City. Over the next decade, Amazon is planning to create 25,000 jobs.
When its new headquarters opens, Amazon be the crown jewel of Crystal City's business community, but the neighborhood already has a reputation as a fertile business district.
Public Broadcasting Service, the Department of Homeland Security, and grocery store chain Lidl have already established headquarters in the neighborhood. Popular coworking spaces, like Eastern Foundry and WeWork, also have a home in the community, as does the short-term, co-living apartment space WeLive.
Amazon's arrival has driven demand so high, Crystal City only has five homes listed on Neighborhoods.com as of this writing. In April, alone, eight homes were sold in the neighborhood, according to our data. That's the highest number of home sales since 11 homes got snatched up in November 2018.
Between April 2018 and April 2019, housing prices in Crystal City shot up from $426,500 to $502,500. Prospective residents will find mostly apartments and condos in the area.
Crystal City sits in the shadows of Reagan/Washington National Airport, which connects 23 million passengers each year.
Clarendon is Arlington's wealthiest neighborhood and businesses have flocked to the area to serve its affluent residents. For foodies and craft beer lovers, Clarendon has 30 restaurants and 10 bars, according to Yelp data on our site. It also has an Apple Store, Lilly Pulitzer, Trader Joe's, and Whole Foods.
For people who love live music, the Clarendon Ballroom has been a fixture in the Arlington nightlife scene for decades. The historic Art Deco venue offers an eclectic selection of inexpensive live music as well as club nights with DJs sets.
Single-family homes currently for sale in this area have million-dollar price tags, but Clarendon is condo country with an average of two bedrooms and two bathrooms per unit. A condo or attached home in this neighborhood can be found with an asking price in the mid to high $400s.
Clarendon is also served by one of the best elementary schools in the D.C. area.
Ballston Row is a busy shopping area, and these days, new residents are drawn to the newly renovated Ballston Quarter, which developers turned inside-out from a former closed-in shopping mall to an 850,000-square-foot open air shopping district.
Ballston Quarter has a lot of attractions and fast-casual dining options, with almost half of its space dedicated to food and entertainment. This includes the trendy seafood chain Slapfish, which will soon open its second Northern Virginia location in Ballston.
Hockey fans will want to visit the Medstar Capitals Iceplex, the practice facility of the Washington Capitals.
About 20,000 residents already call Ballston Row home. But to accommodate the influx of new residents, construction is underway for 1,500 additional resident units and 200,00 square feet of office space.
From November 2018 to February 2019, home prices in Ballston Row spiked from $821,250 to over $1 million. You'll find attractive and centrally located townhomes, condos, and lofts in this area.
Rosslyn likes to focus on fun. The neighborhood hosts lots of events that pull in visitors from outside the area, including visitors from across the Key Bridge in swanky Georgetown. Among its many festive events are Fashion Truck Fridays, the Rosslyn Outdoor Movie Fest, the Rosslyn Holiday Market, the Rosslyn Jazz Fest, and exercise classes in Gateway Park. Rosslyn also hosts the annual Marine Corp Marathon.
While the community is a great place to get fit and have fun, it also has a business side. Rosslyn serves as a home for headquarters of Nestle USA, Politico, and Deloitte Consulting.
Residents have taken notice of Rosslyn's potential to provide a great work/life balance. And home sales in April reached the highest number since August 2018, reflecting the neighborhood's popularity. The median sale price is in the high $700s, and current home prices range from the low $400s to over $4.9 million.
Sitting just west of Glebe Road, the Bluemont neighborhood offers a combination of vibrant nightlife and plenty of nearby dining options. First established in the late 19th century, the neighborhood is situated between North Jefferson Street, Carlin Springs Road, and the W&OD Trail, all of which serve as outlets to the greater Arlington community. With its five schools, including the top-ranked McKinley Elementary School, Bluemont is quite attractive to families.
While most residents live in single-family homes, a good number of apartments and townhomes dot the edges of Bluemont along Glebe. Home prices in Bluemont range from the high $600s to over $1.4 million. As one of Arlington's biggest neighborhoods, Bluemont has seven homes currently on the market, according to Neighborhoods.com.