The Beer-Lover's Guide to EaDo
The Beer-Lover's Guide to EaDo
In the 1930s, Cantonese immigrants in Houston moved east of downtown in search of inexpensive land. The area became known as Old Chinatown, and many Asian grocery stores, sandwich shops, and other businesses serve as a reminder of this era today. In the 2000s, a second migration took place. Local businesses, artists, and millenials moved into revamped warehouses or new townhomes, turning the neighborhood into a quirky mishmash of both old and new Houston. The area is rapidly changing, and Houstonians have a love-hate relationship with the neighborhood's rebranded name, EaDo. But in addition to stunning views of Downtown Houston and old-school industrial charm, the area is also a haven for beer lovers.
Here are the breweries and bars to check out in EaDo.
Moon Tower Inn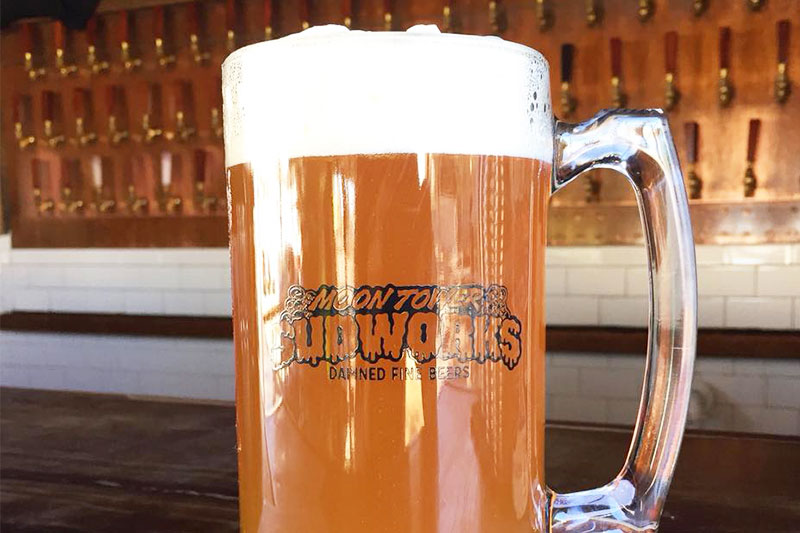 Moon Tower Inn is basically the community backyard of EaDo. The beer bar and brat house serves up unusual draft beers with attitude (don't take it personally) from a building made of repurposed shipping containers. There's no indoor seating, but there's a covered patio, and the bar's spacious yard is an excellent hangout on warm summer nights. In addition to suds, Moon Tower also serves delicious game meat hot dogs with toppings made in-house, like sambal mayo and black pepper ketchup.
Sigma Brewing
Craft beer has exploded in Houston in the past five years, and one of the city's newest breweries is Sigma, located right off the Harrisburg light rail. Sigma's beers pay homage to the West Coast style, and the brewery is also home to Doomsday Wrestling, who train on Thursday and Sunday evenings in the ring inside the brewery warehouse. The warehouse and covered patio both have a gritty vibe indicative of the neighborhood's industrial past, but the air conditioned tap room is small and cozy, with a wooden bar and gleaming taps.
8th Wonder Brewery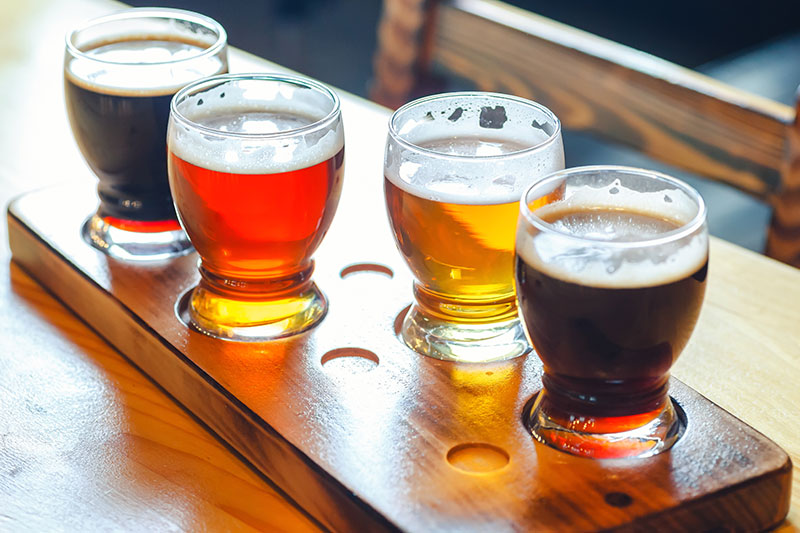 It's no surprise that 8th Wonder's founders are huge sports fans. The brewery is named after the Houston Astrodome, the world's first covered stadium, which was nicknamed the 8th Wonder of the World upon its opening in 1965. The brewery's taproom includes seating reclaimed from the stadium as well as numerous works of art and sport memorabilia celebrating Houston's basketball, baseball, and football teams. This is the place to watch local sports, if you're not lucky enough to get a ticket (or for a nightcap after attending a Rockets or Astros game Downtown). Even the beers pay homage to Houston, with names like Weisstheimer and Dome Faux'm. Try the Haterade, a salty, citrusy gose, perfect for rehydrating on hot Houston days.
East End Hardware
This really was a former hardware store, but you would never know it. The gorgeous glass bar and art on the walls belies that fact that East End Hardware is best known for its boozy snowcones, with flavors like Tigers Blood and Pina Colada. But the bar also has 20 beer taps, mostly local, and serves light bites like hummus and paninis.
Voodoo Queen Daiquiri Dive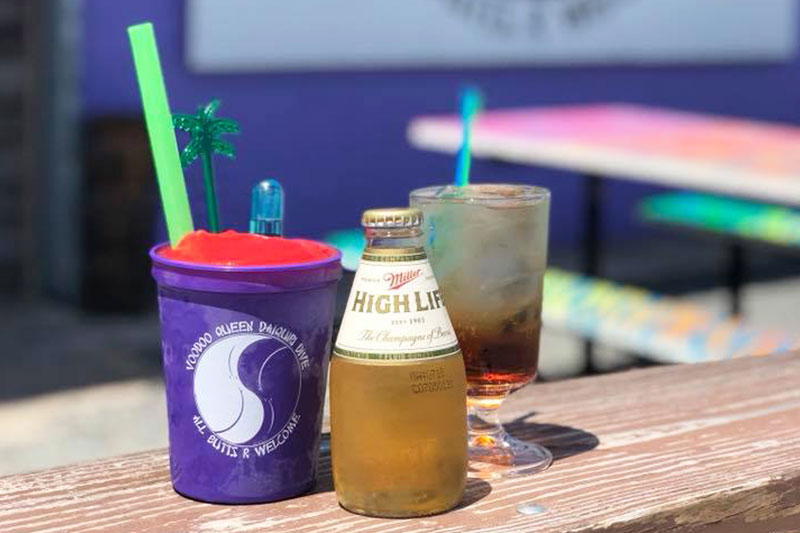 Voodoo Queen is like if Lisa Frank and Jeff Spicoli had a baby. On acid. In New Orleans' French Quarter. The Queen closed in 2016 following a fire, and like a phoenix from the ashes, it has risen bigger and better than before. A dozen neon-flanked frozen machines serve up frosty alcoholic beverages that can be topped with floater shots or mixed together "suicide" style. Their beer selection includes options from high- to low-brow (Cigar City's Jai Alai IPA to Miller High Life) as well as local Houston beers. So don't worry if you don't like umbrella drinks. As Voodoo Queen's motto reads, "All butts R welcome."
D&W Lounge
One of the East End's biggest landmarks is the former Maxwell House Coffee Plant, which fills the air with the smell of roasting beans. Just to the south is D&W Lounge, a dark dive bar that opens at 7 a.m. in order to serve third-shifters as they're leaving the plant. D&W's decor is utterly bizarre (think headless mannequins spray-painted neon colors), but the beer is cold, and thanks to the growth of EaDo competition, the selection has gotten exponentially better in the past few years. But you don't go to D&W for the beer—you go for the divey vibe. Unfortunately, Atlantic Coffee Solutions, which now runs the plant, announced that they would be closing in the summer of 2018. No word yet if D&W will continue to stay open to serve its early morning regulars.