National Local Life
The Best Atlanta Neighborhoods for Freelancers
Freelance and remote jobs continue to be a growing category of the American workforce. In 2019, full-time freelancers made up 27% of the overall American working population, up from 17% in 2014. In total, 57 million people did some form of freelance work last year, which amounts to 35% of the entire work pool.
One of the biggest industries for freelancers is tech, which is a massive sector of American business in general. Forbes reported that according to a Coldwell Banker Richard Ellis (CBRE) report, Atlanta is the ninth-largest tech market in the country, and ranks No. 12 specifically for tech freelancers, based on a separate Fiverr report.
All of this is to say that freelance work is becoming increasingly popular and Atlanta is a great place to be if you're in that number. Atlanta has a strong community that supports start-ups, entrepreneurs, and hustlers of all kinds, and the neighborhood's offering coworking spaces and work-friendly coffee shops reflect that.
Check out the best neighborhoods for freelancers in Atlanta.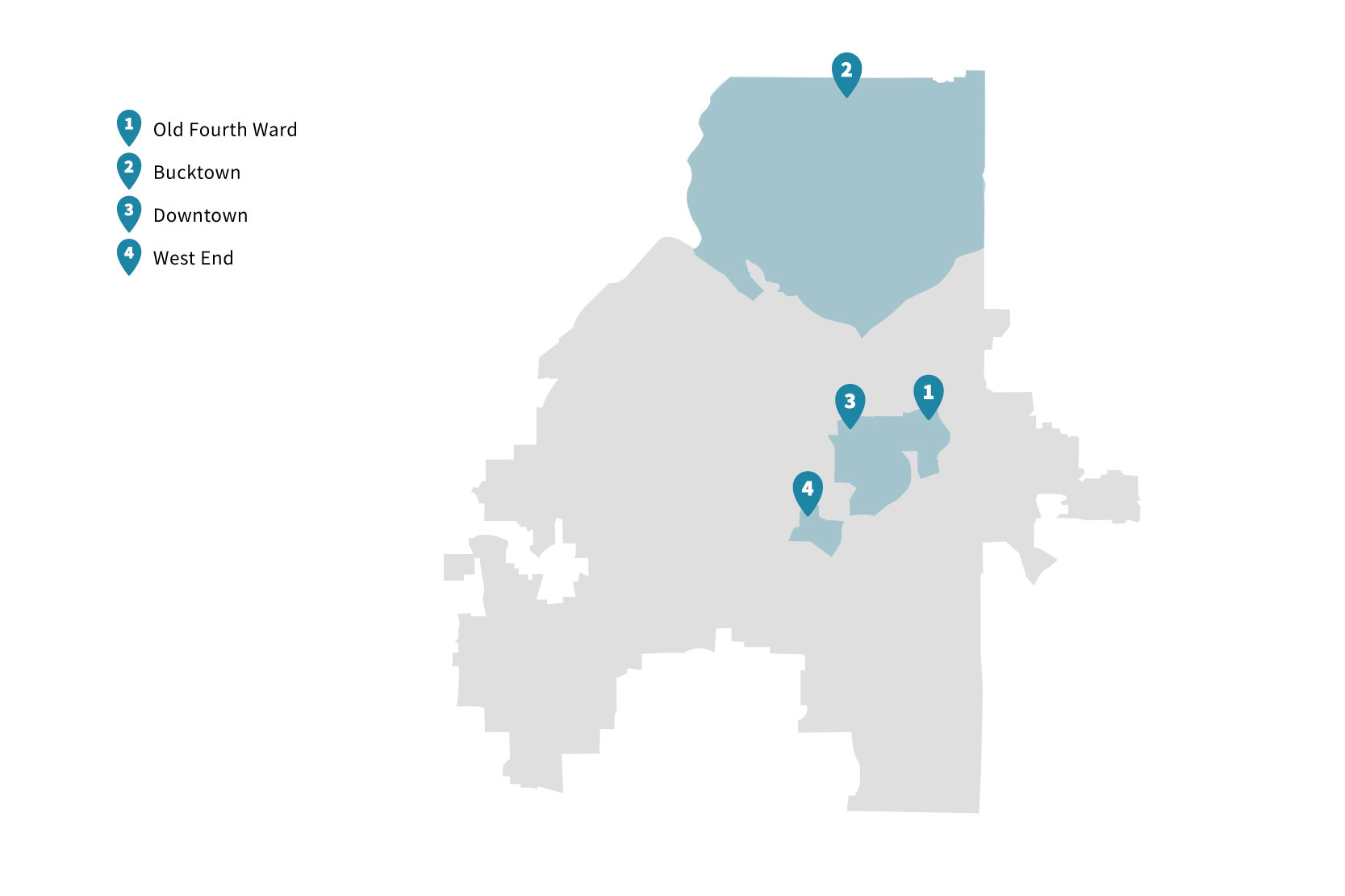 Old Fourth Ward is a hotbed of Atlanta innovation, development, and ingenuity with the emergence of Ponce City Market, the Atlanta BeltLine and lots of hard-working young professionals over recent years.
Spots to check out:
Industrious: This coworking space comes with every amenity one could think of in the massive and modern Ponce City Market. PCM houses restaurants, bars, shops and offices like Mailchimp and Pinterest with direct access to the BeltLine Eastside Trail. Industrious is its coworking section with office spaces for large or small teams and community memberships for individuals.
Alkaloid Networks: With a prime location right on the BeltLine, Alkaloid Networks is a 14,000- square-foot coworking space in a converted industrial warehouse. Their philosophy is to provide a friendly, supportive atmosphere for "solopreneurs", freelancers and start-ups with networking opportunities and on-site coffee, kitchens, and showers.
Condesa Coffee: Condesa Coffee is in its own little nook of the Tribute Lofts located right by the Freedom Parkway PATH trail. It offers a variety of ways to set up shop, with options for indoor and outdoor seating and coffee, cocktails, or beer depending if you need to go up or down.
Buckhead is an elite Atlanta neighborhood where much of the wealth in the city lives—whether that's the celebrities or big business who call it home. Appropriately enough, the remote working options in Buckhead are the most established and prestigious in Atlanta.
Spots to check out:
Atlanta Tech Village: Atlanta Tech Village is the epicenter for tech entrepreneurship in Atlanta. It's deemed the startup hub of Atlanta and one of the top five startup centers in the country. Here, there are office spaces, mentorships, educational events and workshops, and of course, a full-service coffee shop.
Roam Interactive Workplace: Whether you need a shared working space, a meeting room, or a private office space, Roam Interactive Workplace has all the accommodations. This coworking space started with its Alpharetta flagship location in 2008 and has expanded to six locations in the Atlanta metro, including Buckhead.
WeWork - Tower Place: If you want to be in the center of the Atlanta business action but don't have an office to go to, you can find one at the Buckhead location of the national coworking company, WeWork. Here you can work from the shared working space, your own dedicated desk, or a private office in a building surrounded by high-rise condos, hotels, and companies in this busy commercial district.
Downtown Atlanta is where business and entertainment converge with the State Capitol Building, City Hall, Centennial Olympic Park, and the Tabernacle performance venue all within close proximity.
Spots to check out:
Switchyards Downtown Club: Switchyards is another hip, modern coworking consortium that has multiple locations in Atlanta with its flagship in Downtown next to the Centennial Olympic Park. It's housed in a large historic building with 19,000 square feet of space, meeting rooms, offices, and a full espresso bar for its members.
Constellations Atlanta: On the second floor of the preserved Southern Schoolbook Building in the Martin Luther King, Jr. Historic District, where MLK was born and began preaching, is the shared workspace, Constellations. Freelancers and teams working on mission-based, thoughtful projects are encouraged to utilize their facilities.
Ebrik Coffee Room: The flagship location of this Atlanta coffee shop was designed with the community and forward-thinkers in mind. It encourages diversity and inclusivity, offering book talks, open mics, and visitors of all kinds. They also roast their own coffee and have plenty of seating for extended work sessions and coffee meetings.
Many are catching on to the appeal of West End, with its developing food and beverage scene, charming Craftsman homes and access to the BeltLine Westside Trail. With more people moving to this neighborhood while prices are still affordable, more and more resources and amenities are popping up.
Spots to check out:
Plywood People: Plywood People is a nonprofit that works with start-up companies that have altruistic and purpose-driven concepts. Their organization offers a large coworking space, resources, community, and networking opportunities. It's also located next to a brewery and taproom for post-work happy hour.
Monday Night Brewing: Monday Night Brewing is the aforementioned brewery in the same complex as Plywood People. Their West End location, called The Garage, is a large space with a taproom, three barrel-aging rooms, and an events space also used for corporate or business meetings. The ample seating allows for creative lunches, happy hours, or independent work alongside a tasty local, craft brew.
Atlanta Public Library: If it's lots of peace, quiet, and focus you need to accomplish a freelance project, there's always the trusty library. The West End branch of the Atlanta Public Library system offers a meeting room for up to 80 people as well as activities and classes like chess, yoga, and real estate courses.