The Top Neighborhoods to Spot Celebrities in Atlanta
The Top Neighborhoods to Spot Celebrities in Atlanta
"Stranger Things," "Ozark," "Watchmen," and "The Walking Dead"—these are just a handful of productions recently made in Atlanta, and that's just television. Atlanta is a thriving city for the film, television, and music industries, continuously bringing in celebrities to work on projects, and some actually end up moving here.
Besides being the location where so many productions are made, Atlanta has the world's busiest airport, proximity to the mountains and fun day trips, and a hip restaurant and nightlife scene to encourage a strong celebrity interest in the ATL.
Here are the top neighborhoods where celebrities hang out and live in Atlanta.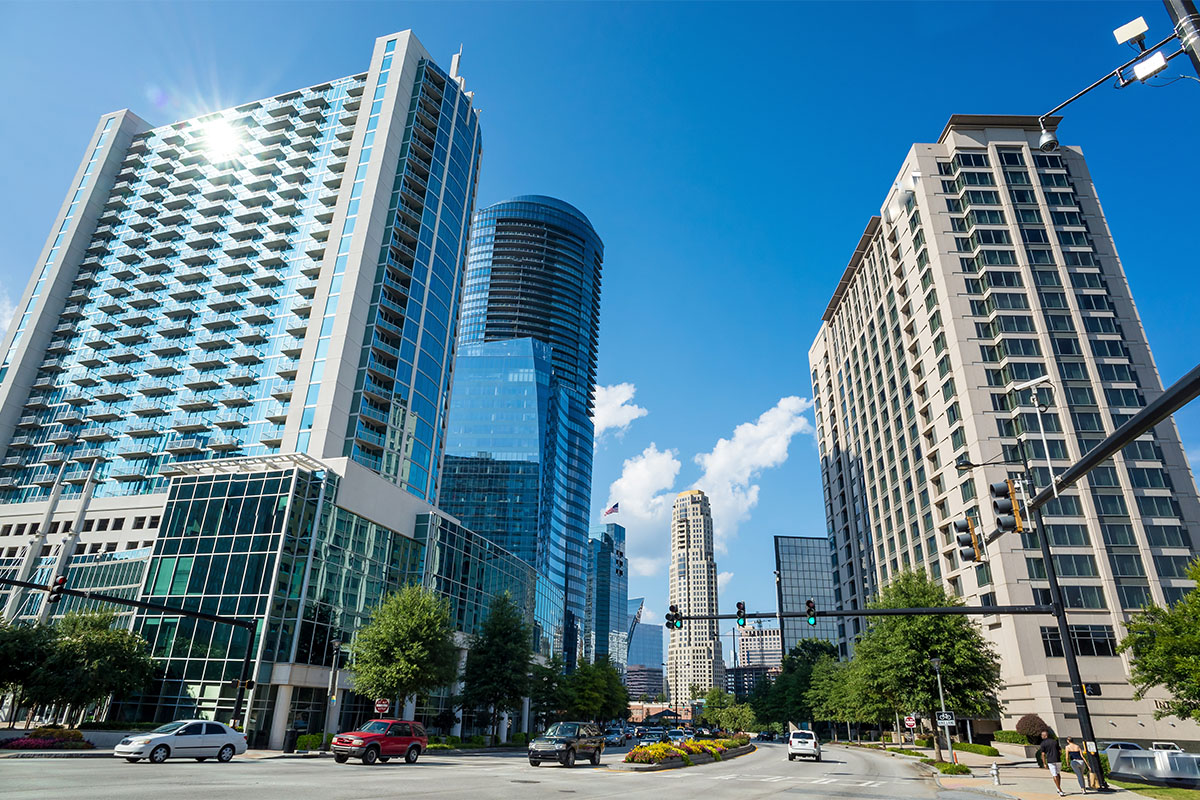 Buckhead is undoubtedly the most lavish and high-profile neighborhood in Atlanta. It's the home of luxury hotels, designer shopping, and extravagant mansions—some of which are home to A-list celebrities.
Tuxedo Park is the subdivision where many celebrities in Buckhead have houses. It's made up of expansive estates set behind wrought iron fences with immaculately manicured lawns along rolling hills. Many of the homes here sell in the multimillion dollar range. Some of the celebrities who have called Tuxedo Park home include Kenny Rogers, Vince Vaughan, and Robert Downey, Jr.
Other Buckhead celebrity residents have included Tyler Perry, who owned the single most expensive property in Atlanta on Paces Ferry overlooking the Chattahoochee River; Isla Fisher and Sascha Baron Cohen in the Buckhead pocket neighborhood of Peachtree Park; Young Thug; and longtime resident Elton John.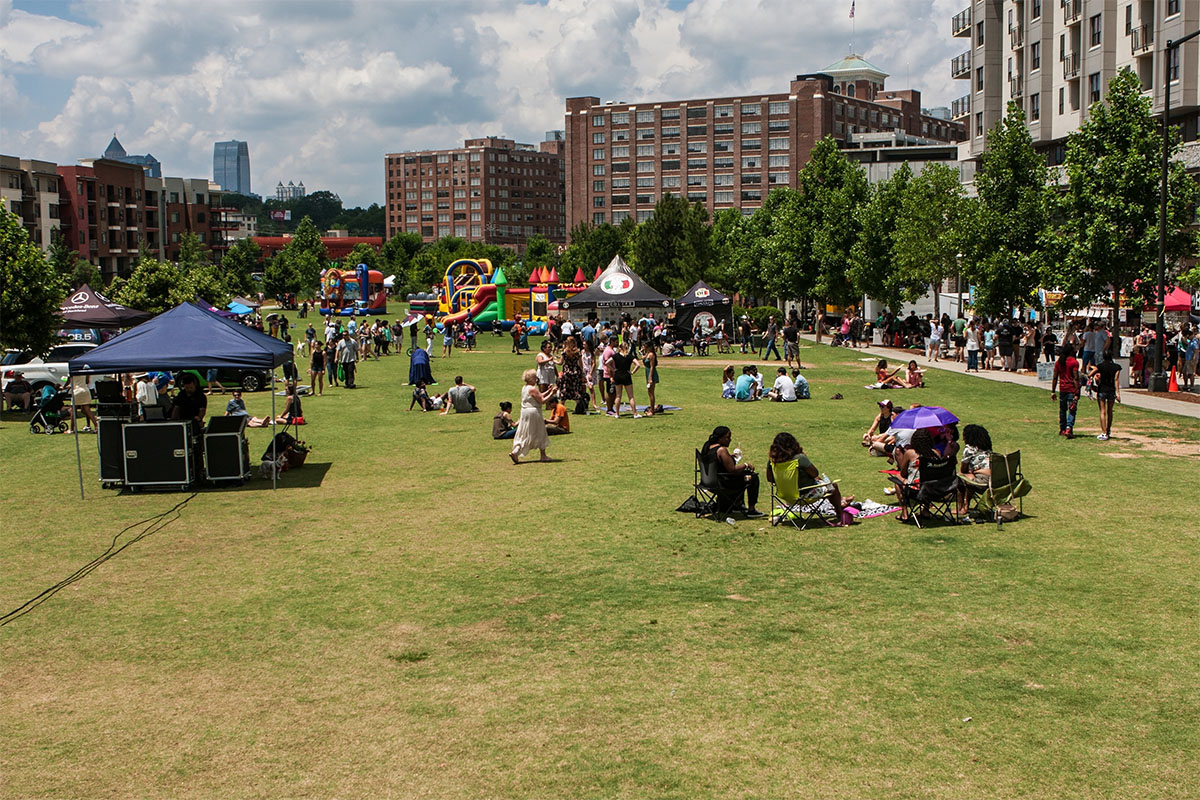 The Old Fourth Ward —or O4W for short—is a hip, historic, graffiti-splashed industrial neighborhood with a decidedly more urban, low-key feel than the opulence of Buckhead. It's also where celebrities go to more local hang-outs like Noni's, a casual spot with great food and a fun late-night scene, or Staplehouse for one of the best dining experiences in Atlanta.
The main attraction in O4W is the mammoth Ponce City Market, a mixed-use retail, restaurant, office, and living space in a converted Sears factory. It's also located on the BeltLine, so it's an ideal location for people who want to be in the middle of some of the best action in Atlanta.
The FLATS are luxury apartments attached to PCM where many celebrities have chosen to stay during their Atlanta residencies, including Jon Hamm, Ed Helms, and Gabrielle Union. The FLATS are a great option for visiting actors, offering about 20 short-term lease apartments.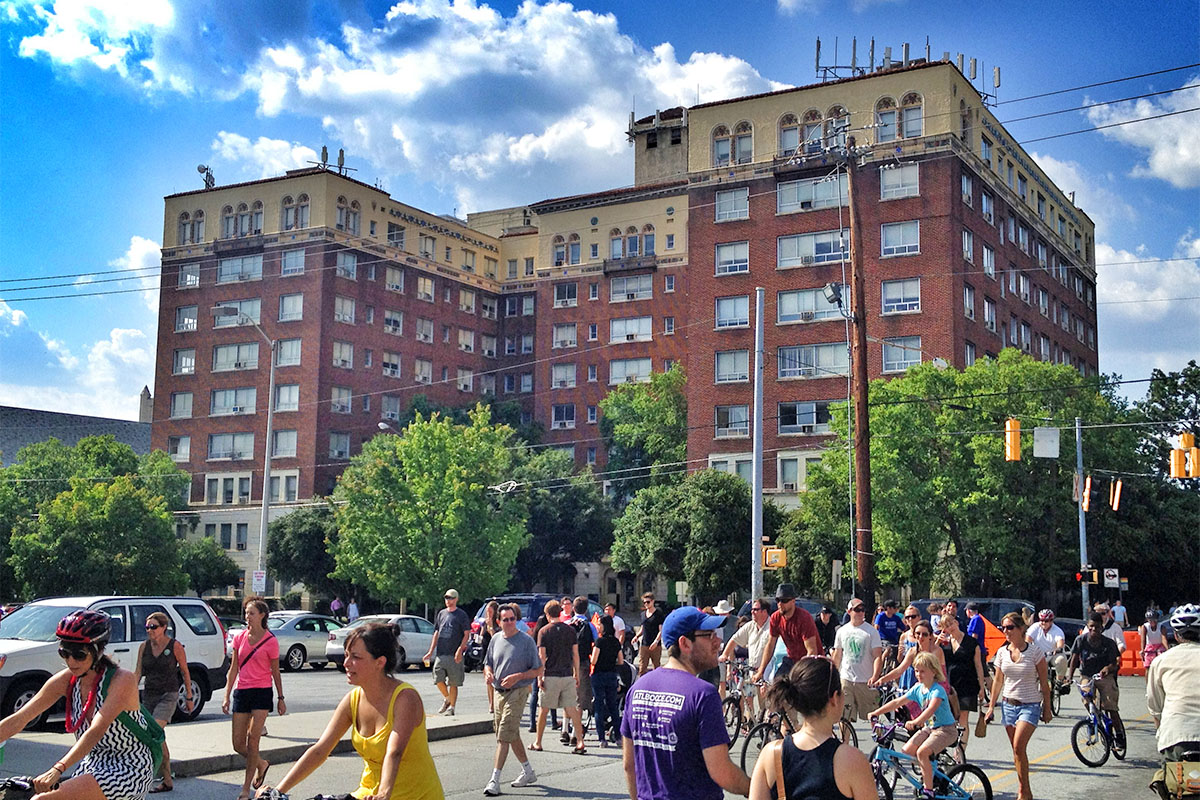 Poncey-Highland is the neighborhood between Virginia Highland and Old Fourth Ward, and its main strip—Ponce de Leon Avenue—is where some of the best nightlife in Atlanta can be found. For those celebrities staying at the FLATS apartments, Poncey-Highland restaurants and bars are a quick walk from their door.
Atlanta's oldest and most famous strip club and bar that's a destination for locals and visitors alike is the Clermont Lounge on Ponce de Leon Avenue. It's a late-night party stop for drinking, dancing, and entertainment where many celebrities have passed through over the years.
Clermont Lounge has been featured on television shows like "The Layover" and "Dave Attell's Insomniac," and according to their website, has seen visits from the likes of Bill Murray, Robert De Niro, P!nk, Carey Hart, Kid Rock, Woody Harrelson, and Morgan Freeman.
8Arm, a restaurant and wine bar with late-night DJs, is another spot where celebrities have been known to hang out; I have a friend who danced with Jon Hamm and Olivia Wilde at 8Arm when they were in town filming the upcoming Clint Eastwood film "Richard Jewell."
The neighborhood has also been the long-term home of celebrities like Jane Fonda. Fonda recently put her nearly 5,000-square-foot loft on the market that she purchased following her divorce from Atlanta media mogul Ted Turner.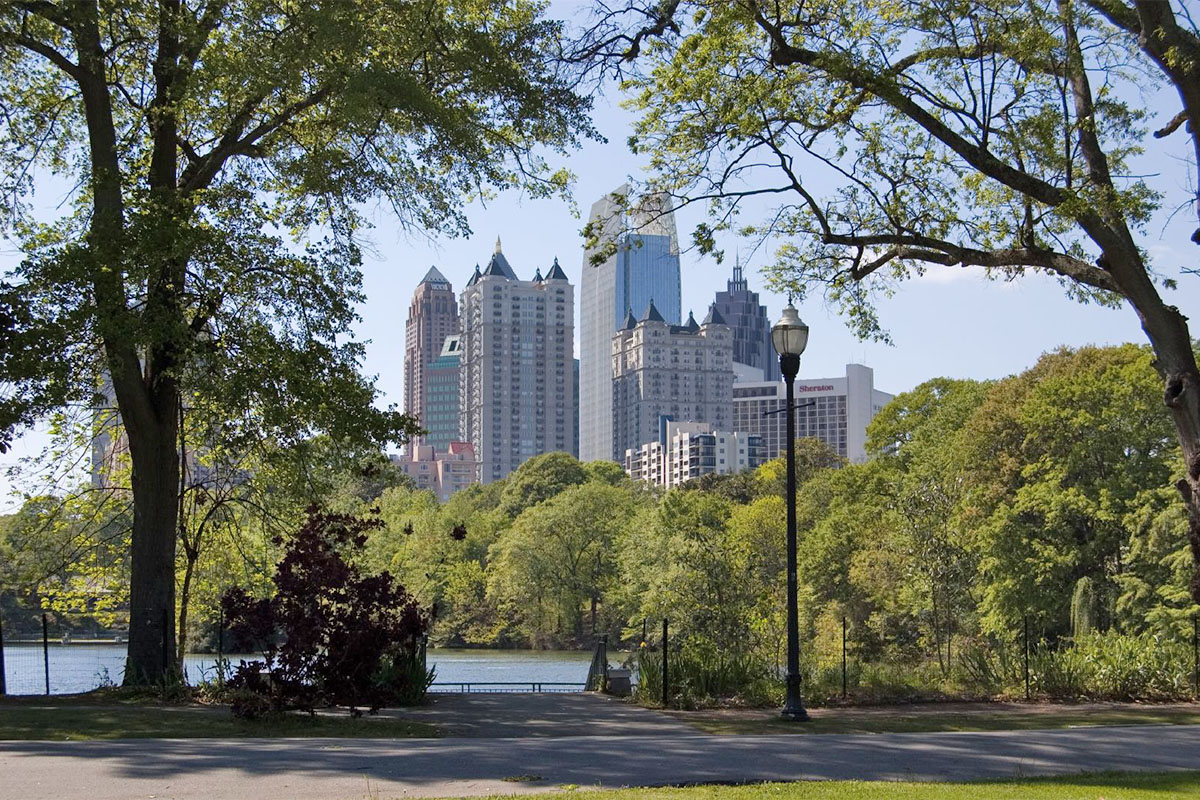 Midtown is the pulse of Atlanta city life and is always buzzing with activity. Midtown is filled with high-rise office buildings, hotels, restaurants and bars, plus the urban oasis that is the beautiful Piedmont Park and the Atlanta Botanical Gardens. It's also one of the top neighborhoods in Atlanta for celebrity sightings.
One of the celebrity-frequented Midtown establishments is STK, a swanky Manhattan-style steakhouse that's welcomed A-listers like Denzel Washington, Scarlett Johanssen, and Owen Wilson, just to name a few. South City Kitchen is another restaurant where stars like Kim Kardashian, Kanye West, and Tom Hanks have visited for the upscale southern dining that Atlanta does best.
For an extended stay, the Loews Atlanta Hotel is a desirable luxury option in Midtown. Leading actors like Donald Sutherland and Helen Mirren have stayed at their residential suites while filming in Atlanta.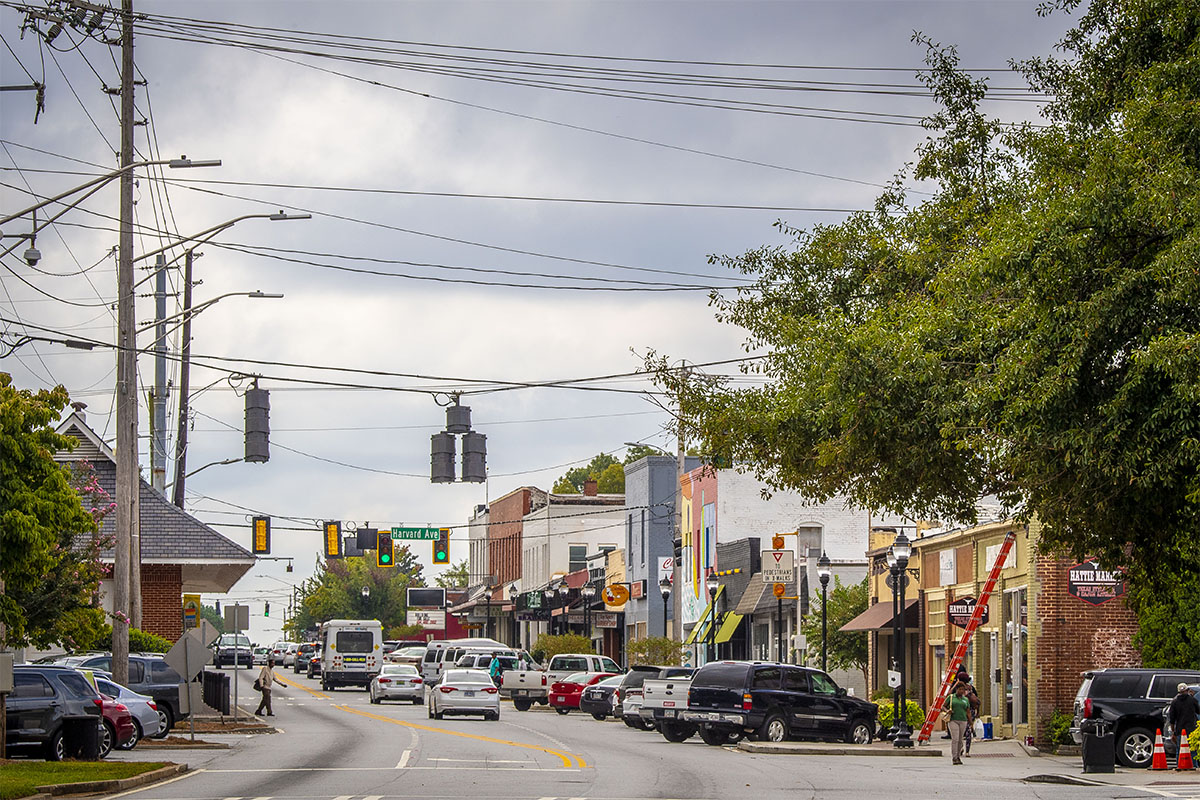 Atlanta is the hip-hop capital of the South, so a list of top neighborhoods to spot celebrities would be remiss to exclude College Park, the home of multiple Atlanta artists referenced in many rap songs.
College Park is a city near the Hartsfield-Jackson Atlanta Airport with a strong community of long-time residents. It's also growing as an affordable option to buy a house, attracting more newcomers to the neighborhood. It's one of Atlanta's historic neighborhoods with lots of preserved architecture.
A few of the Atlanta rappers to proudly call College Park home include Ludacris, Jermaine Dupri, and 2Chainz.