National Real Estate
What It's Like Living in Buckhead, Atlanta
Atlanta, like any big city, is divided into many neighborhoods, each with its own distinct culture, lifestyle, and vibe. One of the most well-known neighborhoods is Buckhead, probably because it's the hub of Atlanta affluence, luxury, and big business.
Buckhead is where you'll find ritzy high-rise condos on Peachtree Road and extravagant mansions on the backroads and side streets of the neighborhood. It's the current and former home to many celebrities, including Tyler Perry, Elton John, Mariah Carey, Kenny Rogers, and Robert Downey Jr. It's where the most high-end shopping in Atlanta and the most lavish hotels—like the Ritz-Carlton, St. Regis, and the Grand Hyatt—are located.
But what's it like living in this Atlanta jewel? Here's the low-down on all things Buckhead.
Buckhead Real Estate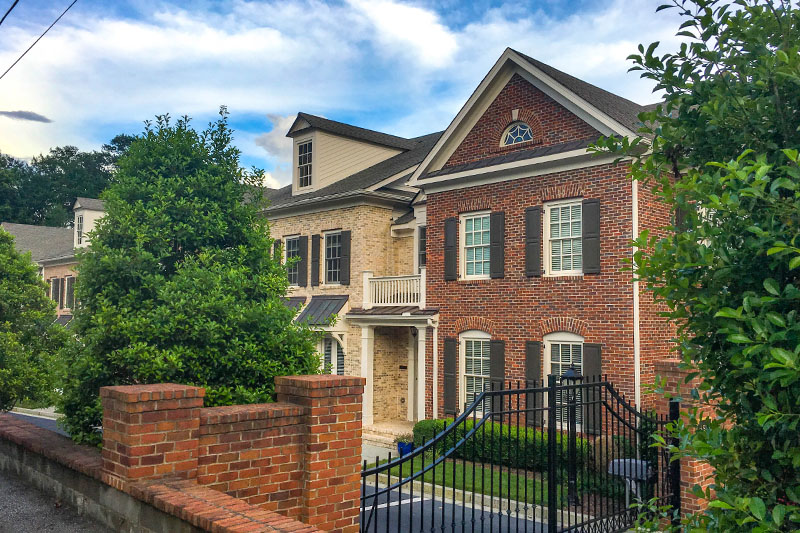 Buckhead real estate is among the most expensive in Atlanta, but the price tag (the median home price is in the high $400s, according to Neighborhoods.com) comes with beautiful homes and many desirable amenities. These include a great location close to excellent public schools, major medical centers including Piedmont Hospital and Northside Hospital, plenty of dining and entertainment, and access to public transportation.
The single-family home inventory includes the aforementioned extravagant mansions, some going for well beyond $10 million, but you'll also find renovated bungalows and other roomy homes in classic styles. While the neighborhood has a reputation for luxury high-rise condos, there are options for as low as the mid $100s in older buildings.
Where to Shop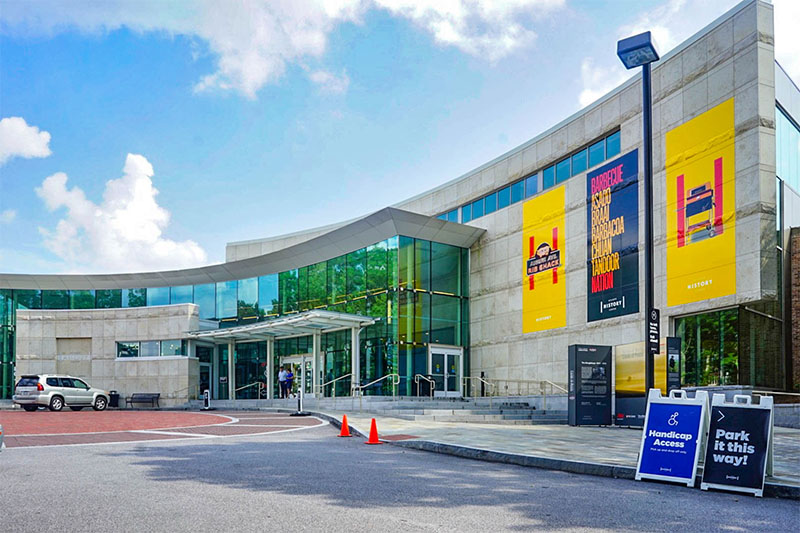 Whether you have money to burn or just enjoy pretending like you do, Buckhead will happily oblige. The two heavy-hitting upscale shopping malls in Atlanta are in Buckhead: Phipps Plaza and Lenox Square Mall. Phipps includes designer retailers like Gucci, Saks Fifth Avenue, and Tiffany & Co. It also houses an AMC movie theater with recliner seats and plenty of food and beverage options. Lenox features a whole other selection of luxury brands such as Bloomingdale's and Neiman Marcus.
For a more boutique setting, The Shops of Buckhead will indulge shoppers with six blocks of over 60 designer stores and European bistro-style restaurants offering canopied sidewalk seating. Some of the high-end stores include Dior, Tom Ford, Christian Louboutin, and Jimmy Choo. The Shops of Buckhead attract many eager diners as well with spots like the Biltong Bar, which offers inventive craft cocktails and house-made charcuterie; Le Colonial, a chic French-Vietnamese restaurant; and Shake Shack, the popular fast-casual chain.
Where to Eat and Drink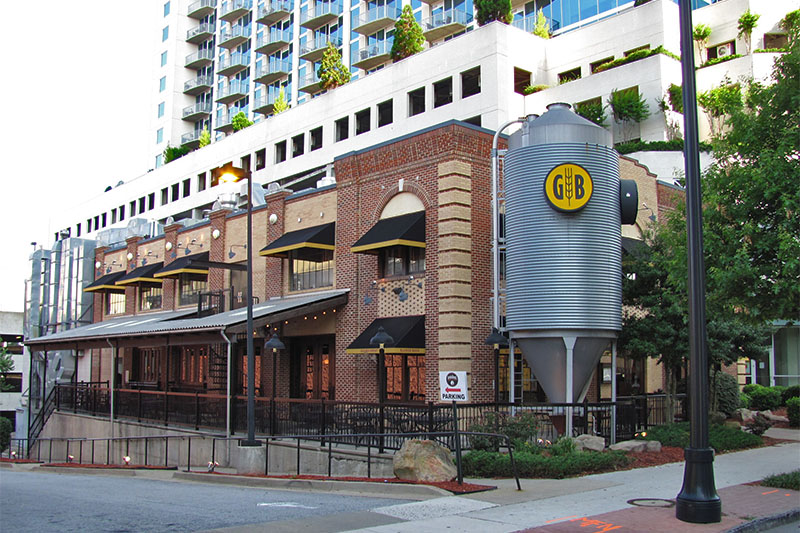 While Buckhead is a fine-dining destination, it also has some casual lunch spots like Souper Jenny which specializes in soup and salad, Henri's Bakery and Cafe for sandwiches, and the vegan/vegetarian favorite Cafe Sunflower.
One of the best upscale restaurant experiences in Atlanta is at Aria, known for beautiful takes on French cuisine in a stylish atmosphere with attentive service. St. Cecilia is another Buckhead dining standout as part of celebrated restaurateur Ford Fry's portfolio. This is another charming bistro with a menu of raw fish small plates, charcuterie, house-made pasta, and meat and fish entrees. Ecco is an Atlanta franchise that's been a staple in Midtown for years, and it recently opened a second location in Buckhead with European-inspired fare and an exceptional wine list.
For drinking and nightlife, Buckhead offers swanky cocktail bars, bumpin' night clubs, and good old-fashioned dive bars. The Painted Pin combines all three in a high-end bowling alley with craft cocktails and a lounge atmosphere. The best cocktail bars for top-shelf concoctions are at the aforementioned Biltong Bar and The Southern Gentleman. Buckhead Saloon and Fado Irish Pub are casual, lively destinations for sports fans and those looking to get their dance and drink on.
Getting Around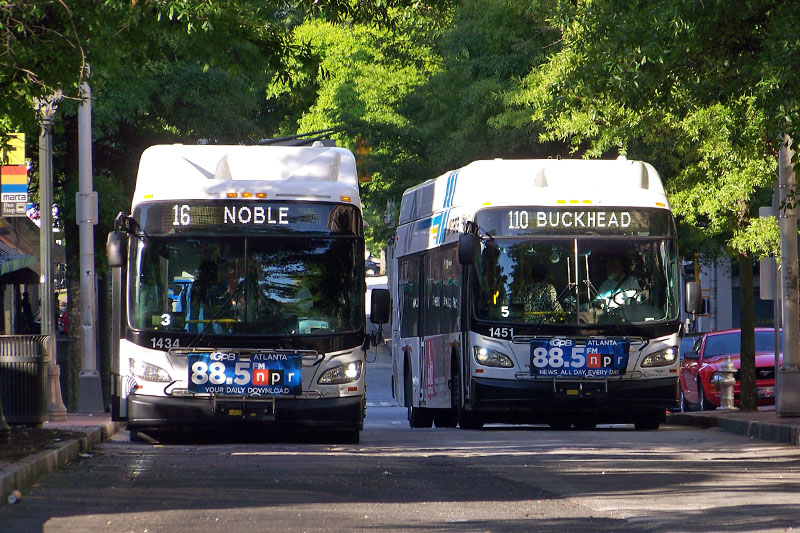 Buckhead has easy access to public transportation and the interstate. Although these things make traveling outside the neighborhood easier, Buckhead is ideal for residents who live and work in the community itself.
Buckhead has its own MARTA (Atlanta's public bus and rail transportation system) train stop. The Buckhead station is located on the bottom of the big SunTrust Bank building on Peachtree Road, the main thoroughfare in Buckhead. It's in the heart of the Atlanta financial district, and it's a busy station for professionals.
The MARTA bus also stops at the Buckhead station. For an additional option for getting around Buckhead itself, The Buc is MARTA's free Buckhead shuttle that runs every 10 minutes for transportation between the office buildings and shopping districts.
There's also access to the BeltLine, a massive development project connecting many areas of Atlanta with pedestrian paths. In Buckhead, there's an entrance to the Northside Spur Trail on Collier Road close to Peachtree Road. This trail is one of the most scenic of the entire BeltLine. This one-mile trail through the lush Tanyard Creek Park links up with the larger Northside Trail on the BeltLine.
The Bottom Line
Along with Buckhead's ample public transportation and high walkability, the neighborhood's quality dining, high-end shopping, popular attractions, and eye-catching houses means you don't often need to leave the neighborhood.
Buckhead is also the site of one of the biggest events in Atlanta every year, the Peachtree Road Race held on 4th of July. Going strong for 50 years, this Atlanta tradition kicks off Independence Day festivities with a 10k race for spirited runners, walkers, and spectators dressed in flamboyant red, white, and blue attire.
The neighborhood also boasts an excellent selection of public schools, with many schools here scoring 8 and 9 ratings on GreatSchools. Parents praise Ashford Park Elementary School, which has a 9 rating on GreatSchools, for its community feel and high academic standards.
For those who can afford it, Buckhead allows residents to experience a slice of Atlanta that's rich in more ways than one.