Houston Local Life
The Best Houston Neighborhoods for Freelancers
The gig economy has dominated the job market in recent years and shows no sign of slowing down. An estimated 57 million people, the equivalent of 35% of the country's workforce, freelance—doing everything from computer programming, writing, and consulting remotely.
While the "side hustle" itself is not new (think babysitting and temp agencies) advancing technology and app development have allowed the gig economy to thrive, making independent work easier and more accessible than ever before.
Houston, epitomizing its "Hustletown" moniker, has much to offer freelancers. Texas is among the top 5 best states for gig workers and Houston, with its cool neighborhoods, makes it a millennial magnet (a group more likely to freelance than older generations). With plenty of coffee shops, local amenities, and coworking spaces, here are the best neighborhoods for freelancers in Houston.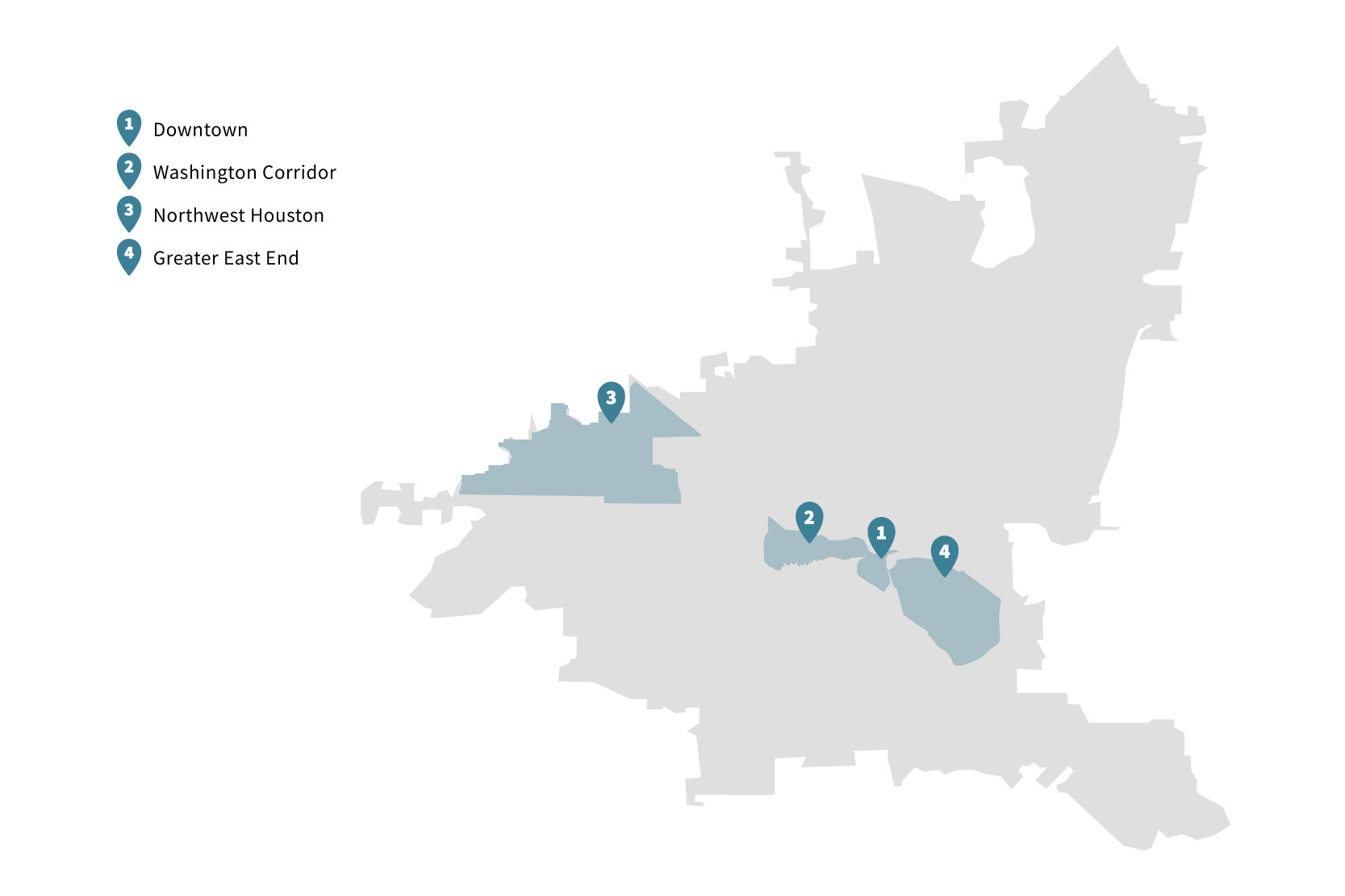 Downtown is centrally located, extremely walkable, and home to thousands of businesses including multiple Fortune 500 companies. While long considered solely a commercial district, Downtown is growing increasingly more residential with residents opting to live and work in close proximity.
The perks of living Downtown are endless and include access to the Metrorail public transit system, a vibrant art and theater district, sport and concert venues, and an active nightlife.
Market Square Park (the city's original town square) and Allen's Landing (Houston's birthplace) are both located Downtown along with popular urban greenspace Discovery Green. Historic brick buildings stand beside steel skyscrapers bridging the gap between Houston's past and present.
Spots to check out:
Washington Corridor is shedding its reputation as party central for area college students and starting to grow up. While nightlife opportunities are still plentiful along the walkable strip of Washington Avenue, the neighborhood is drawing urban professionals, artists, and millennials escaping the rising rents of bordering neighborhoods Montrose and The Heights.
Washington is poised to become Houston's next EaDo, a former industrial area turned hip, modern, and attractive to homebuyers.
With the arrival of a multi-level HEB and high quality restaurants, the neighborhood is becoming its own self-sustaining community. Remnants of Old Sixth Ward's manufacturing past have been preserved and factories have been transformed into breweries, art galleries, and storefronts. Home styles in the area run the gamut from luxury apartments and townhomes to quaint bungalows and historic Victorians.
Spots to check out:
Originally used as farmland, Northwest Houston is now an expansive mixed-use area accommodating everyone from families to small business owners and large-scale corporations.
Northwest Houston, located out of the city's busy inner loop, maintains some of its halcyon rural appeal. Highly ranked schools and charming ranch-style homes offer all the benefits of suburban living while the neighborhoods proximity to major interstates ensures urban amenities are never out of reach.
Spring Branch, with sprawling yard space and tree-lined streets, is one of the most desirable places to live in Northwest Houston. And, the Energy Corridor, a major employment district along I-10, is a hub for energy sector companies and workers that rivals Downtown.
The nearby Memorial City Mall, Korean superstore H Mart, and scenic Cullen Park offer residents plenty to do without having to navigate the traffic and crowds of Houston's city center.
Spots to check out:
The Greater East End borders the Port of Houston and was once a buzzing epicenter of manufacturing and industry. When factories and plants closed, EaDo—a strip of land in the northwestern portion of the neighborhood—fell into disuse becoming a wasteland of shuttered warehouses.
Recently, EaDo has experienced a resurgence after being rebranded with a catchy amalgamated title. This along with its prime location near Downtown has attracted urbanites, transplants, and professionals.
The Greater East End is culturally rich and also encompasses the quiet family neighborhoods of Eastwood and Magnolia Park. The Greater East End is among the most affordable neighborhoods in Houston's inner loop and features a mix of midcentury single-family homes and new developments. Community gatherings, farmers markets, art shows, and homestyle taquerias make the area an idyllic place to live and work.
Spots to check out: