Los Angeles Real Estate
The Definitive Guide to Newport Beach's Balboa Island
When you live in Newport Beach, "walking the island" is a regular activity. "The island" here is a loose term that encompasses three man-made islands in Newport Bay: Balboa Island, Little Balboa Island, and Collins Island (though Collins Island is really just a tiny, exclusive extension of the main island, but it's connected by a footbridge so it gets its own name).
Taken together, the perimeters of Balboa Island and Little Balboa Island total 2.6 miles, meaning a jaunt around the island can turn into a nice workout if you're committed to power-walking or jogging the whole thing. But whether you arrive sporting sneakers or show up looking for a more leisurely stroll, walking the island is never just a walk.
With an utterly adorable main road, some of the prettiest houses in Newport, and the nearby ocean beckoning, it's inevitable that once you're on Balboa Island, you are going to want to stay a while. So, for locals and visitors alike, I present to you a definitive guide to all the best things to do on the island, in this former resident's humble opinion.
Things That are Free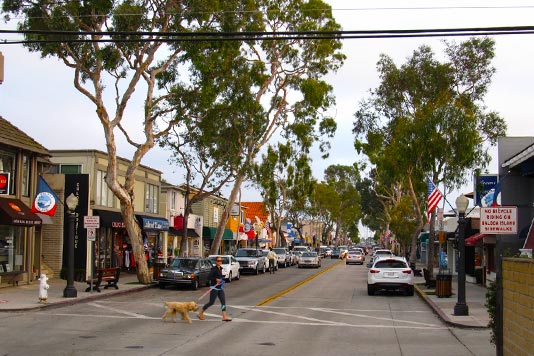 You don't have to bring your wallet in order to appreciate all Balboa Island has to offer. While window-shopping may be a gateway for actual shopping, simply strolling down Marine Avenue and appreciating the eclectic collection of boutiques and eateries is an excellent way to spend an hour. And while you are in the window-shopping mood, feel free to daydream about your future home as you circle the island and take in all of the envy-inducing waterfront real estate.
Should you happen to get a little warm during your walk, wade out into the bay from any of the small beaches or cast a fishing rod off one of the public docks. If you're lucky, you might also catch a glimpse of a wedding ceremony taking place at St. John Vianney Chapel, a beloved mainstay of the neighborhood, as you head off the Island.
Now for the Food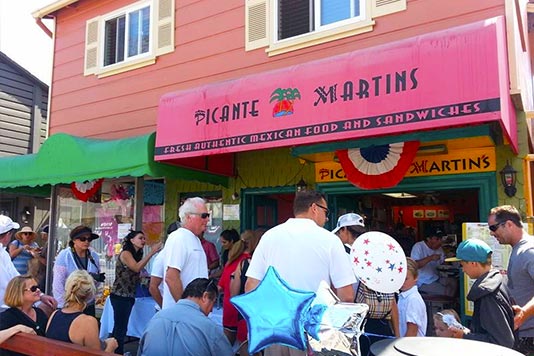 The island offers several dining options that will certainly suit what you're looking for, whether you're trying to grab a quick bite or enjoy a nice dinner. Wilma's Patio is a family-owned restaurant that has been serving Balboa Island for decades. The environment is casual and comfortable, the staff is friendly, and the food is delicious. The only problem you'll run into here is trying to figure out what to order from the extensive menu.
Picante Martin's is a neighborhood favorite offering authentic Mexican food in a vibrant environment. I frequently stop in for a carnitas quesadilla.
A more recent addition to the island, Crocker's Abundant Table and Crocker's The Well Dressed Frank are two restaurants sharing a name and a building, one offering fresh salads and sandwiches, the offer dishing up delicious hot dogs.
If you are looking for a more formal dining experience, Basilic Restaurant delivers refined Swiss-French cuisine in an intimate, romantic setting.
Satisfy Your Sweet Tooth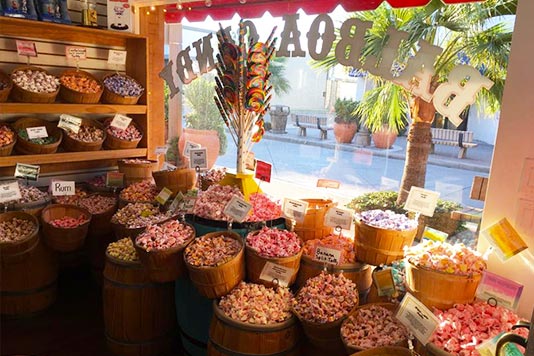 The Balboa Candy Company is a family-owned, nostalgia-inducing candy shop renown for its impressive collection of salt water taffy. Head into the store, grab a wooden bucket and lose yourself among the barrels of colorful confections. If taffy isn't really your thing, there are plenty of other novelty and old-fashioned candies that are sure to delight.
If you are craving something baked to perfection, head across the street to Blue Chair Bakery. Specializing in pastries, desserts, and breads, this quaint shop makes all of their treats from scratch, using recipes passed down through the generations. Grab a cup of coffee and a cinnamon roll in the morning (warning: these cinnamon rolls are so good, you'll never be satisfied with any other cinnamon roll ever again).
The Most Important Thing You Will Do. Seriously.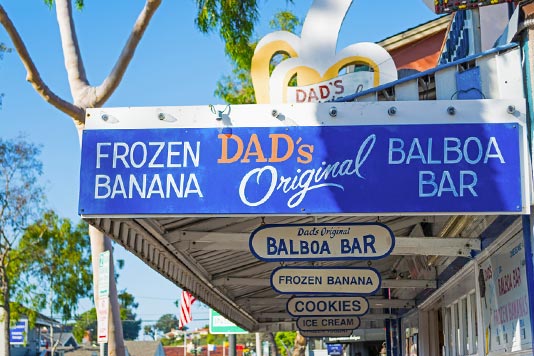 There are two frozen banana stands on Balboa Island: Dad's Donut and Bakery Shop and Sugar 'N Spice, The Original Frozen Banana (no, Bluth's Original Frozen Banana is not a real place). Both stands claim to be the original (Dad's displays "Dad's Original" on their awning while Sugar 'N Spice is so committed to defending their original status, that it's included in the official name). And while both always have a line and both are delicious, you must choose a side.
Personally, I am a Dad's fan. Their frozen bananas are excellent (try them with cinnamon crunch topping), their Balboa bars (vanilla ice cream dipped in chocolate and smothered in toppings of your choice) are appropriately indulgent, and most importantly, they have hippos cookies — delightful, brightly-colored sugar cookies in the shape of a hippo. While these were definitely intended for children, they've become a bit of cult favorite. All that being said, I can't remember the last time I've even tried Sugar 'N Spice because, like I said, you have to choose a side.
Walk and Shop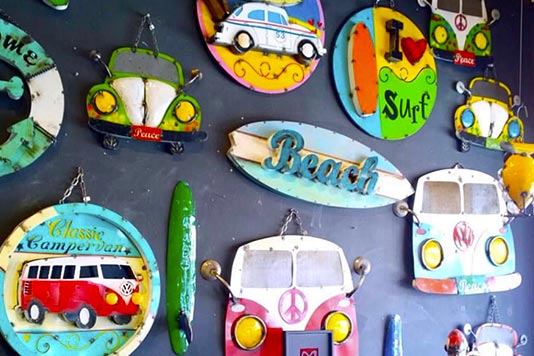 In case that window shopping doesn't quite satisfy you, duck into any of the Marine Avenue shops to get a closer look. Etc. Etc. and Just Basics are two of my favorite women's clothing stores, while Shirley's Heart has adorable beach-themed home decor and gifts. Island Tales is a precious children's bookstore, complete with an "arts and crafts" space and weekly "storytime." Art for the Soul is an eclectic art gallery, featuring vibrant art pieces, and feel-good gifts and mementos. The store has a penchant for inspirational quotes, so a walk through the store pretty much guarantees you will leave feeling good.
When You Feel the Need to Hop in the Water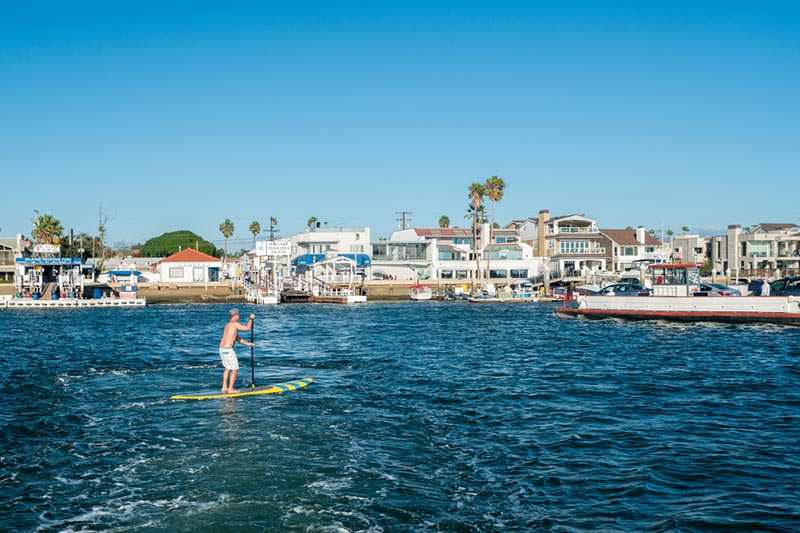 If the water is calling your name, stop by Island Paddle Board to pick up a stand-up paddleboard or kayak. You can rent them by the hour and enjoy cruising the water without getting wet (unless you fall, of course). While reservations are recommended, walk-ins are welcome.
If you have a little more time to plan your day, book an excursion with Newport Coastal Adventure. The six-passenger boat leaves from Agate Avenue and offers you the chance to get up close and personal with whales, dolphins, and other sea life.
Ride the Ferry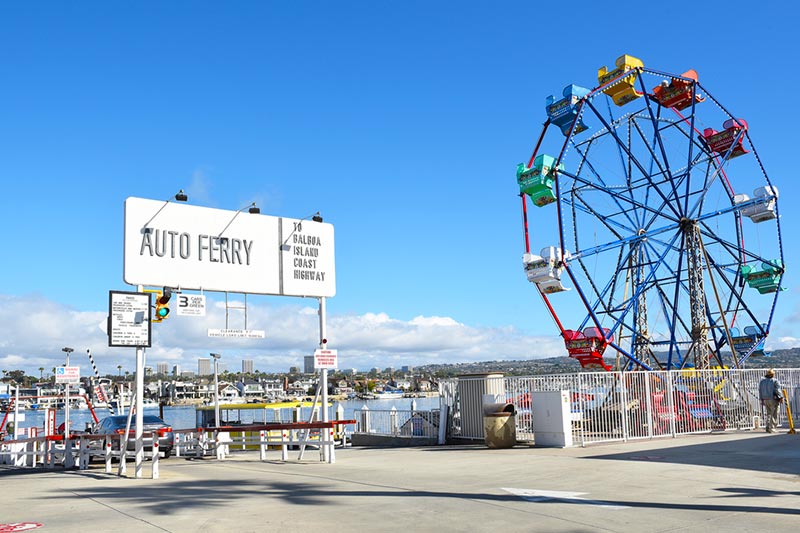 Perhaps the most quintessential island thing you can do is ride the Balboa Island Ferry across the Bay to The Fun Zone on the Balboa Peninsula. The ferry has been in operation since 1919 and is both a practical and fun way to navigate through Newport.
The Ferry is open from 6:30 a.m. to midnight Sunday through Thursday and stays open until 2:00 a.m. on Friday and Saturday. If you're crossing on foot, the short ride only costs a dollar. If you bring a bike, it's an extra 25 cents. A car and driver together will run you two dollars. If you happen to cross around 8 a.m. or 12 p.m. during the summer, look out for all of the youths in red board shorts headed to their Junior Lifeguard program (it's pretty much a Newport Beach rite of passage).
End Your Night at the VI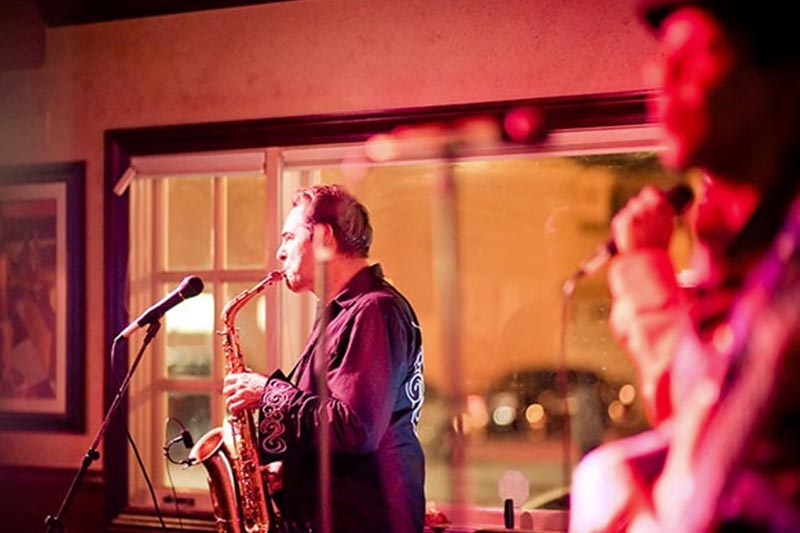 Finally, head to The Village Inn, affectionately known as the VI, for dinner or a drink to end your day. A cornerstone of the neighborhood since 1933, the VI has a steady rotation of "regulars" who frequent Tuesday trivia nights or come to catch the live music, which you can hear Wednesdays through Sundays. But don't worry, first-timers are always welcome at this friendly neighborhood establishment.