National Local Life
The Neighborhoods with the Best Thrift Stores in Atlanta
Atlanta may be home to celebrities and others who enjoy the finer things in life, but there's some who adorn themselves and their homes for a lot less by shopping at local thrift stores. Style and quality are not spared at the top thrift stores Atlanta has to offer, and savvy shoppers can make out like gangbusters.
For an additional perk of shopping at Atlanta thrift stores, many of them also serve community programs and social charities. Check out the neighborhoods with the best thrift stores in Atlanta which coincidentally happen to be some of the coolest parts of town.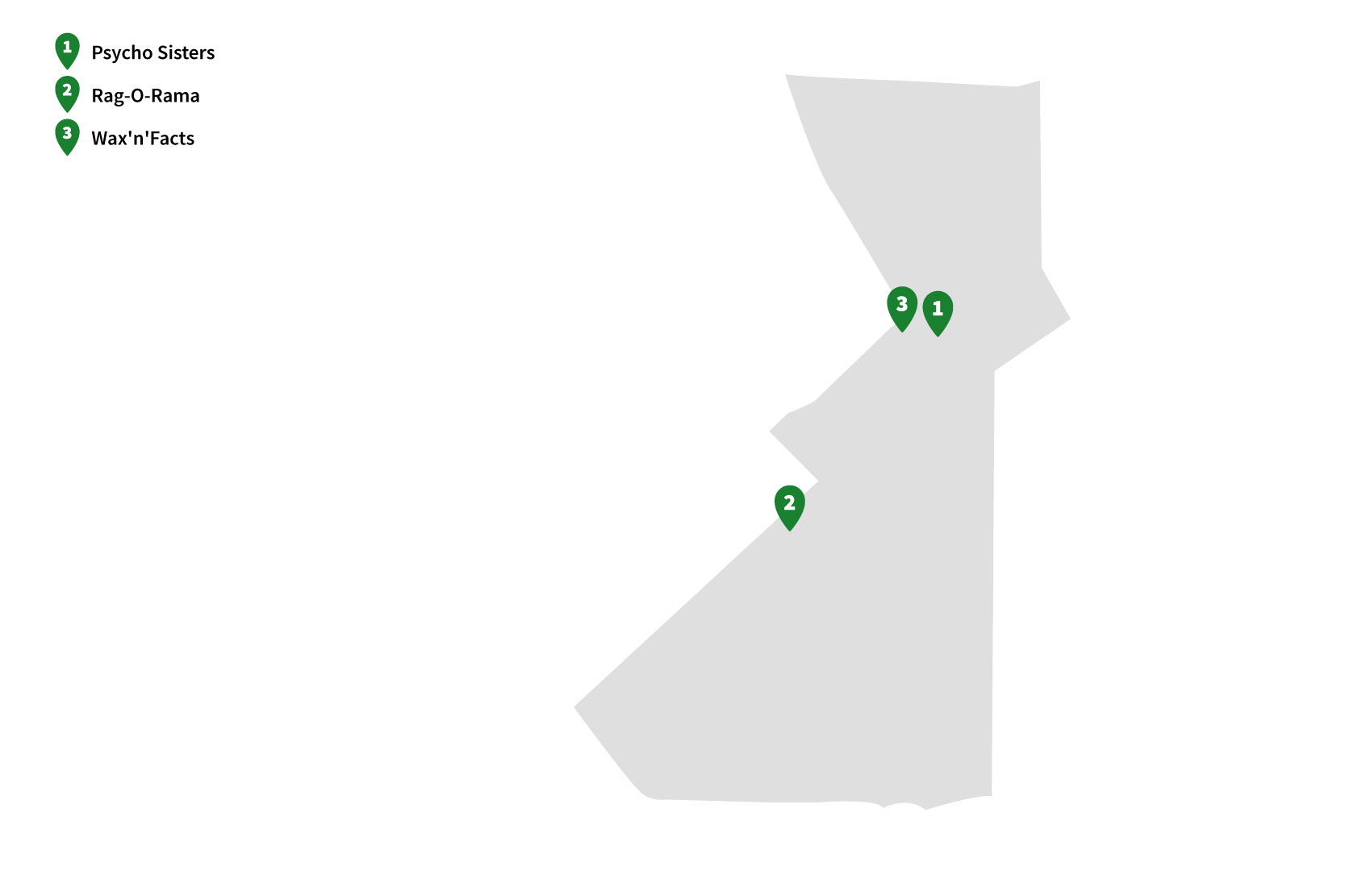 Little Five Points is a neighborhood full of bohemian, quirky, creative charm. It's youthful and lively with street performers, record stores, dive bars, and some of the best cheap eats in the city.
One of its definitive qualities is its thrift and vintage store offerings. A bonus of the L5P thrift stores is that they're all in walking distance from each other, so you could spend a whole day walking, drinking, eating, and shopping your way through the little wonders of Little Five Points.
Psycho Sisters is a thrift and vintage lover's dream. The staff always represents the shop well, donning fashionable vintage threads and are super friendly and helpful. This two-story shop has a large selection of men's and women's garments, shoes, accessories, and costumes for all your theme party and Halloween needs.
Rag-O-Rama is one of the more frequented thrift stores in Atlanta, just down the street from Psycho Sisters. It's a treasure trove of retro fashion and hip, edgy street wear. The spacious layout makes the hunt easy to navigate and enjoyable.
While you won't find clothing or accessories here except for their own branded merchandise, this beloved local record store is a destination for new and used music. This trusty Atlanta institution has been going strong since 1976 with a knowledgeable staff and a great variety of used vinyl, CDs, and even cassette tapes.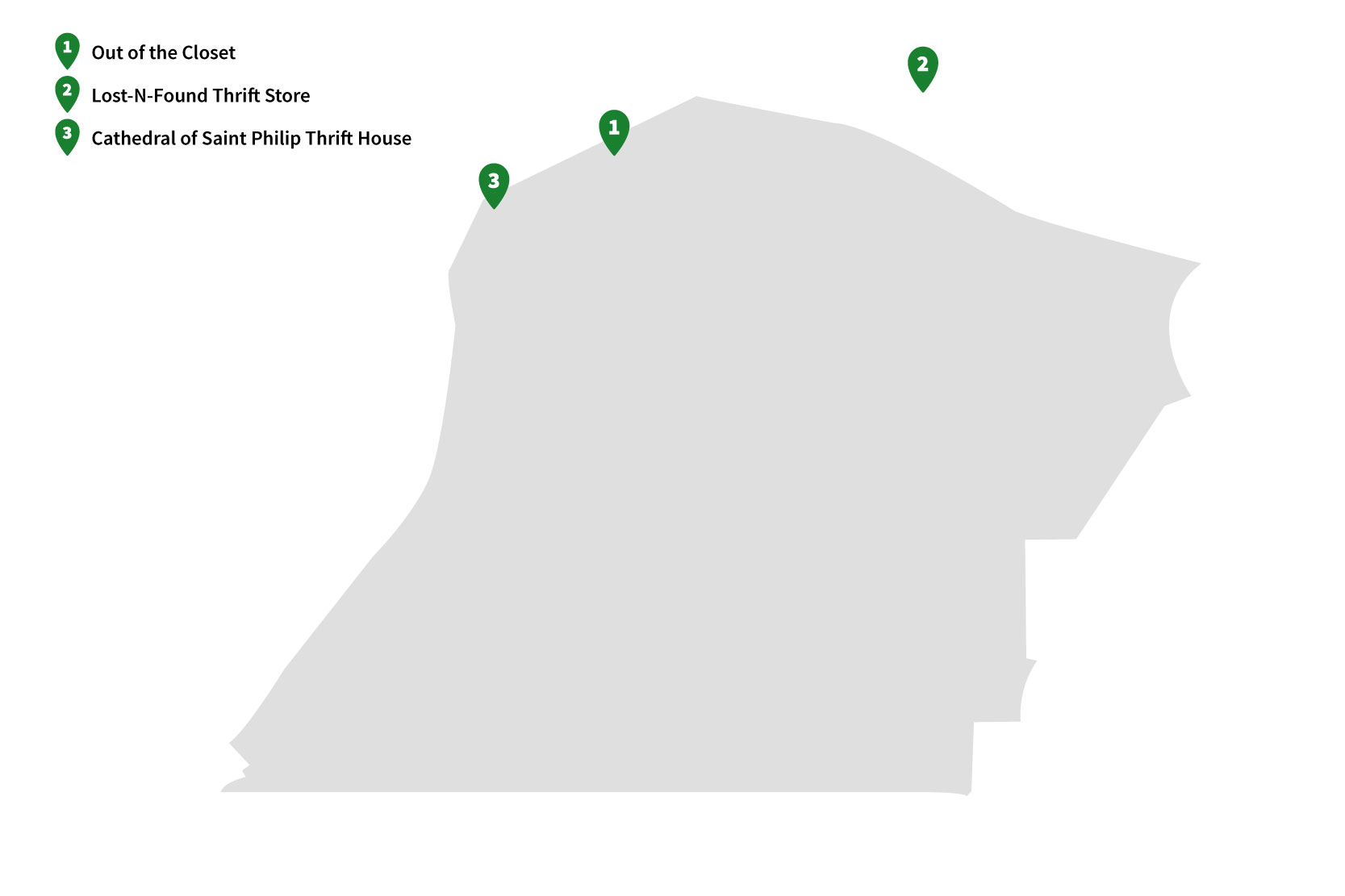 Morningside, often referred to as Morningside/Lenox Park to include its adjacent neighbor, is another historic Atlanta neighborhood founded in 1931. Most of the homes were built starting in 1918 through the mid-1930s, so the historic qualities of Morningside are preserved. The homes here are as eye-catching and quaint as any of the beautiful architecture Atlanta has to offer, many with a French or German cottage aesthetic.
This is a beautiful, hilly neighborhood with lots of greenspace, especially at the Morningside Nature Preserve, and zoned for some of the best public schools in Atlanta, making it a great neighborhood for families. It's close to Piedmont Park, has its own farmers market on Saturdays, and has lots of great little local shops and cafes, including some of the best thrift stores in town.
This philanthropic thrift store has over 20 locations across the country. For every dollar collected, 96 cents goes toward funding HIV/AIDS programs and services in the United States and abroad. Shop for a good cause at this store with a large, cool, and colorful selection as well as a donation drop off.
Lost-N-Found is another charity-driven thrift store that supports a youth center and housing for homeless LGBTQ+ youth in Atlanta. Lost-N-Found has a wide range of bargain and high-end options for everything from clothing, kitchen and housewares, furniture, instruments, and more.
This religious-affiliated thrift store is operated entirely by volunteers with the mission of providing high quality, affordable clothing, home supplies, books, records and more to the Atlanta community since 1949.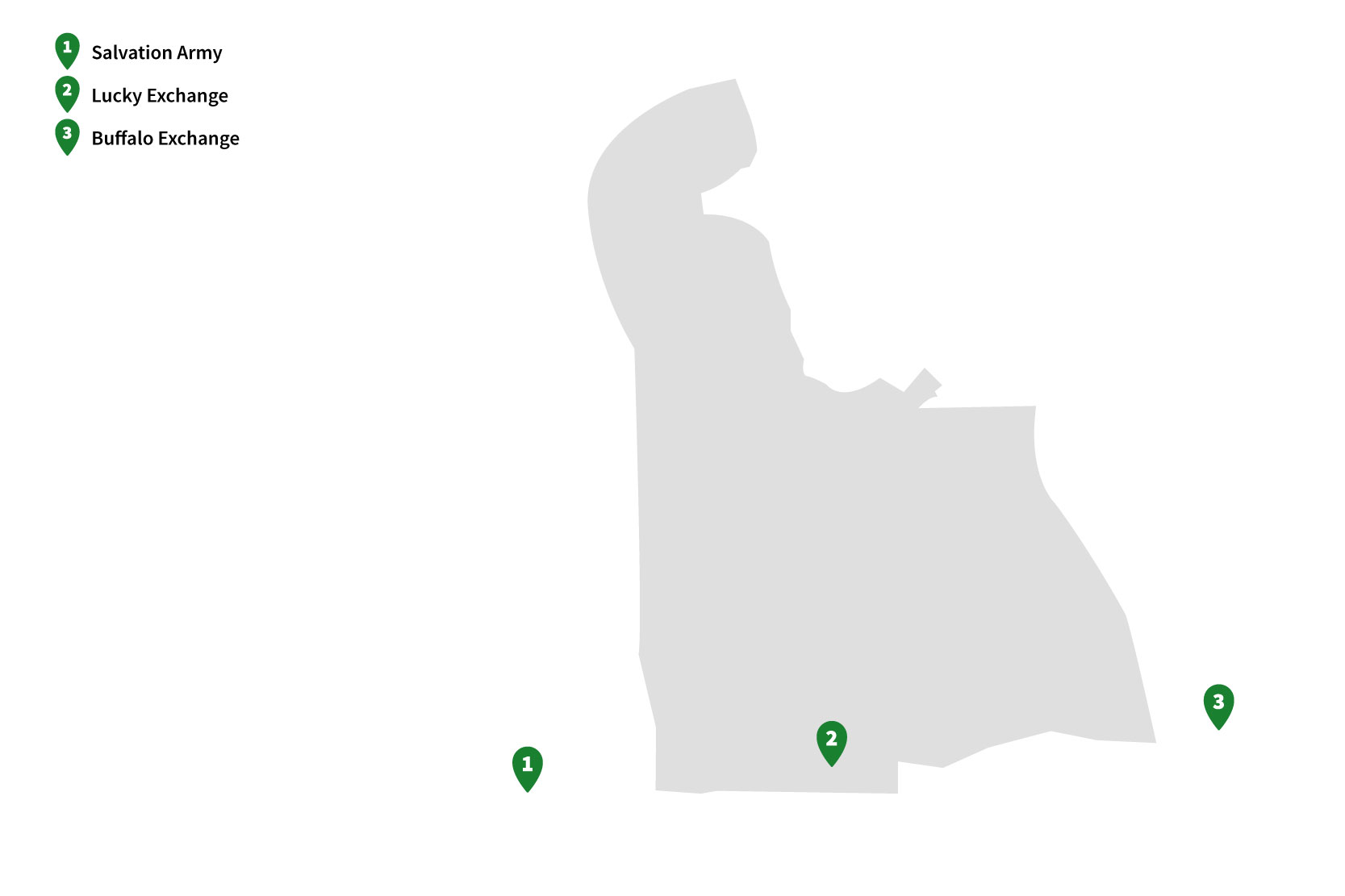 Midtown is not only the heart of Atlanta because of its location, but also because of the convergence of culture, activity, entertainment, dining, the arts, and the best park in the city. This bustling Atlanta neighborhood is the home of cultural touchstones the High Museum of Art, the Fox Theater, the Center for Puppetry Arts, and Piedmont Park which also houses the Atlanta Botanical Gardens.
Midtown celebrates inclusion and diversity and is the hub of the LGBTQ community in Atlanta and the site of the annual Atlanta Pride festival and parade. Some of the best in Atlanta dining can be found here as well, including Ecco, South City Kitchen, Empire State South, and The Lawrence, to name a few.
To match the colorful, savvy, and fashionable style of Midtown, there are great thrift and vintage stores in the neighborhood to nab some hip threads.
This location of the international program to assist communities in need has a great variety of clothing, housewares, and furniture. As with all Salvation Army Family Stores, the Midtown store's proceeds go towards funding Salvation Army Adult Rehabilitation Centers and serves as a donation drop off.
The Lucky Exchange is a carefully curated vintage shop full of great party dresses, denim, Western shirts, vintage tees, shoes, jewelry, and more from the 1960s and beyond. Among their selection is also top designer brands like Prada, Gucci, and Dior. Make an afternoon of it and have lunch at Atlanta's famous Mary Mac's Tea Room just down the block.
This national chain always has a wide range of secondhand threads, and the Piedmont Avenue location does not disappoint. It's well organized into sections by size and clothing type making for an easy and pleasant shopping experience.