National Real Estate
The Neighborhoods With the Most Condos for Sale in Naples, Florida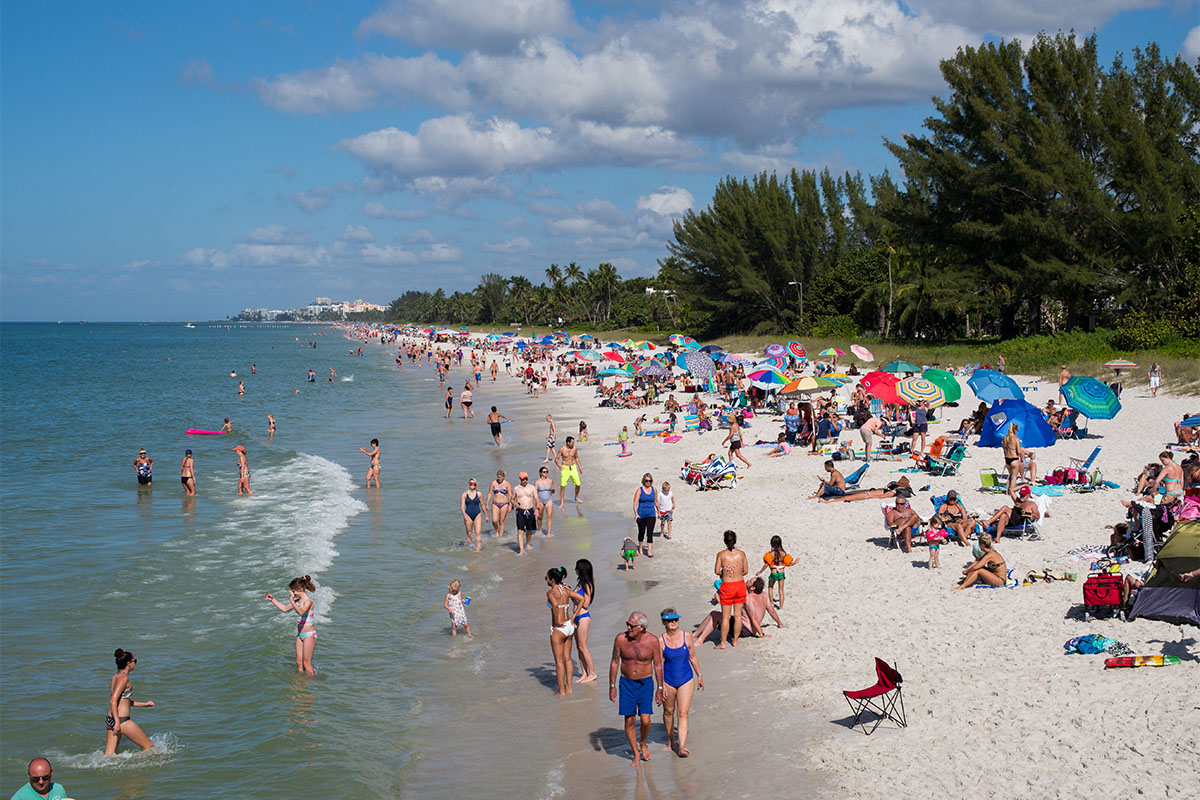 Whether you plan to be a full-time resident or part-time "snowbird," you may be considering moving to Naples, a beachside community in southwest Florida. In addition to its 10 miles of beautiful beaches with soft, white sand, Naples is well-known as a golfing and shopping mecca and generally appealing environment.
Along with Bonita Springs and Marco Island, Naples is known as Florida's Paradise Coast and attracts people in the market for condos, whether they are looking to purchase second homes, downsizing from another home, or are first-time buyers.
Naples has a wide variety of condos, from those found in high-rise buildings near the shore to ones in lower-rise structures located further inland. In general, condos can be on the pricey side, particularly if you're set on buying a unit close to the ocean. So, you may want to start your search by looking in areas that have an assortment of condos to compare prices, locations, and amenities.
Where can you find the most condos for sale in Naples? The following neighborhoods are some good choices:
This neighborhood is one of the city's oldest and is known for its historic charm. One of the original landmarks of Old Naples is Palm Cottage, which was built in 1895 and is on the National Register of Historic Places.
In terms of housing, the neighborhood is known for its eclectic mix of old beach cottages and mansions nestled among coconut palm and banyan trees. While you won't find any condos south of Naples Beach Hotel and Golf Club (zoning only allows for single-family homes) you'll find many condos elsewhere in this neighborhood.
The choices are plentiful here. While many luxurious condos are priced over $1 million, there are also many options that are less than $500,000, although most have less than 1,000 square feet.
The Moorings neighborhood, located between Coquina Sands to the south and Park Shore to the north, was originally purchased in 1957 by a development company owned by Milton Link.
Today, it comprises 1,300 acres and is known as a desirable coastal area to live with great boating and other water activities that are readily accessible. Moorings property owners are eligible to join the Moorings Property Owners Association which gives members Moorings Beach Park parking privileges and access to member events.
As it is with most coastal areas, the closer the property is to the water, the higher the price tag. For most units located directly on the water in this neighborhood, you'll need at least $750,000, with the priciest units costing well north of $1 million. Further inland, prices drop significantly, and you can find some units priced under $400,000.
Dating back to 1983, Pelican Bay is one of the most sought after neighborhoods in Naples due to its picturesque setting, first-class amenities, and abundance of recreational opportunities. It's a popular choice for retirees, although all residents seem to enjoy the restaurants, shops, and parks here.
Buyers can choose from the high-rise condominium projects along the Pelican Bay Preserve and those along the Club Pelican Bay golf course, among other options. All residents have access to the Pelican Bay tram system that runs through mangrove forests and open bay waters.
This neighborhood has been described as "idyllic," but as you might expect, it's not cheap. The condo choices are plentiful, but few condos can be described as "budget-friendly." Most units are priced well above $500,000, with many priced over the $1 or even $2 million mark.
West of Tamiami Trail along the Gulf of Mexico lies Park Shore, a luxury community with condos, among other types of homes. First developed by the Lutgert family in 1970s and 1980s, it has been expanded and rebuilt over the years. Today, it is a resort-style community nestled with a little under two miles of beachfront with a variety of oceanside condos on the market.
Some residents are drawn to the neighborhood due to its proximity to Olde Naples and Naples Pier, which are a short drive or 30-minute bike ride away. Like other areas of Naples, condos near the water are expensive, but ones located further inland near Tamiami Trail have lower price tags. Some are even priced under $300,000, which isn't easy to find in Naples.
Located in North Naples, Vanderbilt Beach extends from Pelican Bay to the south to The Dunes and Bluebill Avenue to the north. Its storied history began in the 1950s when J.B. Connors visited here and saw the potential to build residences. By the 1970s, more condos were constructed, and development included planned communities like Moraya Bay and Regatta.
Today, Vanderbilt Beach is regarded as a prestigious place to live and many residents enjoy the waterfront amenities it features. Prices are reasonable, given its proximity to water, with most units priced under $500,000.