The Wisconsinite Transplant's Neighborhood Guide to Living in Chicago
Chicago and Wisconsin are next door neighbors, and plenty of people relocate across the border for work, family, or just a change of pace. (Wisconsin is trying to convince Chicago millennials to make that leap.) If you're a Wisconsinite who's new to Chicago, chances are you miss a few things about home. Here's your neighborhood guide to cheese, brats, sports, and more.
Lakeview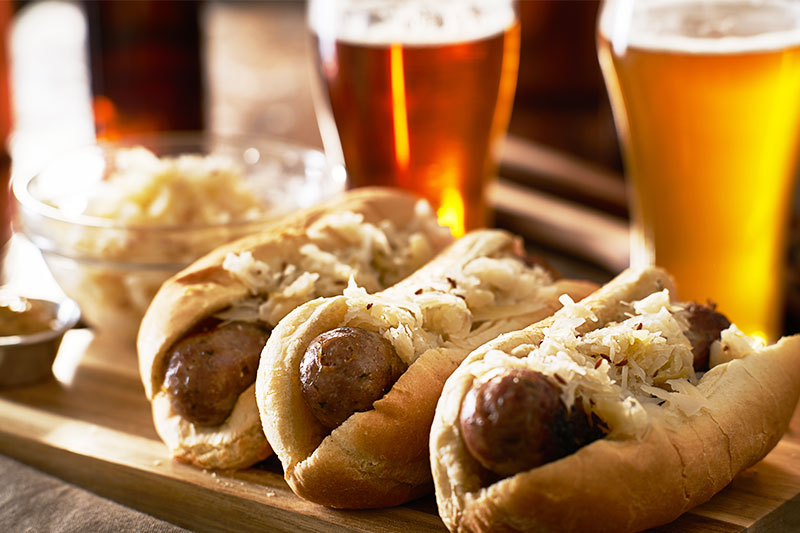 Chicagoans are crazy about hot dogs, but Wisconsin is all about the brats. Nothing makes you feel right at home quite like the right food. Lakeview has two neighborhood eateries that'll hit the spot for anyone craving the flavor of a classic brat.
Will's Northwoods Inn welcomes Wisconsinites with open arms, just check out the name. You can order a beer brat and fried cheese curds (a Wisconsin classic, obviously) and sit outside in the beer garden. Plus, the restaurant and bar will always throw on the Packers game.
If you're still dealing with serious brat cravings, head over to Murphy's Red Hots. This casual restaurant may pride itself on a great hot dog, but it also does a mean brat, complete with a pretzel bun, grilled onions, horseradish mustard, tomato, and a pickle.
Wicker Park / Bucktown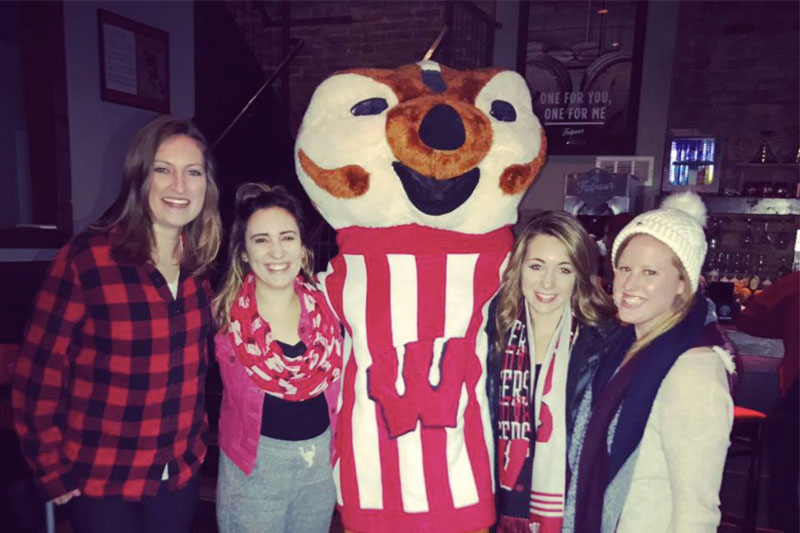 Cheering for the home team is so much harder when you aren't at home. Whether you're an alum of UW or you're just a die-hard Badgers fan, you need somewhere to show your pride on game day. Head over to Wicker Park/Bucktown, which has two Badgers bars.
FatPour Tapworks proudly embraces the red and white colors of the Wisconsin Badgers. During college football season, you can head there for kickoff and all the craft beer you could want. Chances are you'll find at least a few Wisconsin beers on tap.
Lottie's Pub does game day specials during the Badgers season. Order cheese curd pizza, Bucky Bombs, or Leinenkugel stadium cups while you cheer the Badgers on to victory.
Wrigleyville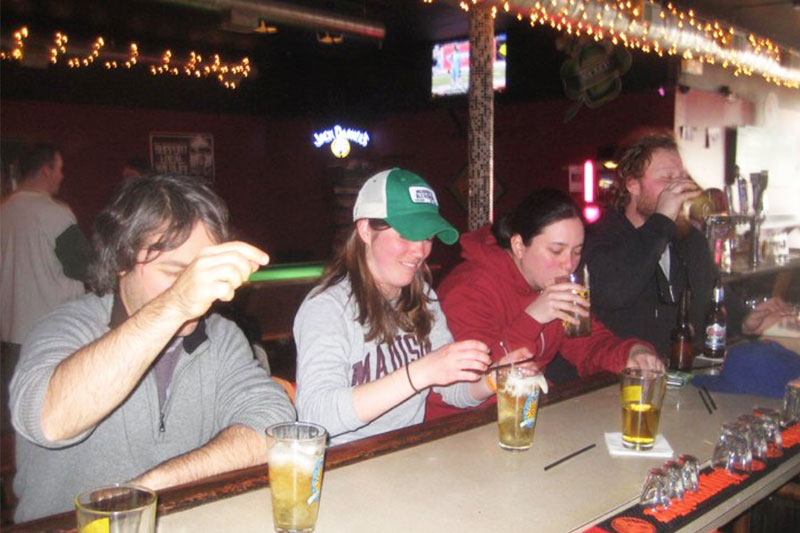 Moving to Chicago might feel like entering enemy territory for Green Bay Packers fans, but you can still cheer on your beloved Aaron Rodgers from the comfort of a bar. Although you might be miles from Lambeau Field, Clark Street in Wrigleyville has two Packers bars within walking distance of one another, making a pub crawl all too tempting.
The Sandlot does live music and has a huge sandwich menu. And Nisei Lounge is a classic sports bar, so you can bet the Packers will be on the TV. Fair warning, the bar will probably be packed and tempestuous on Bears vs. Packers days.
Plus, you can catch a Milwaukee Brewers vs. Chicago Cubs game at Wrigley Field during baseball season.
Fulton Market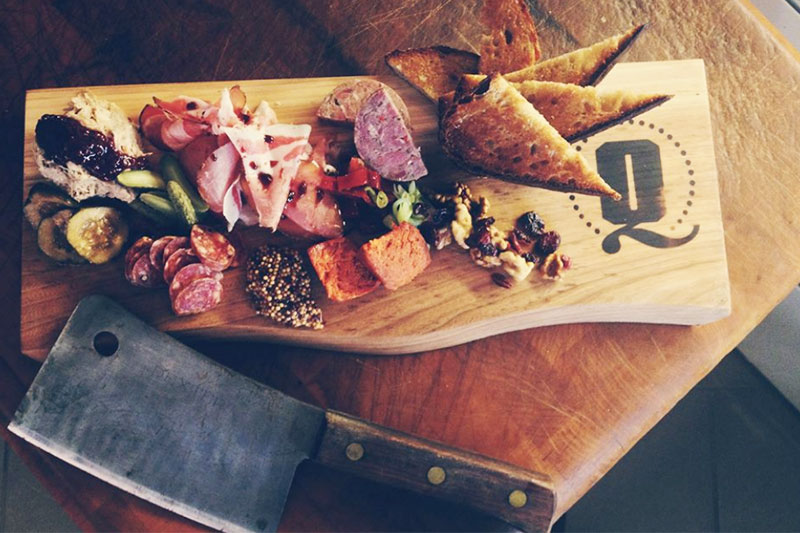 If anything can make a Wisconsinite long for home, it's the idea of good cheese. You can get your cheese curd fix at quite a few bars (Will's Northwood Inns in Lakeview and Kroll's in the South Loop chief among them), but Chicago also has quite a few stops for artisan cheeses too.
Your best bet is Fulton Market. This food-heavy district is home to Publican Quality Meats and the Chicago French Market. Pastoral in the French Market offers artisan bread, wine, and cheese, so get your fill of cheddars, blues, and goudas. Publican is first and foremost a butcher, but it also has a cafe and bakery. Any day of the week, you can order the butcher's cheese plate. Go for one variety or three.
Lincoln Park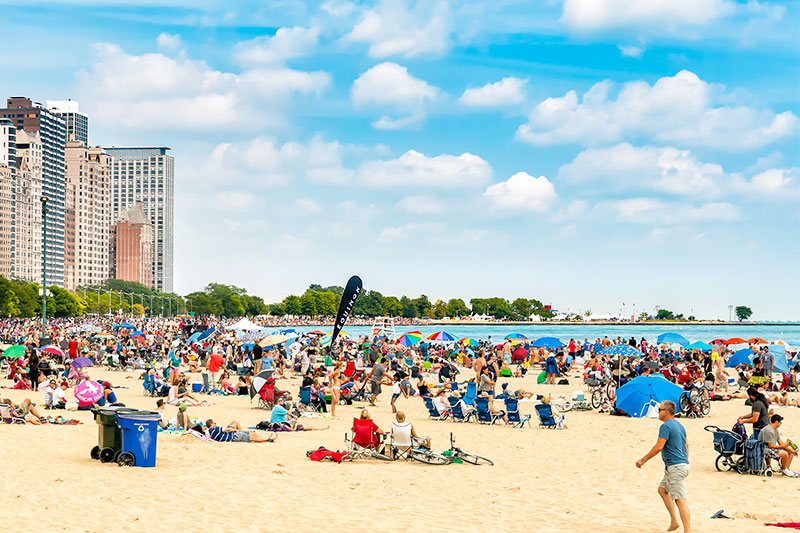 The shores of Lake Michigan can make you feel right at home. After all, Wisconsin shares much of the same lake. Head to Lincoln Park to hang out on North Avenue Beach. The beach has areas for grilling, and you can even rent a jet ski on the beach.
If you're craving the coffee of home, you're in luck. Lincoln Park is also home to a Colectivo Coffee location, which got its start up in Milwaukee and Madison. The cafe is located right on the neighborhood's North Pond. Grab a cold brew to-go or linger over your coffee and baked goods. The Wisconsin coffee shop has branched out further into Chicago with another location in Logan Square.