Phoenix Neighborhood News
This Phoenix Neighborhood Has Gone to the Birds
Phoenix is no stranger to bizarre goings-on. Papago Park in Camelback East Village, houses the tomb of seven-term Arizona governor George W.P. Hunt. There is a Mystery Castle in the foothills of South Mountain Park in South Mountain Village, an offbeat dwelling for the builder's daughter who wanted to live in a sand castle. Popular hotspot Valley Bar features "The Rose Room," named after Arizona's first female governor, Rose Mofford.
It's not only the unique locations or food options that make the city stand out. Sometimes it's the unforeseen residents. Don't worry, we're not talking about Stranger Thing's "demidogs" or anything like that. We're talking about inhabitants that live in a Phoenix neighborhood that has gone to the birds — literally.
According to Fox 10, the Camelback East Village by Arcadia and the Cottages at Arcadia neighborhoods are teeming with dozens of wildfowl.
Apparently, if you spent enough time hanging out between 32nd Street and 36th Street, just north of Thomas Road, you're bound to run into wild chickens, guinea fowl, and even some peacocks.
Turns out the area was once farmland. Over time, and thanks to suburbanization, houses went up, the farm went away, but the birds refused to move out. Since then, some residents claim to have helped raised and fed various birds here for the past fifteen years.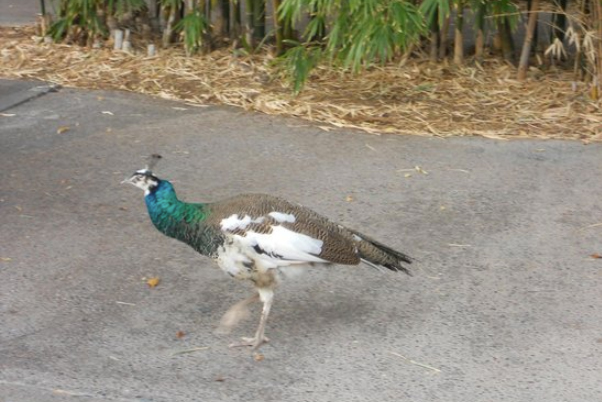 Today, local residents accept the birds as their own. Many people feed them and care for them from one generation to the next. Ten-year resident Rachel Enriquez told Fox 10 she has watched many of the birds since they hatched. The general consensus seems to be that their presence "bring smiles" to passersby. It's not uncommon to see vehicles parked along the side of the streets so people can stop to take pictures.
The downside of having roosters and peacocks parading on your lawn is, well, all that poop. Apparently, Phoenix has received complaints and generally does their due diligence about investigating. However since no one person can claim ownership of the birds, there is no code violation. And so, the feral creatures swagger on.
Per 12 News, not even Maricopa County Animal Care Control, Arizona Game and Fish, or the Arizona Department of Agriculture can do anything. They all say the flock is simply out of their jurisdiction.
For the record, you're allowed to own hens within city limits but you need at least 10,000 square feet of property. You're not allowed to own roosters because of all the noise.
For the most part, fowl and homeowners have learned to live cohesively here. The neighborhood with the famous chickens carries on the reputation as just one of Phoenix's stranger things occurring throughout the city.