Bay Area Real Estate Development
Trumark Homes Opens New Residential Community SP78 at San Pedro Square in San Jose
Downtown San Jose is shaping up for a significant economic revival, spearheaded by Google and its plans to build a new campus and transit village in the neighborhood. While construction on that project isn't expected to start until 2025, developers are already scrambling to snap up sites in the neighborhood for real estate development.
The most recent development to hit the market is SP78 at San Pedro Square by Trumark Homes, according to Builder Online. Trumark Homes acquired the site toward the end of 2017, and construction crews recently broke ground. The homes have already opened for sales, attracting new homebuyers to the area.
The development includes 78 new townhomes, which will be located adjacent to the San Pedro Square Marketplace. The townhomes will be three-story, single-family units, and each unit will come with attached direct-access garages. Homebuyers can choose from several floor plans that offer two- to three-bedroom options, and range in size from 1,300 square feet to 2,000 square feet. Homes are priced starting in the mid $900s and the builder plans to deliver model homes sometime during fall 2018.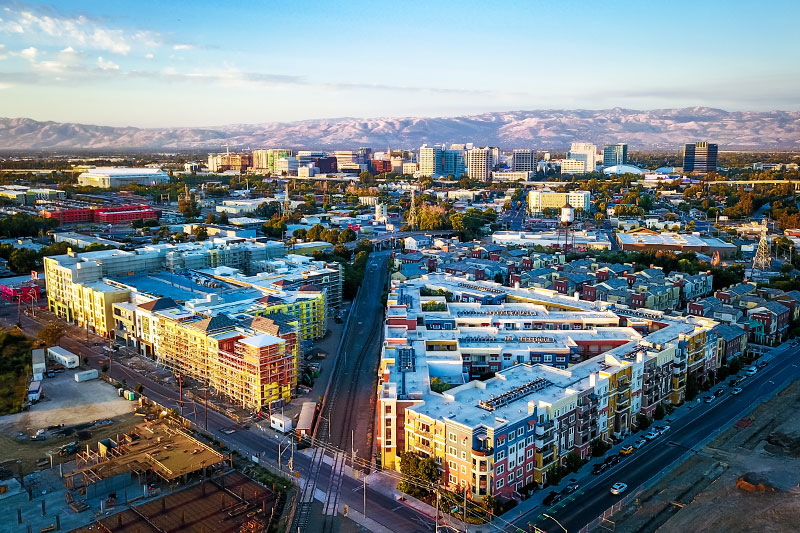 "Silicon Valley continues to be a hotbed for the technology industry, which has in turn driven pricing up drastically over the past several years," said Tony Bosowski, division president at Trumark Homes, according to Builder Online. "Introducing new housing to the area represents a tremendous opportunity for Trumark to positively impact the growing demand for housing in the Bay Area and capitalize on this primary market poised for continued growth."
Google's transit village isn't the only thing coming to Downtown San Jose that could drive up housing prices and foot traffic. Cityview Plaza, one of the neighborhood's biggest complexes, was recently purchased for $284 million, according to a Mercury News report. It's a sign of investors' earnest interest in Downtown San Jose's projected economic development. Meanwhile, Adobe Systems is also preparing to expand its Downtown San Jose headquarters, according to another Mercury News report.
"SP78 is symbolic of the urban, walkable lifestyle that home buyers are increasingly seeking, and we believe we've created a tremendous opportunity for those seeking to be connected and inspired at home," said Gregg Nelson, co-founder of Trumark, according to Builder Online. "The location and proximity to endless shopping, dining and entertainment options will be a key selling point and we are confident this community will be met with significant demand in the market."
With a more tech-driven future in the stars for Downtown San Jose, SP78 will likely be a sought-after place to live among tech workers who would like the option of walking to work. Homeowners in the community will also be situated close to the Mineta San Jose International Airport, as well as the SAP Center indoor arena.