Bay Area Neighborhood News
Urban Village Proposal Could Help Santa Clara Keep Pace in Silicon Valley
A site in Santa Clara once owned by Yahoo! could soon become a mixed-use urban village featuring offices, housing, and retail. The project, proposed by China-based developer Kylli and located at 3005 Democracy Way, would total millions of square feet, bring thousands of homes to Santa Clara, and provide space for retail shops on a 48.6-acre site near the intersection of Tasman Drive and Patrick Henry Drive.
According to the Mercury News, Kylli executives sent a letter to Santa Clara planners outlining the benefits such an urban village would bring to the city.
"The large, signature property is at the crux of the revitalization of northern Santa Clara," Kylli executives stated. They also emphasized that the village would be "located within walking/biking distance of regional destinations such as Great America, the 49ers stadium and the exciting new retail planned at City Place."
Since the days of Yahoo's ownership, the site has changed hands a number of times. Back in June 2016, China-based consumer electronics company LeEco purchased the site, which was made up of four buildings and some empty lots. LeEco planned to build 3.06 million square feet of office space on the land, but in 2017, the company hit some economic difficulties and laid off most of its San Jose workforce, with 325 employees losing their jobs. That's when the project was sold to Kylli, which has offices in Burlingame, and the company offered Santa Clara city officials a plan even larger than LeEco's.
Kylli plans to retain the idea of 3.06 million square feet of office space, but the company has added 3,500 residential units and an unspecified amount of retail space as well. The housing units would feature a blend of housing types, and Kylli envisions plenty of lifestyle amenities in a walkable urban community. The final result is planned to be more than 10 million square feet. The proposal was submitted as a general plan amendment, which means the approval process for the project could take several years.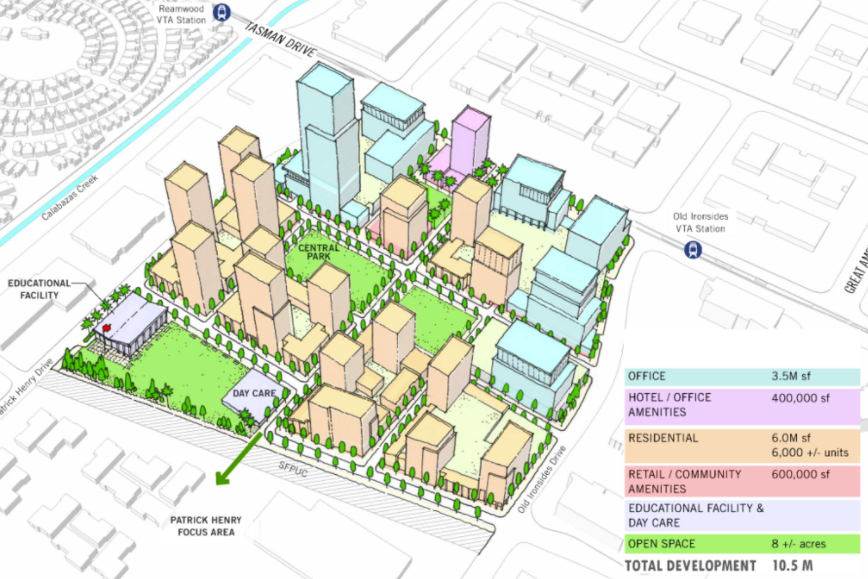 During the tech boom that saw housing prices in Palo Alto, Mountain View, and Cupertino surge, Santa Clara did not experience as much of the economic gains, though real estate prices did rise. Kylli believes the mixed-use development could go a long way in making Santa Clara more attractive to large companies.
"The addition of an array of new housing choices within walking distance of premiere office space will help entice new businesses to locate and grow in the city," Kylli executives stated in their letter to Santa Clara city officials.
According to Santa Clara Weekly, City Council members had differing reactions when faced with the proposal. Council member Patricia Mahan referred to the development as a "behemoth," while Vice Mayor Kathy Watanabe deemed it "overwhelming."
According to Suds Jain, a member of the Santa Clara Planning Commision, it "sounds like the developer wants to build a mini-Hong Kong in Santa Clara." Others praised the density of the project as a potential solution to local traffic during rush hour.
Despite some concerns, all council members voted to move the application forward to the next step in the approval process.
As the Bay Area battles a housing crisis spurred by low availability and high demand, urban villages are becoming increasingly popular around the Bay Area. They provide dense housing, thus creating more new homes for interested buyers. They're also often located near retail shops, entertainment venues, and public transit stations to encourage the use of mass transportation and take cars off the already congested regional highways.
San Jose is currently anticipating the development of a transit village near its Berryessa BART station. Google is planning a massive transit village at Diridon Station, also in San Jose. The East Bay has been seeing villages pop up as well, including a planned village that is opening up in Downtown Dublin.
If the proposed village gets built in Santa Clara, it will be one of the largest mixed-use developments in the city.