Austin Real Estate
What It's Like Living in St. Edwards, Austin
Austin's reputation as a college town mainly is mainly credited to the University of Texas, which calls the city home, but there are other higher-education campuses that contribute to the city's intellectual and quirky vibe. One prime example can be found in St. Edward's University, a private liberal arts school located in the Austin neighborhood of St. Edwards.
Tucked between the hip South Austin neighborhoods of South Congress, South Lamar, and East Riverside, this enclave houses the university that also serves as an excellent residential option for Austinites who want close proximity to trendy restaurants and nightlife, as well as easy access to the downtown business center, without the high real estate prices commonly found in South Congress and South Lamar.
The neighborhood of St. Edwards benefits from collegiate staples like funky cafes, reasonably priced eateries, and affordable homes for sale. Residents appreciate the area's vibrant energy, but also treasure its serenity. St. Edwards prides itself on its a laid-back environment appropriate for students, professionals, and families alike.
Trendy Cafes and Casual Pubs
Affordable spots designed for sitting with a laptop and a cup of joe are a common fixture in St. Edwards due to its significant student and faculty population. On warm days, the spacious outdoor lawn at Cosmic Coffee + Beer Garden makes an ideal locale for enjoying locally roasted coffee, a suite of artisanal drafts and unique cocktails, and grub from cult-fave food trucks like LeRoy + Lewis Barbecue and Pueblo Viejo Tacos.
Just south of Ben White Boulevard, you'll find Spokesman, an eclectic warehouse space with local java and brews, plus live music and open-mic nights.
St. Edwards' bar scene leans in a low-key, neighborhood-oriented direction, featuring favorite destinations like The Infinite Monkey Theorem, an urban winery with a beautifully designed tap room and a quirky array of wines made from Texas- and Colorado-grown grapes.
Another laid-back nightlife spot is The 04 Lounge, an unpretentious watering hole featuring a pool table, jukebox, and copious outdoor seating.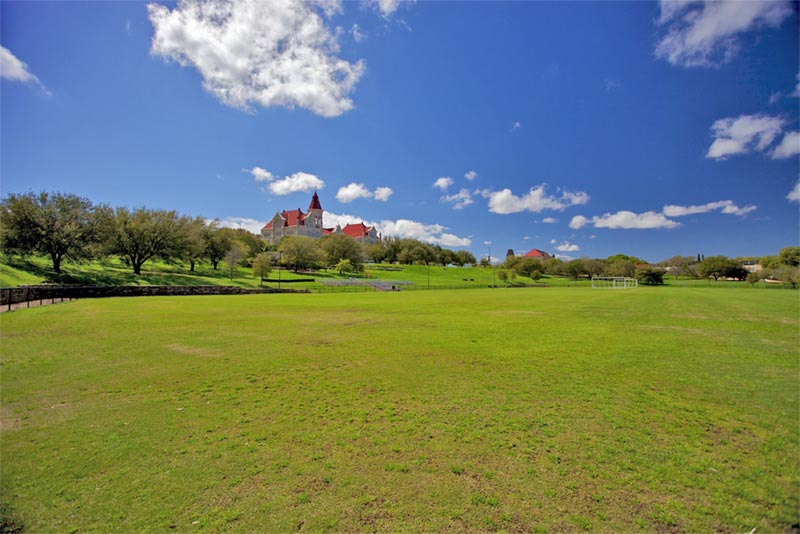 Easy Commute to Downtown Austin
Due to St. Edwards' prime location near South Congress Avenue and I-35, commuting to the Downtown Austin business district is a simple endeavor. The express 801 CapMetro bus takes St. Edwards passengers directly across Lady Bird Lake and into the heart of downtown.
Local bike commuters and intrepid pedestrians can make use of the biking and walking lanes heading over the Congress Avenue Bridge.
What It's Like to Live Here
St. Edwards represents a tranquil, residential neighborhood perfect for students and homebuyers from all walks of life who want to be close to the city's lively nightlife, but also value a quiet respite from the action.
The largest public greenspace in St. Edwards can be found in the Blunn Creek Nature Preserve, a scenic expanse with hiking and biking trails for prime flora and fauna spotting. Just north of East Oltorf Street, locals can access the Big Stacy Neighborhood Pool, a swim area with lap lanes, swimming lessons, and free entry for neighborhood residents.
St. Edward's University students and faculty members can use the school-hosted fitness facilities on campus, but area residents without college affiliation also have plenty of options for their workouts. At Organic Fitness and Training, you'll find bootcamp classes and personal trainers dedicated to customizing fitness plans. For a back-to-basics gym experience with cardio and weight equipment and optional personal training sessions, try Atomic Athlete. Yoga fans can find their flow at Yoga 512, located just north of East Oltorf Street.
As one might expect from a college-focused neighborhood, affordable eats are readily available in St. Edwards. Locals flock to neighborhood favorites like the popular Tex-Mex restaurant Curra's Grill, Cuban eatery (with outdoor cabanas) Habana Restaurant & Bar, authentic Ethiopian restaurant Taste of Ethiopia II, and the Hawaiian Poke-Poke, a new fast and casual spot specializing in Hawaiian-style fish salads. For daily shopping essentials in St. Edwards, locals can head toward West Oltorf Street or Ben White Boulevard for grocery stores and big-box stores.
While real estate prices in nearby South Congress range from the mid $200s to the mid $3 millions, current property values in St. Edwards are comparatively mild, ranging from the high $100s to the low $300s, with a median sale price in the mid $300s. Due to the neighborhood's university affiliation, the majority of properties available for sale are condos or townhomes as opposed to larger single-family homes, although those can also be found on either side of East Side Drive and in nearby Travis Heights.