Chicago Neighborhood News
What would this proposed transit line mean for Lincoln Yards, Lincoln Park, Bucktown, and Goose Island?
The 1.8-mile Chicago Terminal Railroad line, currently defunct, runs along the Chicago River right through the site of the major Lincoln Yards development. The city is angling to take over the rail line and convert it into a new public transit route, according to the Chicago Tribune. Just what form that public transit could take has yet to be decided. Early proposals have included light rail, buses, and even autonomous vehicles.
If successful, that new transit option will have a significant effect on not only the Lincoln Yards development, but also the Lincoln Park and Bucktown neighborhoods and the Goose Island area.
Lincoln Yards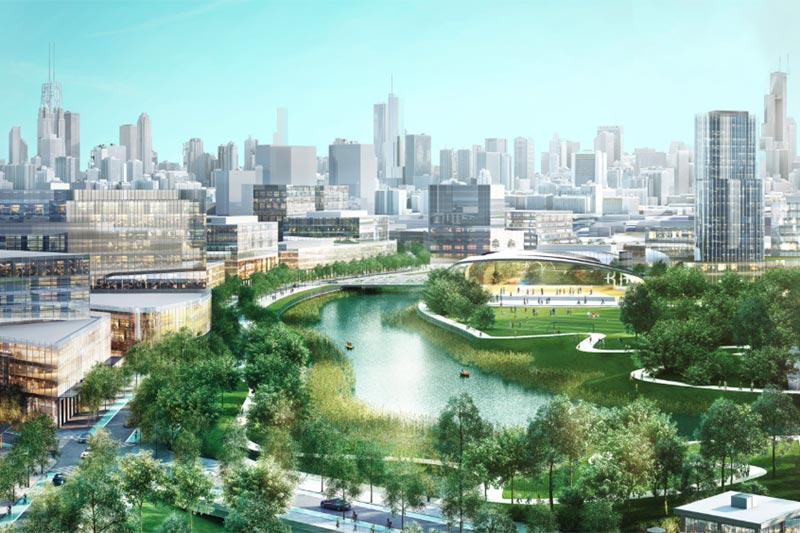 The multi-billion-dollar Lincoln Yards development, led by developer Sterling Bay, is set to bring new residential buildings, offices, greenspace, and a whole slew of other amenities to the North Side. While the mega development could be a boon for the formerly industrial North Branch, it does come with infrastructure concerns, particularly traffic in the surrounding areas. Many of those concerns have been voiced during public meetings held by Sterling Bay, according to the Chicago Tribune report.
"Whatever mode is eventually used, clearly this would be the fastest way to get from downtown to the Lincoln Yards development, which would relieve a lot of the congestion that my constituents are talking about at every one of these meetings," Ald. Brian Hopkins (2nd Ward) told the Tribune. Hopkins also said this public transit plan could mean traveling from Lincoln Yards to Ogilvie Transportation Center could take approximately 12 minutes.
If the route is to actually reach Ogilvie in the West Loop, it will need to extend further than Goose Island, through the River District development, Curbed Chicago points out.
If it comes to fruition, this public transit line would be one of many options for reaching Lincoln Yards. The development plans also call for a new Clybourn Metra station, water taxi stops, and an extension of The 606 elevated path.
North Side neighborhoods Lincoln Park and Bucktown, both of which border the Lincoln Yards project, are well-served by public transit. The CTA Brown, Purple, and Red lines serve Lincoln Park, while Bucktown residents have access to the CTA Blue Line. Both neighborhoods are also crisscrossed by numerous bus routes.
While those options are available, the Chicago Tribune points out that the Red, Blue, and Brown lines experience crowding issues—issues that would likely worsen as the Lincoln Yards project progresses. Opening a new transit line on the Chicago Terminal Railroad line could help manage overcrowding on the CTA.
Goose Island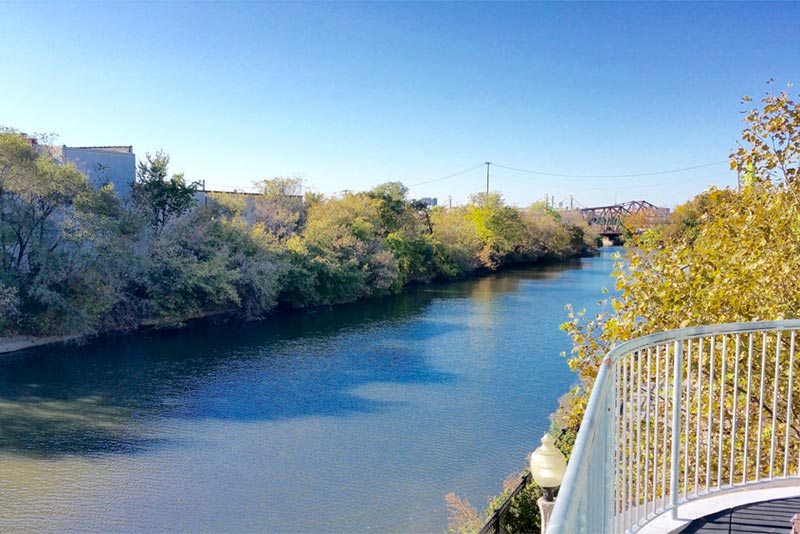 Goose Island, while not technically a neighborhood, is certainly an up-and-coming Chicago area. Surrounded by the Chicago River, the small area is gaining increased interest from developers. Like much of the North Branch, Goose Island spent years as an industrial area with little in the way of residential and retail development. That is dramatically changing as developers propose and move forward with new projects in the area.
The Wild Mile, an ecologically inclined project dedicated to open public space, will occupy a large chunk on the eastern side of Goose Island. DLR Group is planning to build T3 Goose Island, a six-story, 270,000-square-foot office building made of wood. Another developer is proposing a brewery—Crossroads Brewery at the Boatyard—and retailer REI aims to open another store on a site owned by the same developer.
The Chicago Terminal Railroad runs through Goose Island, and making this railway into a new public transit option could also increase access to the rapidly developing area.
"You put a quick connection to downtown from Goose Island, and it's game-changing," R2 managing principal Matt Garrison told the Tribune. Developer R2 is behind Goose Island's potential brewery and retail plans.
While this public transit option sounds like a home run for the North Side, it has several hurdles to clear before becoming a reality. According to the Tribune, the project has yet to gain approval, let alone sort out the details of design and funding.