Dallas-Ft. Worth Homeownership
Where to Live in Dallas According to a Soil Scientist
There's a lot that goes into buying a home—finding a real estate agent, searching for the right home, applying for a loan, and inspecting a home for maintenance issues or repairs. Yet, there's one thing homebuyers don't always consider when buying a home: soil.
The Dallas area is known for foundational problems, and it all boils down to two things: soil and climate. To get a better understanding of this phenomenon, we turned to the most experienced soil scientist in the state of Texas, Wayne J. Gabriel. Gabriel is the Senior Soil Scientist at the United States Department of Agriculture. He's also a licensed professional geoscientist.
According to the Gabriel, the soil in Dallas is comprised of clay and that can be an issue for homeowners.
"The clay soils in the Dallas area shrink as they dry and swell as they get moist and can move and crack a foundation and building structures like a set of jacks," he says. "The soils with clay loam surface texture can do the same but to a lesser extent."
The Dallas Neighborhoods With Favorable Soil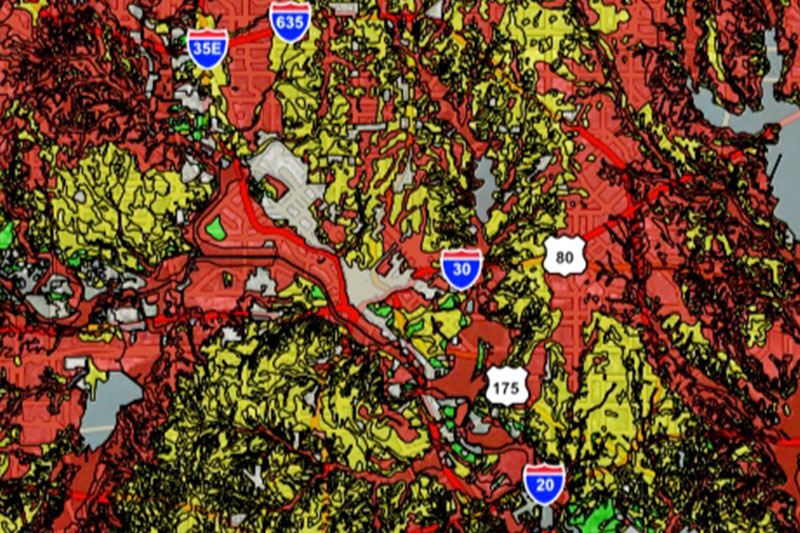 Gabriel directed us to a Dallas soil report with a thematic map completed in 2017. It shows the soil component ratings in Dallas County for dwellings with concrete foundations.
Areas on the map covered in green have the most ideal soil for homeowners, as the soil is conducive to minimal maintenance and offers high performance for structures built above ground. A quick look at the map, and it's easy to see that there are very few areas in Dallas where the soil is favorable. The few areas that stand out are those concentrated in a small area south of I-30 in The Cedars, along I-45, and southeast of I-20 near the Dallas Southside Water Treatment Plant.
Areas covered in yellow are a bit more favorable, indicating that with proper planning, design, and installation of the home, structural problems could be less of an issue. Most of Oak Cliff appears to be covered in yellow, and there are also some pockets in South Dallas and North Dallas.
Unfortunately, there are far too many areas in Dallas County covered in red, which indicates a type of soil that has one or more features that could cause problems to houses and high maintenance costs in the future. The red areas tend to coalesce near waterways like the Trinity River and White Rock Lake, and yet, the soil mixes and mingles throughout Uptown, East Dallas, and North Dallas too.
What Potential Homebuyers Should Do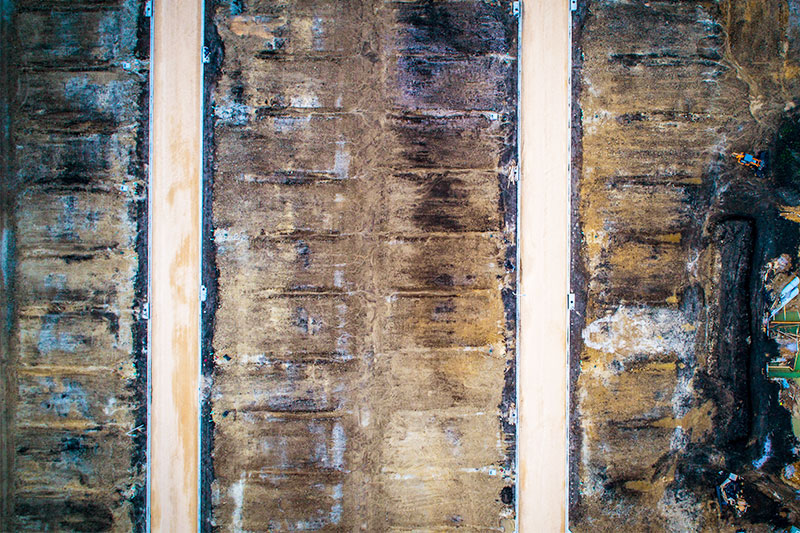 Gabriel told Neighborhoods.com that homebuyers should "Seek the advice and on-site investigation of a qualified professional soil scientist or engineer," as well as look at the Web Soil Survey online interactive map found here.
Whether you're looking for a home in one of the green, yellow, or red zones, don't fret. There's plenty that you can do to protect yourself and your home, regardless of the soil composition. If you're buying a home, hire a home inspector who will do a full report on your home's foundation. You can also connect with a soil scientist and get their take on how the soil might affect the dwelling in the future.
For those building a new home, be sure to check the background of your builder. Find out where they've built homes in the past and speak with those homeowners to get their take on the builder's skills. You'll want a builder that considers soil composites when building a home and takes the time to build a strong structure that will last homeowners well into the future.
With Dallas having such a substantial risk for foundation issues, consider buying a foundation warranty from a builder or a third-party. Foundation warranties that cover structural problems often last 10 years and provide peace of mind when working with a homebuilder. Sometimes these warranties are transferable to homebuyers, so keep that in mind if you're buying a home.
Buying a home can be scary as it's a big step that can come with plenty of risks and problems. However, being fully aware of everything from the loan process to even the soil that lives below your future home, can make the buying process a a lot more pleasant and prepare you as a homeowner.