Los Angeles Local Life
Where to See Waterfalls Near Los Angeles
It's true that Los Angeles is chock full of hiking spots, beaches, and city attractions; however, many people tend to overlook that city's numerous nearby waterfalls. Sometimes, these waterfalls go unnoticed because of the time of the year or because the city simply hasn't seen rainfall in a while, but head towards these neighborhoods around LA during the early months of the year or after a good rainfall, and you'll be sure to witness some of the city's most epic waterfalls. Don't forget to pack a pair of good water shoes and swim trunks.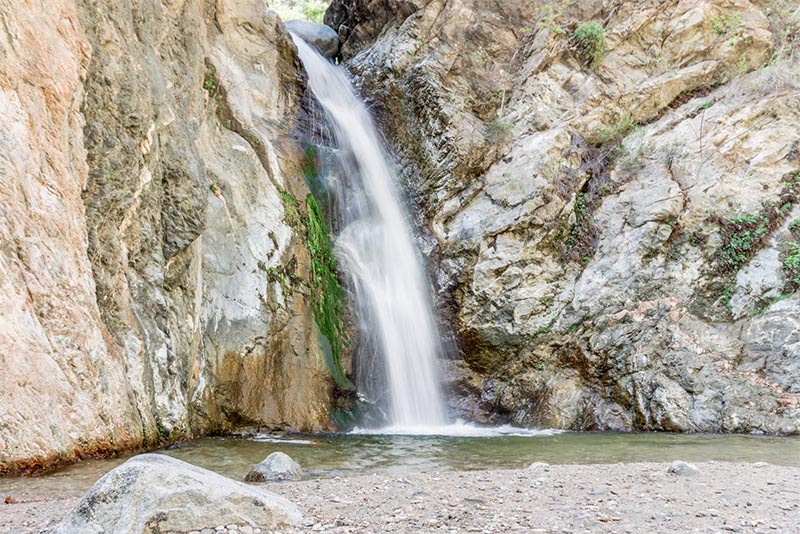 Next to popular Pasadena is the unincorporated area Altadena, known for its free-spirited residents and recreational activities. Altadena sits at the foothills of the San Gabriel Mountains, so locals and visitors are steps away from nature.
One of Altadena's more popular waterfall hikes is Eaton Canyon Falls, which is ideal for families with children and dogs. The flat trail is within the 190-acre Eaton Canyon Natural area and stretches a little over a mile to the site's main attraction—a 40-foot waterfall that cascades down into a pool. Once visitors reach the waterfall, they can rest, take a dip in the water, or have a small picnic. This trail is approximately 3.5 miles roundtrip and peaks at an elevation of 375 feet. The recreation area is a zoological, botanical, and geological nature preserve, so visitors also have plenty of other activities available after finishing their waterfall hike.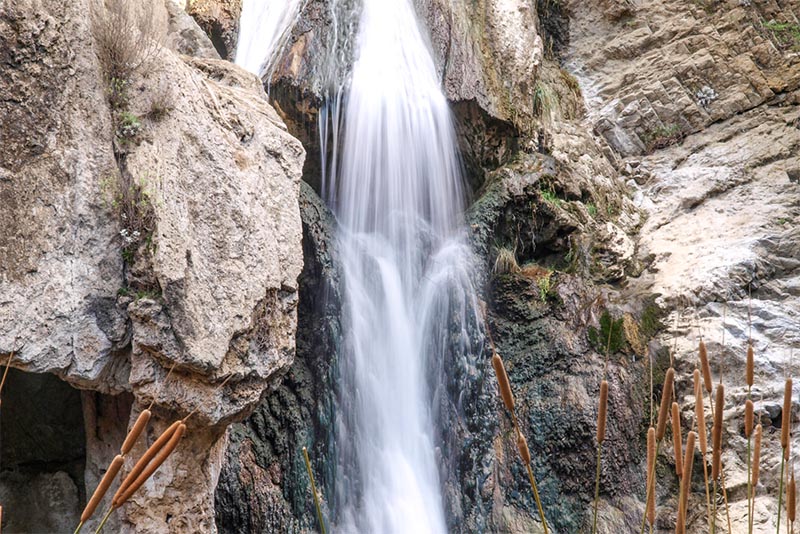 Head towards the affluent Thousand Oaks and you'll find Paradise Falls—a 40-foot waterfall nestled along Arroyo Conejo, the longest creek in Conejo Valley. The city itself is known for being home to over 75 miles of trails and approximately 15,000 acres of greenspace, but Paradise Falls is one of the city's main attractions for visitors interested in chasing waterfalls.
The site is located within Wildwood Regional Park, where there are several different paths to take, depending on how challenging you want your hike to be. For an easy trail to the waterfall, head west on the Mesa Trail and there will be signs leading up to the attraction. Visitors won't be able to climb or swim around the waterfall due to sanitation reasons; however, there are numerous trails and areas to discover in the park along with plenty of picnic tables to stop at for a quick lunch.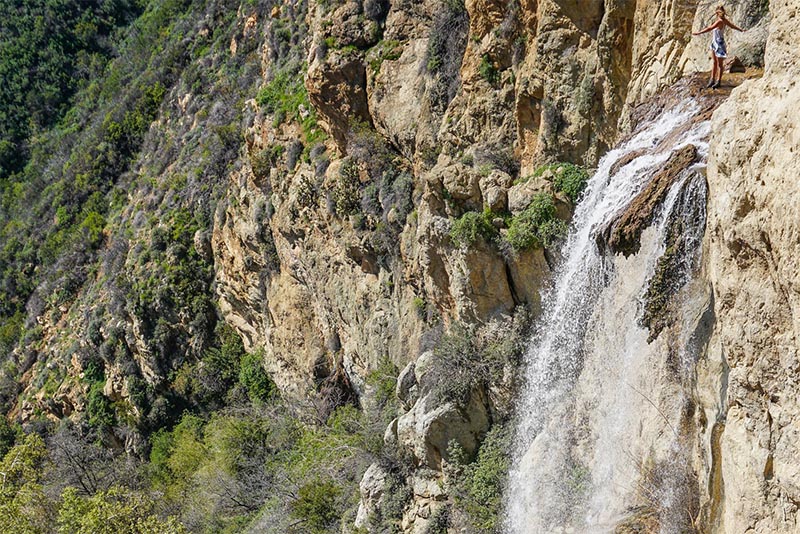 West of Los Angeles is the relaxing beachfront city of Malibu, known for its many beaches, impressive homes, scenic mountainsides, and proximity to recreational activities. One of the city's most popular waterfall hikes is Escondido Falls located in Escondido Park Canyon, which spans approximately 150 feet into a pool of water.
This waterfall offers varying "tiers" from its low point to high point—for visitors who feel adventurous enough to climb it. The best time to visit this site is during the springtime months when the water is flowing the strongest. The 4.2-mile route is fairly easy and much of the path is shaded by nature, unlike other hiking spots in Malibu. Depending on your pace, this waterfall trail can take a couple of hours to complete.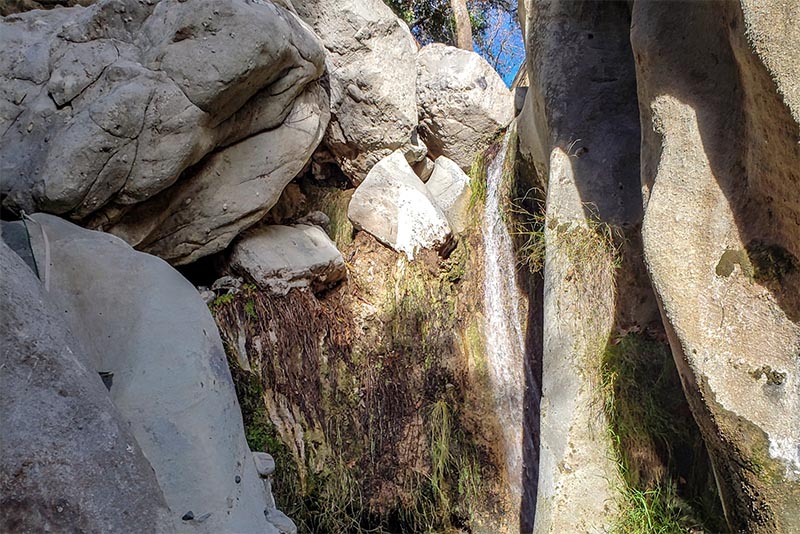 There are several areas of interest in Pacific Palisades, an affluent Westside neighborhood in Los Angeles. Some of these attractions include the famous Getty Center, Temescal Gateway Park, and Will Rogers State Beach. The neighborhood itself is known for its beautiful natural scenery, charming small-town Downtown, and its friendly community. Pacific Palisades features some of the city's best trails, and this includes the Santa Ynez Canyon Waterfall Trail in Topanga State Park.
Considered a hidden gem in the neighborhood, this nearly 20-foot waterfall works for hikers of all levels. Although the trail is on the shorter end, spanning a bit over two miles, much of the path requires maneuvering over streams, rocks, and rugged paths. Due to the changing terrain during different times of the year, this trail might be more difficult after a rainfall, when it gets a bit slippery. However, this fun waterfall is definitely a must-see in the neighborhood.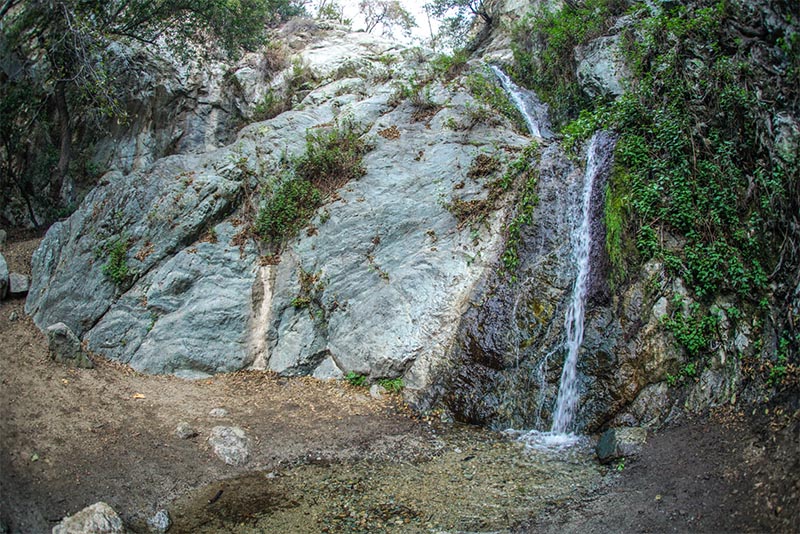 For visitors interested in staying towards LA's east side, head towards San Gabriel. Many people overlook the fact that this neighborhood is also filled with lush recreational areas because it's best known for its supermarkets and Asian cuisine. However, head towards Monrovia Canyon Park where you can find Monrovia Falls, a 30-foot waterfall that's great for families with kids. The site is also dog-friendly.
This trail is a good local spot to visit year-round, spanning approximately 2.5 miles with a 650-foot elevation gain. There are several paths leading up to the waterfall; however, if you want to take a shortcut up, try parking higher up in the park. Be careful not to leave any food lying around as there are bears that share the park.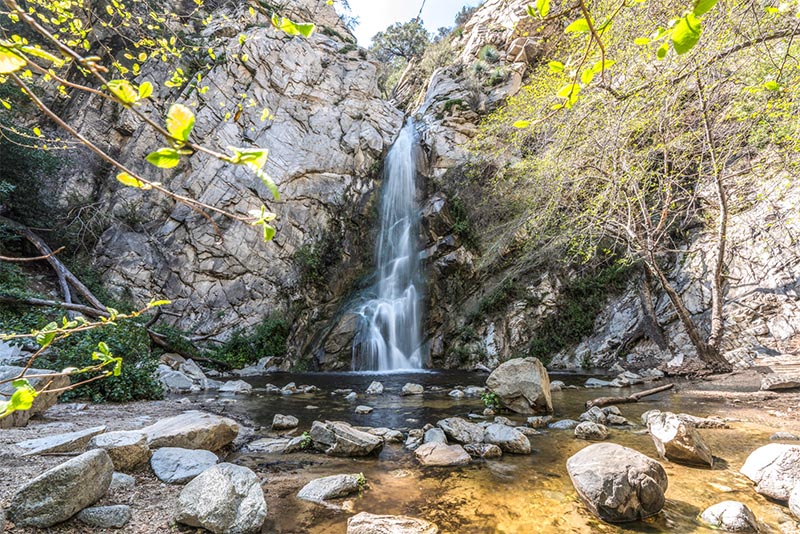 There are several reasons to visit Sierra Madre, a charming city with a small-town vibe, located less than an hour away from LA's Downtown Los Angeles. Although Sierra Madre is a low-key community that's often overlooked by newcomers, many adventurers still know about Sturtevant Falls—one of the city's most popular attractions.
This 50-foot, algae- and moss-covered waterfall is considered one of Southern California's finest, and it can be found in Santa Anita Canyon in the foothills of the Angeles National Forest. This three-mile roundtrip hike involves hiking through calm streams in the forest and is ideal for beginning to moderate hikers. Whether you're simply looking to picnic, hike, camp, or stay overnight in one of the site's historic cabins, be sure to take a swim at the bottom of the waterfall. It'll be an experience to remember.