Dallas-Ft. Worth Real Estate
Why Arlington Is the Best City for New Transplants to Dallas-Fort Worth
When I first moved to the Dallas-Fort Worth area in 1994, I wasn't sure where to settle. Ultimately, we chose Arlington, and I still think it's a great place to start for new transplants to DFW.
If you're new to the area, here are the reasons why you should consider Arlington.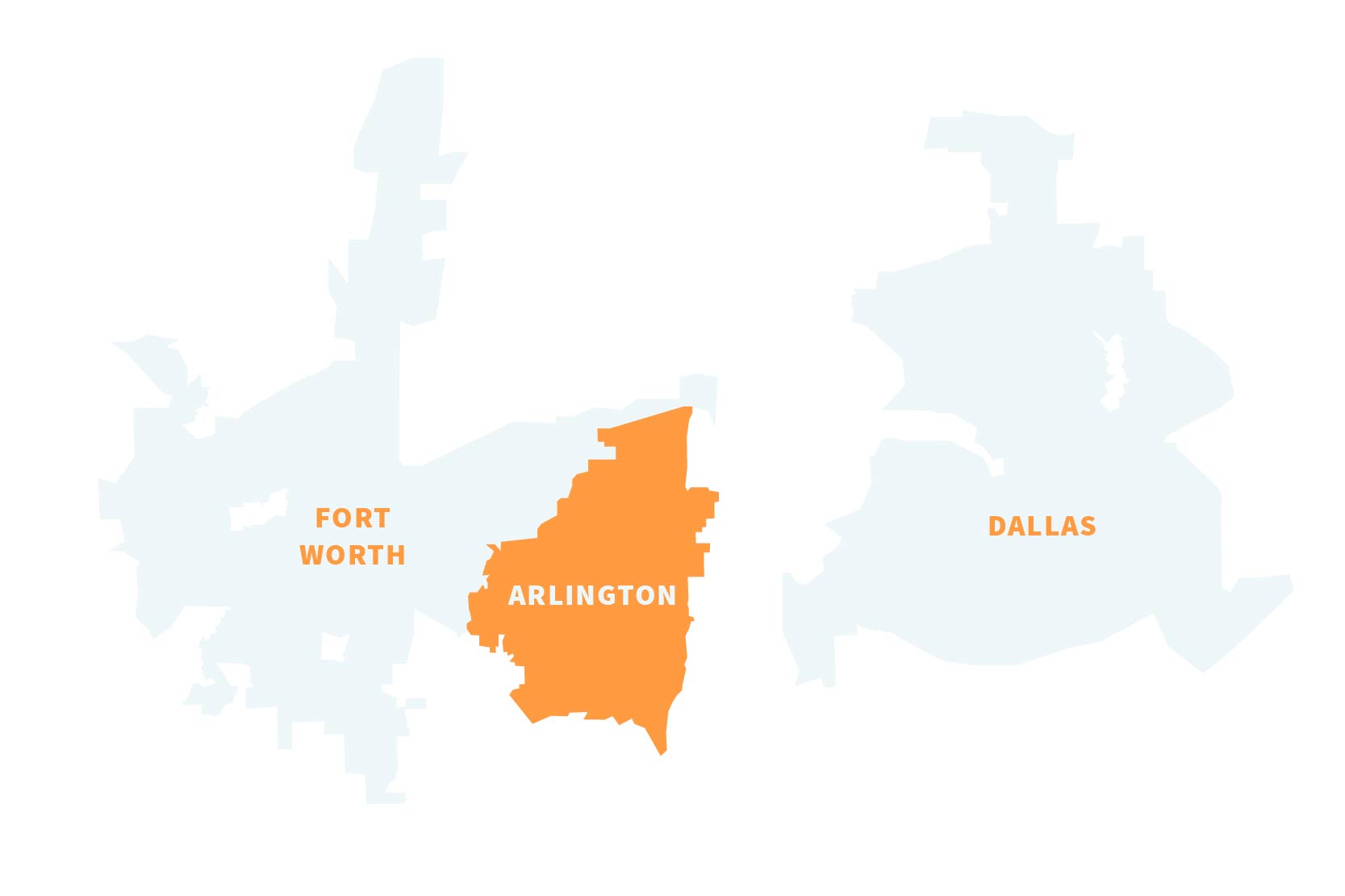 It's Conveniently Located
As the third-largest city in the Metroplex by population according to Census data, Arlington is a convenient place to live. Equidistant from both Dallas and Fort Worth, Arlington gives you the opportunity to explore both cities. With easy east-west access to both I-30 and I-20 and north-south access via State Highway 360, Arlington is a commuter's dream to both cities.
It Has Public Transit Options
The Dallas-Fort Worth area is well-known for being pretty car dependent. Spanning over 9,300 miles and 13 counties, the sprawling area can be difficult to traverse without a vehicle. Arlington is working on developing a public transit system that works for its residents. Previously, it had the MAX, a busing system.
Now, the city is using Via instead, a city-sponsored rideshare system that provides access to most of the city. Via also connects residents to Fort Worth by the Trinity Railway Express and to Dallas by DART light rail. Most riders only have to wait about 10 minutes to be picked up by a vetted Via driver and fares are a low $3 dollars each way.
It's a Major Entertainment Hub
Arlington is where you go when you want to experience some of the best entertainment in the Dallas-Fort Worth metro area. When you live in Arlington, you have a front-row seat for lots of entertainment options, including the very first Six Flags location and the Hurricane Harbor water park.
Arlington is a major sports hub, too. The Dallas Cowboys play at AT&T Stadium in Arlington, and the same facility has played host to the Super Bowl, the NCAA Final Four, and many amazing concerts. The Texas Rangers play at Arlington's Globe Life Stadium. The Levitt Pavilion hosts a wide variety of concerts as well. Also, Cowboys Dancehall is a fun dance club with live country music that has been a city staple for decades.
There Are Lots of Jobs
You might think that Dallas is the only place to find good jobs in the area, but fortunately, that's not the case. Arlington ranked number 57 in the most recent WalletHub list of "Best Cities for Jobs," just above Fort Worth and above major cities like New York City and Los Angeles.
The entire Dallas-Fort Worth region that includes Arlington has a robust economy, with an expected Q2 growth rate of 15 percent. Arlington itself is home to the headquarters of many major companies, including D.R. Horton builders, Texas Health Resources, and Spring Creek Restaurants. It has a large General Motors plant as well.
In addition to this, Arlington is a natural choice for the many employees who work at the Dallas-Fort Worth International Airport, which is located just east of the Arlington border across State Highway 360. You can live and work in Arlington, but the area also makes for an easy commute to jobs in either Dallas or Fort Worth.
It's a Great Place to Continue Your Education
Dallas-Fort Worth is home to many great universities, including Southern Methodist University and Texas Christian University. But Arlington is home to the largest public university in the area, The University of Texas at Arlington. The college is a part of the highly regarded University of Texas system.
Known simply as UTA, the college has a sizeable student population, and it's also a major area employer. With affordable tuition and schedules that accommodate working adults, UTA is an asset to Arlington.
It Has a Lower Cost of Living
Like most of Dallas-Fort Worth, real estate in Arlington is steadily appreciating. But even though the value of real estate is increasing, Arlington still remains one of the most affordable parts of the Metroplex. Arlington has cheaper median home prices than suburbs such as Plano or many neighborhoods in Dallas. In addition, Arlington's average 2.8 percent property tax rate is lower than in Dallas County.
It Has an Excellent Parks System
Arlington has a nationally recognized public park system. With a long list of neighborhood parks, the city makes it easy to get outside and be active. The River Legacy Parks system is widely used for biking and hiking. Over 1,000 acres of forest floodplain along the Trinity River includes 400 species of animals, 193 types of birds, and 28 species of trees for your observation. Called the crown jewel of the Arlington parks system, River Legacy is a nature lover's paradise.
Arlington is also home to major multi-purpose parks like Vandergriff Park, which includes playgrounds, ballparks, and skateboarding facilities. Lake Arlington is another popular attraction that residents enjoy, especially in the hot Texas summers.
Life in Arlington
Because Arlington is such a large suburb, there are extensive shopping and restaurant options, especially along the I-20 corridor in South Arlington. With so many shops, it's often possible to find some really good bargains.
As an older city, Arlington provides a good mix of midcentury houses as well as new construction. The central and northern parts of the city are well-established, and you'll find lots of full-grown trees and lush greenspaces there. Whether you want a sprawling ranch with lots of established trees in Central Arlington or a new two-story Colonial in Southwest Arlington, one of Arlington's neighborhoods is bound to suit your taste.
Arlington is an interesting blend of new residents, students, and people who have lived in the area for years. The population is diverse and has a mix of renters and homeowners. If you're new to the area from another place, you'll be sure to meet lots of other people who are in the same boat. Whether you permanently settle here or make it a short-term stop until you find another location to make your home, Arlington is a great place to start.