Las Vegas Local Life
Why is Las Vegas called 'Sin City'?
Most locals know what you're thinking when the Las Vegas welcome sign flashes across your retinas: You're in Sin City. There are obvious reasons for that name—gambling is legal here, unlike most other major U.S. cities, and there's more than a few adult entertainment venues. Alcohol is widely available on The Strip at every price point, and Las Vegas was once known as the "Divorce Capital of America."
But where, exactly, did the "Sin City" nickname come from? A little bit of history is required to answer that question.
Read more: Sin City, the City That Never Sleeps, Charm City: How These 5 Cities Got Their Nicknames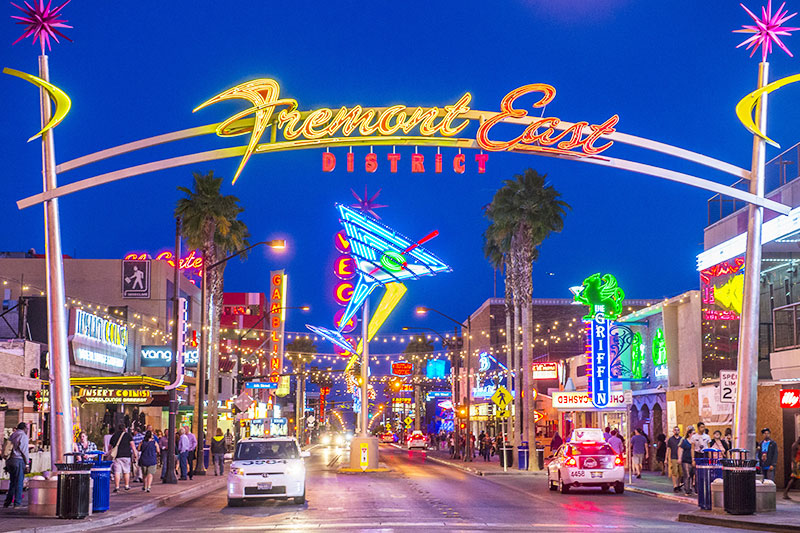 Sin City History
Back in 1906, The Strip as we know it didn't exist. Downtown, especially Fremont East, is among the oldest areas in town and the area where the city's nickname got its start.
The earliest thing to be built on Fremont Street was the Union Pacific Railroad Depot. Nearby, Block 16 was the red light district of the area where saloons rented out upstairs rooms to prostitutes that were required to give the establishment a cut of what they earned. Its proximity to the railroad depot gave travelers easy access to what we'd consider vice.
Block 16 boomed during the early days of gambling in Las Vegas while Block 17 sold liquor to workers and travelers. Gambling halls existed in the area and became legalized in 1931, even though it had already been a draw for the area for decades. Until the early 1940s, the law didn't crack down on prostitution in Block 16.
These resort casinos converted Las Vegas from a sleepy, desert town into a glitzy destination where gambling and divorce were legal and tourists came to have a good time free of inhibitions.
Still, prostitution, which is illegal in Clark County, isn't the only reason why Las Vegas earned its nickname. After World War II, mobsters like Bugsy Siegel and Meyer Lansky came to Las Vegas to form monolithic casino empires. These mob bosses founded The Flamingo, which was among the first resort casinos on The Strip. In the 1950s, mobsters founded the Riviera, Desert Inn, and Stardust, all of which have been demolished to make way for newer casino projects.
These resort casinos converted Las Vegas from a sleepy, desert town that travelers passed through on their way to California or the Midwest into a glitzy destination where gambling and divorce were legal and tourists came to have a good time free of inhibitions.
Where is Sin City?
While Las Vegas, as a whole, is the place known as "Sin City," the locus of the city's original red light district was Blocks 16 and 17. They were located at what is now Binion's Casino, bordered by Stewart Street to the north, Ogden to the south, First to the west, and S. Casino Center to the east. Both blocks are now thought of as the origin of the nickname Sin City.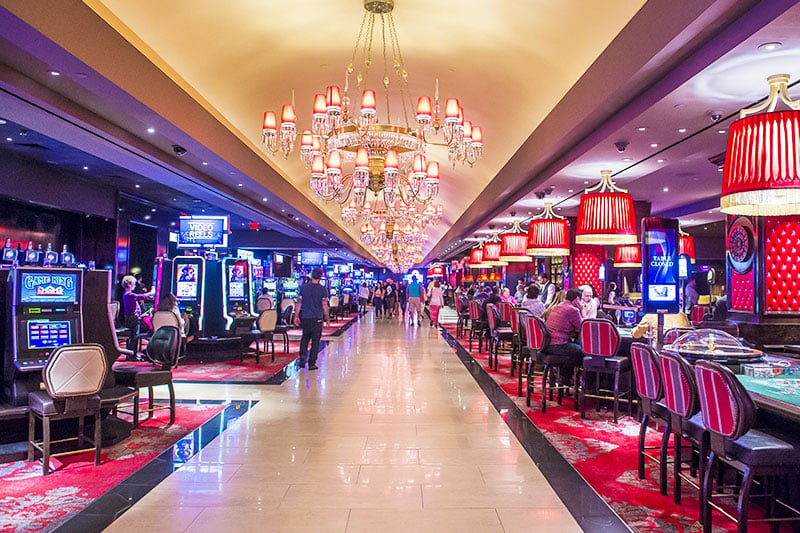 Sin City Today
The resort casinos, nightclubs, and, more recently, day clubs, haven't done anything to kill the reputation most associate with Las Vegas as Sin City. According to the Las Vegas Convention and Vistors Authority, in 2018 over 42 million visitors made it to Las Vegas and gambling revenue was upwards of $10 billion.
Tourism is only increasing, but so is the residential population of Las Vegas. And it's not just to be close to gaming, drinking, and adult entertainment. It was once the case that people weren't raised in Las Vegas—they stayed for a few months or years and then moved on to the next city. These days, you'll see an increasing number of locals who have lived in the city for decades or were born and raised in so-called Sin City.
Most locals don't think too much of the name. In fact, they often live in the suburbs even if they do work in casinos, shows, or clubs. But plenty of Las Vegans work outside these industries; after the recession, Las Vegas saw the need to diversify its economy into other fields. While casinos like Caesars and MGM are the largest employers in town, hospitals and medical centers follow in close second alongside other industries.
So while Las Vegas continues to be known as Sin City, there's a lot more to it than vice.