4 Phoenix Suburbs With the Best Downtowns
4 Phoenix Suburbs With the Best Downtowns
For many in the Valley, going "downtown" means a trip to Downtown Phoenix where you're sure to have your pick of restaurants, bars, and shops. However, depending on where you are, there's probably a thriving downtown area even closer to home. The East Valley is full of suburbs and small cities with exciting downtown scenes where you'll find exciting nightlife and ample things to do during the day. Here are four worth checking out.
Downtown Scottsdale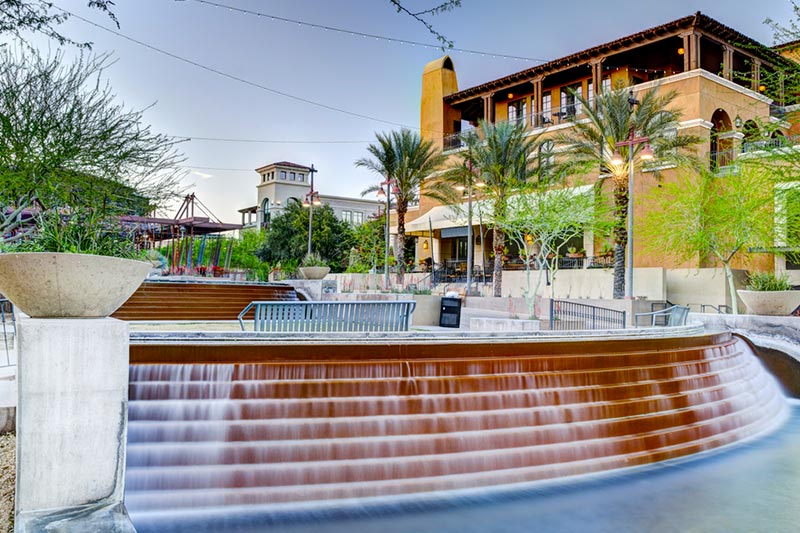 Downtown Scottsdale has become a favorite destination for residents and tourists. Add old town charm to historic buildings converted into galleries, museums, shops, and bars and you have a culturally rich, laid-back but vibrant city center. Currently striving for a newly branded Downtown 2.0 with the introduction of more pocket parks, art installations, and continued connectivity and walkability, it already earned its Main Street the title of one of the best 'Main Streets' across the U.S. And single-family homes with manicured yards and fruit trees are intermixed with condo communities usually priced between $230,000 to $2,450,000 with square footage between 528 to 8,513.
Beloved by actors and pro athletes for high-end shopping, Scottsdale features outlets like Scottsdale Fashion Square, 5th Avenue Shops, or the Marshall Way Arts District. An eclectic nightlife with bars like Sip and Coach House Tavern, along with options for sophisticated dinners or live D.J. dance floors, allows for every type of evening imaginable.
Downtown Tempe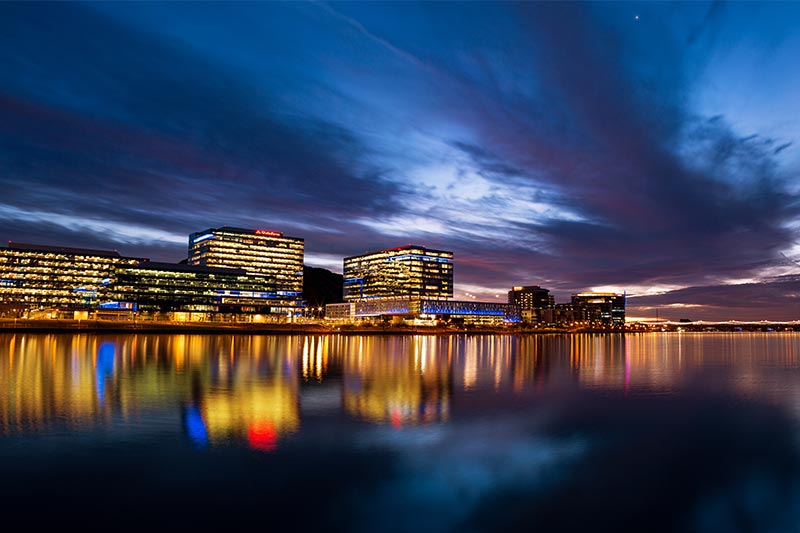 Birthed from a rebranding of the former Mill Avenue District into what is now called Downtown Tempe, and with an influx of restaurants, bars, and shops diverting off of Mill Avenue, the change has been easy to make. The hip college strip turned economic hub of Tempe is known for its celebrations. Spring Training at the Tempe Diablo Stadium, Festival of the Arts, Boat Parade, Fantasy of Lights Opening Night Parade and the 6th Street Market draw crowds from all over the world. And of course, Tempe Town Lake is one of the most frequented attractions in the state.
Walkable neighborhoods like Maple-Ash — which features cozy bungalows and Pueblo Revival single-family homes — range between $225,000 to $2,399,000 and between 626 to 6,784 square feet. University Park and University Estates are frequently busy with cyclists. Toward the waterfront clusters of condo communities like Regatta Pointe and Lofts at Orchidhouse are prevalent.
Downtown Glendale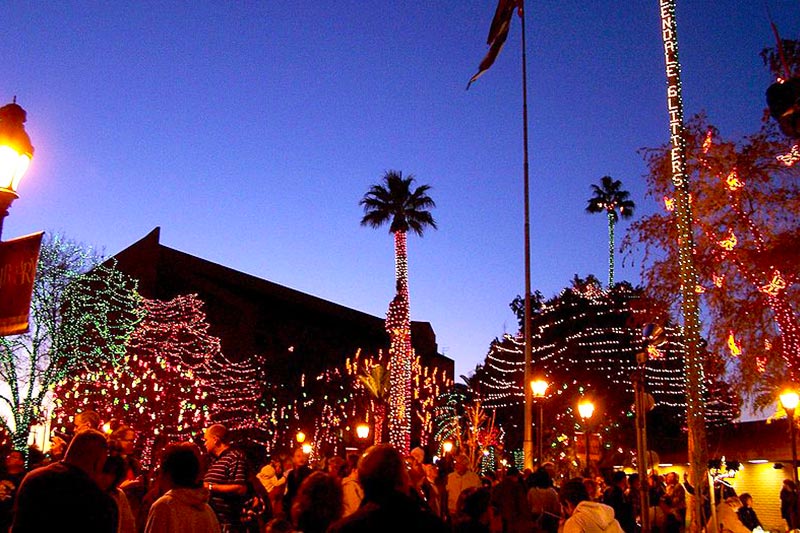 For a small-town feel in a centralized hub, Historic Downtown Glendale was named one of the top U.S. places to shop by both USA Today and Sunset Magazine, according to Visit Glendale. Comprised of two neighborhoods spanning more than ten blocks, you almost feel as though you've entered a scene from the past between all the indie and antique shops alongside quaint places to sit and have coffee or people watch.
Catlin Court, between 57th and 59th Avenues and Myrtle and Palmaire Avenues, dates back to 1915 with cozy homes ranging between $70,000 and $235,000 and between 528 to 2,188 square feet. White picket fences line the streets of bungalows-turned-specialty shops with mature trees peppered throughout. Old Town, between 54th to 59th Avenues and Palmaire Avenue to Lamar Road, boasts bricked-trimmed sidewalks and gaslights leading to a plethora of antique stores and eateries like Antique Haven and Spinning Wheel Antiques and Gifts. For a complete list of shops click here.
Revered for heartfelt festivals, All that Glitters kicks off the beginning of the holiday season and the area feels like a Christmas Bazaar complete with food, a petting zoo, and the largest free light display in Arizona. Also, the Glendale Chocolate Affair is celebrated just before Valentine's Day, and Murphy Park becomes an ode to chocolate makers around the world with tours available at the Cerrata Candy Factory all weekend long.
Downtown Gilbert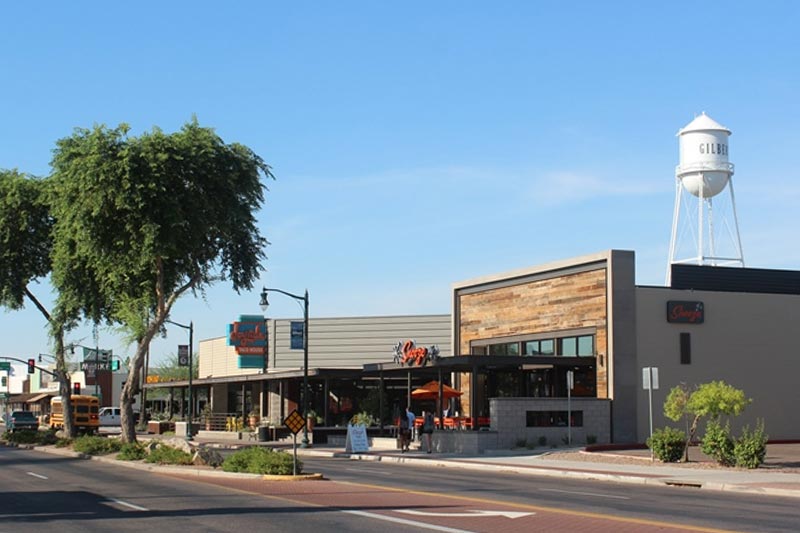 Once considered the "Hay Shipping Capital of the World," these days people are flocking to Gilbert for various reasons. It's been ranked the most prosperous city in the entire nation, one of the best places to raise a family, and one of the most kid-friendly towns in the Valley. The various options available in the ever-growing town center are also a big part of that.
The dining scene and symbolic center of Gilbert, Gilbert Heritage District is the spot visitors and locals come to dine, shop, enjoy entertainment, and explore the arts. South of Juniper Avenue and north of Elliot Road, with smatterings of locations in between, the main excitement happens along Gilbert Road. Events like the Gilbert Art Walk, which coincides with The Gilbert Historical Museum, and weekly farmers markets lend to a bustling day, while at night a smoother vibe welcomes performances at Hale Center, where multiple bars and outdoor patios allow you to take in the scene. All the buzz is about The Art House. This bar turned art studio provides an impressive wine and beer list while teaching its students to master the ways of the brush and canvas.
Meanwhile, Gilbert Town Square is not what you'd expect. Near the Raven Ranch neighborhood, this shopping, dining, and entertainment center continues to evolve with the demands of the locals. Built by Triple Five Arizona Development, the site boasts a 14-screen megaplex theater in addition to trendy restaurants and boutiques. Friday nights offer an unusual and ever-changing roster of up to 20 different food trucks with multiple street vendors, musicians, and special offers from local businesses.