5 Things to Do in Humboldt Park, Chicago
5 Things to Do in Humboldt Park, Chicago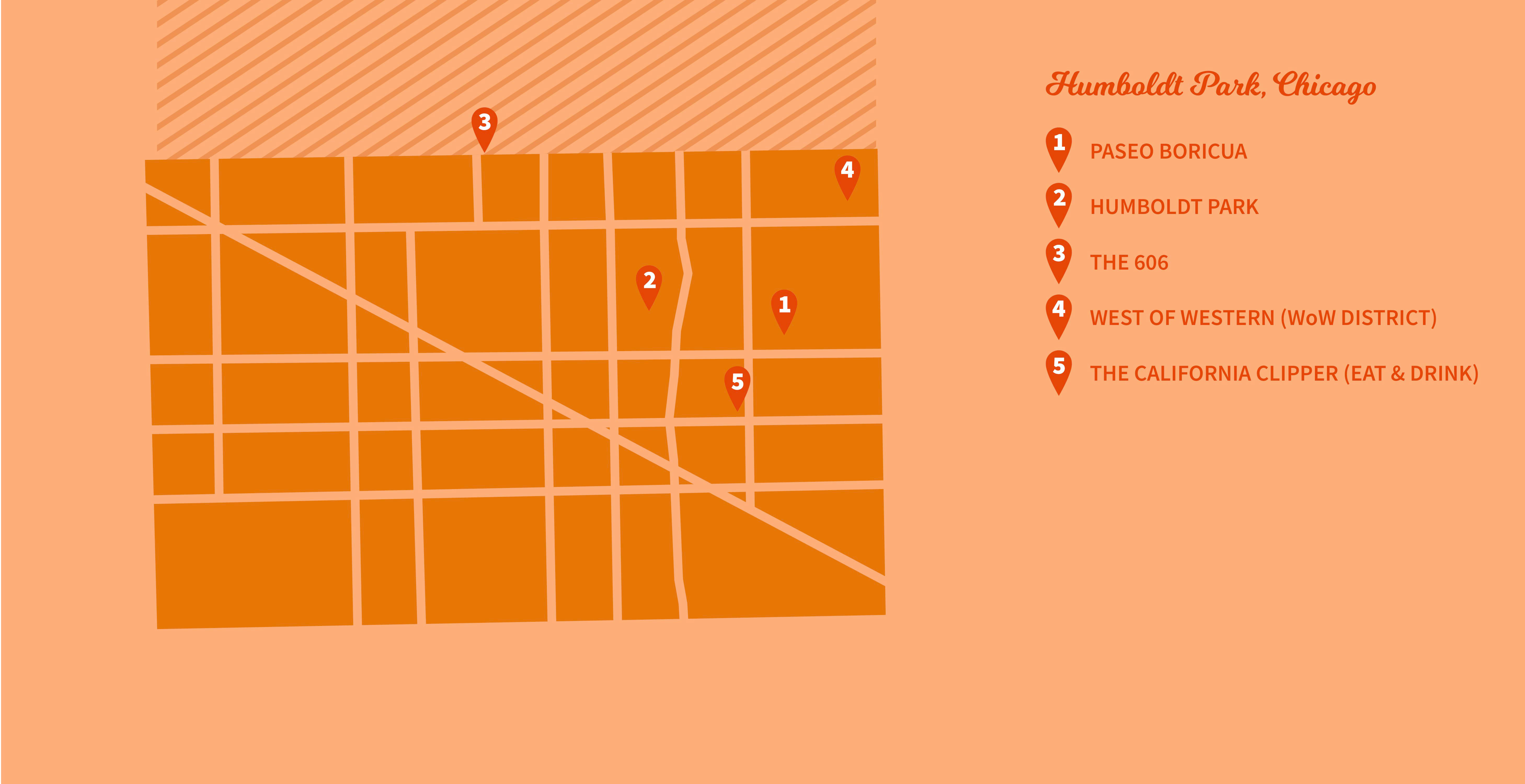 Yes, Chicago has many neighborhoods that are rich in culture, but few neighborhoods embody the city's pride in community and complicated history more than Humboldt Park.
Named after German naturalist Alexander von Humboldt (who never even visited Chicago) the neighborhood is both hip yet stubbornly conservative. Aa few condo buildings do little to deter the conservation efforts of local residents, a brand new farm-to-table restaurant doesn't bother the taqueria that's been there for generations, and an influx of new residents has done little to alter the neighborhood's surprising affordability (at least for now).
This makes Humboldt Park a living replica of Chicago's recent past, a prototype of the city's plans for the future, and a fascinating place to visit. If you only have a day—or a few hours—to spare in Humboldt Park, then be sure to at least check these places out.
Paseo Boricua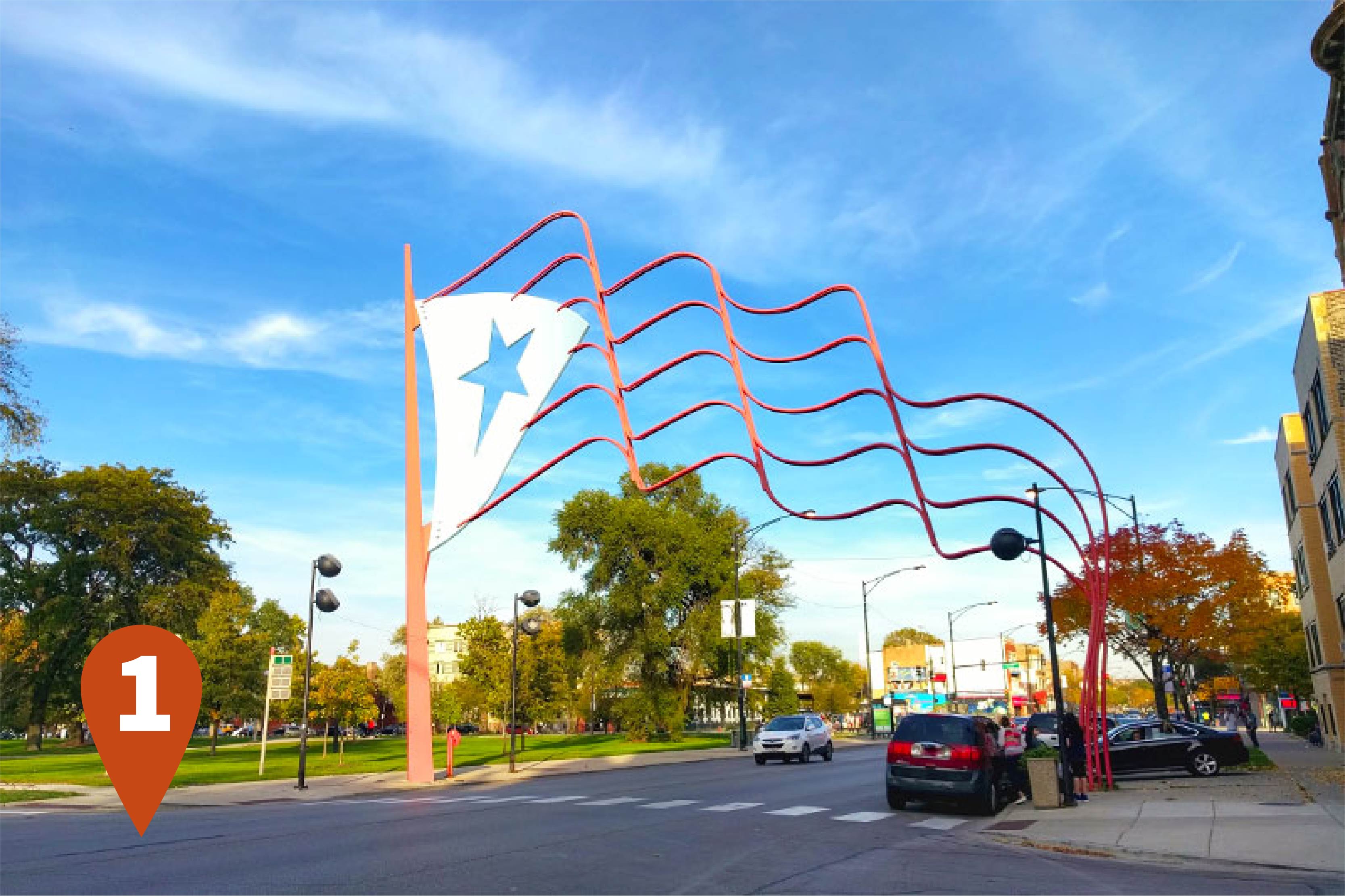 The Paseo Boricua, loosely translated into "Puerto Rican Promenade," is a six-block stretch of Division Street between Western Avenue and California Avenue. But you don't need to look at street signs to know you've reached this historic stretch: simply look up.
The Paseo Boricua is flanked on both sides by two steel Puerto Rican flags that tower over Division Street. The flags are the world's largest monument to any flag and the largest flags not made of cloth. They stand as a testament to the neighborhood's history, commemorating the Puerto Rican laborers who were mostly employed in steel mills.
While walking down the street, you'll see the restaurants, shops, and no fewer than 17 murals, but once you pass under the flag on the west end of Paseo Boricua, you'll have entered one of the city's most jaw-dropping attractions.
Humboldt Park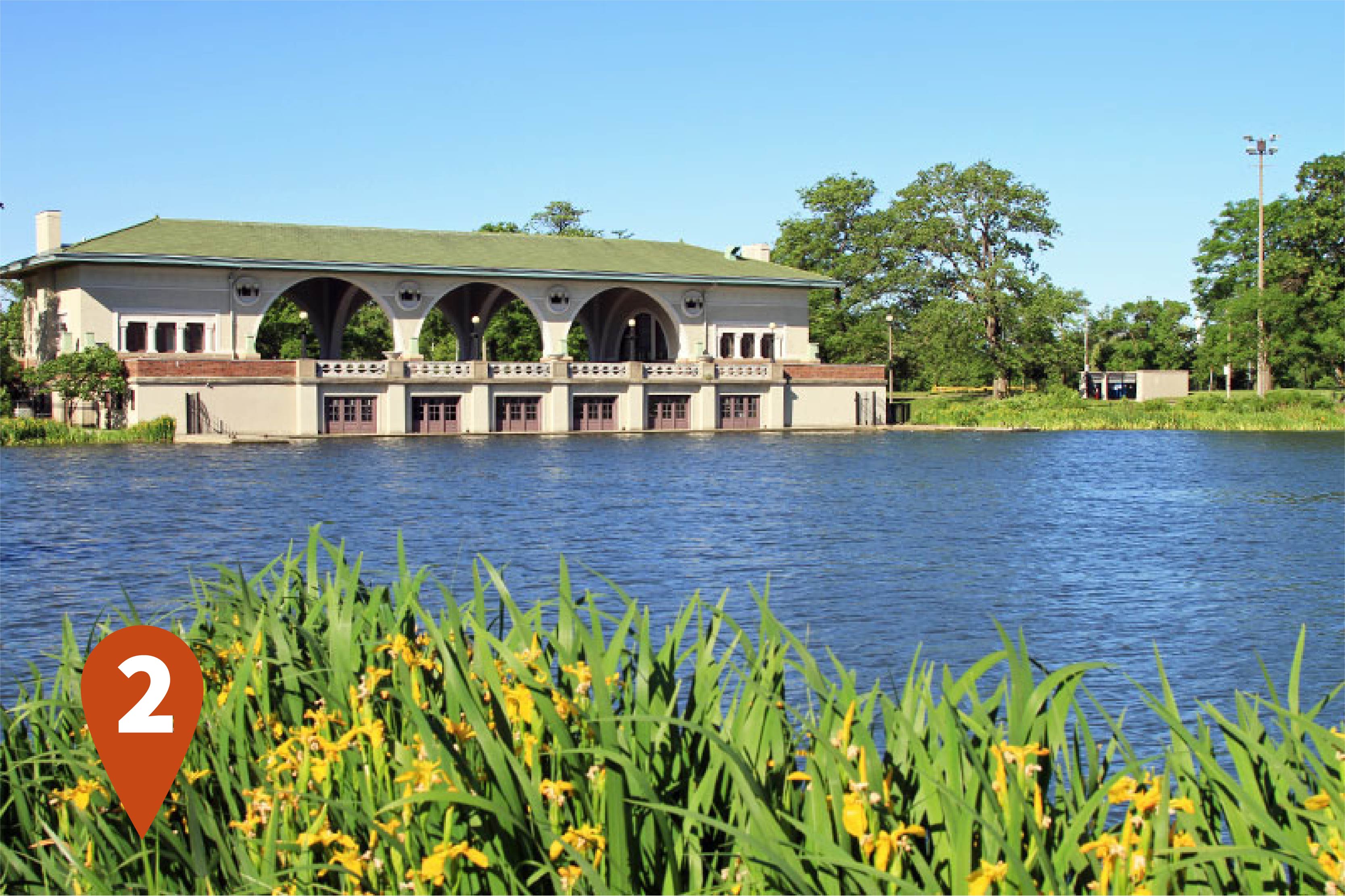 Humboldt Park's namesake greenspace is over 200 acres, so there are quite a few offerings.
Yes, it has the usual park amenities: tennis courts, playgrounds, and walking trails. But it also has features that other parks dream of: a bird and butterfly sanctuary, a dedicated beach area, and a fishing lake complete with a full-service, waterfront cafe. It even hosts The National Museum of Puerto Rican Arts and Culture in the Humboldt Park Stables, which was named a Chicago Landmark in 2008.
But perhaps one of the lesser known bits of history among residents is that Humboldt Park was the site of an address and rally given by Polish statesman and concert pianist Ignace Paderewski, who had been staying on Pierce Avenue in nearby Wicker Park at the time. He would eventually go on advocate for Polish Independence to Woodrow Wilson before the President embarked for the Paris Peace Conference in 1919. President Wilson would include Polish independence as his 13th point in his peace terms, termed the Fourteen Points.
Towards the east end of the park, visitors will see two two bronze bison sculptures, surrounded by a beautiful, color-soaked garden. Those sculptures are the work of Edward Kemeys, best-known to Chicagoans as the artist behind the lions at the entrance of the Art Institute of Chicago. And those bisons' original location? The 1893 World's Columbian Exposition.
The truth is that the history bits could go on all day, but that does little to explain the park's central place in the lives of Humboldt Park residents. Just walk through the park on a weekend afternoon and you'll see how it's an integral part of life for Humboldt Park residents.
The neighborhood, in fact, used to hold an economically central place in the region. Shortly after the park's official opening (which was conducted in German, Swedish, and English), The Chicago & Pacific Railroad opened a station nearby, creating the then-suburb of Humboldt. In 1919, the train line was raised to the top of concrete structures. The train line was eventually discontinued and all but abandoned. Then, in 2015, that all changed.
The 606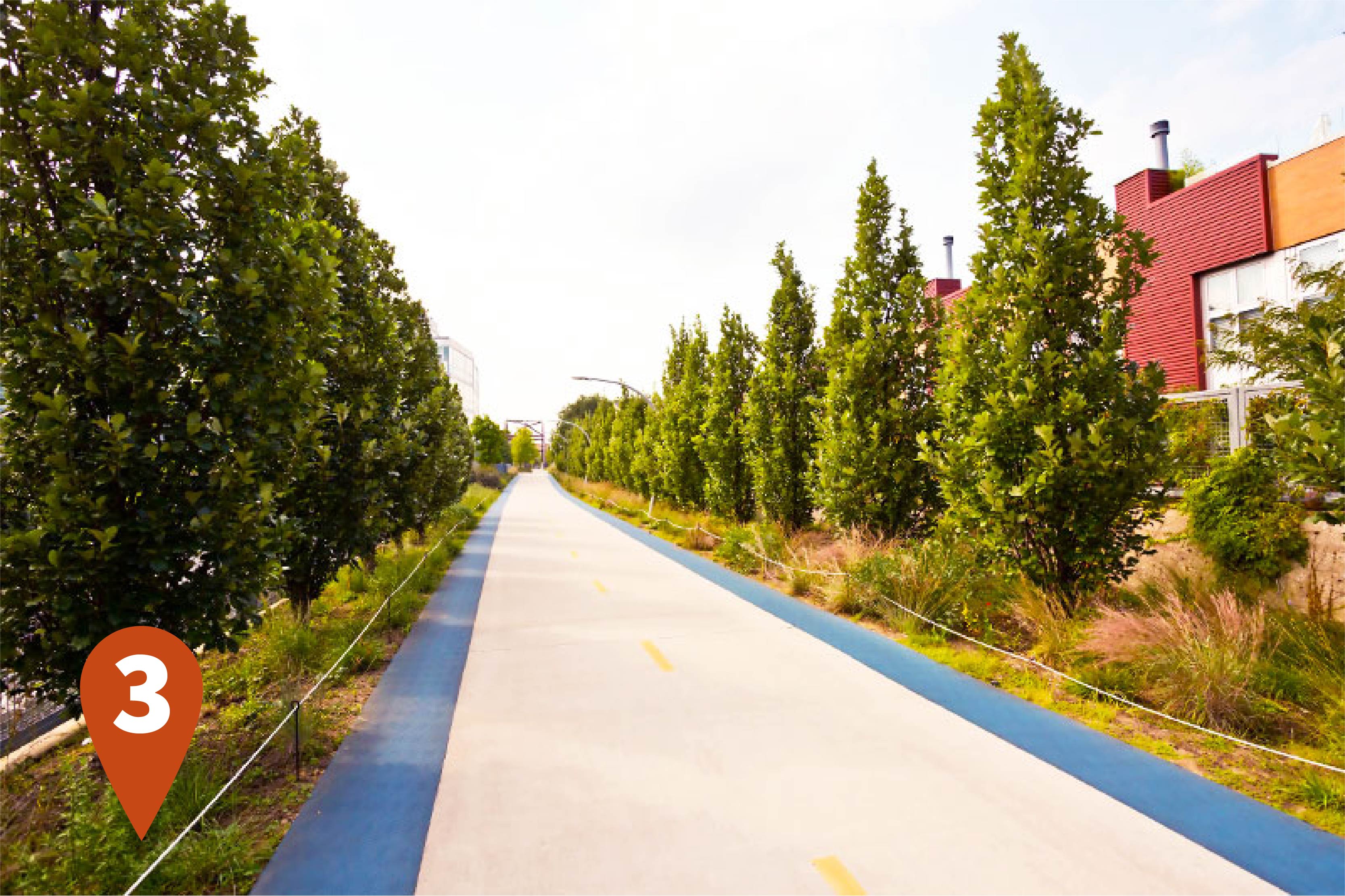 Ok, it's officially named The Bloomingdale Trail, but if you can find me a local who calls it The Bloomingdale Trail, then I'll bet that person is actually from Indiana.
The 606 is, on the surface, a 2.7-mile elevated trail developed along the former train line that ran through Humboldt Park. The trail runs from Logan Square to the west all the way to Bucktown in the east. In reality, it's one of the most impressive greenspaces in a city that's crazy about them.
But it's more than just a way to spice up your commute. The 606 (named so because all Chicago's zip codes begin with those three numbers) is also a showcase for local artists and a plant-lover's dream.
On the west end of the trail (which is technically in Logan Square) is the Exelon Observatory, a prime spot for catching sunrises and sunsets. Permanent exhibits, like the rubber-and-steel Brick House sculpture by artist Chakaia Booker, are peppered throughout the trail, alongside hundreds of native plant species.
While it's an unrivaled way to spend a spring day, the winter doesn't stop The 606. During the worst months in Chicago, the trail is a popular spot for cross-country skiers and snowshoers. In fact, when snowfall hits three inches, the city won't remove the snow on the trail in order to promote winter activities.
West of Western (WoW District)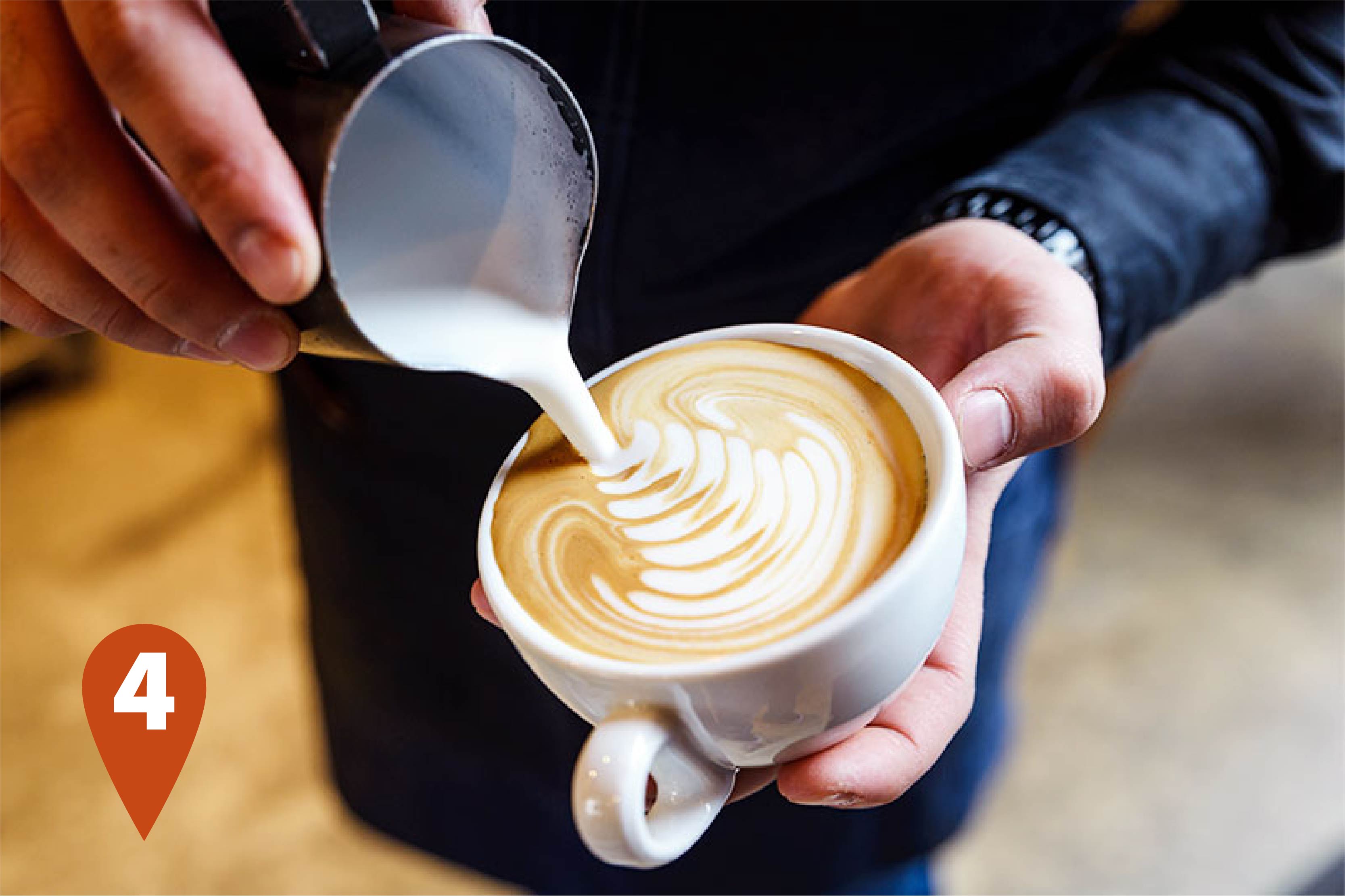 West of Western is, well, west of Western Avenue. It actually refers to a stretch of North Avenue formerly known as WeWe (but recently rechristened WoW).
Doesn't matter. The point is west of Western Avenue—but remember, actually North Avenue—has the neighborhood's most impressive concentration of locally owned boutiques. West of Western started as an effort by the owner of An Orange Moon to establish the three-block stretch as a shopping district in its own right, a district typically overshadowed by its eastern neighbor, Wicker Park—which is east of Western Avenue but also on North Avenue. Did you catch all of that?
Doesn't matter. The point is the district now represents a unified effort by local business owners to make their neighborhood stand out from a hotshot rookie neighborhood and the prom queen of hip areas. West of Western is more than a collection of antique shops, cafes, and small restaurants—though it's all of those things—it's the sign of a neighborhood that refuses to be overlooked.
Oh, and the seasonal lattes at Cup & Spoon are spectacular, and the events at Richard's Fabulous Finds are a blast.
Eat and Drink
While there isn't really a set area for eating and drinking, any guide to Humboldt Park wouldn't be complete without touching on a few of the neighborhood's standouts.
Although recently under new ownership, The California Clipper has barely changed a thing since opening their doors for the first time in the 1930s. Their cocktail list is simple (it's one of the few remaining cocktail bars where you can get a drink for less than $10), and they have live music on the weekends. In an area that seems to be obsessed with the newest fads, The California Clipper just keeps doing what it does best.
Split Rail, which was started by Ada Street alum and former Tom Colicchio employee Zoe Schor, may not have been around since the 1930s, but it became a personal favorite after opening in 2017.
Dark Matter—which Netflixers will recognize as the coffee shop that Dave Franco's character works in during the first season of "Easy"—has a location on Chicago Avenue, and it's consistently ranked as one of the best coffee shops in the city.
And, of course, there's the rock- and metal-themed bar and restaurant, Lockdown. Its decadent burgers put other self-proclaimed burger spots to shame. And while they have plenty of TVs here, it's far from a sports bar. It's also known for some of the most memorable live music performances, with an atmosphere that shoots for "live concert without being at a live concert."
Making a full day out of Humboldt Park is easy, and there really is more to do than many give it credit for. Just, please, whatever you do, don't call it West Wicker Park.