5 Things to Know Before Moving to Atlanta
5 Things to Know Before Moving to Atlanta
People may think they know what Atlanta is like, but they can't really know until they've been well-acquainted. Atlanta is one of those cities people make assumptions about, like it doesn't have a defined culture or that it's all crowded and commercial.
The ATL is rooted in history but it's also a big city that is constantly growing and evolving. Its population is a mix of natives and transplants, all with different backgrounds. Some parts are busy; some are quiet. One of its main characteristics is how diverse it is, which brings in many different elements to be discovered.
Whether or not you've spent a lot of time in this Southern metropolis or you're totally unfamiliar, here's what you should know before making it your new home.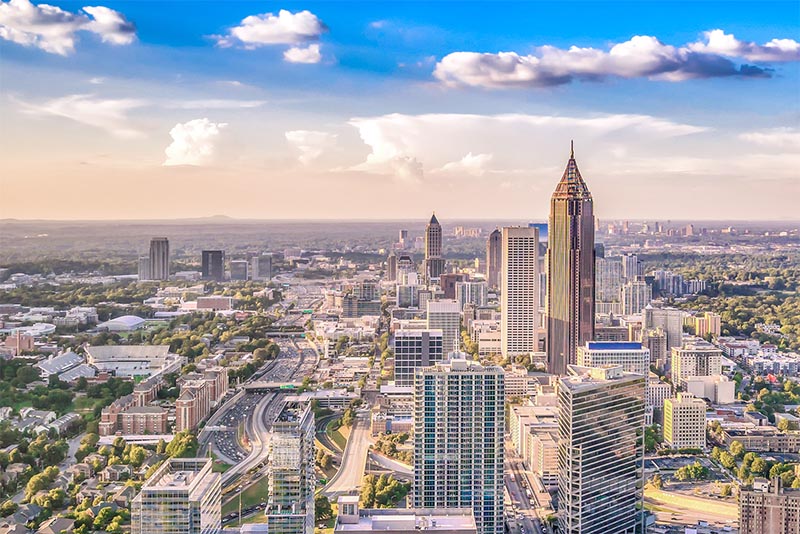 It's Not Just the State Capital
Atlanta is the capital of Georgia, and you can visit the Capitol Museum inside the gilded Capitol building downtown to see all kinds of cool and bizarre historical artifacts. Besides being the state capital, Atlanta is also arguably the most prominent city in the South for many of its booming industries.
Atlanta is no doubt the hip hop capital of the South, home to some of the biggest names in rap and hip hop over the decades, from Outkast to Ludacris, TLC, Usher, 2 Chainz, T.I., Gucci Mane, Ciara—the list could go on.
Atlanta has also earned the moniker, "Hollywood of the South," for its thriving film industry. Even with the challenges of the COVID-19 pandemic, Georgia ranked No. 1 for film and television production in 2020, with many of those productions taking place in Atlanta. Recently acclaimed projects include "Ozark," "Watchmen," and "Stranger Things."
Atlanta is also a heavyweight in the dining category. Celebrated chefs and restaurateurs like Hugh Acheson and Ford Fry have several restaurants here and the other abundant options include everything from exquisite, upscale dining experiences to some of the best tacos, barbeque, and pizza around.
The Rumors Are True: The Traffic Sucks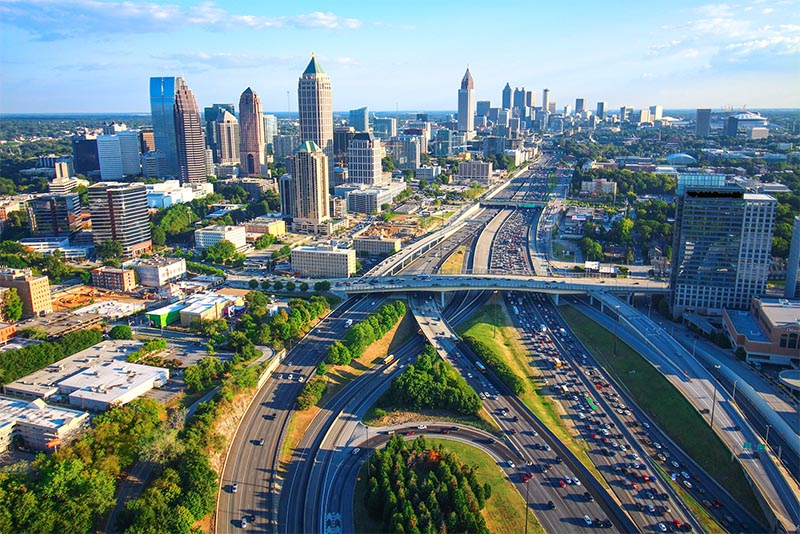 Atlanta is full of activity and people commuting to and from the city. This means lots of traffic, especially on the interstate. It's best to do your research when considering neighborhoods to move to, looking for things like proximity to MARTA stations, your workplace, and grocery stores. Otherwise, you could be cursing the Atlanta traffic on a regular basis, and nobody wants that.
It's quite possible to find a neighborhood or area that you don't often have to leave, where the commute to work is a short drive, bike ride, or even walk away. Speaking of walking and biking…
It's Becoming More Walkable and Bike-friendly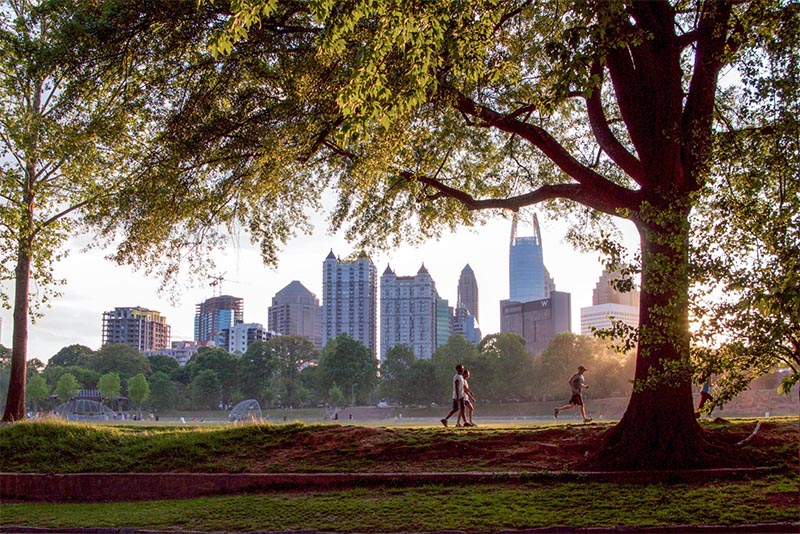 The ongoing development of the massive Atlanta BeltLine project has made properties directly on or near the pedestrian trails prime real estate. These BeltLine-adjacent neighborhoods include Reynoldstown, Cabbagetown, Old Fourth Ward, Inman Park, Adair Park, and West End.
These trails provide a great way for bikers, walkers, and scooters to exercise, wander the city, or even commute to work.
It's Near Lots of Travel Destinations
One great thing about Atlanta is not only the city itself but its location close to tons of nearby attractions and towns for a convenient day or weekend trip. In four hours or less, you can get to some of the South's top destinations, like Nashville, Memphis, and Asheville. In two hours or less, you can get to smaller gems like Chattanooga and Athens, not to mention the North Georgia mountain towns for camping, hiking, and wine tasting.
Just outside of Atlanta in Doraville is the international food treasure trove of Buford Highway. Along miles of commercial strips are restaurants and specialty grocers that aren't much to look at from the outside but offer some of the best authentic Asian, Middle Eastern, Indian and Latin food you can find anywhere in the U.S.
It Has a Fascinating History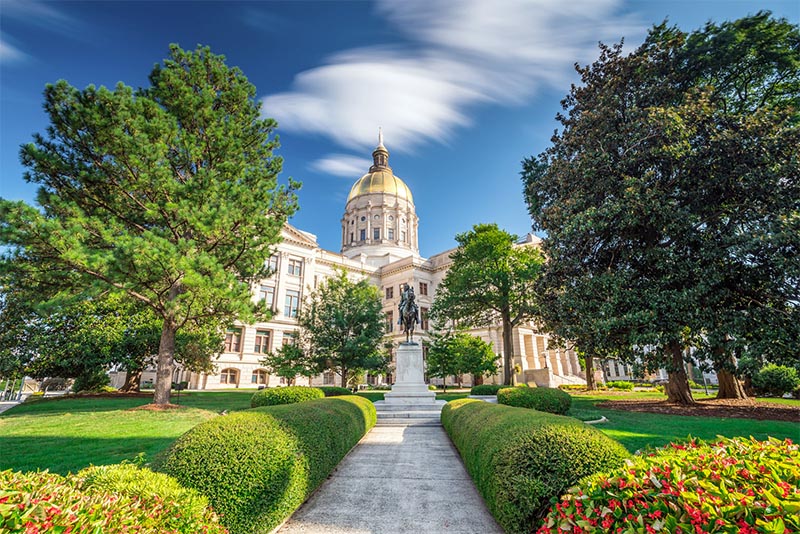 Atlanta began its development in 1836 as a railroad town and quickly grew to be the rail hub of the South, bringing in people from different parts of the county. Soon after, streetcar suburbs emerged, now known as many of the neighborhoods that make up intown Atlanta.
The first was Inman Park. Inman Park is a gorgeous neighborhood with historic Victorian-style homes and winding streets lined with towering trees. It was also home to some of Atlanta's first successful business owners, like the Coca Cola founders, who took the streetcar into downtown for work.
Atlanta was also at the forefront of the Civil Rights movement, and home to Martin Luther King, Jr. MLK grew up in Old Fourth Ward, now one of the city's hippest neighborhoods, where history meets urban development. MLK's childhood home and the original Ebenezer Baptist Church where he was a pastor in O4W is the site of the Martin Luther King, Jr. National Historic Park.
Atlanta has a lot of cultural significance, as the setting and inspiration for major events like the 1996 Olympics and creative works like "Gone With the Wind." The Centennial Olympic Park in downtown Atlanta serves as a permanent monument to the Olympic games right next to other major attractions like the Georgia Aquarium, The World of Coca Cola, and the CNN Center.
The Margaret Mitchell House and Museum is where the "Gone With The Wind" author lived in Atlanta's Midtown neighborhood. Today, it's the center of the Atlanta History Center's Midtown campus and hosts tours, author readings, and other events.