7 of the Biggest Chicago Rivalries You Need to Know
Chicagoans are a people of strong opinions. We love our city, but that doesn't mean we have to agree on everything about it. If you live in Chicago, you've probably had at least one of these arguments; if you're moving here, prepare to pick a side.
North Side vs. South Side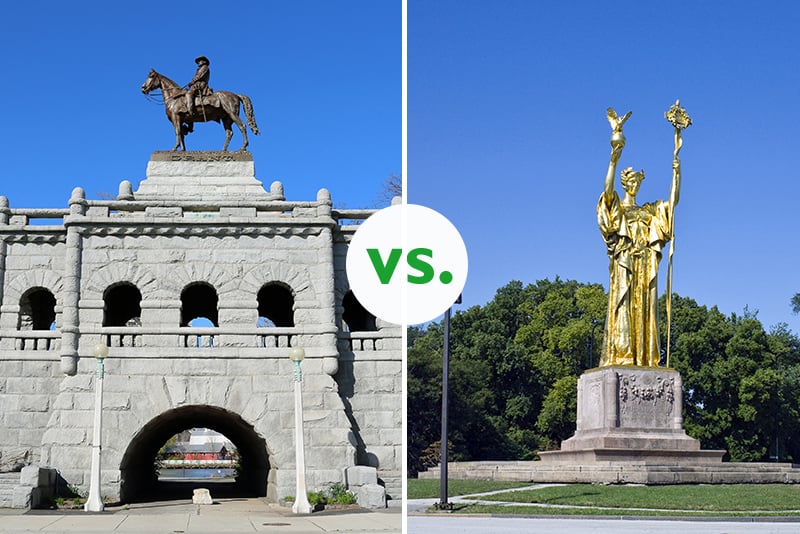 This is the quintessential Chicago debate. North Side and South Side pride have been a part of the city for time immemorial. The argument is often boiled down to things like race and economic disparity. While those things do a play role, it isn't quite so simple. Both sides of the city have a rich history and plenty to offer. While having pride in your side is no sin, ignoring one for the other is a disservice to the city as a whole.
Cubs vs. White Sox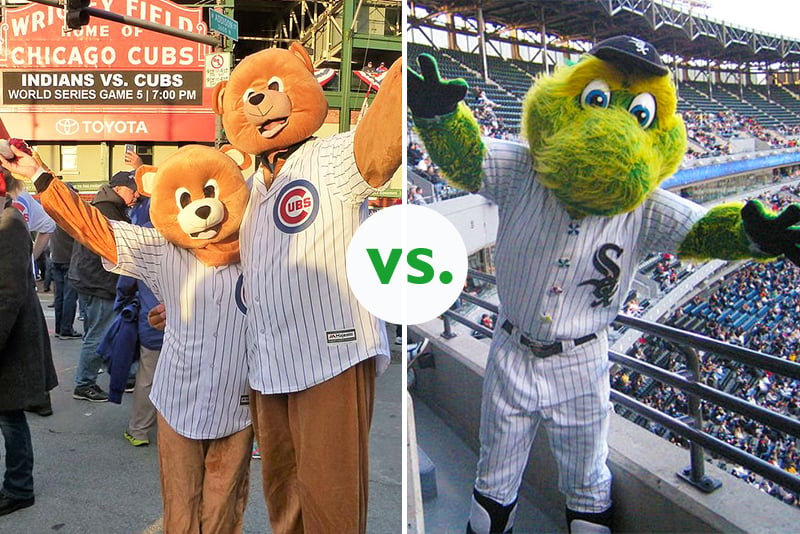 Wrigley Field is in the North Side neighborhood of Wrigleyville and Guaranteed Rate Field, formerly U.S. Cellular Field and Comiskey Park, is located on the South Side in Bridgeport. The sports team rivalry naturally fits into the larger North Side vs. South Side debate.
Every year, the Cubs and the Sox face off in series of games known as the Crosstown Classic, and the fans come out in force. While it helps when your team of choice has a winning streak, being a Cubs or Sox fan isn't about fair-weather fandom, it is a lifetime commitment.
Red Line vs. Blue Line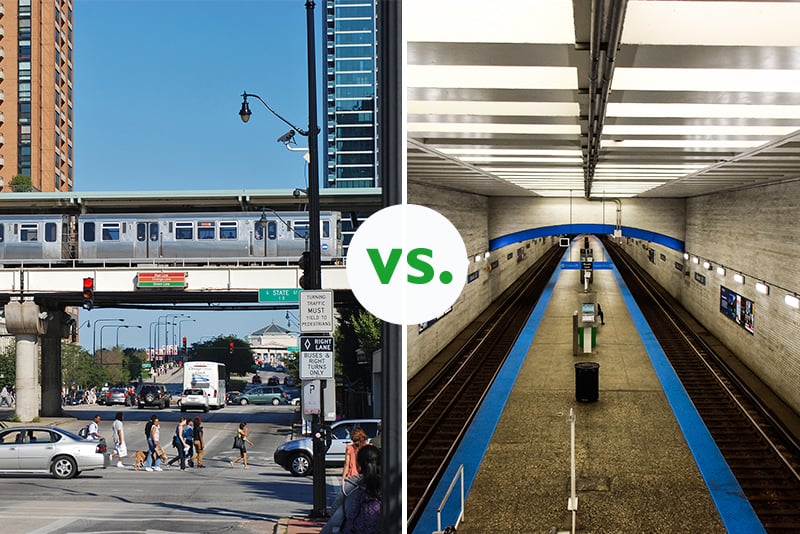 The CTA has eight different "L" lines, each with its own color. Riders might have an affinity for anyone of those routes and the places they go, but the biggest debate is between the Red Line and the Blue Line. The Red Line runs between Howard Street in Rogers Park and 95th/Dan Ryan in Roseland. The Blue Line runs between O'Hare Airport on the far Northwest Side of the city to Forest Park. Both lines offer 24-hour service.
The Red Line serves North Side neighborhoods like Lakeview and Andersonville and South Side neighborhoods like Chinatown and Bridgeport. While the Blue Line runs through North Side neighborhoods including Logan Square and Old Irving and West Side neighborhoods like Illinois Medical District and the Near West Side. Red Liners love living close to the lake, and Blue Liners like the less-crowded feel of their neighborhoods. It is rare you'll hear a Blue Liner make plans to move off of the Red Line and vice versa.
Giordano's vs. Lou Malnati's
Sure, you might hear that deep dish pizza is for tourists, or you might get the occasional out-of-towner going on about New York-style pizza being the best (they're wrong), but there is no question that deep dish pizza is a huge part of Chicago's culture.
Plenty of restaurants serve up this famous dish, but two of the biggest are Giordano's and Lou Malnati's. The first Giordano's opened on the South Side and the first Lou Malnati's spot in Chicago opened in River North, but now you'll find these spots all over Chicagoland. Giordano's is all about "stuffed" pizza, while Lou Malnati's claim to fame is its sausage (they even have a pizza with a sausage "crust"). A true Chicagoan has probably had both and almost certainly has picked a favorite.
North Avenue Beach vs. Montrose Beach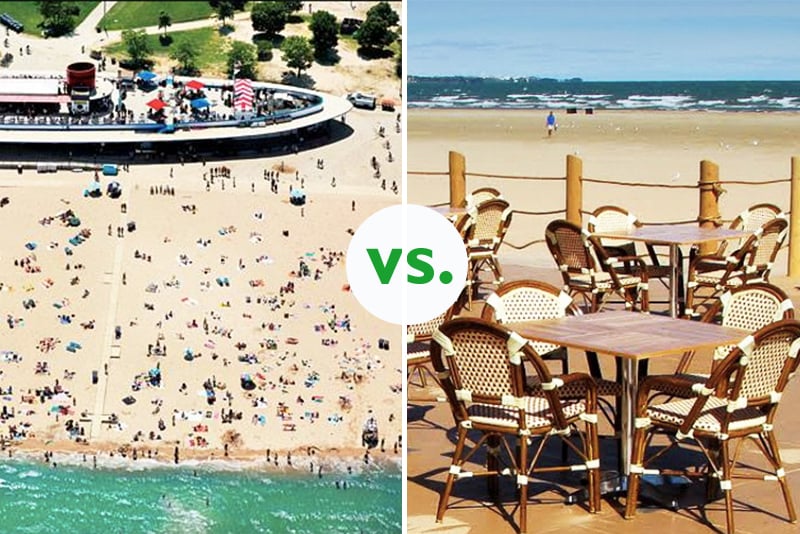 Chicago has more than 20 beaches along Lake Michigan, and when the sun finally comes out of its winter retirement city residents flock to the lakeside. Everyone has their favorite, but the biggest dispute is between North Avenue Beach in Lincoln Park and Montrose Beach in Uptown.
North Avenue Beach has Castaways Bar and Grill. Montrose Beach has The Dock. You can rent kayaks at North Avenue Beach. You can take your dog to Montrose Beach. It is a neck-and-neck competition, but most Chicagoans have no problem picking a favorite and singing its praises.
Willis Tower vs. the Hancock Center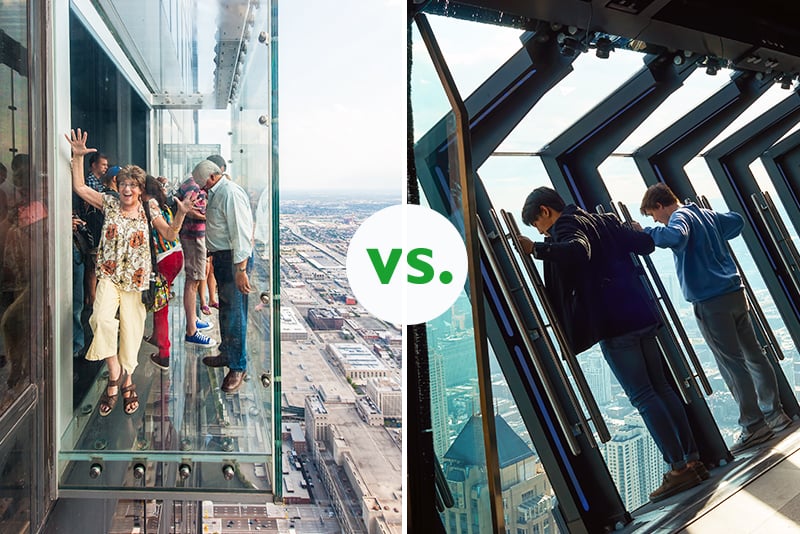 Willis Tower (still affectionately and stubbornly known as Sears Tower to most Chicagoans) in the Loop and the John Hancock Center (currently in the midst of an identity crisis, according to the Chicago Tribune) on the Magnificent Mile offer two of the most stunning aerial views in the city.
You can step out onto a transparent ledge on the 99th-floor Skydeck at Willis Tower. At the Hancock Center, you can ascend to the 360-degree observation deck or dine at The Signature Lounge on the 96th floor. Which view is superior is always up for debate.
Parking Spot Dibs vs. First-Come-First-Served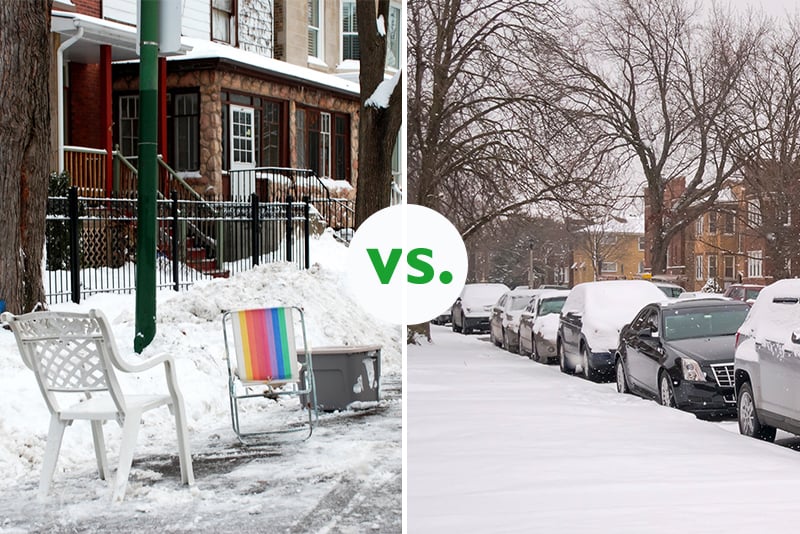 Parking in Chicago on a good day can be a hassle. When winter comes along it becomes an all-out, high-stakes race. Snow covers up street parking in a heartbeat, and it can take a long time to dig a spot out. That is why you'll see random brooms, trash cans, chairs, and cardboard boxes dotting nearly any given side street during the winter. Those odds and ends are not random, they are placeholders put down in the time-honored Chicago tradition of parking spot "dibs."
On the other side of the argument, there are Chicagoans who abide by the "first-come-first-served rule." It can lead to some tense arguments with the neighbors, but people will move those placeholders — there's no official rule against it.