Las Vegas Local Life
A Neighborhood Guide to NFL Bars in Las Vegas
Within weeks of moving to Las Vegas, new residents will notice one thing—there are bars everywhere. It's impossible to differentiate them at first, but over time you'll find a favorite spot for gambling, dining, and watching sporting events.
For someone who's just moved here, it might be hard to find the right place. Luckily, there are a ton of NFL bars spread throughout the Vegas valley, and there's a good chance that your team has a designated bar in your neighborhood or close by. Here's a breakdown of all the team bars in these Las Vegas neighborhoods.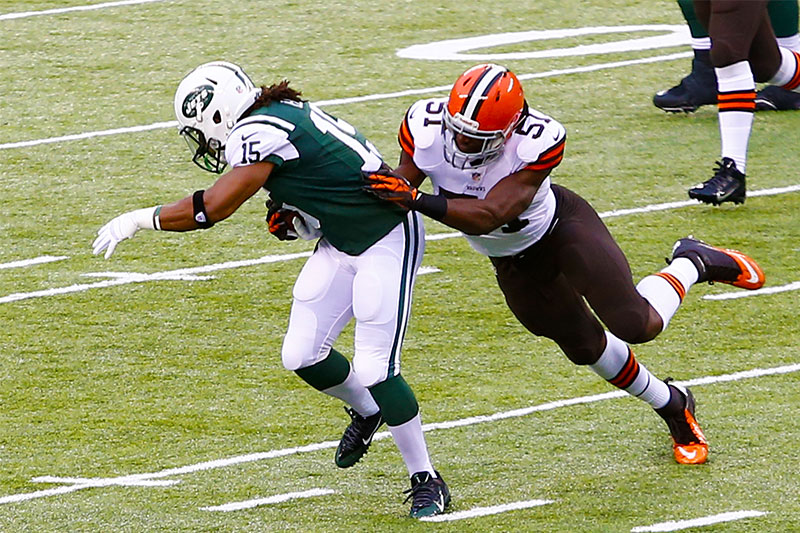 Spring Valley is a vast area so it's easy to see why it's brimming with NFL team bars. It's also the future neighborhood for the Raiders stadium, so there will likely be more bars displaying their black-and-grey pride very soon. Fans of the Cleveland Browns can cheer their team at Kopper Keg West. The bar is known to be an official Cleveland Browns Backers viewing spot. Crown and Anchor on Spring Mountain and Scooter's Pub are designated spots for Seattle Seahawks fans, and Time-Out Sports Bar and Moon Doggie's Bar cater to Buffalo Bills fans.
Blue Ox Tavern on Sahara Boulevard supports all things midwest including the Minnesota Vikings. Also representing the midwest and the Detroit Lions is Crowbar. Jackson's Bar and Grill celebrates the Greenbay Packers and gets packed with a crowd of cheeseheads on game day. Johnny Fontane's Bar and Grill is famous for its pizza and their love for the New York Giants. Miami Dolphins Fans will enjoy the casual atmosphere of Tommy Rocker's Mojave Beach Grill & Bar. And if you're missing authentic Maryland-style crab and seafood then you'll want to check out Crab Corner Maryland Seafood House, which is also the prime spot to cheer on the Baltimore Ravens.
Bordering on the southwest, there are a few team bars on and around Blue Diamond Road. Chicago Bears fans will feel right at home at Brando's Sports Bar. This local pub and sports bar has been in business since 2000, and it's known for its Chicago-style pizza and Chicago-style Vienna hot dogs.
In this area part of town you'll find The Tap House, which is a local sports bar that's known for being the "home of the Cleveland Browns" in Las Vegas. In addition to watching the Browns games, the bar is also known by locals as an Ohio bar that features all of the other Ohio sports teams like the Cincinnati Reds and the Cleveland Indians (MLB), the Cleveland Cavaliers (NBA), and the Columbus Blue Jackets (NHL). Cowboys fans can watch their favorite players score touchdowns on game day at Mr. D's Sports Bar and Grill. The bar is located off Rainbow Boulevard and has 22 HD TVs for watching the game.
Paradise is another large area that has plenty of sports bars for NFL fans to choose from. Rum Runner Lounge has two locations for Green Bay Packers fans to choose from in Paradise, one on Tropicana Avenue and the other on Desert Inn Road. Philadelphia Eagles fans can celebrate their team's recent Super Bowl victory and upcoming season at Madison Avenue Bar & Grille. The Stake Out Bar and Grill is a Buffalo Bills bar, which was opened by the owner and Buffalo transplant Bill Devlin. Located off Tropicana and Maryland, this bar has been in business since 1991, and it's known to get packed on game days with Buffalo Bills fans.
Henderson residents and football fans have a few choices to watch their favorite NFL teams. On Eastern Avenue, Black Mountain Grill offers an island bar with lounge seating and plays all of the Denver Bronco games. With a name like Windy City Beefs and Pizza, fellow Chicago Bears fans will feel right at home. Hi-Scores on Stephanie Street is known for their free arcade games and love for the San Francisco 49ers.
In Whitney, which is just east of Henderson, sports fans have a couple neighborhood bars to consider. On Boulder Highway, you'll find Johnny Mac's Bar and Restaurant, which supports the Buffalo Bills, and Legends Sports Bar and Grill that's all about Raider Nation.
For Los Angeles (formerly San Diego) Chargers fans living in the neighborhood, Shooters Bar & Grill on East Sahara Avenue is a great location to cheer on their quarterback on game day. Just a few minutes away from Shooters is The Plate Bar & Grill, which is another ideal place for Packers fans.
If you've recently moved to Summerlin, there are a modest amount of team bars to choose from. Three Angry Wives Irish Pub reps the New England Patriots, and Steiner's Nevada Style Pub backs the Washington Redskins. Lola's is known for its Creole cuisine, and it's the place to catch all of the New Orleans Saints games.
Centennial is similar to Summerlin in that it only has a few team bars. Town Center Lounge is a popular Buffalo Bills bar near Centennial Hills Park. Bears fans in this neighborhood are in luck because they have two bars to choose from: Shucks Tavern on North Durango Road, and Rosati's Chicago Pizza.
Big Dog's Draft House on Rancho Drive offers a variety of craft brews and is a designated Green Bay Packer Backer fan club. Eagles fans can catch the games at Torrey Pines Pub, and 49ers fans can hang out at Joey's Tavern located on Craig Road.