Los Angeles Local Life
Discover These Small Towns in Southern California
Southern California is home to a seemingly endless number of coastal cities, tourist communities, and popular vacationing areas. Destinations such as Los Angeles, San Diego, Santa Barbara, and Malibu are often the first places people head towards when they're in SoCal. However, many locals and visitors forget there are also numerous charming small towns and villages scattered throughout the region.
Oftentimes, the quaintness, tranquility, and family-friendly atmosphere offered in these small towns can even trump the ultra-modern amenities and attractions in more tourist-frequented locations. Many small-town communities in Southern California are also more affordable and can provide a more personal experience for the visitor.
Below are a few of our top picks for charming suburbs in Southern California with that small-town vibe.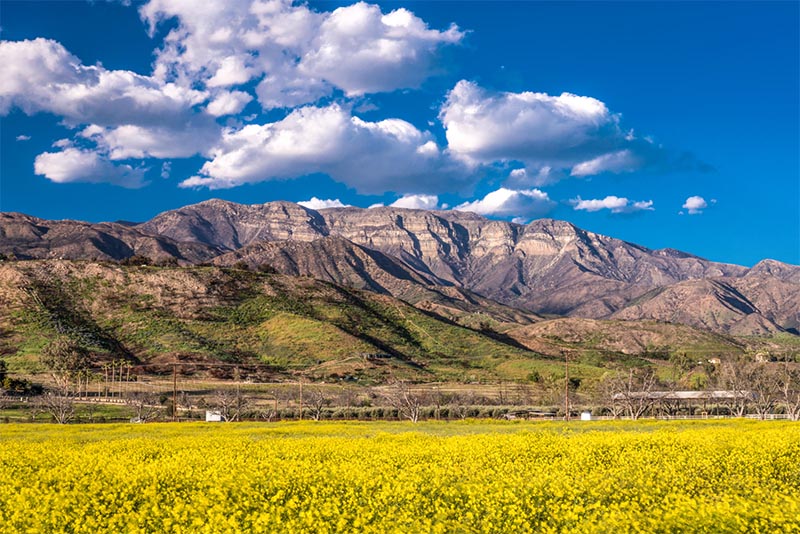 Situated about two hours northwest of LA is the rustic, rural community of Ojai. For those living near Ventura, Santa Barbara, and Los Angeles, Ojai is the ultimate weekend adventure when locals need a mental vacation from the city noise.
Ojai is grounded in history and features affordable real estate, plenty of greenery and open fields, a family-friendly environment, and many more perks, making it a great community to live as well. It has a thriving art scene, an overall peaceful vibe, and many longtime residents are proud to live here.
Ojai has a unique, magnetic location as well. Since the valley runs east-west, its location is known as a geomagnetic "vortex" zone, likened to famous locations such as the Giza plateau in Egypt. As a result, residents and visitors enjoy early sunrises and impressive sunsets. This small town is known for its trademark pink sunrises, which occur from the sunlight's effect on the areas surrounding mountains. The community enjoys sunshine for most of the day, and it's also a place where visitors find themselves feeling centered and more in touch with their spirituality.
Places of Interest
Ojai Olive Oil – This 150-year-old olive oil grove is a family-run business located on the Asquith family ranch in the east end of Ojai Valley.
Rose Valley Falls Trail – A half-mile trail starting at Rose Valley Campground and leading to the base of the lower falls, cascading over a sandstone cliff.
Ojai Valley Museum of History and Art – Learn about Ojai's town history by checking out some exhibits & contemporary local artwork, located in a former Catholic church.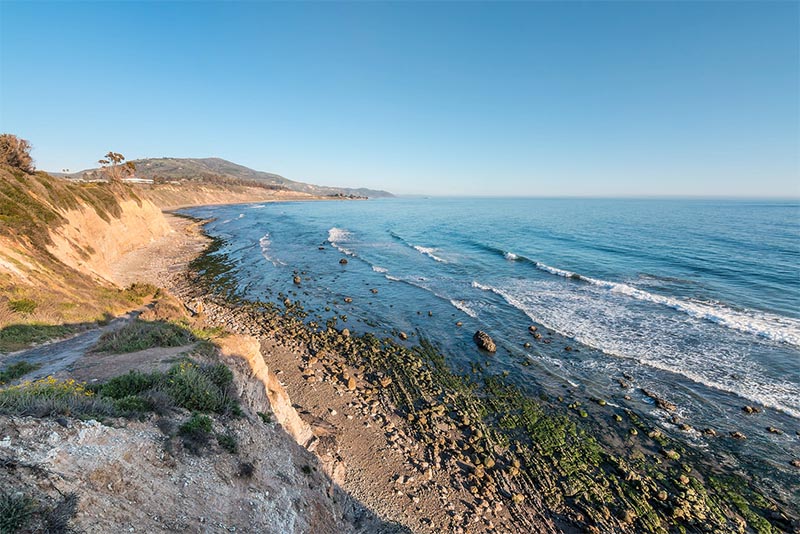 For those looking to explore a small town with a beachy vibe, there are many quiet and idyllic communities close to Santa Barbara and Los Angeles. Located east of Santa Barbara and northwest of Ventura is the relaxing oceanside community of Carpinteria. This small town sits in a sweet spot, out of reach from the craziness of LA traffic while still offering Southern California's trademark beach vibes. Visitors to this community can enjoy a multitude of water activities available, picnicking, and of course, a spacious and pristine beach.
Those looking for brand name establishments or chain restaurants will have little to no luck in Carpinteria, as most of the charming eateries and small businesses in town tend to be independently owned. Not only does Carpinteria feature some of the most breathtaking sunsets in Southern California, it's also has been given the slogan of "the world's safest beach."
Places of Interest
Chocolats du Cali Bressan – Whether you want bon bons, truffles, or custom chocolate, this shop is a must-visit to experience some of the best specialty chocolate by acclaimed chocolatier Jean-Michel Carre.
Carpinteria Harbor Seal Preserve and Rookery - Home to nearly 100 adult seals on the Carpinteria shoreline, and one of the four harbor seal rookeries remaining along the southern California coast.
Tar Pits Park - Beachfront site featuring a series of rare natural asphalt lakes, plus trails with ocean views.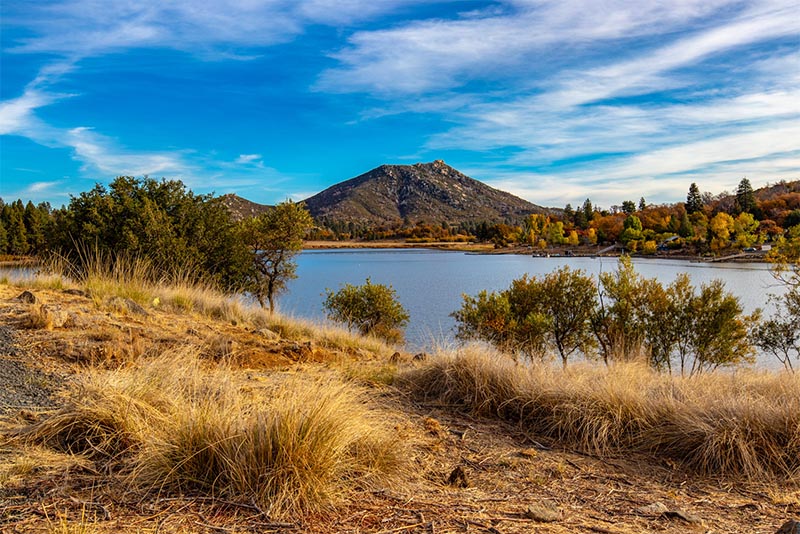 Located higher up in the Cuyamaca Mountains is the small town of Julian, a place that's so deeply rooted in history that the town itself is known as a Designated Historical District. In the 19th century, Julian was best known as a goldrush mining town, and even today, many of its former buildings have been preserved.
The small-town mountain community can be found about 50 miles northeast of San Diego, at the intersection of California freeways 78 and 79. This is where visitors go to take a step back in time, and it's indeed a true break from the technology and buzz of San Diego. Many shops in the community go as far back as the 1870s, and visitors are likely to find an intimate B&B or an old-school boutique hotel during their stay.
Since Julian is situated in the mountains, the scenery is filled with lush greenery, plenty of fresh air, and hiking trails.
Places of Interest
Apple Alley Bakery – A rustic, homespun bakery highlighting Julian's showcase gluten-free apple pie and pastries with an open patio.
Julian Pioneer Museum – An endearing museum that houses an eclectic array of artifacts depicting the history of Julian.
Eagle and High Peak Mine Tours – Don't miss a guided visit through Julian's historic gold mines, where visitors can explore tunnels, pan for gold, and purchase souvenirs.