Does the arrival of a craft brewery really signal a neighborhood revitalization?
For most of his life growing up in Surprise, Arizona, Dylan Frank says there was "nothing to do." Then, in 2016, when State 48 Brewery opened its doors, it was as if they brought an entire social scene with them. "The brewery came in and all of a sudden everyone would go there."
A fan of craft beer himself, Dylan, his father Bob Frank, and longtime homebrewer Robert Bessone all decided they wanted to get into the craft brewery business themselves. Setting their sights on the San Diego area, they scoured maps to find holes in the region's famously robust brewery market. Coupled with financial considerations, they zeroed in on Lemon Grove, located about an hour inland from San Diego.
It just so happened that the Lemon Grove City Council was also thinking of ways to revitalize their downtown district. At the heart of that campaign was the city's interest in attracting a brewery to set up shop and become the hub that other businesses would flock around. A town ordinance blocking the sale of single alcoholic beverages was a deterrent to any brewery that also wanted to sell their craft product. So the Council revised the ordinance, making it that much more enticing for a beer business to call Lemon Grove home.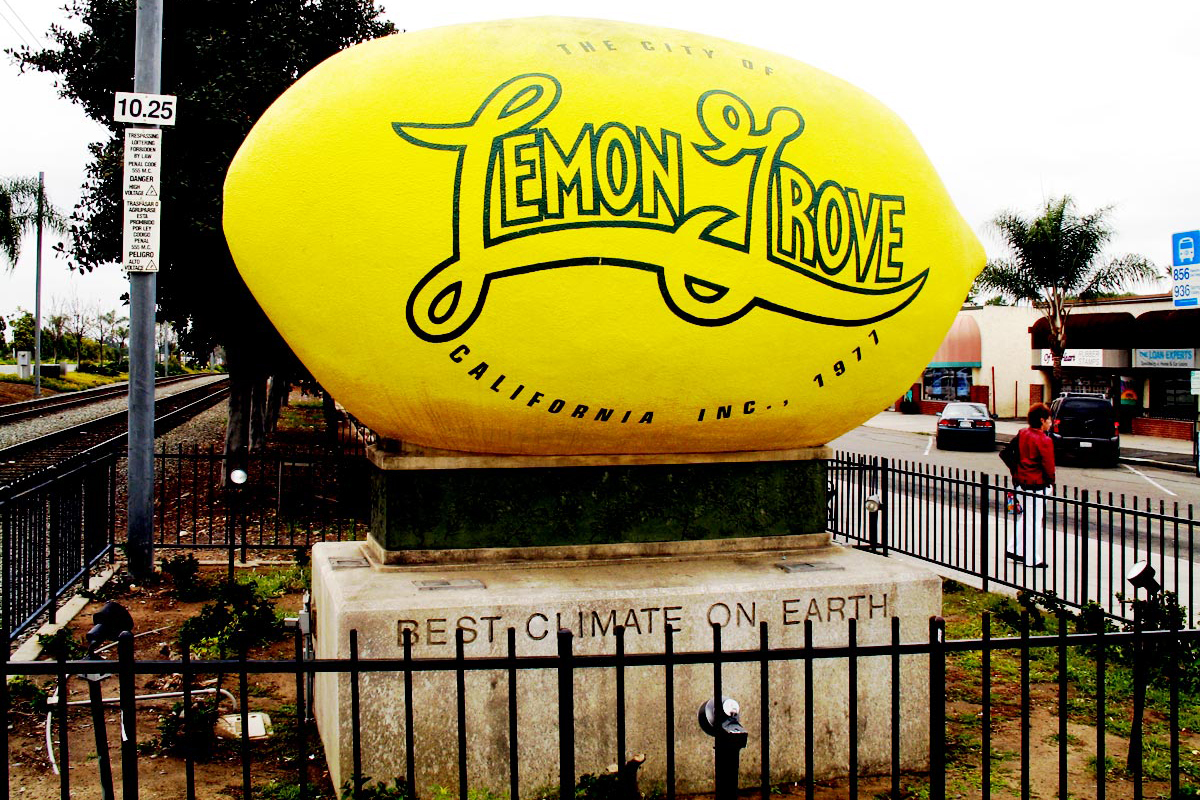 The two forces came together and Frank's 13 Point Brewing is currently working towards a late spring/early summer opening in downtown Lemon Grove.
The revitalization plan already seems to be paying off as Giardino, an Italian restaurant, opened its doors a few buildings down. The hope is that more businesses will fill in the space in the future.
Frank sees the appeal of a craft brewery for cities and neighborhoods as more of an experience than as just another business. "Craft breweries are artisanal. People like trying out different flavors. It's an educational experience." He says that breweries and their taprooms act as "igniters" from which local customer interest can turn into growing business interests.
Also, Frank notes, "a lot of people like beer."
This isn't a phenomenon that's just happening in Lemon Grove. In nearby National City, the city council recently approved a craft beer ordinance in order to attract tasting rooms and breweries to their town, a move that one councilmember described as a way to "build a city that attracts the creative energy and optimism of young professionals."
Both cities are trying to get a slice of the craft beer business pie that has dominated the San Diego area in recent years. According to the San Diego Brewers Guild, the industry had a $870 million impact on the region in 2016, creating thousands of jobs in the process. As the breweries settle in and attract crowds, the surrounding businesses and neighborhoods are benefitting as well.
This certainly isn't just a San Diego County phenomenon either. Craft breweries are at the center of neighborhood revitalizations across the nation. While the number of craft breweries in America rose from 27 to 1,754 between 1985 and 2000, that number more than doubled between 2010 and 2015, to 4,225. There are few modern industries that have proven themselves so profitable and so influential in shaping the neighborhoods, towns, and cities around them.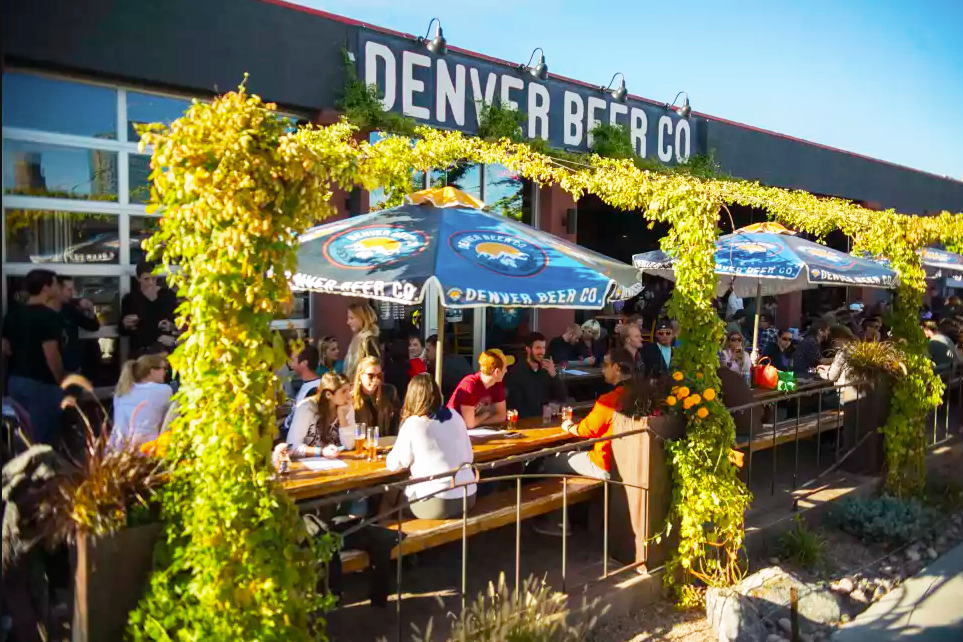 What makes this such an interesting trend is that the craft brewery effect isn't confined to the obvious places. While you'd expect to walk a long-established city neighborhood such as Chicago's Ravenswood and find a collection of breweries and taprooms, the effect can also be seen in post-industrial neighborhoods like Denver's RiNo, a former warehouse district that now boasts nine breweries and counting. Step outside the city and the effect can also be felt in small towns where a craft brewery can single-handedly jolt the local economy, just as Lemon Grove is hoping.
But is there a real connection between craft breweries and neighborhood revitalization or is this just a case of correlation without causation? Is it as simple as taking the arrival of a new brewery as a sign that a neighborhood is worth investing in?
Jesus M. Barajas, Geoff Boeing, and Julie Wartell tried to figure that out in the book "Untapped" by exploring the relationship between craft beer and neighborhood change. After crunching the numbers on every U.S. craft brewery that opened or closed between 2004 to 2015, they found that craft breweries were usually found in neighborhoods with "densities equivalent to inner-ring suburbs" (ex. Berwyn outside Chicago, Farmers Branch outside Dallas). These neighborhoods often had larger populations of people aged 25-34, fewer households with children, lower median incomes, more new housing, and higher housing prices.
Based on regression model studies in order to predict how a new craft brewery would affect neighborhood variables, the authors weren't able to make too many strong conclusions. They were, however, able to make some observations about neighborhoods before the beer purveyor gets there.
According to their findings, new craft breweries are often attracted to neighborhoods with "increasing education levels, declining income levels, and an older housing stock." In other words, an incoming craft brewery may be a sign that the neighborhood or town is about to see a revitalization, though there's clearly more to it than just the availability of some new IPAs. These businesses are a part of the conversation but don't tell the whole story. Not to mention the effects of displacement that crop up when a neighborhood transitions due to that kind of revitalization.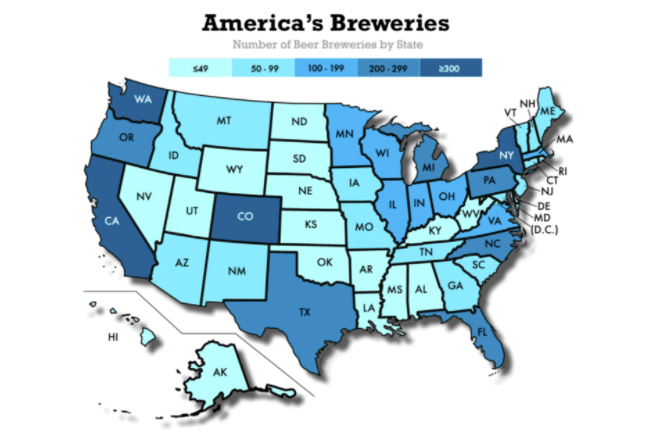 So knowing all of this, what if you're looking for a new home or new neighborhood and want to use craft beer as the guide? For starters, you're probably looking to the West Coast. California, Colorado, Oregon, and Washington lead the pack when it comes to craft beer locations, with California having more than double the number of craft breweries in any given state.
From there, if you're looking to live in a specific city, you might want to set your sights on San Diego or Denver. According to data from MillerCoors, the percentage of bar traffic that moves through brewery taprooms or brewpubs in those cities is 30 percent and 35 percent, respectively (Portland sees 29 percent, Minneapolis sees 24 percent, and Phoenix sees 19 percent).
If you simply want to go for overall numbers, the cities with the most breweries are Portland, Denver, San Diego, and Seattle. Away from the western side of the country, you probably can't go wrong considering Austin, Chicago, Asheville, North Carolina, or Portland, Maine.
If you're looking for avoid the major metropolises, consider Santa Rosa. Named the "microbrew capital of the world" by data visualizations journal The Pudding, this NoCal city is the home base for multiple award-winning craft brews and features a surprisingly large collection of breweries within a 20-mile radius.
Of course, all of these rankings and numbers are based on what's already happened. We all know that trends are always shifting. There are real concerns about how much more the craft brewing industry can grow, especially as certain neighborhoods and towns reach saturation points. But even if the trend begins to taper off, craft breweries have made an impact on their locales as well as American bar culture in general. And considering our drinking habits, they're probably not going anywhere anytime soon. Neither are the neighborhoods they reside in.