Los Angeles Real Estate
Explore Orange County's Best Beach Neighborhoods
Located between Los Angeles and San Diego are the popular beach communities of Orange County, which for many, is an ideal middle-ground between city and suburban living. Orange County is home to over 30 cities and even more distinct neighborhoods, each featuring their own unique community highlights.
In recent years, OC cities such as Irvine and Costa Mesa have become reliable employment centers, attracting a new wave of millennials to the county, including students, working professionals, and families who want to live close to the beach. However, not all neighborhoods in Orange County are near the water.
For potential homebuyers who want to know more about living in an OC neighborhood near the beach, check out this guide to learn more.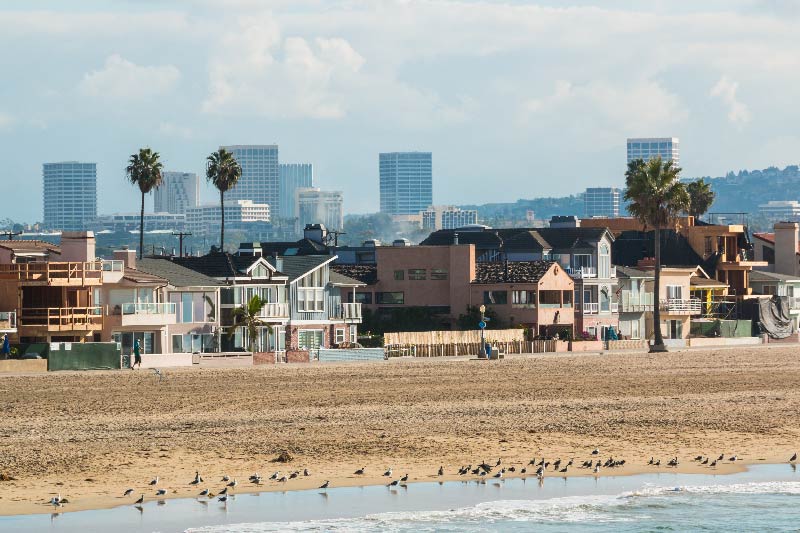 Located between Costa Mesa, Irvine, and Aliso Viejo, the seaside city of Newport Beach is home to several luxurious beach neighborhoods. The city is frequented by both visitors and locals, especially during the busy summer months. Newport Beach is home to several affluent residential communities, world-class shopping centers, well-respected schools, and some of the county's best amenities.
Although there are several neighborhoods in this city to choose from, a popular choice for homebuyers in Newport Beach is the upscale community of Corona del Mar. It's commonly known by locals as either "CdM" or the "Crown of the Sea" because it's situated on the cliffs above the ocean. Residents in this neighborhood enjoy scenic views of the Pacific Ocean, and they're just a short 10-minute walk from several beaches and lookout points, including Corona del Mar State Beach and Inspiration Point.
Homes in Corona del Mar range from vintage-style bungalows and cottages to new construction single-family residences and attached townhomes. According to Neighborhoods.com data, the median sale price in this neighborhood is $2.5 million.
For homebuyers who want to live near the beach but also want to be near some greenspace, head towards the community of Newport Coast near the southwest side of Newport Beach. This census-designated place was annexed into Newport Beach less than 20 years ago, and it's now the site of a 620-acre master-planned community developed by The Irvine Company.
Although walking to the beach might take over an hour due to the lack of pedestrian walkways, the neighborhood is only a short eight-minute drive away from Crystal Cove Beach. Newport Coast is also a short distance away from Crystal Cove State Park, which offers miles of trails for hikers, campers, and joggers.
Crystal Cove, one of Newport Coast's most sought-after gated communities, has a median sale price of $6.3 million. Most homes within the neighborhood are high-value, single-family residences that features modern styles.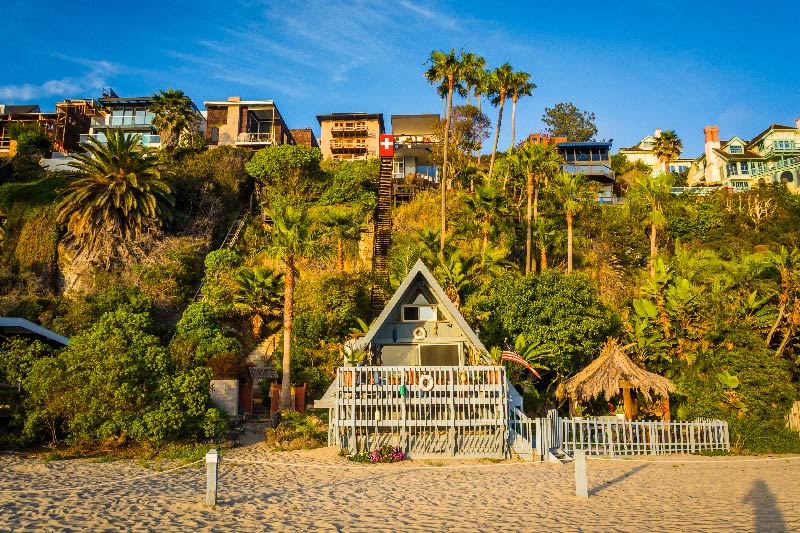 Towards southern Orange County is the popular, star-studded city of Laguna Beach. This area is known for its noteworthy dining, art galleries, and easy walkability. It's also home to some of the most beautiful beaches in the world. From high-end neighborhoods to reputable private schools, residents in Laguna Beach enjoy a family-friendly suburban atmosphere mixed with a laid-back, artistic community.
Homeowners in the South Laguna Bluffs neighborhood of Laguna Beach are within walking distance of several popular beaches, including Treasure Island Park, Aliso Beach Park, West Street Beach, Table Rock Beach, and Thousand Steps Beach.
With so many beaches around this neighborhood, it's no surprise that South Laguna Bluffs is also filled with some of the county's most extravagant properties. However, this doesn't mean it's impossible to find a reasonably-priced, mid-sized single-family home. Common architectural styles in this upscale neighborhood include Craftsman, Cottage, and Contemporary. Buyers can find small homes priced starting in the $1 millions, but prices climb over $10 million the closer the property is to the beach. The median sale price is $1.5 million.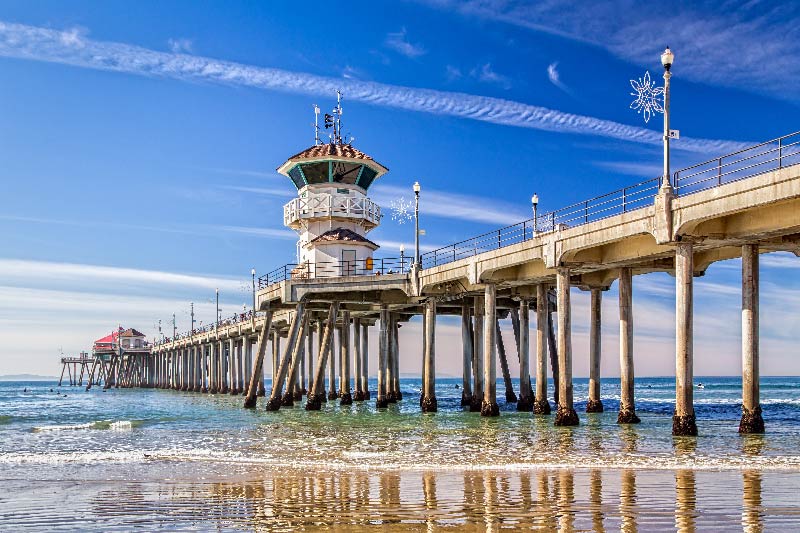 Popularly known as the official "Surf City USA," Huntington Beach is pedestrian- and dog-friendly. The iconic Huntington Beach Pier is renowned as one of the longest piers on the West Coast, and the beaches here attract anyone from casual beachgoers to professional surfers and athletes. The city has many museums, shopping centers, restaurants, and of course, plenty to offer when it comes to outdoor beach activities. It's no wonder why living in Huntington Beach is so attractive for many homebuyers.
For those interested in an oceanfront neighborhood that has it all, head towards Bolsa Chica in Huntington Beach. This neighborhood features mid-sized, single-family homes that come in a variety of architectural styles, from vintage to modern.
The neighborhood offers residents direct access to the three-mile Bolsa Chica State Beach. Known for its calm waves, this beach attracts beginner surfers and those who enjoy fish surfing. Not to mention—Bolsa Chica also has some of the best boardwalks that Huntington Beach has to offer. The median sale price in this neighborhood is over $1.1 million.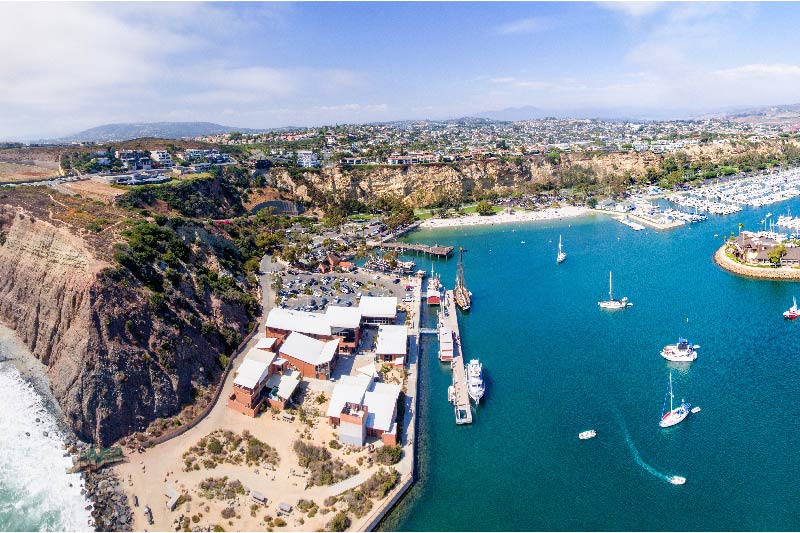 Dana Point is a laid-back beach city that attracts many locals from Los Angeles and San Diego. It's known as an idyllic community with diverse businesses, residents, and a variety of housing options. Dana Point is a city that blends upscale amenities with casual surf culture, making it an ideal weekend staycation spot for many locals and visitors. For those living in Dana Point though—the vacation never has to end.
Monarch Beach is a small but affluent residential neighborhood located in Dana Point. Depending on where you live in this neighborhood, a walk to the beach can range from five to 20 minutes. There are two luxury resorts situated within the Monarch Beach neighborhood: the Monarch Beach Resort and the Ritz-Carlton Laguna-Niguel.
Properties in this neighborhood tend to be large, high-value attached homes, townhomes, loft condos, single-family homes, or custom estates. The median sale price in this community is almost $1.5 million, but luxurious estates with ocean views will set you back a whopping $29 million.