Las Vegas Neighborhood Guide
Las Vegas Neighborhood Guide
Some people may think of it as Sin City, but Las Vegas locals are a lot more interested in the city's never-ending shopping choices and neighborhood hotspots rather than the miles of casinos on Las Vegas Boulevard.
Las Vegas neighborhoods are most often delineated by the master-planned communities that dominate the Valley. While some established communities, like Summerlin, have been around for several decades, others are much newer on the scene and are already making top-selling lists.
In terms of transportation, Las Vegas is a bit limited. While we have RTC buses and rideshare options, owning a car in Las Vegas is an absolute must. Still, making the commute from the suburbs into the city isn't quite as difficult because Las Vegas has a convenient freeway system.
Las Vegas at a Glance
Here are a few helpful tips for exploring the communities around Las Vegas:
RTC: Southern Nevada's Transportation Commission: While Las Vegas doesn't have a train system, RTC provides Las Vegas with bus routes, limited bikeshare programs, and Club Ride, which helps you find carpooling options that work for you.
The Deuce on The Strip runs 24/7 with a frequency of every 15 minutes, while other buses run from 9 a.m. to midnight. Check out the route map for full details.
I-215, I-15, and I-95 are the primary freeways used to navigate around Las Vegas and circle the Las Vegas Valley. By using these freeway systems, you can get anywhere in the Valley much faster than you would using surface streets.
Exploring Las Vegas is worth the effort. Here are the neighborhoods you should discover next.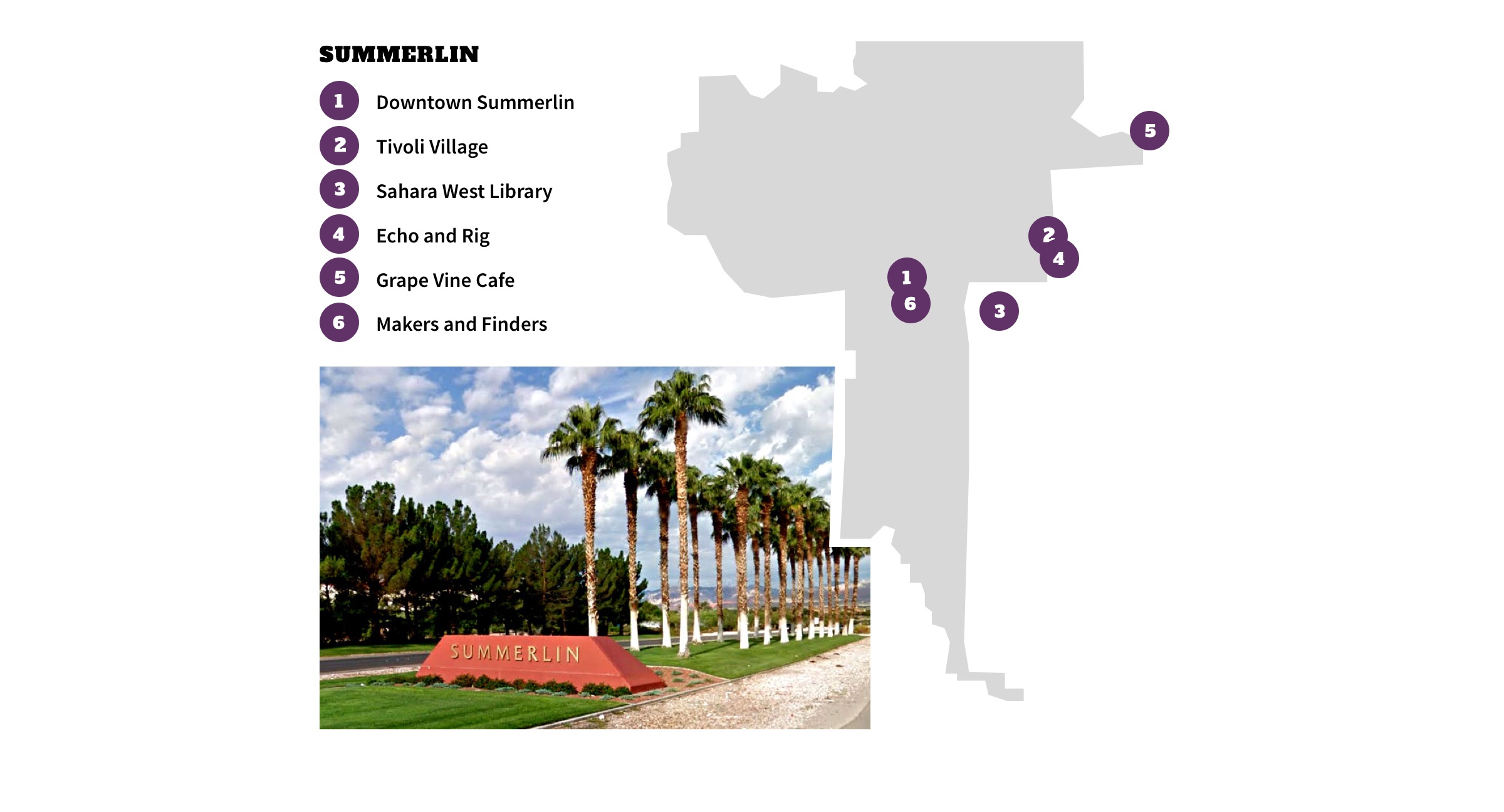 A top-selling master-planned community on the west side of the Valley, Summerlin sprawls over 22,500 acres of abundant parks, diverse neighborhoods, and extensive hiking trails. It's also considered by locals as the most fun neighborhood in Las Vegas. Since it's close to Las Vegas staples like Red Rock Canyon and shopping centers like Downtown Summerlin, this community is a favorite among homebuyers who want to live within a self-sustaining development that's full of amenities.
What to Do
Situated near Red Rock Country Club, Downtown Summerlin is the premiere shopping and entertainment complex in Summerlin. From dining to shopping, Downtown Summerlin has you covered with popular stores, world-class restaurants, and indoor/outdoor events and activities.
Just a 10-minute drive from Downtown Summerlin, Tivoli Village is a high-end, European-inspired shopping center known for its five-story Restoration Hardware gallery as well as its wide range of restaurants and boutiques.
Formerly an art museum, Sahara West Library is a one of the city's most innovative libraries. It features rotating art exhibits, a used bookstore, and a vast book and media collection.
Where to Eat and Drink
Located in Tivoli Village, Echo and Rig is acclaimed chef and restaurateur Sam Marvin's concept of a high-end butcher, steakhouse, and brunch spot that features a new twist on American fare and ditches the old concept of what a traditional steakhouse should be.
Just because you're in Las Vegas doesn't mean you can't enjoy California bistro-style cuisine with Italian and Mediterranean flavors. Grape Vine Cafe does just that! This restaurant/wine bar/wine cellar combo in Downtown Summerlin, offers pasta, pizza, fish, and salads that pair well with its extensive wine menu.
Makers and Finders is one of the newest establishments in Downtown Summerlin. It's a premiere coffee bar that got its start in the Arts District and later opened a location in Summerlin. It's known among locals for its craft lattes and Latin comfort food that's inspired by the flavors from Central and South American cuisine.
Why Locals Live Here
Summerlin offers residents a one-of-a-kind residential community that's thriving with businesses, diverse communities, and convenient amenities. While distinctly suburban, the neighborhood is among the best places off The Strip because you don't have to leave the neighborhood to enjoy a night out, run errands, or take a scenic hike.
The different villages of Summerlin also offer a variety of housing styles from traditional single-family homes to attached homes with Mediterranean or modern features. Residents also enjoy the wide selection of amenities such as local parks, community trailheads, and clubhouses that provide endless options for entertainment and opportunities to meet your neighbors.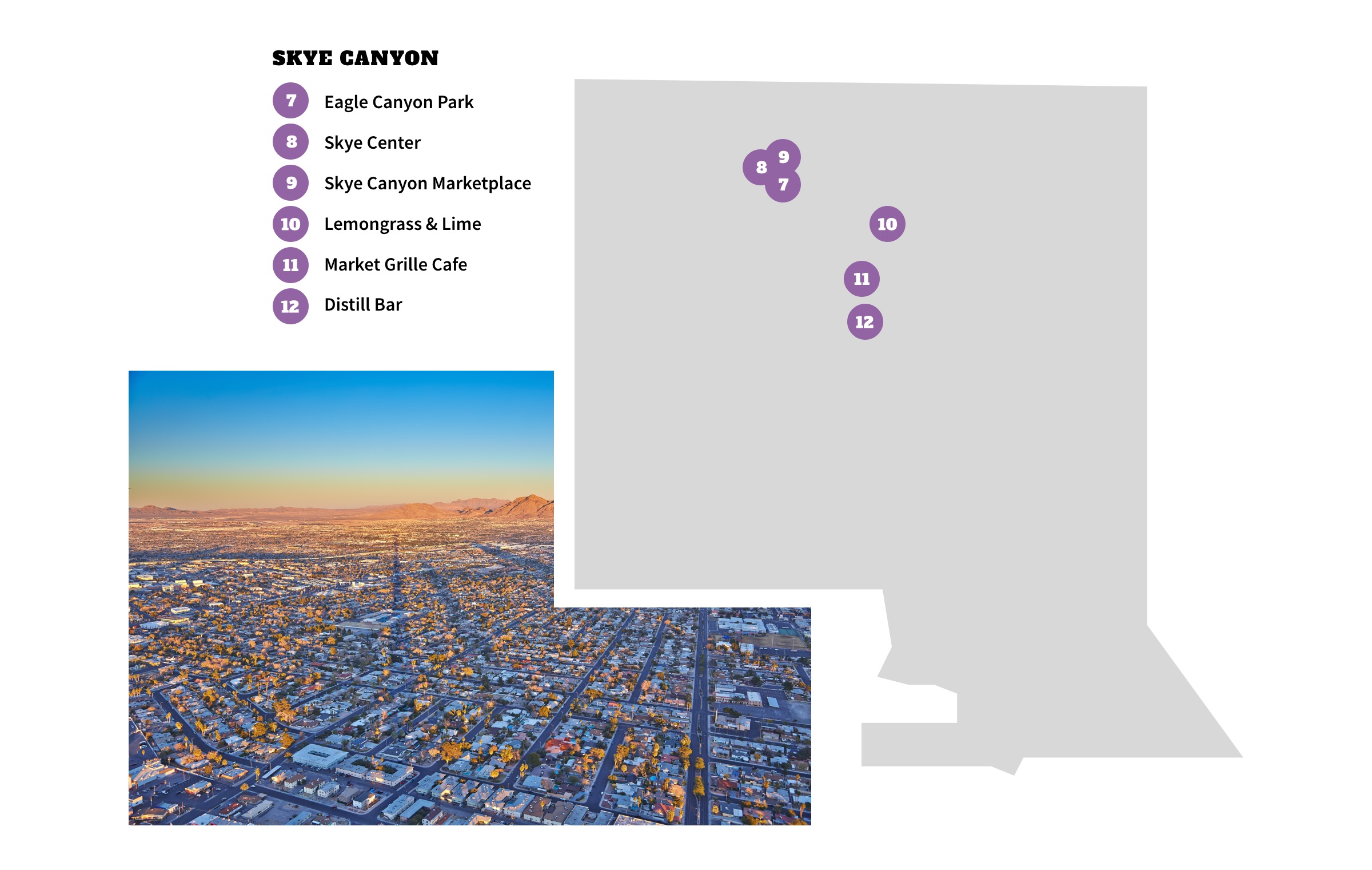 While Skye Canyon may not have Summerlin's sprawl or central location, this northwest Las Vegas community is known for its welcoming environment, small neighborhood atmosphere, attractive amenities, and community events. Like other master-planned communities in the Valley, Skye Canyon also offers a robust calendar of activities and social gatherings that bring the residents together. Another bonus to living in this community is its close proximity to the snow-capped mountains of Lee Canyon and Mount Charleston, providing additional outdoor recreation less than an hour's drive away.
What to Do
At Eagle Canyon Park, the splash pad, playground, basketball court, sports field, and picnic areas make it easy for families can stay active throughout the year. Best of all, this park is within walking distance of many neighborhoods in Skye Canyon.
This 8,000 square-foot community center allows residents to gather with their neighbors in a welcoming and social setting. Inside the center, residents have access to free WiFi, a meeting room, gathering areas, and an on-site restaurant. Just outside of the center, homeowners have plenty of places to hang out and enjoy the weather including a swimming pool, a splash pad, covered patios, walking and biking trails, and a dog park.
Residents living in Skye Canyon also have easy access to the Skye Canyon Marketplace. This recently opened retail center includes a Smith's Marketplace, which offers groceries, home decor, household items, apparel, on-site dining options, and a drive-thru pharmacy. With everything in one place, residents never have to go far for their day-to-day needs.
Where to Eat and Drink
Located on the north side of the Valley, this highly rated Thai bistro is known for its authentic Thai cuisine and offers menu items like Pad Thai, Pad Kee Mao, and Pad Pak. But don't forget to start your meal with appetizers like the spicy edamame or fried tofu.
This family-run restaurant is a local favorite that serves Mediterranean fare and offers happy hour discounts on its most popular dishes and wines. It's no wonder Market Grille Cafe was voted "Best of Las Vegas" for six years in a row.
With a menu of more than 25 domestic and imported beers, this modern bar is open 24/7. It's a popular neighborhood spot where the locals go to hang out after a long day of work.
Why Locals Live Here
Whether residents want a multi- or single-family home, Skye Canyon has it, along with access to an impressive array of amenities. Skye Canyon is one of the newest master-planned communities in Las Vegas and it continues to gain attention from prospective homebuyers looking for family-friendly amenities and quality homes. The community center, spacious parks, walking trails, and modern, high-end homes are just a few of the reasons why homebuyers are drawn to Skye Canyon.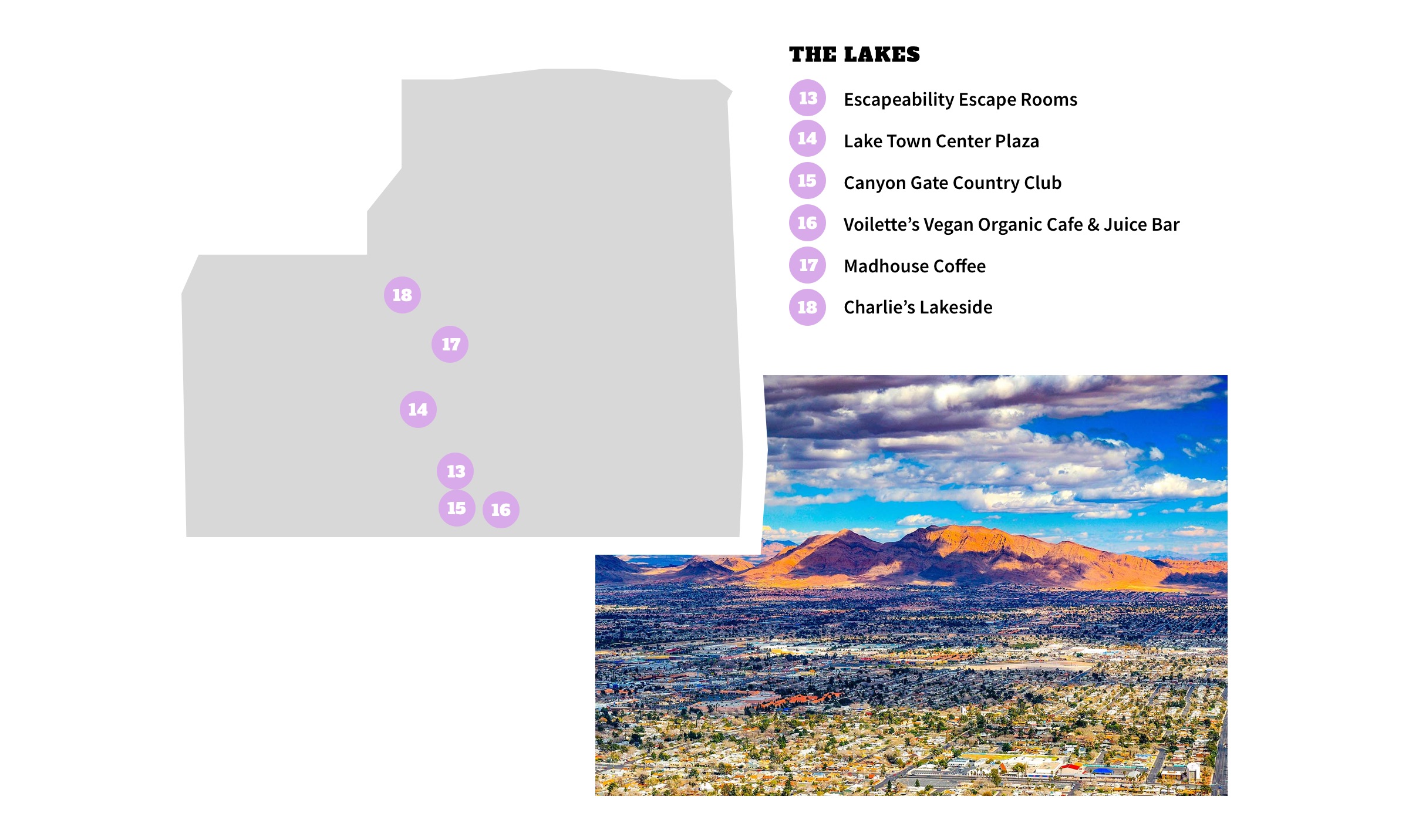 Often confused with Lake Las Vegas, this small master-planned community was one of the first lakeside developments in the Valley to allow homeowners to dock their boats on their property. At the heart of this community is a man-made lake that's actually filled with tap water, an anomaly in the Valley where water features are rare. As an established community with only 300 homes, it's easy to get to know your neighbors in The Lakes. Because the community is already built out, prospective homebuyers won't find any new construction homes but may find homes built within the last 10 years.
What to Do
If you're looking for a thrilling adventure then try your skills at ESCAPEability Escape Rooms. Themed experiences include a Casino Takeover, Escape from Mars, and Pompeii. Can you escape in 60 minutes?
The charming Lake Town Center Plaza is a convenient spot for residents to take care of their daily necessities without having to drive far from the community. This shopping center offers a mini-market, several restaurants, a dry cleaners, a performing arts theatre, and other small commercial businesses.
Located just north of the community, Canyon Gate Country Club offers members top-notch amenities and recreational facilities. This lavish country club is famous for its Ted Robinson-designed golf course, which offers players a challenging layout with tranquil lagoons and 160 acres of lush fairways.
Where to Eat and Drink
It's tough to find a good vegan restaurant in the Valley, but Violette's is one of the best. Among the most popular vegan restaurants in the city, Violette's Vegan offers organic, local, and homemade food options that are highly regarded by locals.
Whenever you need a coffee break, Madhouse Coffee is available to serve you. This 24-hour coffee house offers tasty lattes, delicious macaroons, as well as a vegan menu in a laid-back, community-centric atmosphere. This spot even has hookah hours on the patio for a relaxing evening.
If you're looking for dining and gaming options then this 24/7 establishment is a prime spot. Charlie's Lakeside is an all-in-one entertainment venue consisting of a casino, restaurant, and lounge with patio dining. This is a fun place to watch your sports on the big-screen TVs or try your luck at the card tables.
Why Locals Live Here
Because there are only 300 homes built in the community, The Lakes is an exclusive and close-knit neighborhood. When it was first developed in the 1980s, there was nothing like it in the Las Vegas Valley. Today, residents love the tranquil community vibe and private lake at the center of the neighborhood. The Lakes also provides homeowners with scenic views of the Spring Mountains and close proximity to Red Rock Canyon, providing ample opportunities for outdoor recreation.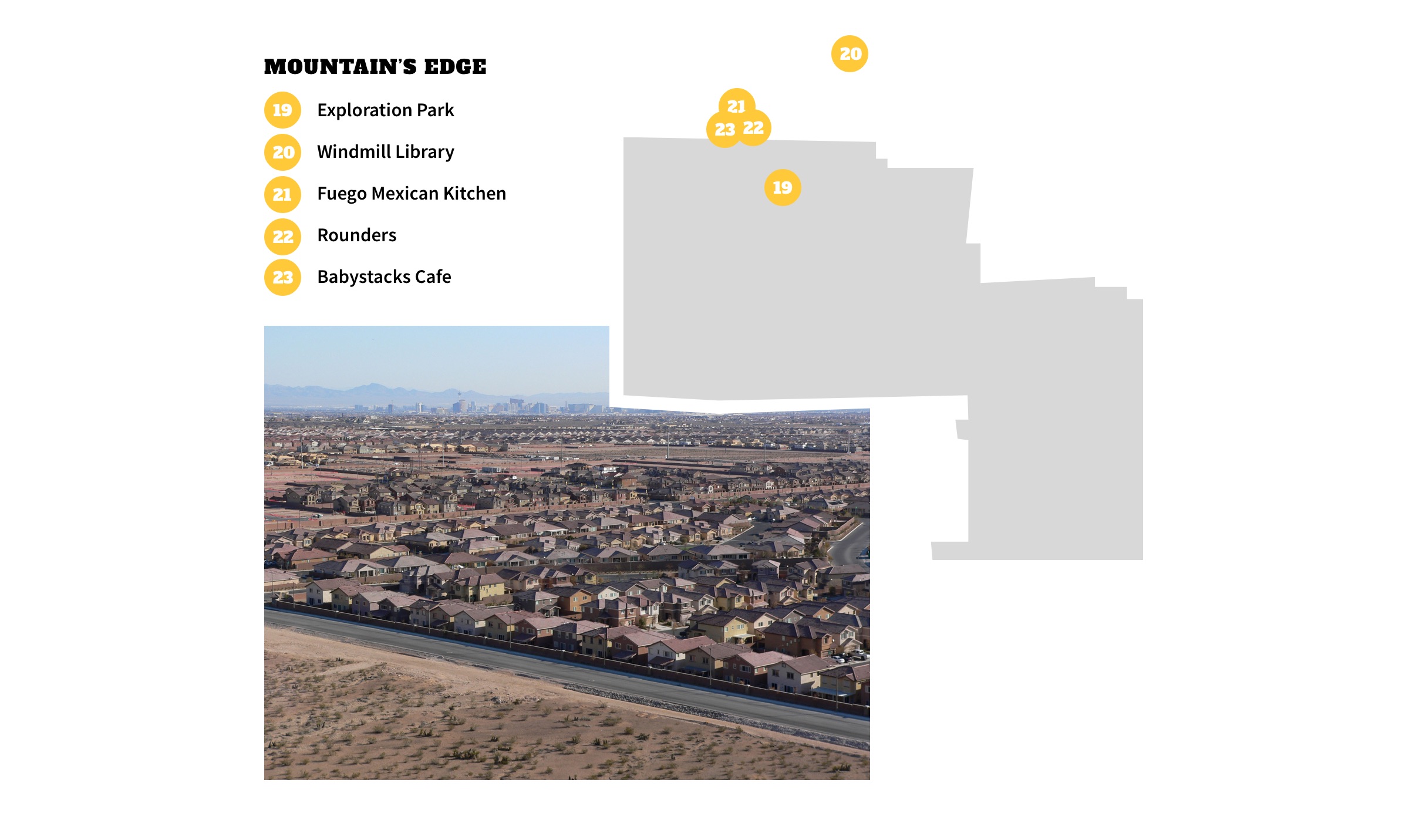 Located in the southwest side of Las Vegas, Mountain's Edge is a 3,000-acre master-planned community that's known for its affordable homes and prime location near the I-15. The neighborhood is definitely a local's paradise thanks to its rich amenities, community parks, walking trails, and serene setting. The community provides residents with an active social calendar featuring events like 5k walks, family-friendly activities, festivals, events, and fitness classes.
What to Do
This exciting western-themed park offers residents a place to walk the trails and take in city views. The park also includes playgrounds, splash pads, and replicas of a western town and a Native American village.
Although it's a short drive outside the community, Windmill Library is an exciting urban library offering a sizable media and book collection, a used bookstore, and plenty of space to study, relax, and enjoy free WiFi.
Where to Eat and Drink
Located on Blue Diamond Road, Fuego Mexican Kitchen is known for friendly service, fresh food, a spicy salsa bar, and Fuego plates.
This neighborhood gaming bar and restaurant has been family-owned and -operated for over 16 years, and the Blue Diamond location has been around since 2008. Located right next to Mountain's Edge, this establishment is known for providing casual tavern fare and gaming options in a fun and laid-back environment.
With multiple locations throughout Las Vegas Valley, this breakfast spot on Blue Diamond Road proudly serves hearty breakfast favorites like crepes, French toast, and omeletes made from scratch. If you want to treat yourself, try the red velvet pancakes—you'll think you're eating dessert for breakfast.
Why Locals Live Here
Although Mountain's Edge has been around for 15 years, builders are still adding new homes to the neighborhood, which means there are a range of home styles to choose from featuring Mediterranean and modern designs. In addition to new construction homes, the community also features over 500 acres of open space, parks, and trail systems, making it easy for residents to stay active.