Miami Local Life
Miami Neighborhood Guide
Nicknamed "Magic City," Miami offers its residents much to live up to its "magical" sobriquet. The city has a vibrant Downtown, robust job offerings especially in banking and other professional services, and an international reputation as a gateway to Latin America.
And, of course, there are the beaches. From the touristy (albeit hip) South Beach to the swanky Sunny Isles Beach and every spot in between, residents can enjoy the perks of living the beach lifestyle—even those who don't happen to live right next to the ocean.
But you shouldn't let the Downtown skyline and the postcard-worthy beaches fool you. The city also has areas infused with art and culture, largely influenced by Cuba. Several neighborhoods were settled by residents fleeing Castro's Cuba in the 1960s, and the influence of these residents can still be seen today, along with other influences from Latin America and the Caribbean.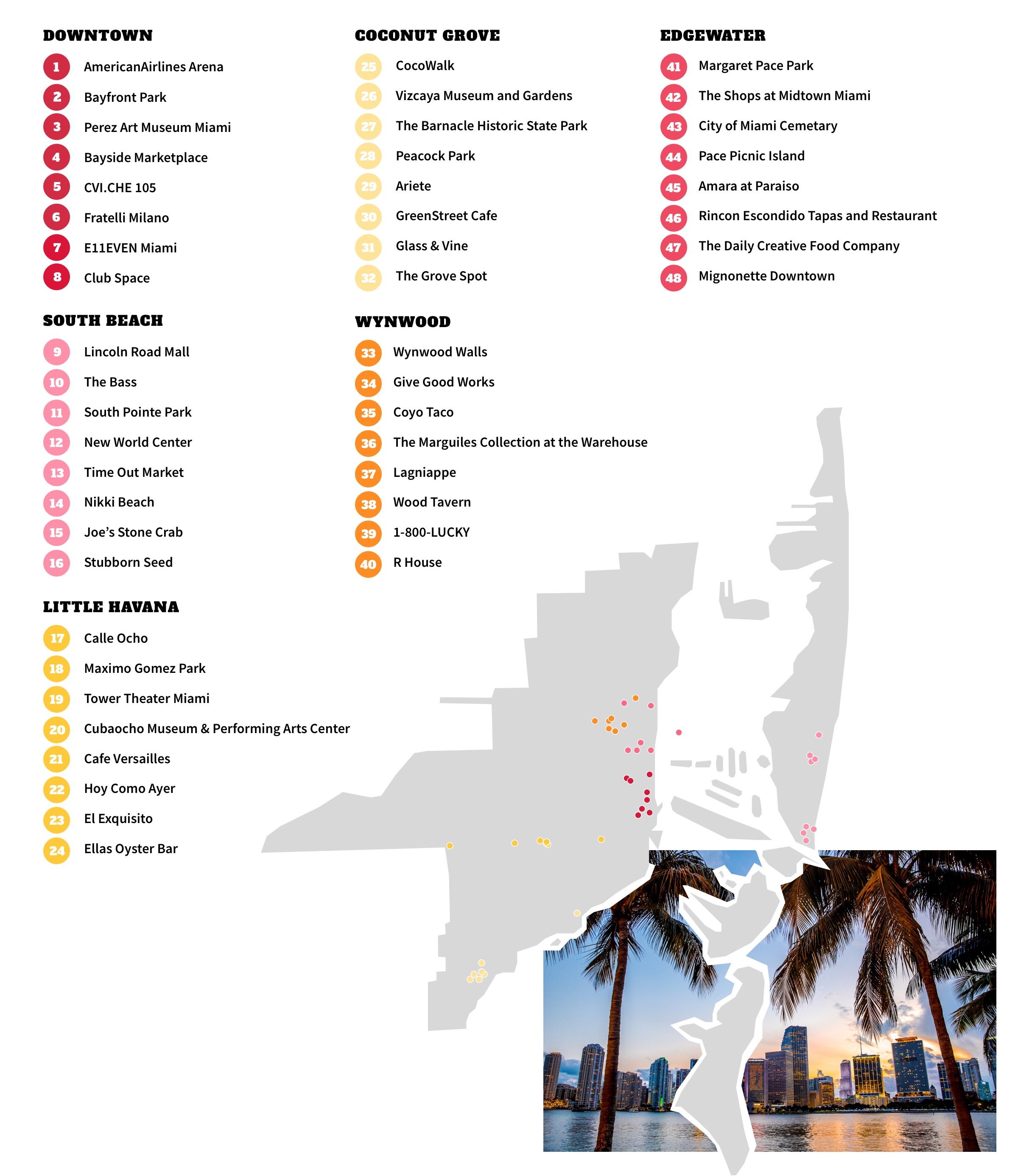 Miami at a Glance
Miami is a large, sprawling city so most residents rely on their cars for transportation (and complain frequently about traffic, especially on I-95). Those who don't have a vehicle—or want to avoid the cost of having one—can choose from a few public transportation options.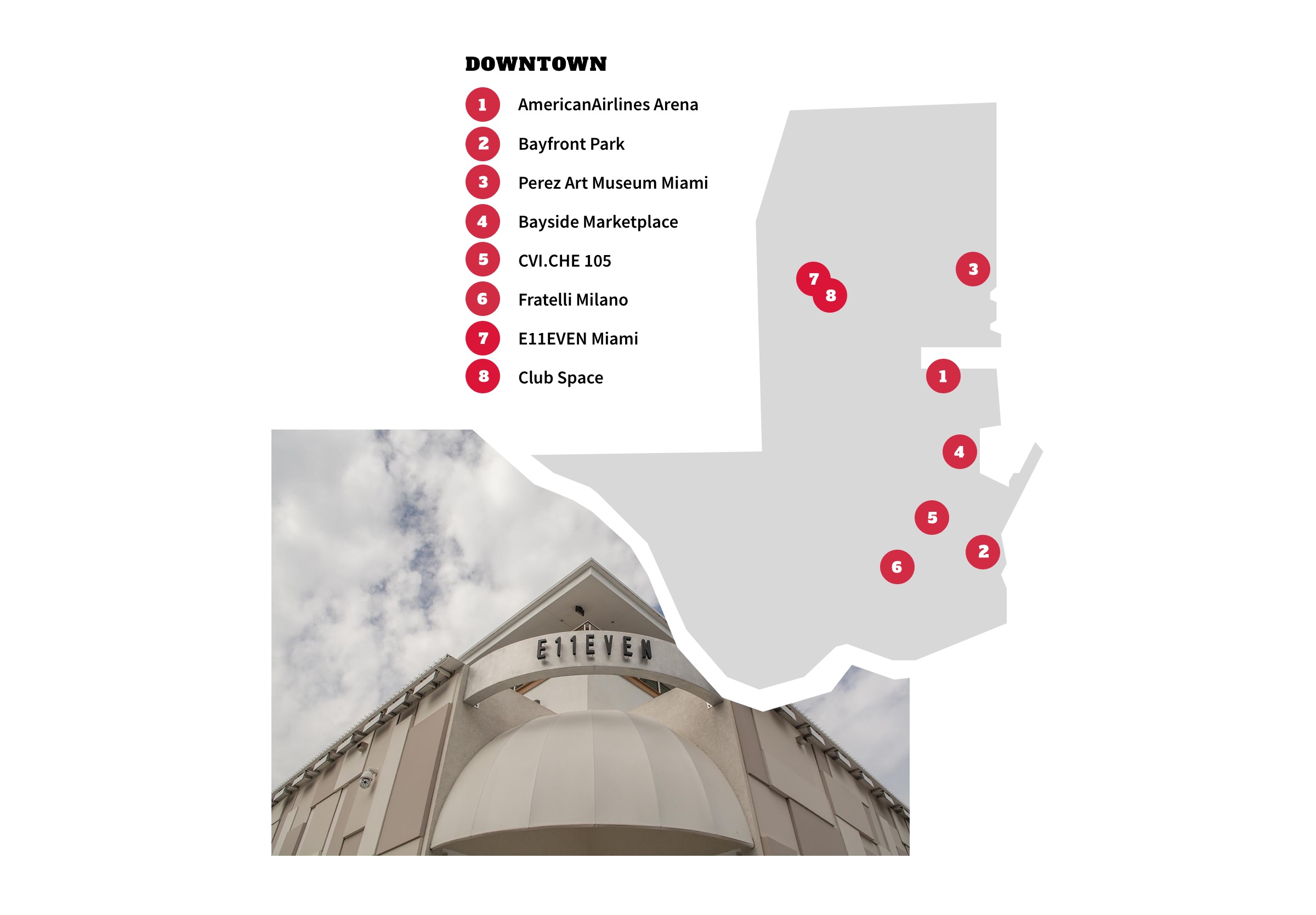 With an abundance of new housing, jobs, cultural and entertainment attractions, and recreational opportunities, Downtown has become one of the city's hottest neighborhoods. In recent years professionals, even those with children, have been eschewing trends of previous generations and calling the urban core home rather than moving to the suburbs. In Downtown Miami, you can find plenty of new, upscale high-rise condominiums built in recent years as well as lower cost options in older buildings.
What to Do
The Miami Heat play their home games here, but this is also a great place to catch a concert. It's within walking distance for most who live in the neighborhood, but you can also use public transportation to get there.
Located on the shore, this park offers great views and many activities. You can take free yoga classes, attend a concert at the Bayfront Arena, and there's even a flying trapeze school for the more adventurous souls.
The city's flagship art museum features modern and contemporary international art. After viewing the art, you can dine at Verde, its waterfront restaurant and bar.
This isn't your average mall—it's an open-air shopping center with shops and restaurants, many of which offer picturesque ocean views.
Where to Eat and Drink
Born and raised in Lima, Peru, chef Juan Chipoco brings his love of Peruvian gastronomy and culinary prowess to this area favorite. Fair warning: You might have a hard time choosing from the dozens of ceviches served here.
This family-owned and -operated restaurant offers authentic Italian cuisine prepared by chefs and twin brothers Roberto and Emanuele Bearzi. Their dishes are inspired by the food they tasted in their mother's kitchen in Milan, Italy.
You can sip on cocktails and dance the night (and morning away) at this 24/7 hotspot. Featuring the hottest DJs, like Diplo and the Chain Smokers, E11EVEN MIAMI is the place where you might run into a celebrity or two, such as Jamie Foxx or Miley Cyrus.
Many who live in Downtown areas view proximity to nightclubs as a vital part of their lifestyle. This happening, multi-level club is popular not just with residents but also with tourists.
Why Locals Live Here
Downtown attracts people who want to live, work, and play all within the same area. If you're looking to live in a high-rise building with great views, there's no shortage of choices, although they can be pricey. But there are also lower-priced options in older buildings or those situated further inland. It's one of the city's most walkable neighborhoods, and with public transportation, this is an area where you can get by without a car. Residents with children give high marks to the highly rated schools here, and there's a neighborhood emphasis on family-friendly activities.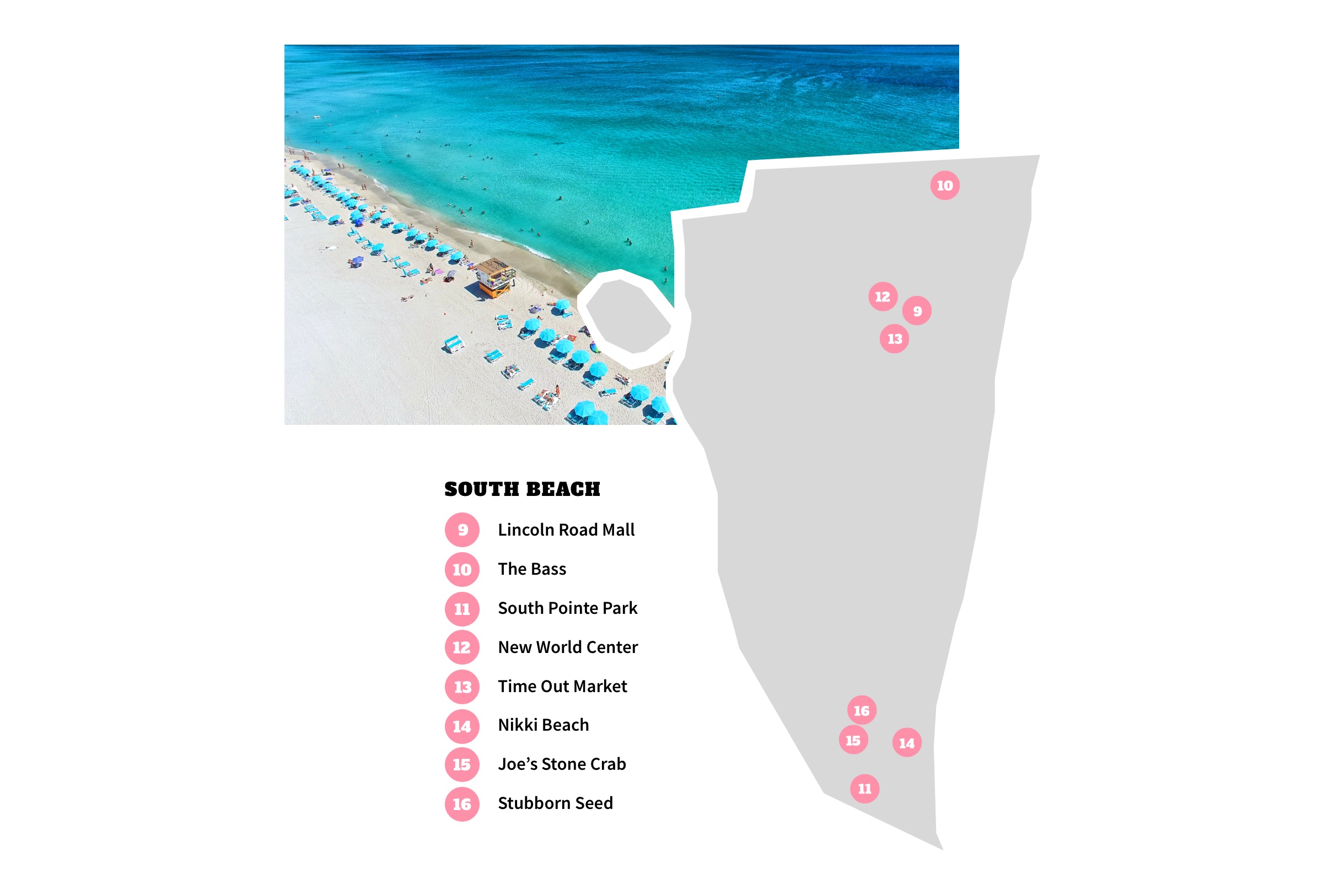 With its Art Deco architecture and long stretches of beautiful beaches, South Beach is often what comes to mind when people think of Miami.
The neighborhood has been featured in many films and television series and for good reason: Its charm and allure match that of any of the city's neighborhoods. Most residents live in low- to mid-rise buildings and, even those located inland, aren't very far from the beaches. The real estate tends to be pricey, but residents don't seem to mind paying a premium for the location's attributes.
What to Do
This isn't a mall in the traditional sense, since it's actually a strip of shops and restaurants located on Lincoln Road. But it's still a great place to walk (it's mostly closed to traffic), eat, shop, and people watch.
This contemporary art museum features works of both mid-career and established artists whose works embody the spirit of Miami Beach.
Located on the south point of South Beach, this 17-acre park offers access to the beach, but there's also a jogging path, benches, a children's playground with water features, greenspace, and a fishing pier.
Designed by renowned architect Frank Gehry, the center is an architectural icon. It also happens to be the home of the New World Symphony. You can tour the center or catch a live show of classical music.
Where to Eat and Drink
Expected to open in spring 2019, this market—modelled after the Time Out Market in Lisbon, Portugal—will feature 17 of the city's best restaurants and 440 indoor and outdoor seats.
This large, oceanfront establishment is part nightclub and part restaurant. During the night, it attracts the "dress to impress" crowd with DJs that spin the latest in international house and dance music. During the day, it's a more casual atmosphere, although you can still get full food and bottle service, even if you're in an outdoor cabana.
Opened in 1913 (which is an eternity by South Florida standards), this local institution has hosted the likes of Will Rogers and Amelia Earhart over the years. Today, it's a great place to get stone crabs and other seafood, but the menu also features steak and chicken dishes.
This 70-seat restaurant, opened by Top Chef winner Jeremy Ford, features a menu that changes daily and a chef's tasting menu (either five or eight courses). It's not cheap, but it's consistently named one of the best restaurants in South Beach.
Why Locals Live Here
In every city, there's one neighborhood that matches up to its postcard-worthy views and international reputation. In Miami, it's South Beach, and for those who don't mind rubbing shoulders with tourists, there's no other place to live. It's a ball of energy 24/7, with an abundance of great restaurants, specialty boutiques, and nightclubs to keep you busy after dark and beautiful beaches and parks to keep you busy during the daytime. It's even possible for people who aren't millionaires to buy a home here, although it likely won't be spacious. But, with so much to do, you won't be indoors much anyways.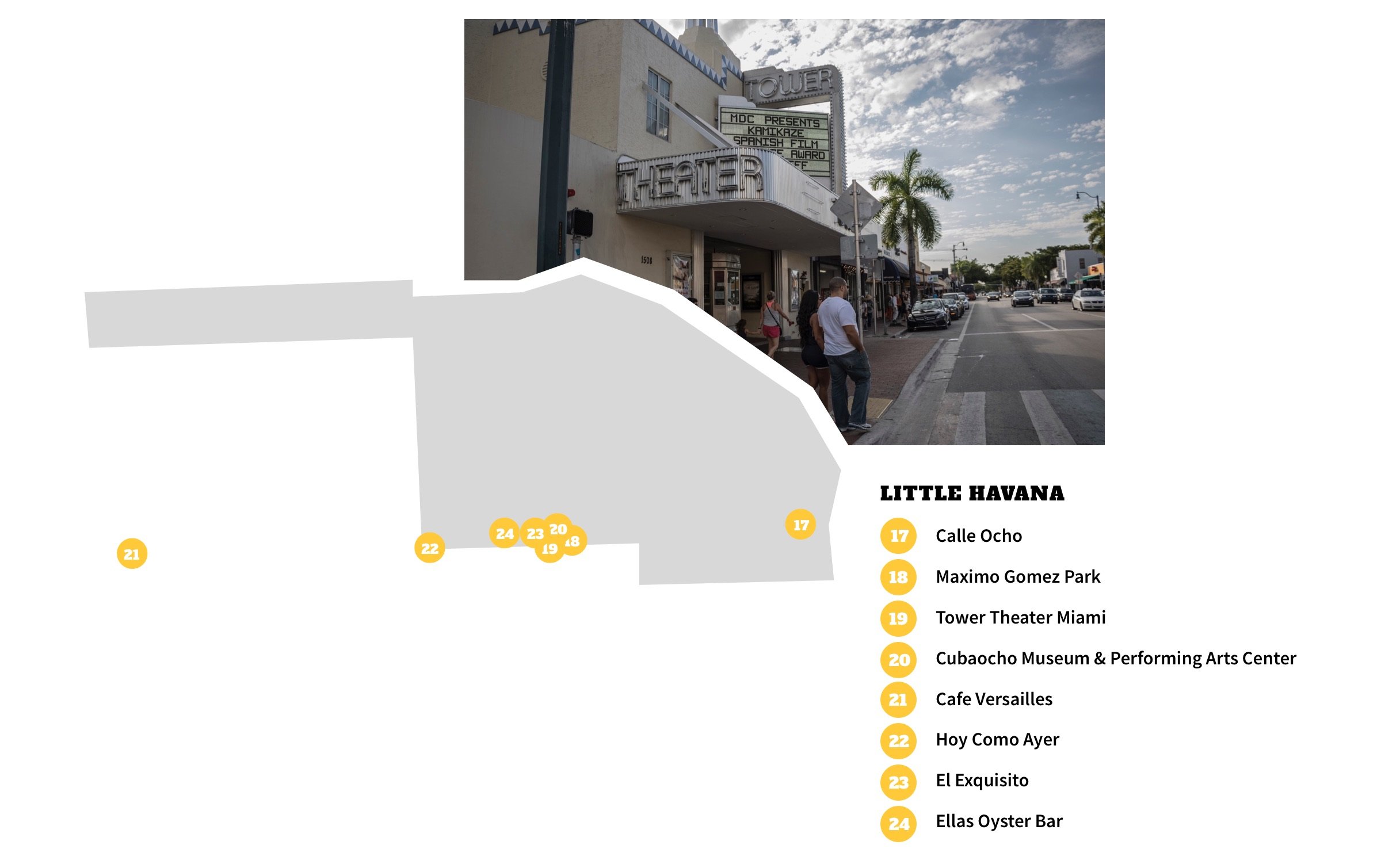 This neighborhood derives its name from the thousands of Cubans who fled the country after Fidel Castro came into power in 1959. Today, it's still a focal point for Cuban culture, and influences from Nicaragua, Ecuador, and Honduras as well as other Caribbean and Latin American countries can also be found here. Its main street is SW 8th Street, or Calle Ocho as it's commonly known, where salsa music and Cuban cuisine are the norm. Housing ranges from single-family homes to mid-rise condominiums and multi-family residences.
What to Do
17. Explore Calle Ocho
The heart of the neighborhood can be found on its principal thoroughfare on SW 8th Street, between 12th and 27th Avenues. Called Calle Ocho, it's where you'll find hand-rolled cigars, fruterias, meat markets, herbal stores, and windows with cafecitos (Cuban coffee). This is also the site of the Calle Ocho Festival which attracts more than one million visitors each year from around the world.
Located at the corner of SW 8th Street and 15th Avenue, this park is also known as "Domino Park" due to the older residents who gather there daily to play dominoes, sip Cuban coffee, and discuss the politics of the day.
This historic theater opened in 1926, and it's now a cultural landmark. The theater is managed by Miami Dade College, but it falls under the auspices of the city's Cultural Affairs Department. It runs culturally relevant Spanish-language films or movies subtitled in Spanish.
This center is designed to feature the best of Cuban culture, including pre-revolutionary art works from Cuban artists, along with music and dance performances.
Where to Eat and Drink
This is the area's most well-known Cuban restaurant and a gathering place for residents to discuss the politics of the day. It also features one of the area's best known "ventanitas," which are walk-up windows where you can order Cuban coffee and other fare.
This popular bar features a full calendar of Latin music, including acts such as The Spam Allstars, Albita, Los 3 de La Habana, and Malena Burke.
This family-owned business started as a 16-seat restaurant now has 75 seats, but still features the authentic Cuban food it's known for. The affordable menu items include a variety of meat, pork, poultry, and seafood plates, along with sandwiches, sides, and daily specials.
Named for co-owner Christian Plotczyk's daughter, this isn't your average oyster joint. It combines New England-style seafood with a Miami flair (think chorizo in the crab meat).
Why Locals Live Here
The neighborhood is a draw for anybody who loves a vibrant cultural community with great restaurants and entertainment. Spanish is spoken widely throughout this area, so it's helpful if you know some Spanish. At a median sales price of $210,000, it is one of the most affordable neighborhoods in the city and is centrally located close to Downtown and the Miami International Airport.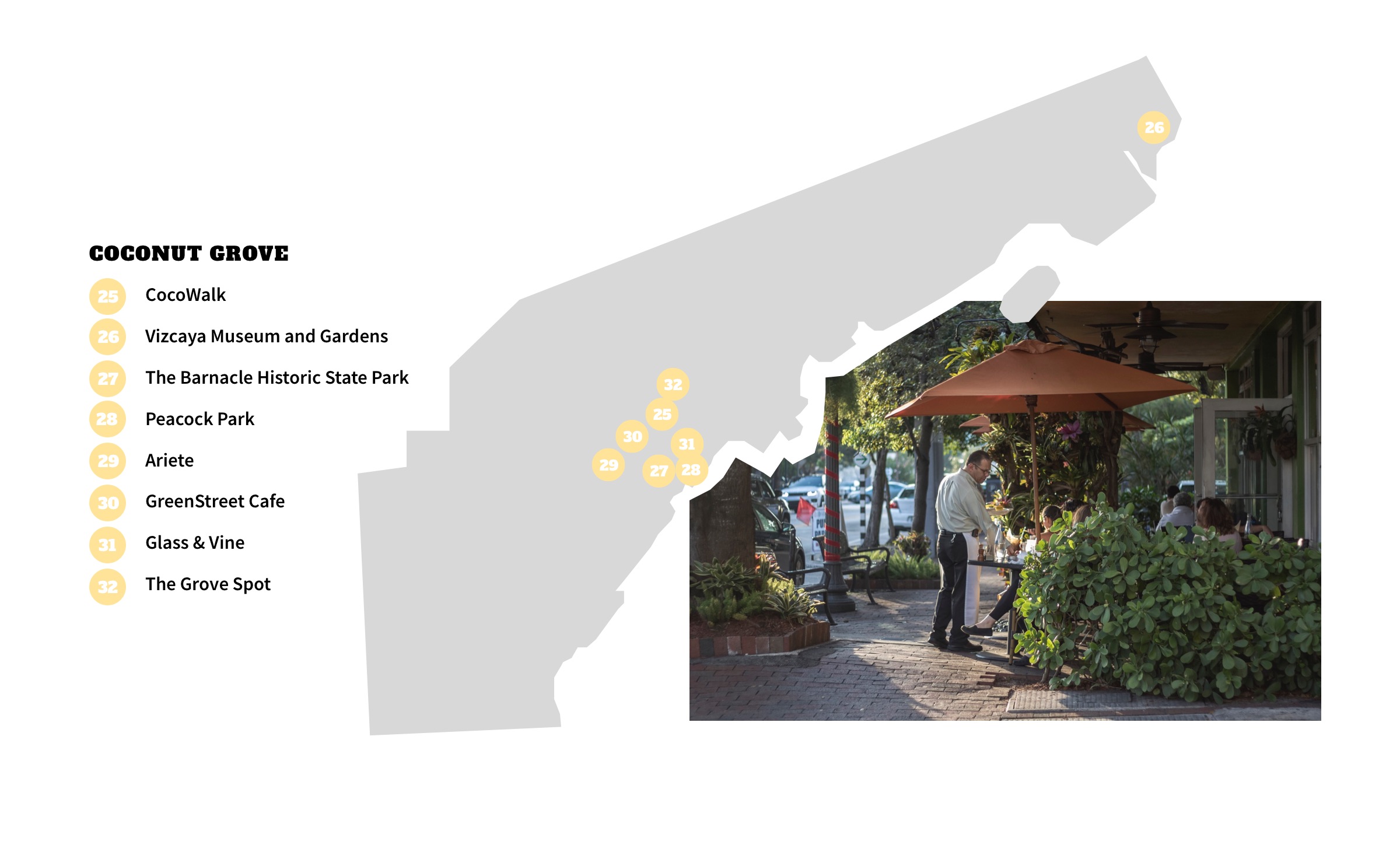 Coconut Grove frequently tops lists of the best neighborhoods in Miami. It's the city's oldest neighborhood, yet it has a thriving downtown area alive with activity and culture. Located on the water, it offers residents the opportunity to enjoy seaside living, but it's also close enough to Downtown for an easy commute. Its street-lined streets add to its charm, and the schools here get high marks, making it appealing to families.
What to Do
Located in the heart of the neighborhood, CocoWalk is an open air retail venue with shops, restaurants, and a courtyard. It's currently undergoing renovation, but it still serves as a focal point of the neighborhood.
Surrounded by a formal gardens, Vizcaya was built between 1914 and 1922 as the winter residence of James Deering. Lovingly preserved over the years, it's one of the city's historic treasures.
This park has been preserved as it was over a century ago when travel to and from Miami was by boat. It features the Barnacle, a home built in 1891 for Ralph Middleton Munroe, a Coconut Grove pioneer.
You can enjoy both indoor and outdoor activities at the 9.4-acre park. It features a basketball court, a softball field, two soccer courts, a kids' playground, and a multipurpose large open field, along with a recreational building.
Where to Eat and Drink
With high marks for its presentation and service, this elegant indoor/outdoor establishment serves dishes such as venison, foie gras, and plantains.
This is the neighborhood's premier "see and be seen" establishment, but it also happens to serve great food at reasonable prices, with happy hours held twice daily on most days.
Set in Peacock Park, Glass & Vine is the first restaurant opened in a park in South Florida (believe it or not). It serves American cuisine with a contemporary flair, signature cocktails, and craft beer from around the region.
This is a laid-back restaurant that serves breakfast all day as well as American, Mediterranean, and Dutch comfort food. The last Saturday of the month features live jazz music.
Why Locals Live Here
Coconut Grove is an eclectic blend of the old and new, so it equally attracts those seeking a more bohemian lifestyle as those seeking a great place to raise a family. The housing options are just as plentiful, with high-rise condominiums within walking distance of restaurants and shops, along with single-family homes set in more leafy environs. All of this comes at a price, however, with many homes ranging from $500,000 to over $1 million.
This artsy enclave located just north of Downtown has become increasingly popular with young people and artists due to its trendy bars and upscale restaurants. Over the past decade, it's been the site of new residential development, so there's no shortage of high-rise condominiums. But it's also a neighborhood where you can find converted loft or warehouse space and even some older single-family homes.
What to Do
Conceived by artist Tony Goldman in 2009 as a way to transform the area's warehouse space into art, Wynwood Walls features graffiti art on the walls of the warehouse space. It has become one of the neighborhood's best known attractions.
You'll find retro clothing and vintage collectibles in this thrift shop, which also happens to be a charitable organization that helps people in need within the community.
This isn't your average taco joint. You'll discover that when you get carded or have to wait in line for the secret bar in the back.
Located in a 45,000-square-foot retrofitted warehouse space, this facility features exhibitions from the collection of Martin Z. Margulies as well as educational programs and special exhibitions.
Where to Eat and Drink
Patrons of this highly rated wine bar (that also happens to serve food and have live music) say you feel like you're stepping back into time and entering a Prohibition era-New Orleans speakeasy.
This "come as you are" establishment features a long list of craft beers, live music, and an artistic atmosphere that draws crowds who are looking for relaxation and casual conversation.
This 10,000-square-foot food hall is designed as an Asian market and features pan-Asian dishes, hip hop music, and a karaoke bar.
This restaurant has been a staple of the neighborhood even before Wynwood became a happening destination. The menu has an international flair with influences from Brazil and Italy.
Why Locals Live Here
With its wide selection of bars, restaurants, and shops, Wynwood is a lively area that also happens to be one of the most walkable in the city. While the neighborhood appeals to young people and artistic types, it also attracts families who are drawn to the convenience of having a shorter commute and access to cultural opportunities. While much of the newer housing tends to be on the pricey side, you can still find some lower priced homes in older buildings.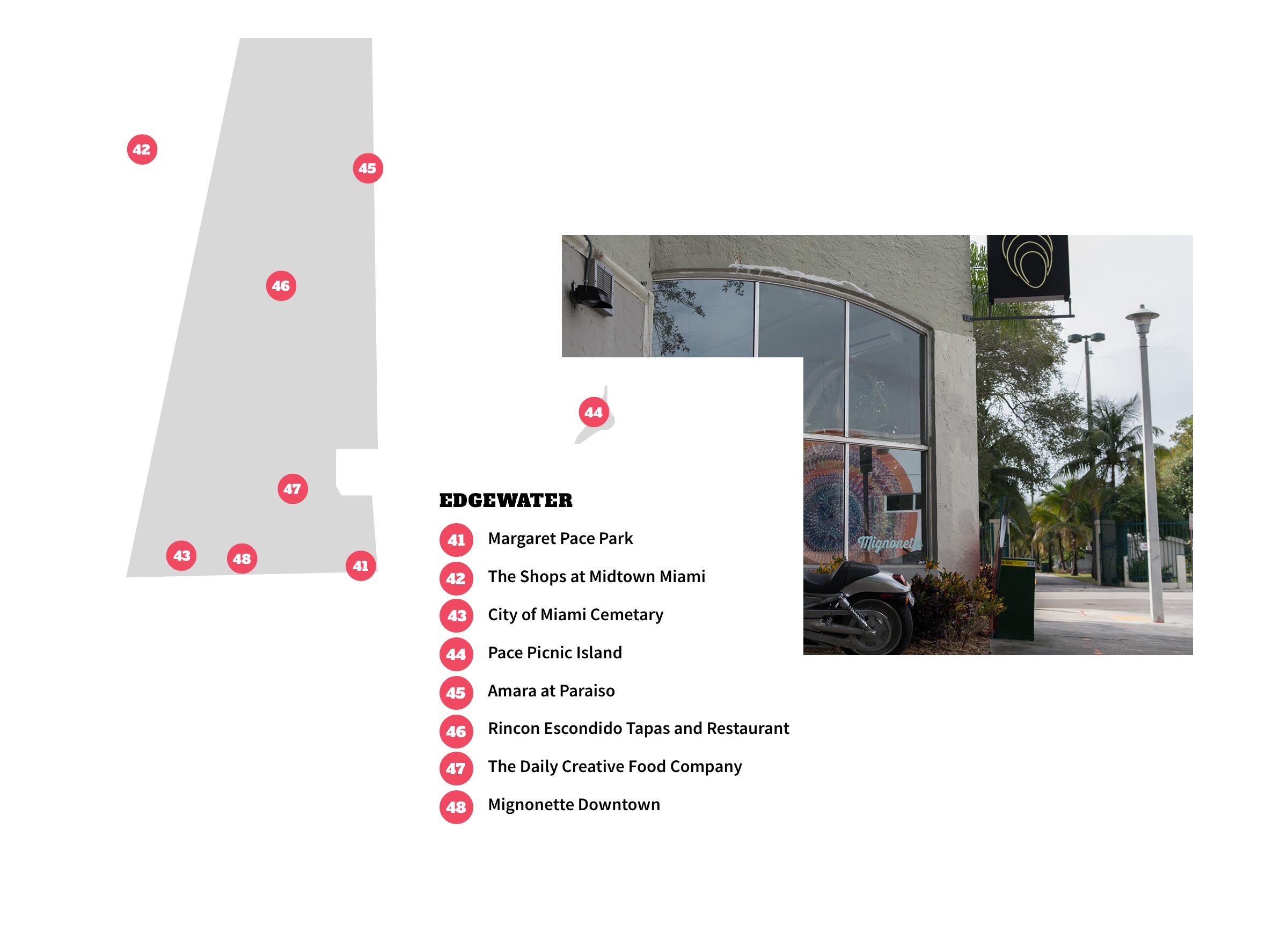 Located east of Wynwood and north of Downtown, Edgewater is one of the city's fastest growing neighborhoods thanks, in part, to the attention it's received in recent years from developers, adding many new high-rises to the area. While it's one of the city's most walkable areas, with many restaurants, shops, and bars to choose from, it has a quieter feel than the urban areas that surround it.
What to Do
With its sweeping views of Biscayne Bay, this 8-acre park is one of the city's most scenic and lively parks. It's perfect for a long stroll or for walking your dog, but it also has tennis courts and personal fitness equipment.
This open-air shopping center features more than 50 stores and restaurants, along with events such as Latin dance and bootcamp fitness classes.
This historic cemetery is on the National Register of Historic Places. History buffs will enjoy walking the site and finding the gravesites of some of the Miami's pioneers.
44. Pace Picnic Island
This small island off the coast of Edgewater is a spot frequented by boaters and those looking to "get away from it all." There aren't many amenities, but hey, that's the point.
Where to Eat and Drink
With waterfront views, a Latin American-inspired menu, daily happy hour, and sunset beach party on Sunday evenings, this restaurant at the base of the Paraiso Bay development is a neighborhood favorite.
This restaurant serves Argentinian and Spanish food, including small plates, at reasonable prices in a friendly environment.
With a long list of salads, sandwiches, and wraps, this is a great place for a quick (but tasty) breakfast, lunch, or even dinner. The atmosphere is generally bustling with activity and energy.
This former 1930s gas station was transformed into an oyster/seafood bar serving oysters, clams, lobster, and more in a cozy environment.
Why Locals Live Here
Despite being located minutes from Downtown, Edgewater is a largely residential area and a quieter option for those who don't need as many hip bars and trendy boutiques within walking distance. High-rise condominiums located directly on the water offer some of the best views in the city, but you can also find low-rise and single-family homes. This is also a great neighborhood for those who like to exercise with parks and paths along the water, so this area attracts joggers and dog walkers.