Miami New Development Drilldown February 2019
Miami New Development Drilldown February 2019
A few years ago, when experts talked about new condo development in Miami, they talked about luxury condo developments—built at ever-increasing heights with lavish amenities—in Downtown. The neighborhood was, and still is, a draw for buyers of many types.
While evidence of those discussions can still be seen, recent times have seen a marked change in expert conversation. These days, the buzz is around the glut of luxury product in the market and the slowdown in proposed new projects.
The result has been a near virtual stop in new Downtown development, as not a single new project was announced in 2018. However, projects are still popping up in other areas of the city, such as Miami Beach, whose appeal has remained strong.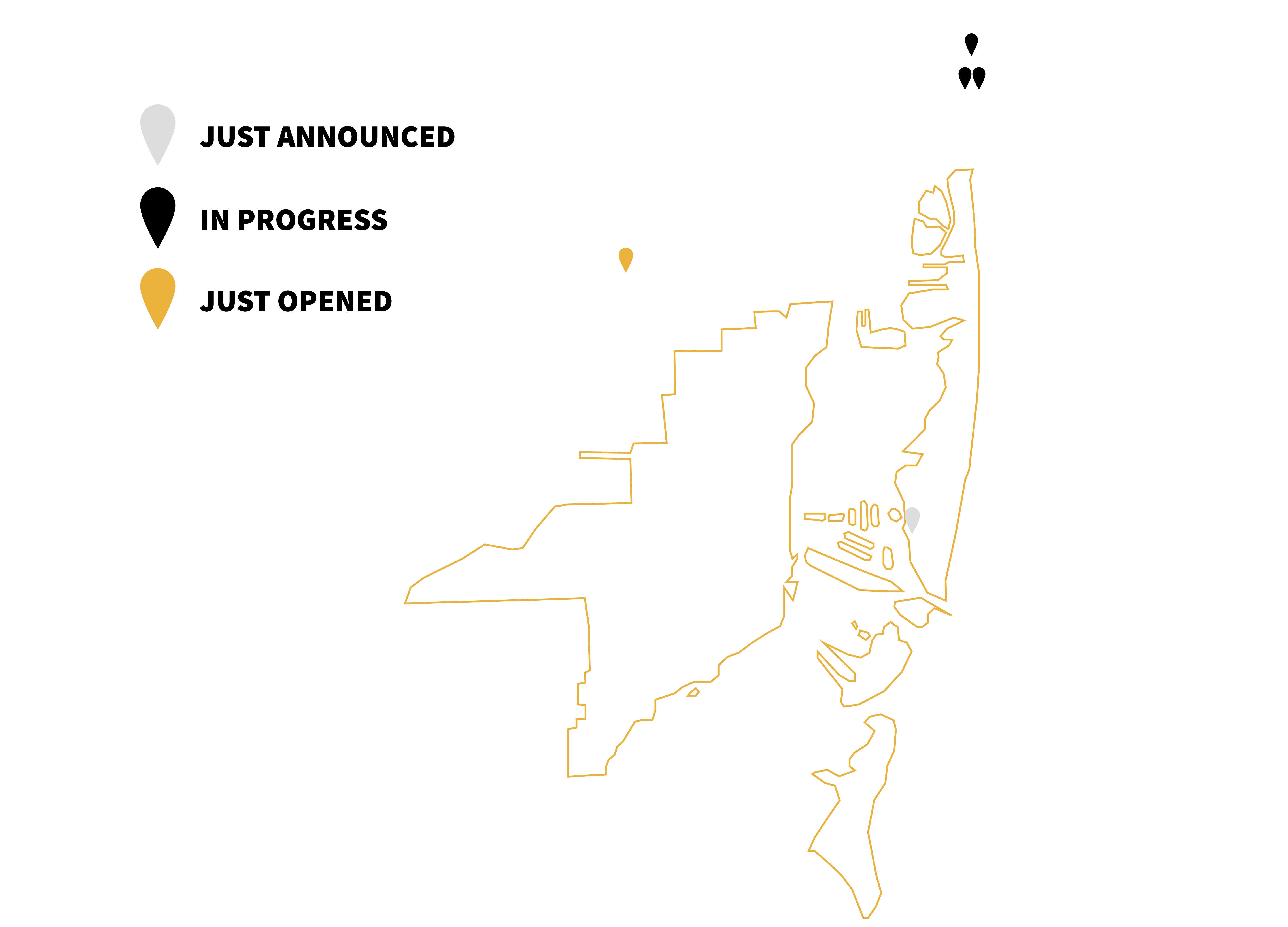 Just Announced
South Beach High-Rise
Miami Beach still holds cache for the residential buyer, particularly in South Beach. In fact, the city just approved plans to build a 519-foot, 44-story high-rise with 15,000 square feet of retail space at the gateway to South Beach between Alton Road and West Avenue.
It'll be one of the tallest buildings in Miami Beach, according to The Miami Herald. In exchange for being granted permission for the project, the developer Crescent Heights agreed to build a public park on the site that will absorb floodwater.
Sunset Park
While that project garnered headlines due to its location and size, Sunset Park is a good example of the kind of smaller projects that are being developed in Miami Beach. The project, on .77 acres, will include five floors of retail, residential, and parking space.
The developer, Deco Capital Group, recently secured approvals from two Miami Beach boards, and is moving forward with its plans for a scaled-back development in the Sunset Harbour neighborhood, per The Real Deal.
As it's currently planned, the project would create about 67,000 square feet at 1733-1769 Purdy Ave. and 1730 Bay Road on a site that contains vacant land and buildings slated for demolition.
Domo Architecture and Design is designing the project, which includes residential units ranging from 2,900 to 3,700 square feet. It will also have 20,000 square feet of ground-floor commercial space with two restaurants, two cafes, and four spaces for retail shops.
The project is still facing opposition from nearby Beach Towing Services, but the developer is hoping to break ground in 2020. After Beach Towing and the adjacent Lofts at South Beach voiced opposition to the proposed height of the building, it was scaled back from 90 to 50 feet.
In Progress
2000 Ocean
Though there are fewer residential projects on the drawing board than in recent times, there are still many in various stages of construction. For example, KAR Properties recently secured a $103 million construction loan for 2000 Ocean in Hallandale Beach, according to Profile Miami.
The project broke ground in November 2018. The 40-story project, designed by Enrique Norten of TEN Arquitectos, will feature 64 residences ranging in size from 2,913 square feet for a half-floor residence to 5,832 square feet for a full-floor penthouse unit.
It will showcase views of both the Atlantic Ocean and Intracoastal Waterway and include features such as flow through floorplans, 10-foot ceilings, private elevator landings, floor-to-ceiling windows, custom kitchens by Minotti Cucine, and Monterrey Marble flooring.
Services and amenities include two swimming pools, direct private beach access, a private arial and valet entrance, a 24-hour valet and concierge, an oceanfront library with garden views, an oceanside lounge and juice bar, an indoor theater, an entertainment room, a fitness center, and a freestanding spa pavilion.
Pricing ranges from $2.6 million to $4.4 million with penthouses ranging from $8 million to $12 million. 2000 Ocean is expected to be completed in 2020.
The Estates At Aqualina
In Sunny Isles Beach, the foundation pour for the South Tower of the $1.6 billion The Estates At Aqualina condo tower has been completed, Profile Miami reported.
Construction on the 245-unit project began in May 2018. In addition to the condo units, it will feature three single-family homes and three, two-story penthouses, all with private pools within a gated community.
The project's amenity club, Villa Acqualina, will have 50,000 square feet of facilities including a spa and fitness center, a full floor of amenities including an ice skating rink, a Formula One simulator, a golfing simulator, bowling lanes, a movie theater, and a Wall Street Trader's Club room where residents will have access to ticker tape, computers, and a boardroom.
Some features recently added include a Speakeasy, a salt room in the spa, and a boxing ring in the gym. Units are priced from $4.2 million to $14 million with penthouses priced up to $35 million.
Aurora
Not far from The Estates At Aqualina is Aurora, a 17-story, 61-unit condo at 17550 Collins Ave. that recently secured a $25.7 million construction loan, The Real Deal reported. The project will feature two- and three-bedroom units ranging in size from 1,385 to 2,150 square feet, per Curbed Miami.
The project, being developed by Verzasca, is expected to begin construction in the first quarter of 2019 and be completed by the end of 2020. Developers say the project is 70 percent sold. Prices are considerably less than its neighboring project, with units starting at $700,000 and most averaging $1 million.