Neighborhoods.com: How to Use Our Website to Better Your Home Search
Neighborhoods.com: How to Use Our Website to Better Your Home Search
Neighborhoods.com is the first online real estate resource to put the neighborhood at the center of the home search. Translation: We're a one-stop-shop for your perfect home and your perfect neighborhood. With up-to-date listings, we provide accurate and reliable information about market changes and new homes for sale. From browsing home listings and checking neighborhood reviews to contacting a licensed real estate agent and reading homebuying tips on our blog, there are plenty of resources available on our website for every step of your homebuying journey.
Because we believe that the neighborhood you live in is just as important as the home you live in, we provide neighborhood overviews alongside our home listings. So feel free to click around and see what you find! Your dream neighborhood may be closer than you think.
Home Page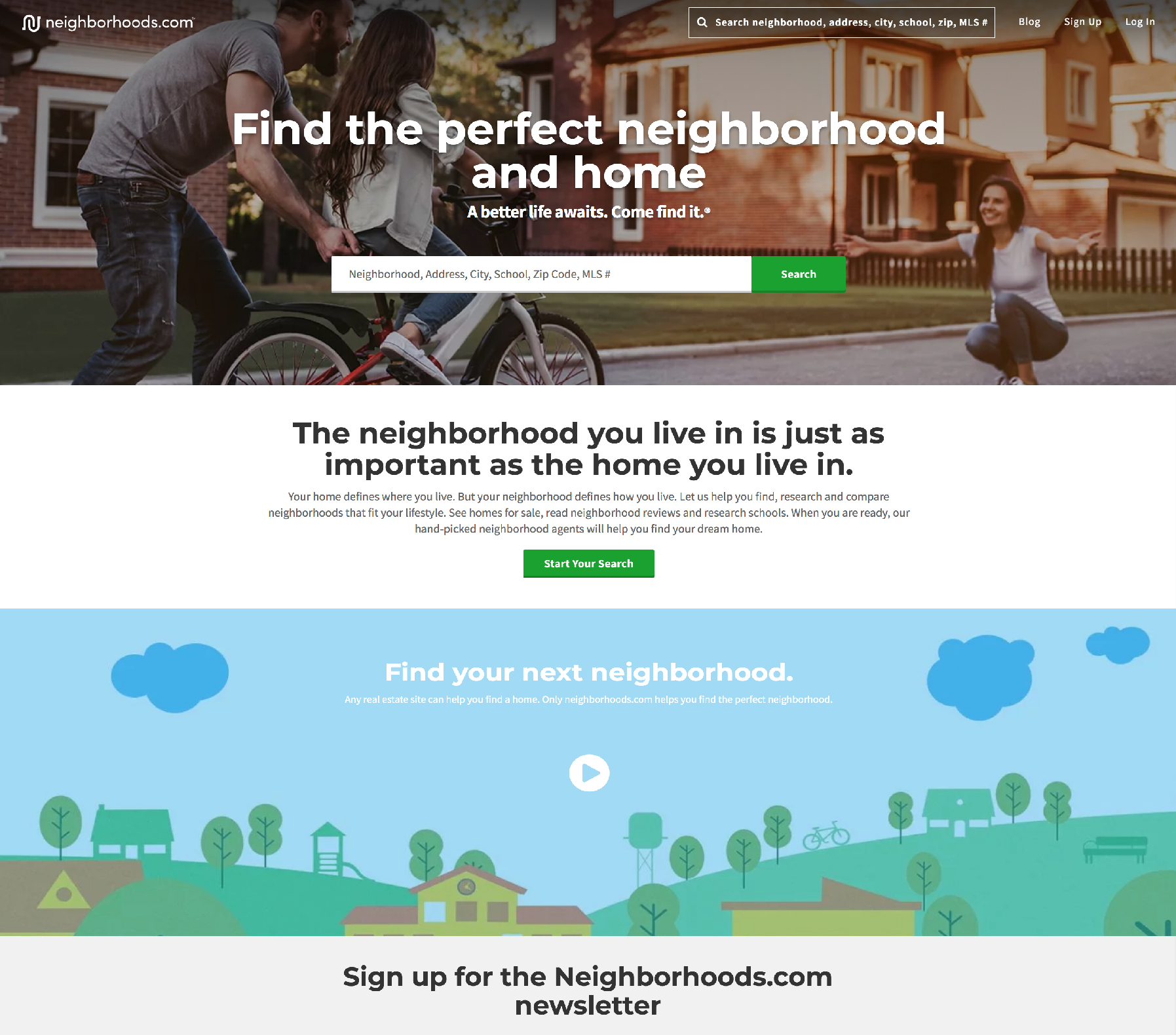 Search Bar
Though this feature needs no explanation, it may be helpful to point out just how many things you can actually search for on our website (aside from a neighborhood). If you're just looking to get a sense of what neighborhoods are in a larger area, you can search for cities, counties, states, and zip codes. If you need a more refined search, you can type in addresses, schools, or even specific MLS numbers.
Blog
In the upper right hand corner next to the smaller search bar, you'll see the clickable link for our blog.
On our blog, we regularly publish articles about neighborhood local life, real estate basics, and homebuying tips. You can learn about the hidden costs of buying a home or check out the six suburban cities with easy commutes to Chicago. All of our content is brought to you by real estate experts and local residents, providing you with an insider's look at a number of neighborhoods.
Sign Up and Sign In
Also, in the upper right hand corner, you'll see the clickable links for "sign up" and "sign in."
Signing up for an account is fast, easy, and allows you to save your favorite homes and neighborhoods while browsing our site. Once you create an account through Facebook or email, your "Dashboard" will display your name, email, and an optional phone number above your list of favorites. Your "Profile" displays your personal and contact information while your Favorites allows you to view your favorite homes and neighborhoods in different tabs.
Homebuying can be stressful, but don't worry. When you need to step away, go ahead and log out. You can log back in anytime and view your saved choices.
Neighborhoods.com Newsletter
Our newsletter features a rotating selection of hot neighborhoods, real estate trends, and homebuying tips. If you'd like to receive relevant real estate content alongside neighborhood recommendations, just type in your email.
Hot Neighborhoods
Near the bottom of our home page, there's a section where you can check out some popular neighborhoods. These are the areas attracting our users' attention; click on one and discover why so many homebuyers love it.
City Page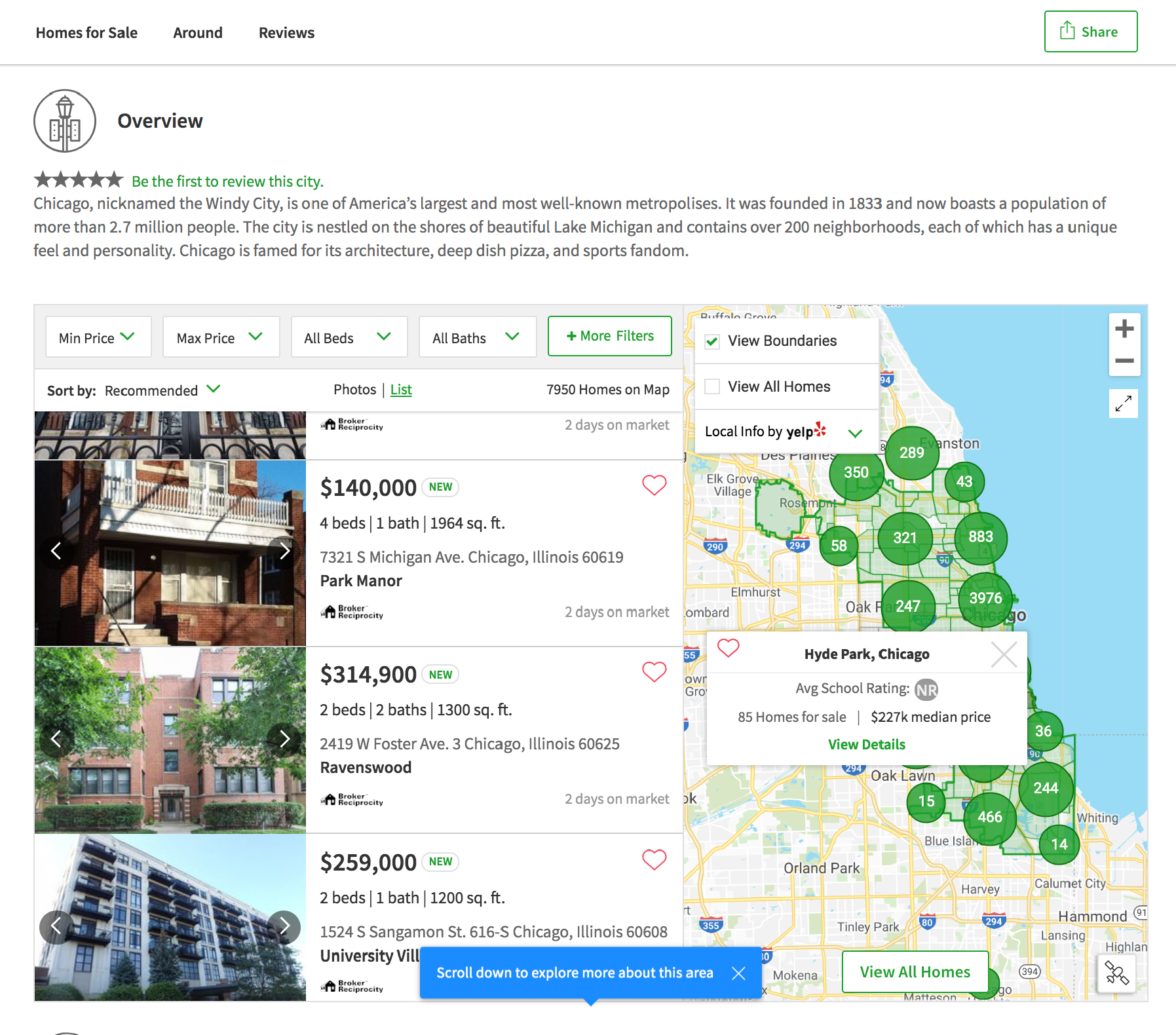 Share
When beginning your home search, it might be easiest to start at the city level and get the lay of the land. In the upper righthand corner of a city page, you have the option to "Share," which means you can email the page to a friend and ask their opinion. You can also post the city page on Facebook, Twitter, or Pintrest to crowdsource some recommendations.
Homes for Sale
This is where the magic happens! Scroll through home listings on the left, and browse the map on the right.
Listings (left)
You can use the filters at the top of this section to select a price range as well as the number of bedrooms and bathrooms. Note: With the "More Filters" toggle, you can also filter by square footage, lot size, year built, contingent sales, and home type (single-family or attached).
With the "Sort By" tool, you can organize your filtered listings by highest price, lowest price, number of bedrooms, number of bathrooms, square footage, year built, or newest listings. In the center, click "Photos" to view the listings with larger pictures or click "List" to see more listings at one time. After you've adjusted all your filters and set your view preference, look right and you'll see your number of potential dream homes in that selected area.
If a home catches your eye, go ahead and click the heart icon to add that specific listing to your favorites.
Map (right)
While the map shows you the city's boundaries, it also provides several other features. Check the box marked "View Boundaries" to see the neighborhood borders within the city as well as the boundaries of any adjacent suburbs. Maybe your perfect neighborhood is actually next to the one you're currently looking at. If it is, check the box marked "View All Homes" to see homes for sale across the entire map.
Last but certainly not least, the local info tool is perhaps the most useful map function (though often overlooked). Click the drop down menu labeled "Local Info by Yelp!" and select which category is most important to you when looking for a home. View nearby parks, gyms, entertainment options, banks, spas, grocery stores, hospitals, nightlife hotspots, restaurants, and shopping centers. Want your home within walking distance of a movie theater? Click "Arts & Entertainment" in the dropdown menu, and see what the neighborhoods has to offer.
Neighborhoods
The chart beneath the map provides information about the different neighborhoods within a given city. From left to right, you'll see the neighborhood names followed by the number of homes for sale, the median home price, the average school rating, and the potential HOA fees within that neighborhood.
By clicking the caret next to each section, you can sort the neighborhood names alphabetically, organize areas by the most homes for sale, find the highest median sale price or the lowest, check out the best average school rating, or even sort the neighborhoods by HOA dues.
Around
Click the link beneath the city's photo or scroll down to view city information. This section will list notable attractions, restaurants and nightlife, cultural elements, and transportation options in your selected city. This is especially useful if you're considering a long-distance move.
On our city pages and our top-selling neighborhood pages, you'll find custom content detailing the most important things to know about a given area. We'll let you know what artistic and cultural venues are nearby; we'll tell you which mode of transportation is the most practical; we'll even provide some suggestions for your next favorite neighborhood hotspot. Your home is not just a set of four walls, so we've provided you with valuable neighborhood content about the environment outside those walls. Our site makes it easy to jump from city to city and neighborhood to neighborhood, exploring what makes each area unique while searching for your ideal community.
Reviews
This section provides reviews from former, current, and prospective neighborhood residents. You can also click "Submit a Review" to write your own review of the city or neighborhood you live in.
Neighborhood Page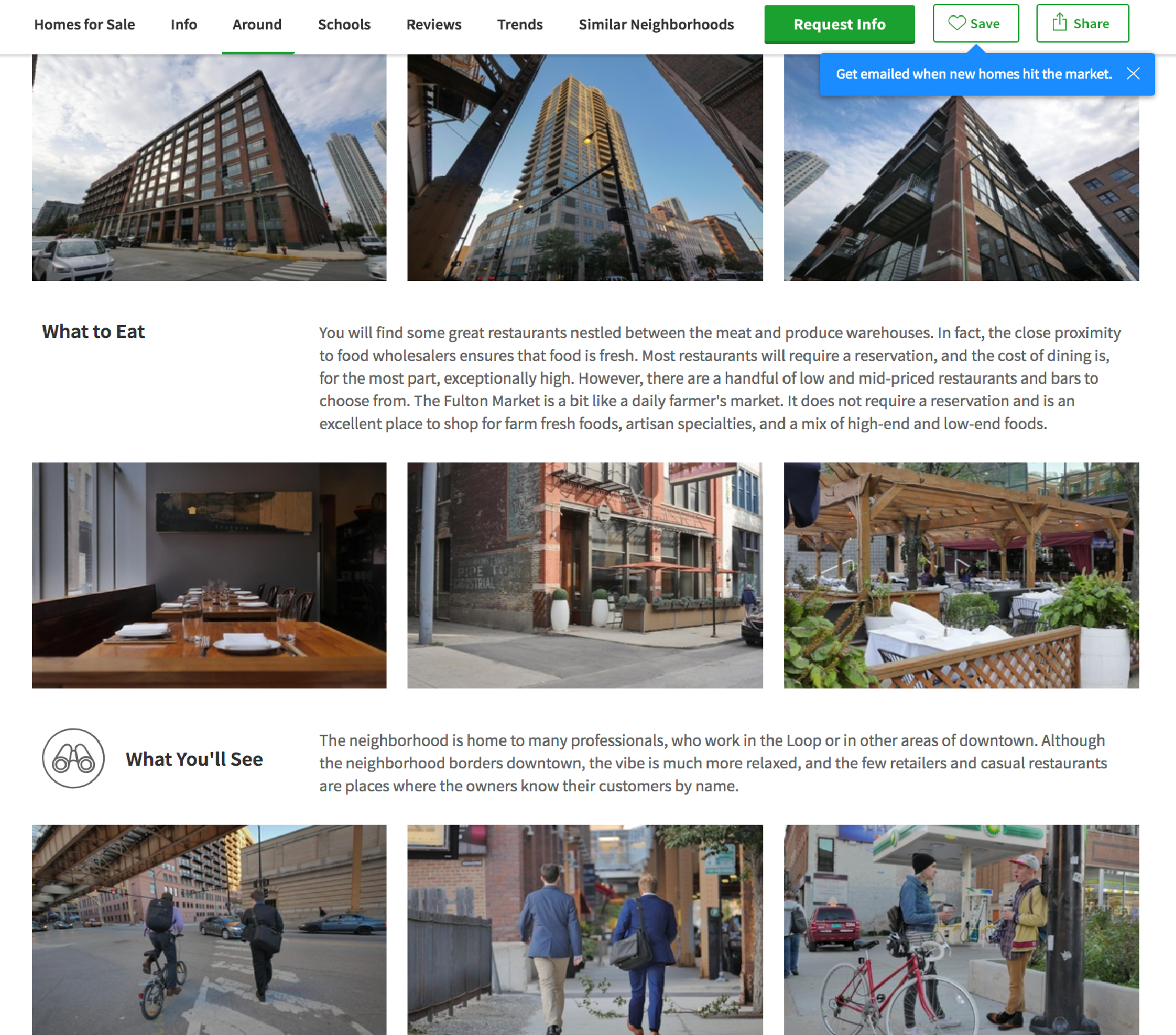 Save or Share
Once you've navigated to a neighborhood page, you'll have two options toward the upper righthand corner: "Save" or "Share." If you have an account, you can "Save" the page to your favorites. If you don't have an account, you can create one and then save the neighborhood for future viewing. You can also "Share" the neighborhood via email or post it on social media.
Homes for Sale
The home listings on the left and the map on the right are exactly the same as the city page. The only difference: They are now focused on a neighborhood view, narrowing your search to a local level as opposed to searching through an entire metro area.
Info and Around
Each neighborhood page will provide information about the surrounding area and the community amenities. Check the "Quick Facts" section for neighborhood data that can help better your home search. "Where to Live" will give you an idea of the type of housing available while the following sections, such as "Where to Eat," "What You'll See," "Friday Night Fun," "The Perfect Sunday," and "Transportation Options," will give you a glimpse into what life is like in your selected neighborhood.
Also, read about what "Locals Love" and what "Locals Don't Love" for a quick snapshot of the neighborhood straight from the horse's mouth.
Schools
If schools are an important factor in your home search, you can easily find that information as well. Each neighborhood page has a list of nearby schools. At a glance, you can see GreatSchools.org ratings, basic school facts, and parent reviews. You can also filter by elementary, middle, or high school levels.
Reviews
Have you lived in this neighborhood before? Did you fall in love with it and move there recently? Write a review and tell us what you love about the place you call home.
Trends
In the "Trends" section, you can view three different sets of neighborhood data: "Pricing Trends," "Average Sale Time," and "Homes Sold." You can also adjust these three data sets to show data across one, two, or three years.
Similar Neighborhoods
"Similar Neighborhoods" provides links to other neighborhood pages that feature similar amenities and housing prices. Do you like the school district but wish it was closer to the city center? Browse this section and see if another neighborhood fits the bill.
Request Info
Between the "Schools" and "Reviews" sections, you'll have the opportunity to schedule a tour of the neighborhood with a local real estate agent. You can also click "Request Info" at the top of the screen anytime while scrolling through the neighborhood page. Just type in your first name, last name, email, and phone number, and a real estate agent will be in touch to help you find your dream home in your chosen neighborhood.
At Neighborhoods.com, we've worked hard to find excellent real estate agents with extensive local knowledge. We hand-select agents who are experienced, trustworthy, and free-of-charge, so you can feel confident thoughout your homebuying journey. But most of all, our agents share our commitment to helping you find the perfect home in your ideal neighborhood.
Listing Page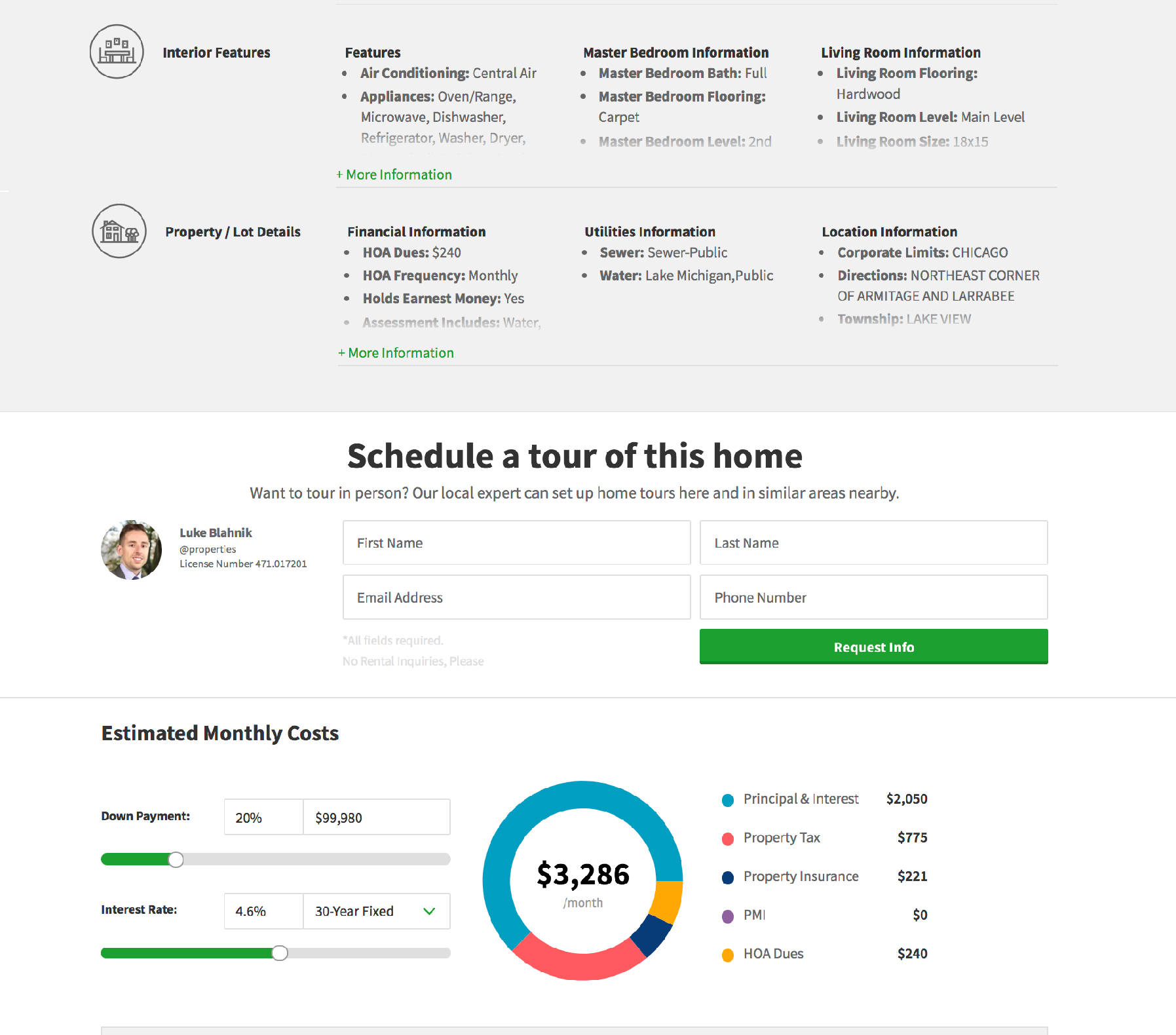 Overview
Clicking on a home that catches your eye will bring you to the listing page. This is where we get into the nitty gritty. At first glance, you'll see the asking price, the property's address, and the profile for that neighborhood's real estate expert. You can schedule a tour of the home, see a virtual tour, or request more information about the property.
You can also click the "Map" icon in the lower left hand corner of the listing photos to toggle between the map view and the photos.
Note: You can "Save" and "Share" specific listings, not just neighborhoods. You can also click "New Tab," if you want to keep browsing other listings.
Property Details
If you have a long list of features that will make or break your house hunt, this is the section to find all that information. Do you want a master suite with a walk-in closet and a private bathroom? Check the "Interior Features" section. Need to know how old the house is and how long it's been on the market? That's all located down in the "Property / Lot Details" section.
Schedule a Tour
If the listed features hit the house hunting BINGO for you, just scroll down and schedule a tour. A real estate agent will be in touch shortly, and you'll be one step closer to your perfect neighborhood.
Remember: Our real estate agents are here for you, so don't hesitate to reach out for more information. They'll be more than happy to answer any of your questions.
Mortgage Calculator
If you're still on the fence because the asking price has you concerned about what you can afford, we've got you covered there too. Just scroll down to the "Estimated Monthly Costs" calculator and take a peek at what your monthly mortgage might look like.
This calculator takes into account your down payment, interest rate, property taxes, property insurance, private mortgage insurance, and HOA dues before displaying a monthly payment estimate. If you want to see what your payment could be with a lower interest rate or a better insurance plan, just click "Edit Options" and customize your payment.
Trends
This part of the listing page provides the same data as the "Trends" section on the neighborhood page, for your convenience. Compare your listing to the overall neighborhood without needing to click between tabs.
Schools
If you have school-aged children, this section displays which area schools they would attend if your were to move into that specific home. This section also includes GreatSchools.org ratings, just like the neighborhood page.
Comparables
This subsection provides suggestions for similar listings in the area based on the features and the location of the home you're currently viewing. Like the wraparound porch but hate the tiny backyard? See if any other homes in the neighborhood are a better fit for you.
Also on Neighborhoods.com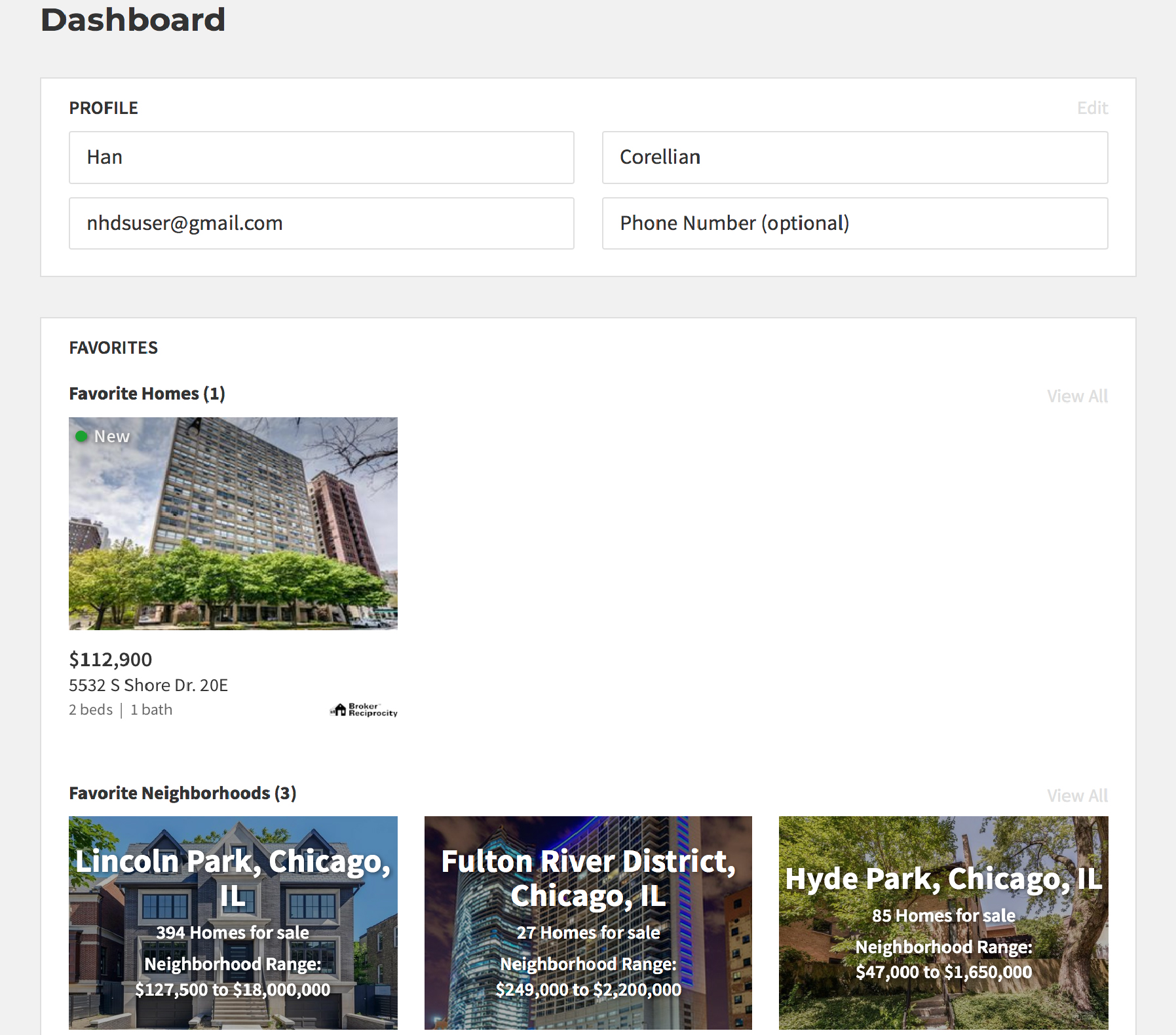 We love being social! Follow us on social media to read our latest blog posts, watch fun videos, and check out how Neighborhoods.com is staying active in our own community. You can find us on Facebook, Twitter, Instagram, Pintrest, or LinkedIn.
Don't forget to sign up for an account, so you can save your favorite neighborhoods and come back to see any new listings in those areas. You can also sign up for the newsletter to get homebuying information as well as neighborhood suggestions.
With Neighborhoods.com, you have the answers to some of your biggest homebuying questions right at your fingertips.