5 Tips for a Long-Distance House Hunt
5 Tips for a Long-Distance House Hunt
When I first found out I was moving to a new city, I knew I wanted to buy a house there quickly. The city I was moving from had experienced a surge in home prices—to the point I could no longer afford to buy—and I didn't want the same thing to happen in what would become my new home.
In the end, I rented an apartment for a couple of months in my new city while I looked for a home. But leading up to that, although I didn't do a long-distance house hunt, I did do a lot of research about what that process might have looked like. Here's what I gleaned.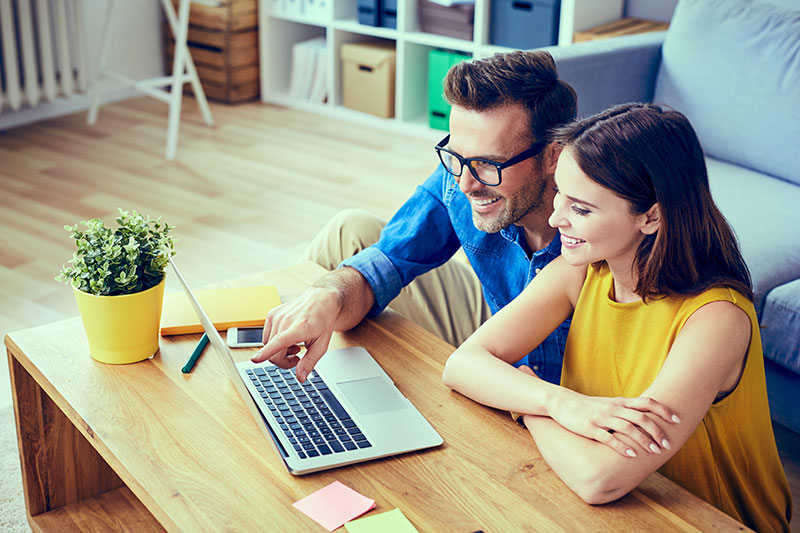 If Possible, Plan an In-Person Visit During the Week
This is an obvious tip, although not all long-distance homebuyers have the time and money to make it a reality. If you're moving for a new job, you might ask if your employer will compensate for (or at least help fund) an exploratory visit.
Regardless of your reason for moving, plan to visit your new town during weekdays so any assets you may need—such as a bank—will be open. You'll also be able to see more houses since you won't be competing with "weekend warriors" looking at homes on a Saturday.
Another added benefit? If you're not being reimbursed for anything, hotels or Airbnbs (and flights) will likely be cheaper during the week.
Use Technology to Your Advantage
Even if you have an in-person visit planned, today's technology makes a long-distance house hunt so much easier. Google Maps lets you zoom in on distinct neighborhoods and even has street views of individual homes—typing that out, it sounds creepy. But it sure is helpful for a remote house hunt.
You can also zoom in and out to see things like parks, restaurants, shopping, and other points of interest located near a potential property. You can also use Google Maps to check out distances and driving times to everyday destinations.
Another helpful online tool for a long-distance house hunt is our very own Neighborhoods.com, where you can get a sense of an area's local flavor and search for available single-family homes, townhomes, and condos.
Video call options like Skype and FaceTime are incredible for home tours when you, a spouse, or family member can't be present, and tools like TinyScan make it easy to sign documents remotely.
Work With Local Real Estate Experts
Do your homework by researching reviews and rankings for real estate experts in your area—like the agents on Neighborhoods.com. You'll certainly want a real estate agent, and you may also decide to look for a local mortgage broker as well.
Depending on lending options in your new area, you also might consider a local credit union or community bank. Local experts can lend a personal touch to the experience and can readily speak to the pros and cons of your new city and all its distinct neighborhoods. They'll offer you the invaluable experience of living in the place you're about to call home, and if you're lucky, they'll be available whenever you need them (within reason).
In my own house hunt, I used a local real estate agent who would answer her phone at practically all hours if I had a question about a neighborhood or a specific property. As a newbie to the city I now call home, I was so appreciative of all the local experts who helped me along the way.
Take Steps to Ensure a Strong Offer
House hunting from another state is tough on buyers, but it can also potentially raise eyebrows for sellers. If you're working with a local real estate agent, you can help assure a seller that you're a serious buyer. There are also extra steps you can take to ensure you put forth a strong, competitive offer that will catch a seller's eye.
Of course, if you're presenting an all-cash offer, yours will go to the top of the pile no matter what state you're offering from and won't need pre-approval or pre-underwriting since you're supplying the funds up front without help from a lender. But an all-cash offer is not a reality for most buyers. Instead, you should plan to get pre-approved—this helps show that if a seller accepts your offer, you'll receive the funds from a lender.
If you're trying to stand out in a major metropolitan area (think New York, Boston, San Francisco, Chicago, etc.), you may benefit from the more stringent process of pre-underwriting. Remember that pre-underwriting takes longer and isn't available in all markets, so if you're on a tight timeline or if your desired lender doesn't allow for pre-underwriting, pre-approval is a quicker, more readily available option.
Last, the higher the down payment you can offer, the better. That doesn't necessarily mean 20 percent, but by putting money down in the 5 or 10 percent range and up, you're showing you've got meaningful equity in the property straight away: It's another tactic to show sellers you mean business.
Tackle the Logistics Sooner Rather Than Later
Even if you find a house long distance, remember: You still have to actually move. And if you're having trouble finding a home, it can feel empowering to cross other important administrative items off your list. Concurrent with your house hunt, make sure to address logistics such as selling your current house (or subleasing/ending your lease with your current apartment) and getting price quotes for movers.
Depending on how far away your new city or town is, you'll also want to do things like book flights and arrange for hotel accommodations along the way if you're driving. If you have a pet, be sure to include them in your travel plans as well. Also, you're not just moving yourself; you probably have a lot of stuff. If you have a car but you're flying, for example, you'll need to arrange for a train or shipping service to get your vehicle from point A to point B.