San Diego Local Life
San Diego Neighborhood Guide
Welcome to America's Finest City. With an average of 250 sunny days a year, understanding why people flock to San Diego isn't tough. Here you'll find the best tacos on this side of the border, the world's most famous zoo, a vibrant craft beer scene, diverse neighborhoods, and 70 miles of scenic coastline with lots of sand getting in everything from your car to your underpants.
While San Diego County is split up into sections by geographical location (North County, East County, South Bay, and Central San Diego) most of the city of San Diego fits into the Central San Diego quadrant. Getting to know the lay of the land requires some insider guidance, and the more you explore, the easier it is to put this city puzzle together.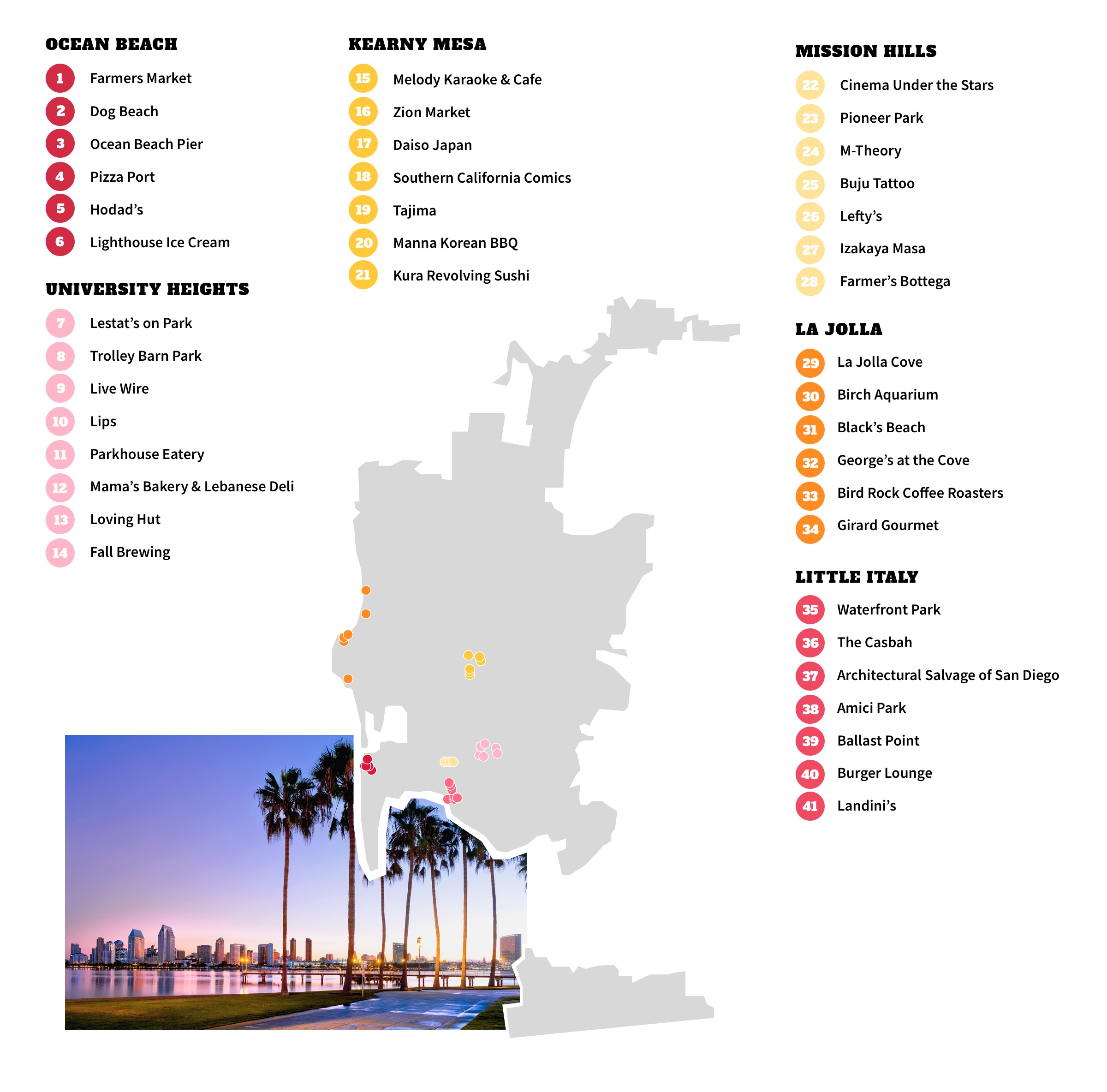 San Diego at a Glance
Here are a few helpful tips for exploring this city of neighborhoods.
Navigating by car: You may need a car if you plan on living in this city because San Diego is massive. In fact, at about 375 square miles, it's the second-largest city in the state after Los Angeles. The different parts of the city are linked via a series of freeways and side streets that weave in and out of the various neighborhoods. And the after-work rush hour isn't pleasant; it lasts from 3 p.m. to 7 p.m. every weekday.
MTS: There's a public transit system that's comprised of dozens of bus routes and three trolley lines. The trolley is very reliable but has a limited reach. Its usefulness depends entirely on where you are and where you are trying to go. None of the lines will get you anywhere close to the beach, but if you're bouncing around downtown, they're a quick way to move from one neighborhood to the next. Buses run infrequently and are often late, but they're more widespread.
Nicknames: Locals like to give everything a nickname so you'll rarely hear anyone say Pacific Beach, Ocean Beach, or Imperial Beach. Instead you'll hear PB, OB or IB. Even San Diego is frequently shortened to SD.
Here are some of San Diego's best neighborhoods and everything they have to offer.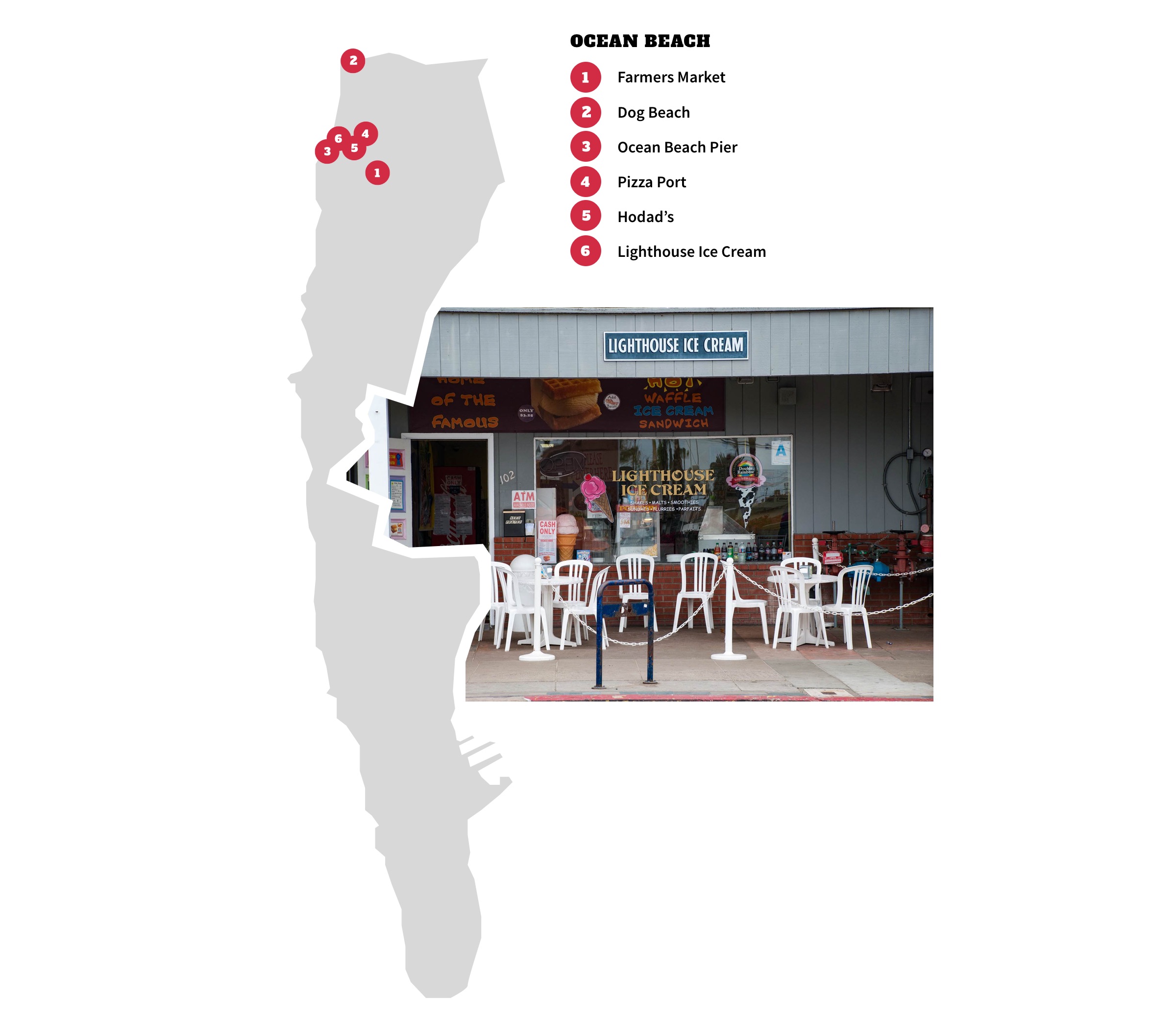 People looking to express their inner beach bum will feel right at home in San Diego's laid-back and eclectic beach community. If the earthy smell of sage or something a little more psychedelic hanging in the air makes you uncomfortable, a different beach might be a better fit. This part of town is known for being funky and quirky. It does get a little rowdy at night after all the bars on Newport Avenue open their doors for business, but it gives this neighborhood a lively atmosphere.
What to Do
Every Wednesday from 4 p.m. to 8 p.m., OB blocks off the main drag for one of the city's most popular farmers markets. Instead of cars, Newport Avenue is filled with booths and vendors selling their locally grown produce, baked goods, handmade products, local art work, and food from all over the globe.
Ocean Beach has one of the very few off-leash dog beaches in San Diego County. Come run, swim, and play fetch with your pup or sit back and relax while they make new doggy friends. Pups, as well as people, of all shapes, sizes, and breeds are welcome at this fun beach.
Ocean Beach Pier is the prime spot for fishing or just enjoying a scenic stroll along the pier. To the south of the pier during low tide, the water recedes, revealing clusters of tide pools teaming with sea life. Also, the pier may be closed due to high surf, so make sure to check the surf advisories before you visit. Bonus: You don't need a state fishing license to go fishing at this pier as long as your feet don't hit the sand. The stretch of beach here also has built-in bonfire pits, perfect for keeping warm on a cool night on the beach. Just make sure you claim your spot early enough because on the weekends and during the summer they get taken fast.
Where to Eat and Drink
Pizza Port takes a regular pizza joint and makes it a little bit better. Fancy beer and fancy pizza in a casual atmosphere is what they do best. With communal seating and arcade games, Pizza Port is a fave among families. Wednesday is wing and mozzarella stick night where you can get a half dozen of either for under $3.
Hodad's isn't fancy but that doesn't stop the iconic eatery from making San Diego's most famous burger. The line trailing down the sidewalk is testament to its popularity. Burgers are made to order, unapologetically greasy, topped to the eater's liking, and served with a side of Frings (that's onion rings and fries in the same basket) big enough to feed a family of four. If you don't want to wait, skip the line by ordering take out at the counter inside and eating down by the beach.
Beat the year-round heat with a scoop of hand-dipped ice cream or spring for one of their signature creations: a waffle or pancake sandwich complete with your choice of ice cream. Yes, it's as amazing as it sounds. And after years of being a cash-only establishment, they finally accept credit and debit cards.
Why Locals Live Here
If Ocean Beach had a motto, it would be "come as you are." The chill atmosphere along with a wide variety of housing options attract many people to this tranquil community. The options closest to the beach are cute bungalows and beach houses along with a few condos and apartments. As you get to the edge of OB toward Point Loma, the houses get bigger, fancier, and pricer. All the housing choices share at least one attribute: the neighborhood's proximity to the Pacific Ocean. It's one of the most popular reasons why homebuyers move to OB.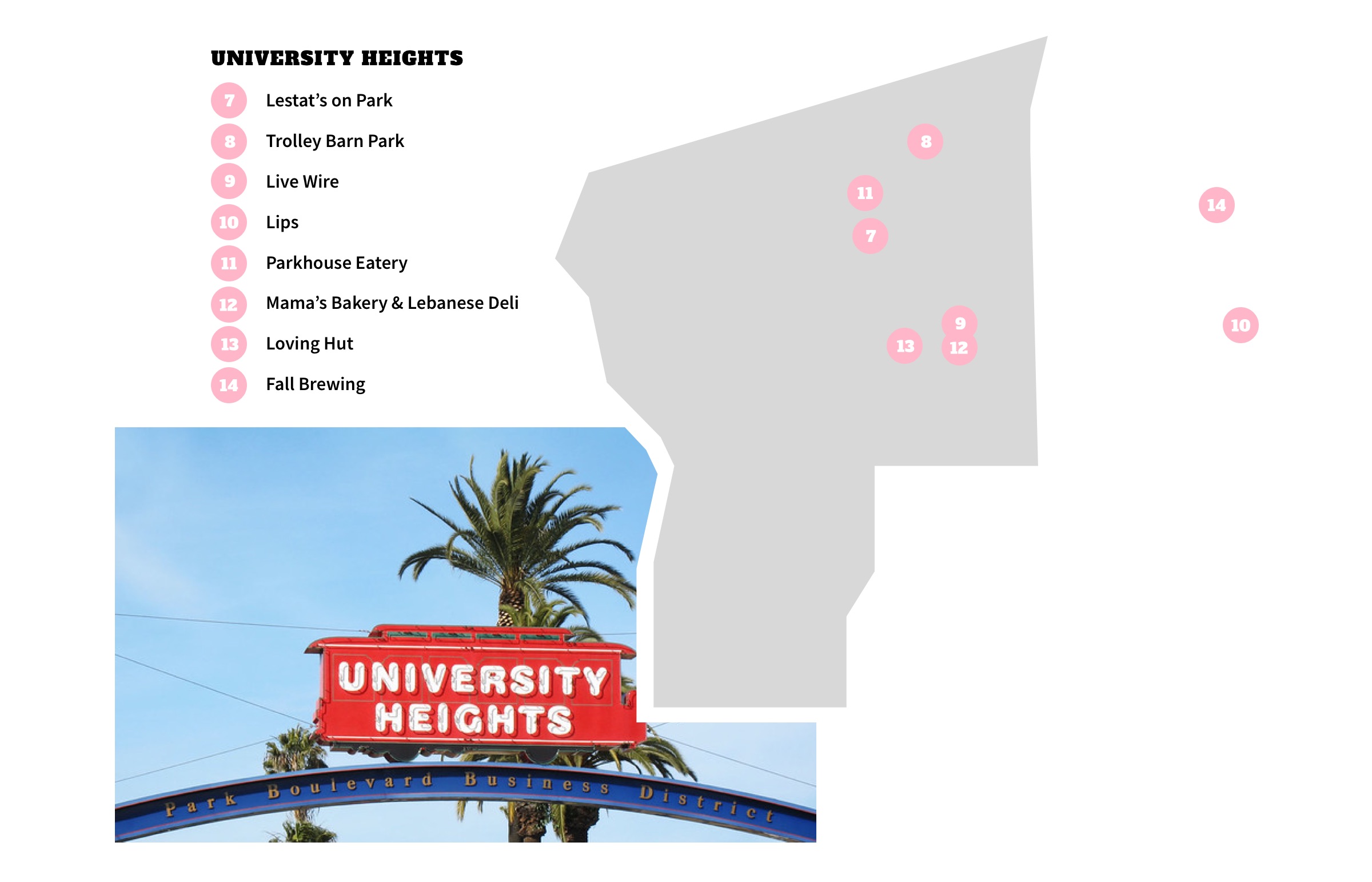 University Heights is a quiet, low-key community where the baristas know your name and the waiters know your Taco Tuesday order by heart. Surrounded by larger and louder neighborhoods on all sides—like Downtown San Diego and Mission Valley—this part of the city allows residents to escape the congestion and the noise without having to sacrifice quality amenities and activities.
What to Do
While Lestat's on Park is known for its potent iced coffee, it's more than just a coffee shop. For one thing this establishment is open every day of the year, around the clock. Locals like to descend upon this place for open mic nights that feature slam poetry and live music. Even if you aren't brave enough to hit the stage, you can still enjoy other people's talents from the back of the crowd while sipping your cup of coffee.
Trolley Barn Park sits on the edge of University Heights overlooking Mission Valley. With a playground and a large greenspace, this city park is perfect for families and children looking to spend the day outdoors playing sports, practicing yoga, or attending a free summer concert in the park.
This bar is unlike anything else. Known for playing B-movies on its TVs in the background and having a kick ass jukebox blaring music, this local dive bar gets packed on the weekends. A neighborhood staple since 1992, this no-frills bar is the ideal spot if you're looking to get a cold beer or pint-sized cocktail while listening to some loud music.
Part drag show, part public roast, it's hard to leave this hotspot in neighboring North Park without a story to tell. The drag queens are funny and fabulous, which is why this place gets packed. Also, each night of the week has a different theme, so pick your fave. There's even a Sunday gospel brunch that dishes out a special brand of irreverence only drag queens can get away with. Pro tip: If you're driving, you'll want to get here early because the parking lot fills up fast.
Where to Eat and Drink
Parkhouse Eatery has been a New American classic in this neck of the woods for over a decade, serving up lunch, brunch, and dinner. Whether it's the breakfast pizza and a pom passion mimosa for brunch or the pork chop for dinner, it's nearly impossible to make the wrong choice when ordering from their menu.
This little off-the-beaten path Mediterranean lunch spot is more than a bakery. This eatery has been serves up affordable homemade Lebanese meals that taste like someone's grandma has been in the kitchen prepping all day long. Fan faves include the hummus appetizer and the garlic chicken shawarma wrap.
Sure, it's a chain, but thanks to Loving Hut, vegans finally have a place to take their meat-eating friends without having to listen to a cacophony of complaints. The menu consists of solely vegan food with an Asian twist. With special ingredients and killer sauces, Loving Hut manages to trick the senses and confuse the mind into believing what you're eating is actually meat when it really isn't. Some popular items to try include the Coco Tofu or the Lucky Mongo.
The only thing this open and airy brewery takes seriously is the beer. Also in North Park, Fall Brewing feels big even when it's full of people. In addition to over a dozen rotating beers that come in a variety of categories, you can also bring outside food into the brewery. Pro tip: Nomad Donuts is just down the block, if you're craving something sweet to go with your beer.
Why Locals Live Here
University Heights is a small and welcoming community that's mostly made up of single-family homes and a few condo buildings. Although small in size, this neighborhood doesn't sacrifice its top-notch amenities like great food and quality coffee shops. It's also close enough to visit the downtown area yet offers residents a quieter environment with less traffic congestion than its surrounding neighborhoods.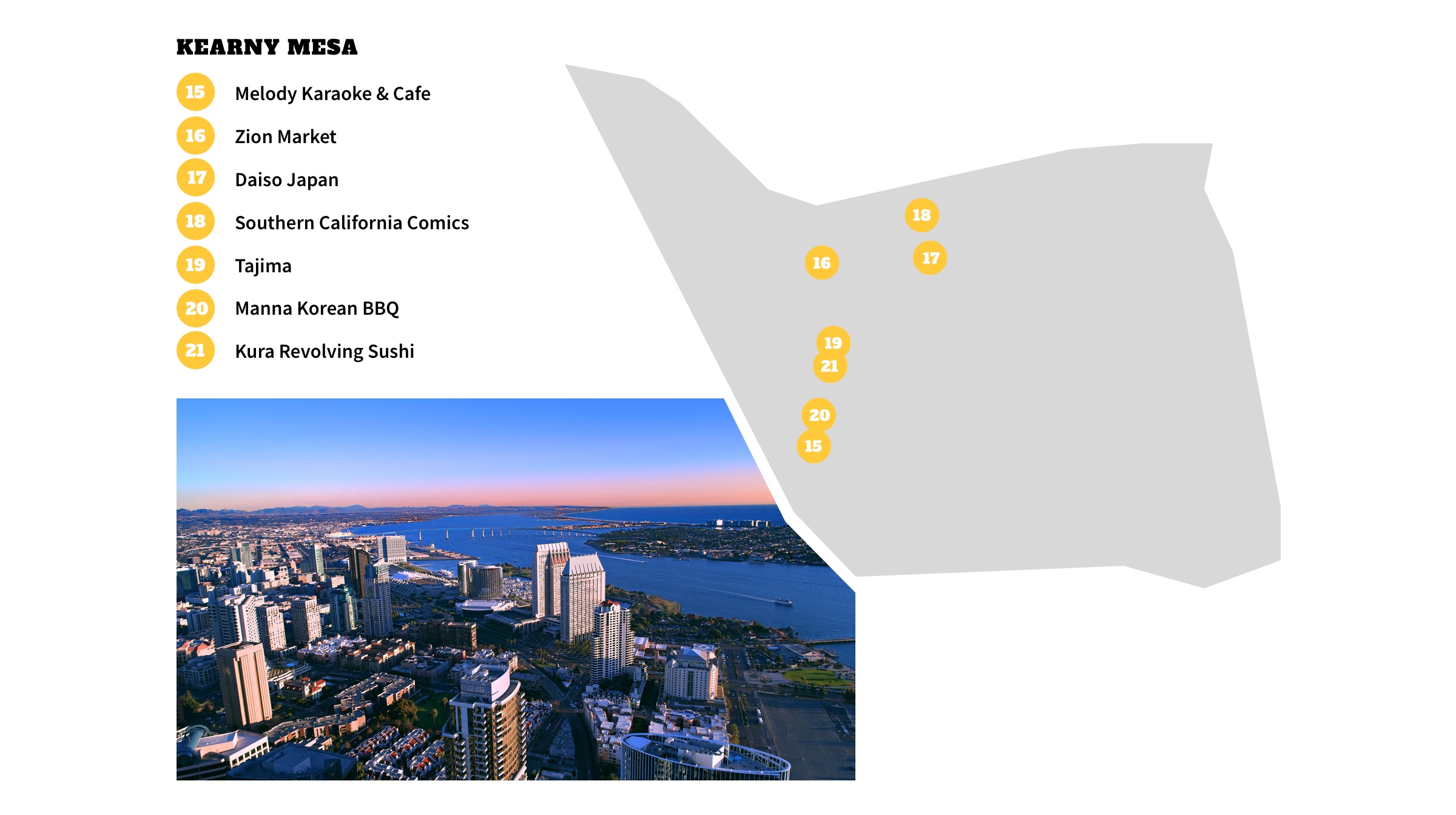 Kearny Mesa is an inland community that's known throughout San Diego as the best place to find authentic Asian food, ranging from Japanese and Korean to Chinese and Vietnamese. An unassuming mix of car dealerships and grocery stores are also evident in this community as you pass by, but upon a closer look, this neighborhood is full of quaint shops and local businesses you can't find anywhere else in the city.
What to Do
Luckily, this karaoke bar is made up of individual suites so you can express your inner Shakira or Beyonce in front of just your friends instead of a room full of strangers. This spot also serves Chinese food and drinks (spiked and alcohol free) right to your room or you can BYOB. Heads up: They do charge an automatic 18 percent gratuity on top of the bill.
Shop at Zion Market for all the hard-to-find ingredients you just can't get at a Western grocery store. This place is a cornucopia of spices, fruits, drinks, meats, and treats of all kinds. The produce is astonishingly cheap and good quality. It also has a food court with several eateries and specialized shops.
Daiso is basically a Japanese dollar store that sells everything from novelty items and seasonal goods to Japanse arts and crafts. A waltz down the isles produces both wonder and confusion. Most of the packaging is in a different language so figuring out exactly what you're looking at can be tricky. Still, the items are good quality and affordable, and they have tons of unique products you might not find in any other stores.
Southern California Comics is a legend in San Diego. Located in a warehouse and filled to the brim with comic books, hardcore fans and casual comic readers will undoubtedly be able to find what they are looking for. This comic shop is one of the best places to look for back issues you might have missed because the majority of them are only $1.
Where to Eat and Drink
This small Japanese restaurant off Convoy Street makes San Diego's best ramen. Get it with the pork belly and the fat noodles. They won't seat you until everyone in your party is present, and if they get to your name and someone's missing, they have no problem skipping you for a few rounds, so tell everyone to arrive 15 minutes before you really need them there.
Manna Korean BBQ takes a meal and turns it into a culinary adventure, allowing you get to cook your own meat and seafood on a hibachi grill. While they do have other dishes, most people spring for one of the all-you-can-eat options, which allow you to try a variety of items. While it isn't the only Korean BBQ place in Kearny Mesa, this one is known for quality banchan (sides) and a wide array of proteins for grilling.
The most fun place to eat sushi, thanks to its revolving sushi bar. Be careful: It's easy to get handsy as plates fly by which makes for an expensive dinner. So if you're worried about missing your favorite dish, the tablet that shows what you've already eaten can also be used to order special requests straight to your table.
Why Locals Live Here
While Kearny Mesa isn't as walkable as some other San Diego neighborhoods, it does sit smack dab between the 805, 163, and the 52 freeways. Centrally located, Kearny Mesa residents are no more than 15 minutes from both Downtown San Diego and the beach. Housing in this area also tends to be more moderately priced than coastal neighborhoods and money goes a bit farther in this part of town.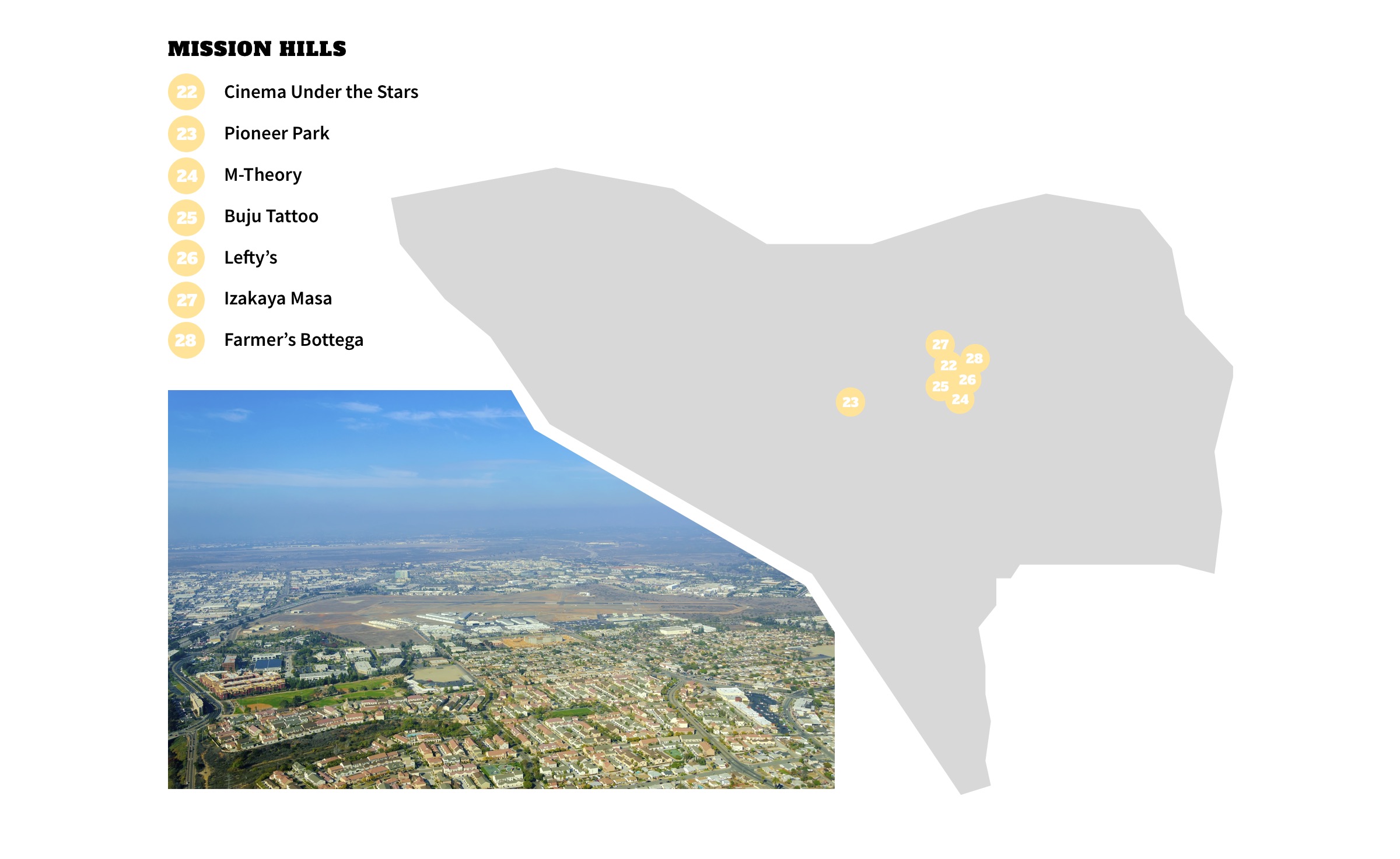 Perched on a hill with a view of the ocean and just outside the reaches of Hillcrest, Mission Hills is known for being a well-manicured neighborhood with stately homes. Despite its appearance, this neighborhood is home to some of San Diego's most lively businesses and eateries.
What to Do
Nestled in between a pizza shop and a hair salon, Cinema Under the Stars is more than a movie theater, it's a San Diego experience. Theater-goers watch classic films like Casablanca, Raiders of the Lost Ark, and Young Frankenstein under the night sky. Don't worry about the unlikely chance of rain—they have a retractable roof and heaters to keep everyone warm and dry even on the stormiest of nights.
Pioneer Park, also known as Mission Hills Park, is little community park with a field, a playground, and tennis courts. It's also the site of several community events throughout the year. This park is also said to be haunted, so if playing Frisbee on hallowed ground makes you uncomfortable, it's best you take your game elsewhere. Turns out the whole park was actually built on top of an old cemetery from the 1800s, and there are even a couple dozen headstones still remaining in the park, along with a plaque listing the names of all the people buried there.
Whether you're riding the resurgence of vinyl or you're a time-tested fan, M-Theory has something you've been looking to add to your collection. While the shop is small, the selection is not. It'd be easy to peruse the shelves for hours. If you prefer your music live, M-Theory often hosts intimate live shows and launch parties in the shop.
Buju Tattoo, named after the shop's Pitbull mascot, is one of San Diego's most respected tattoo shops. While getting a tattoo is never painless, this shop is pristine with a lot of natural light and happy aqua walls to encourage peaceful vibes. They also only hire incredibly talented artists so the chances of leaving this shop with a bad tattoo is highly unlikely. Unfortunately, walk-ins aren't welcome, so make sure to call and make an appointment beforehand.
Where to Eat and Drink
A favorite among Chicago transplants looking to fill the void left by Chicago's iconic foods, Lefty's is where San Diegans go for authentic deep dish pizza. While it's worth the wait, the Chicago style pizza takes about an hour to bake so call ahead or be prepared to watch the Cubs game while you wait. If you aren't on board with their 10 pound pizzas, they also serve other Chitown classics like Italian beef sandwiches and Chicago dogs.
In a sea of new Japanese restaurants, Izakaya Masa stands out. Locals know that this spot is also one of the few Japanese restaurants that can compete with the popular Tajima restaurant and their ramen. Izakaya Masa has an extensive menu that consists of sushi, ramen, curry, and other vegetarian options. If you didn't come with a big appetite, you can order a small ramen for $2 less than the large. But if you have room to indulge, then you'll want to try the Agedashi tofu, which is the perfect balance of chewy and crispy in a tangy sweet sauce.
Farmer's Bottega is famous among locals for taking simple foods, often Italian in origin, and using premium ingredients to take them to the next level. As early adopters to the farm-to-table movement, their menu features local produce and seasonally available foods. Their duck gnocchi and oxtail lasagna are highly recommended.
Why Locals Live Here
Mission Hills is packed with beautiful vintage homes that date back to the turn of the century. Since this area was developed before San Diego's population increased, the houses have large yards and green lawns. Most homes available in this area are single-family houses, but there are a few condos on the outer edge of the neighborhood.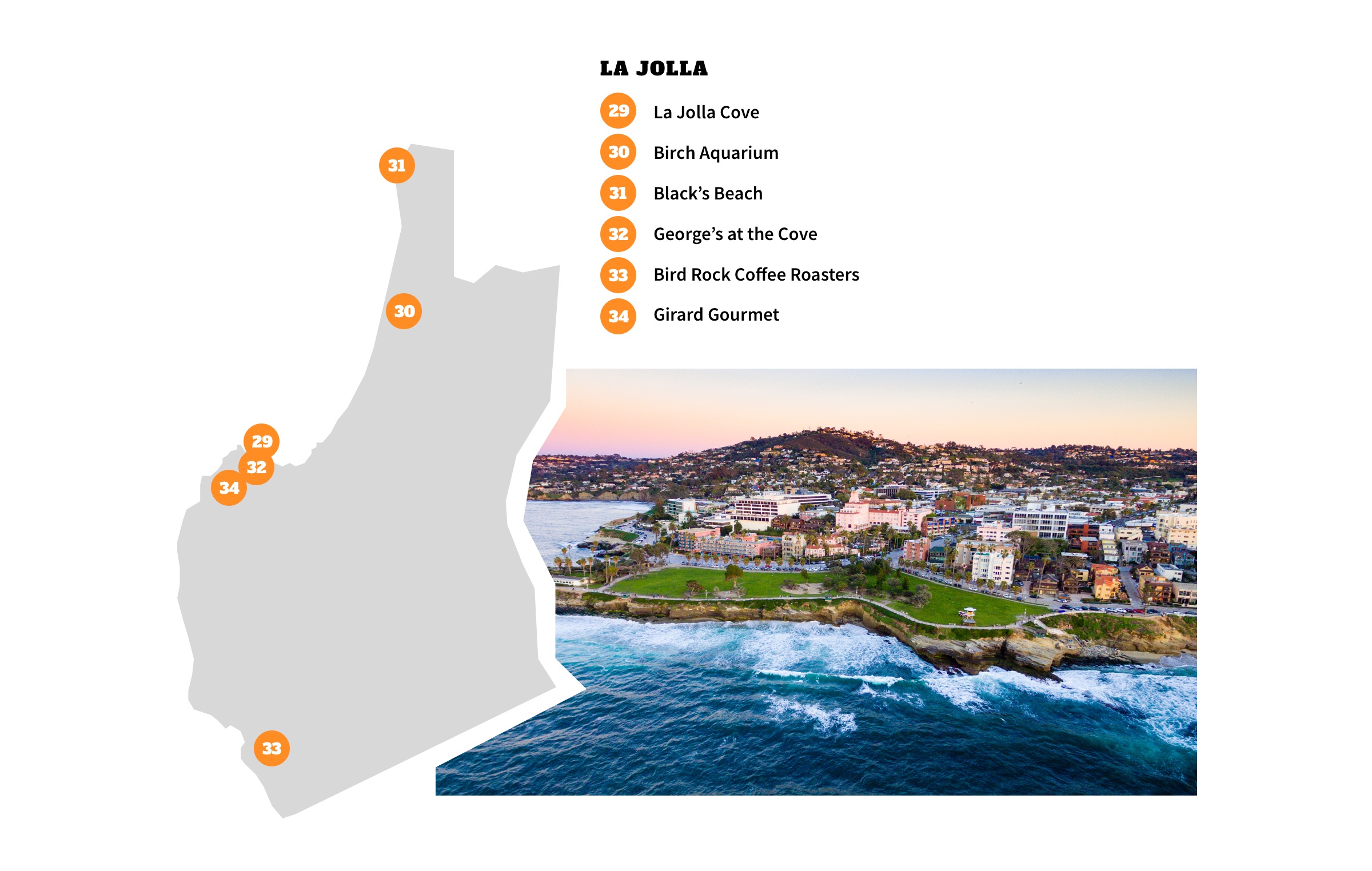 Arguably San Diego's most beautiful spot along the coast, La Jolla is known for having the most upscale neighborhoods in the city. As to be expected, La Jolla houses luxurious boutique shops, designer stores, art galleries, and world-class restaurants. This community is home to numerous water activities and recreation like swimming and boating. But the water isn't just for residents as this seaside community is also home to native marine birds, animals, and fish.
What to Do
Head over to La Jolla Cove and spend the day enjoying your favorite water activities. This spot is great for paddle boarding, kayaking, or playing at the children's beach, which has unfortunately but interestingly been taken over by sea lions who use the protected beach to care for their pups and rest from the ocean's relentless waves.
Birch Aquarium is small but packed full of fish and other ocean life. With over 5,000 residents in the form of rays, fish, jellyfish, seahorses, sharks, and more, there's always something interesting to observe. If you want a hands-on experience, check out the tide pools where you can touch a starfish or an anemone. If you really love it, you can even host your private event at the aquarium.
Accessible via the glider port at Torrey Pines, Black Beach is where San Diegans go to lose their tan lines. While it's not technically sanctioned as a nude beach, this hard to reach beach is known as a nudist haven. It's also less busy than La Jolla Shores, so if you don't mind a long walk and the possibility of nudity, then this may be the beach for you.
Where to Eat and Drink
George's is split into three different levels with a more casual terrace restaurant on the roof, a cocktail bar on the second level, and a high-end restaurant on the ground floor. Famous for its ocean views and elegant setting featuring New American cuisine, George's leans into locally sourced seafood and fresh seasonal produce when creating its ever evolving menu. The terrace is kid-friendly, but be warned, they might come home with a new infatuation for obscure ingredients.
Coffee lovers and casual drinkers enjoy this La Jolla staple. All their coffee is roasted on-site, and they only work with coffee producers who follow fair trade and green growing practices, so you know your coffee habit isn't hurting the planet.
This deli and bakery has been around for 25 years and serves up a variety of items ranging from baked goods to salads and sandwiches. They're famous for their intricately decorated sugar cookies that come in an ever changing array of shapes and designs. There's usually a line spilling through the front door but don't let that scare you away—the staff is a well-oiled machine, so the wait is never more than a few minutes.
Why Locals Live Here
La Jolla is popular for two things: gorgeous sandy beaches and luxury housing. Homebuyers who can afford the high housing prices also reap the benefits of San Diego's best schools, both in terms of student performance and extracurricular offerings.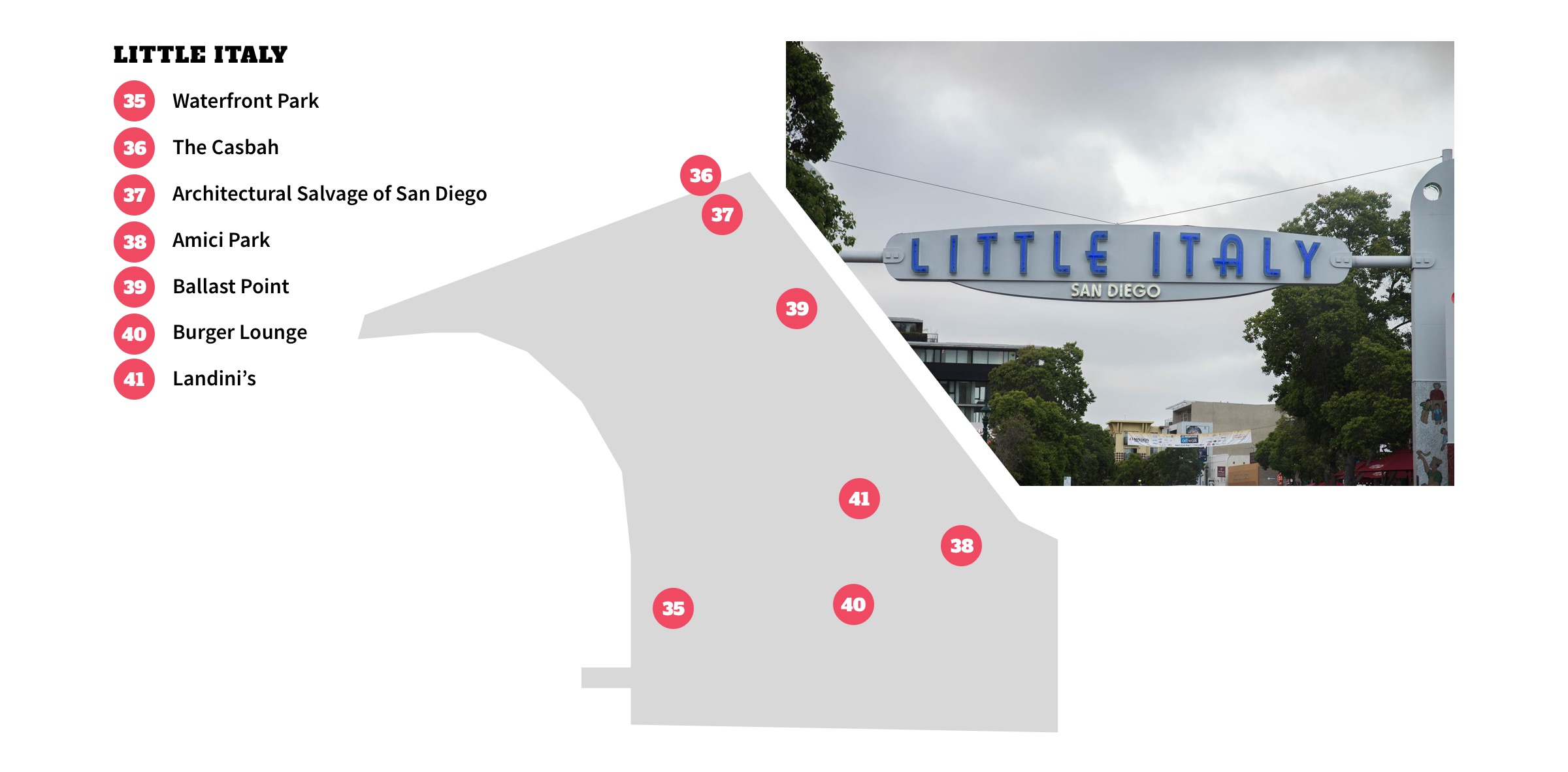 Charming and accessible, Little Italy sits north of downtown along the water. It's known for its heavy Italian influence, especially in terms of the local restaurants and markets that date back to the 19th century. Beyond being a highly walkable neighborhood littered with coffee shops and places to grab a bite to eat, it's also home to several annual community celebrations like the Labor Day Stickball Festival and the Artwalk, which draw hundreds of people from all over the city.
What to Do
Lined by the harbor on one side and the city's skyline on the other, Waterfront Park is built around the courthouse. This park features sprawling grass fields, a massive playground, and a long line of fountains that double as splash pads. During the warmer months, kids can play in the fountains that line the western edge of the park, but they don't turn on until 11am. Since the park is so new, the trees are still small and don't provide much shade, so it's recommended to bring water and sunscreen if you plan to stay for more than a few minutes.
In Little Italy, you can actually rock the Casbah. For 30 years, this dim and somewhat dingy bar has been at the front lines of music with up-and-coming bands. The likes of Smashing Pumpkins, The Cult, and even Nirvana have blessed San Diegans with their talent at this spot in the past.
This shop on Kettner looks like a hoarders garage, if everything they kept was awesome and vintage. It's the perfect place to spend an afternoon sifting through eclectic items like vintage door knobs, building materials, chandeliers, and one-of-a-kind furniture you really can't find anywhere else.
Tucked away on the eastern edge of Little Italy, Amici Park sits perfectly in tune with the residents who live in the surrounding homes. Small but mighty, this public space features a dog park, bocce ball courts, and the Little Italy Amphitheater where the city puts on summer events. There's even a bocce ball league you can join.
Where to Eat and Drink
Ballast Point is one of San Diego's most famous and successful breweries. Their menu consists of a mix of elevated bar food and seafood staples that pair well with their beer. This location also has a spacious patio with seating for large groups, and it's also kid-friendly.
Burger Lounge is a restaurant that does one thing really well, and that thing is grass-fed burgers. The limited menu also includes some salads, chicken tenders, and a few rotating dishes depending on what's in season. They also have proprietary sodas that give big name brands an honest run for their money. Sides of fries and onion rings are sold separately, but one order goes a long way. Allergen note: Everything they fry gets dipped in peanut oil, so if the mere thought of that makes you itch, steer clear.
An unassuming pizza-by-the-slice place where you can get two slices of any pie, mix and match, plus a can of pop for under $8. The pizza selection varies by day, starting at plain old cheese and quickly veering into an impressive variety of toppings. But if you're looking for more, Landini's also sells whole pizzas, salads, and pastas, if just a slice doesn't fill you up.
Why Locals Live Here
Unlike Downtown, Little Italy has areas that are less densely populated than most ocean accessible communities. There are also different types of housing within the neighborhood such as duplexes, townhomes, condos, and detached houses, which is uncommon for neighborhoods in this area of San Diego.