Austin Real Estate
The 5 Hottest Neighborhoods in Austin
Austin's thriving real estate market spans all neighborhoods and suburbs of the city, but certain areas attract a particularly robust level of interest from prospective homebuyers.
These Austin neighborhoods were hand-picked based on the search patterns of our nationwide users on Neighborhoods.com. Their amenities, easy commuting distances, and high standards of livability make them worthy options for anyone looking to purchase a home in Austin.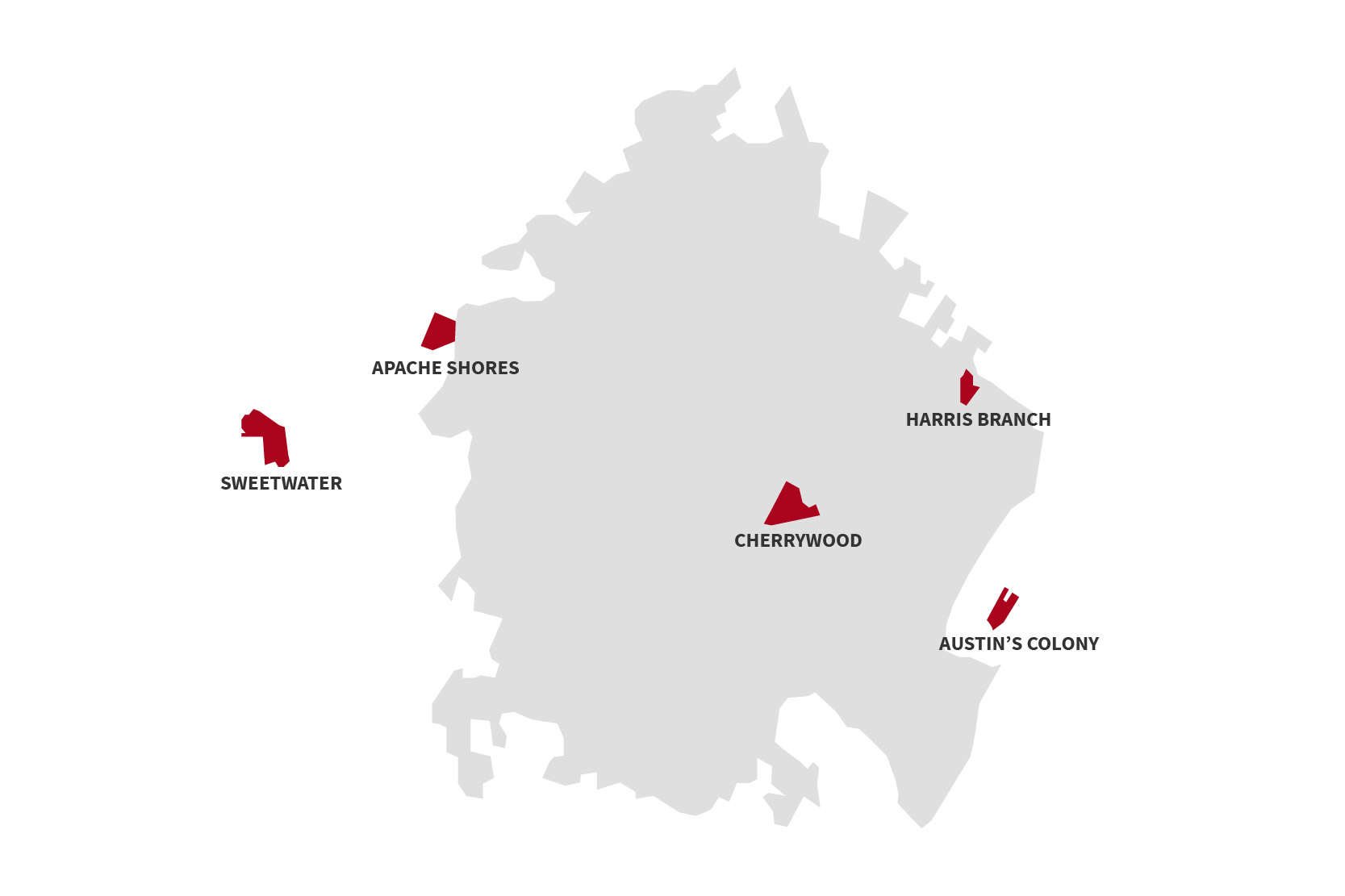 A peaceful master-planned community located about 15 miles east of Austin proper, Austin's Colony offers residents a desirable blend of city convenience and rural serenity. Commuters can access Downtown Austin via a quick 20- to 30-minute drive, and travelers will be pleased to know that Austin's Colony is just 15 minutes away from Austin-Bergstrom International Airport.
The community provides a wealth of amenities for residents, including a private park, a network of hiking trails, picturesque river views, and tennis courts. Austin's Colony also benefits from close proximity to the Walter E. Long Metropolitan Park in Austin, which contains the Walter E. Long Lake, the Indiangrass Wildlife Sanctuary, the Bluebonnet Hill Golf Course, and the Travis County Exposition Center.
Austin's Colony primarily includes single-family homes, ranging from two to six bedrooms and one to three bathrooms. Current prices start in the low $200s and top out in the mid $200s, making this an excellent option for budget-conscious buyers who don't want to compromise on comfort.
The quaint residential neighborhood of Cherrywood benefits enormously from its location; it's directly bordered by white-hot Austin areas like East Austin, North Loop, and Mueller. Those living in Cherrywood and working downtown or at the University of Texas' campus can reach their destinations in about 10 minutes by car or 30 minutes by the CapMetro bus, giving Cherrywood exceptionally high marks among commuters.
Cherrywood boasts significant popularity among growing families, and it's served by the Austin Independent School District. Cherrywood students can expect to attend nearby McCallum High School, a top-rated secondary school with particularly notable arts and music programs.
Foodies also flock to this neighborhood thanks to local dining destinations like Dai Due, El Chilito, and Salty Sow.
Cherrywood features a housing stock evenly split between single-family homes and attached homes like condos and townhouses. The median sale price currently stands in the high $400s, with recent closing prices ranging from the high $100s to the mid $900s.
Nestled in the heart of the scenic Texas Hill Country, Sweetwater is a master-planned community with plenty of appeal for those seeking a low-key, relaxing life. Sweetwater calls itself a "resort-style" community, emphasizing amenities like expansive community pools and lounge areas, yoga classes for residents, fitness equipment at the Sweetwater gym, and plenty of trails and open fields for enjoying those outdoorsy Hill Country vibes.
Commuters can reach Downtown Austin in 35-45 minutes by car, thanks to Texas State Highway 71. Young Sweetwater residents can attend schools in the Lake Travis Independent School District, a system with an "A" rating from the Texas Education Agency and a 95 percent high school graduation rate.
Sweetwater buyers have access to a variety of single-family homes with one to seven bedrooms and two to five bathrooms. Current prices start in the high $300s and go up to the mid $800s.
While many Austin-area master-planned communities can be found in the Hill Country and in farther-flung regions to the south, Harris Branch is remarkably close to North Austin neighborhoods like North Lamar and Windsor Park.
Motorists in Harris Branch can reach Downtown Austin in under 20 minutes, thanks to Interstate 35 and Route 290. Because it's technically located within city limits, Harris Branch gives its residents the opportunity to easily visit nearby North Austin destinations like Walter E. Long Metropolitan Park, the Walnut Creek Greenbelt, and The Domain.
Within the walls of Harris Branch, residents can make use of amenities like a community pool, a well-equipped fitness center, and athletic courts (including multiple tennis courts). Single-family homes comprise the inventory available at Harris Branch. Buyers can select house sizes ranging from three bedrooms to six bedrooms, and current prices fall between the high $100s and the high $300s, making Harris Branch attractively affordable for its location.
Aquatically inclined residents will find plenty to love about Apache Shores, a master-planned community directly adjacent to the Colorado River and just a quick jaunt away from Lake Travis. Located about 25 miles northwest of Central Austin, Apache Shores is a popular choice for families seeking mid-sized homes with a reasonable commute time into the city. The drive from Apache Shores to Downtown Austin typically clocks in at about 35-45 minutes each way.
Boaters living in Apache Shores have access to a private launch area on the Colorado River, and those who prefer the relaxing aspects of waterfront living can enjoy the boat launch's picnic space, complete with grills and large trees for shade.
Apache Shores' location renders it a popular choice among active Austinites, and its amenities only add to its desirability quotient. Apache Shores offers a swimming pool, tennis and basketball courts, and easy access to hiking trails at River Place and Arkansas Bend Park. School children living in the community primarily attend schools operated by the highly regarded Lake Travis Independent School District.
Apache Shores offers single-family homes with one to five bedrooms and one to five bathrooms. Smaller and older homes can be purchased below $200,000, while the larger and more recently renovated versions sell for over $1 million.