Houston Local Life
The Best Houston Neighborhoods for Celebrating the Holidays
Houston is infamous for unpredictable weather and unseasonable temperatures—which means that the holidays don't always feel like the holidays. A sweltering Christmas day is more likely than snow. But that doesn't mean Houston holds off on the festivities. Whether you're in a tacky sweater or a tank top, here are the best Houston neighborhoods for celebrating the holidays.
Cultured and Cosmopolitan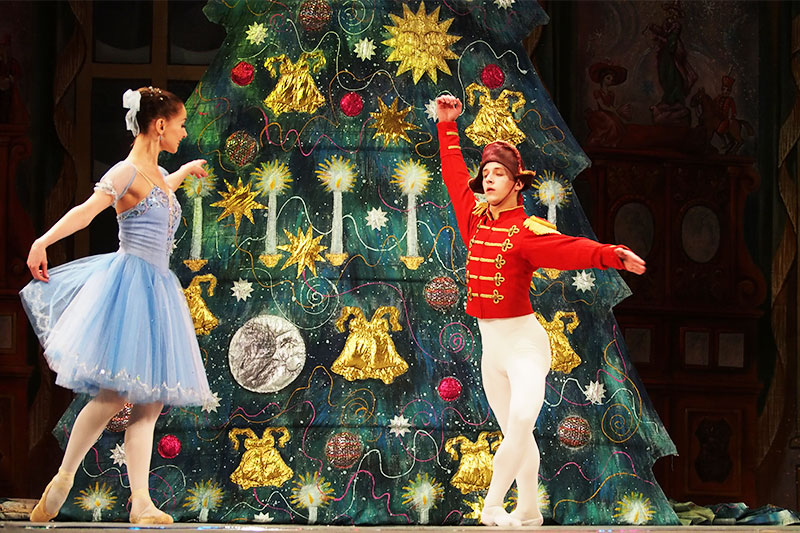 Downtown Houston's Christmas cheer is contagious. During the holidays, Houston's city center pulls out all the stops. Urban park Discovery Green erects an outdoor ice rink ideal for family nights, skating with friends, or a first date. Also, currently in its 99th year, there's a holiday celebration and Christmas tree lighting hosted by the mayor at city hall. The festive tradition features concerts, Santa, and a fireworks display leading up to the unveiling and lighting of the towering tree.
Downtown's cultural institutions also join in on the holiday spirit. Houston's Theater District rolls out timeless classics and family friendly productions. The esteemed Houston Ballet puts on an annual performance of "The Nutcracker"and holds The Nutcracker Market, a fundraising bazaar teeming with trinkets and treats. Dickens' beloved "A Christmas Carol" is also performed annually at the not-for-profit Alley Theatre.
Holiday Shopping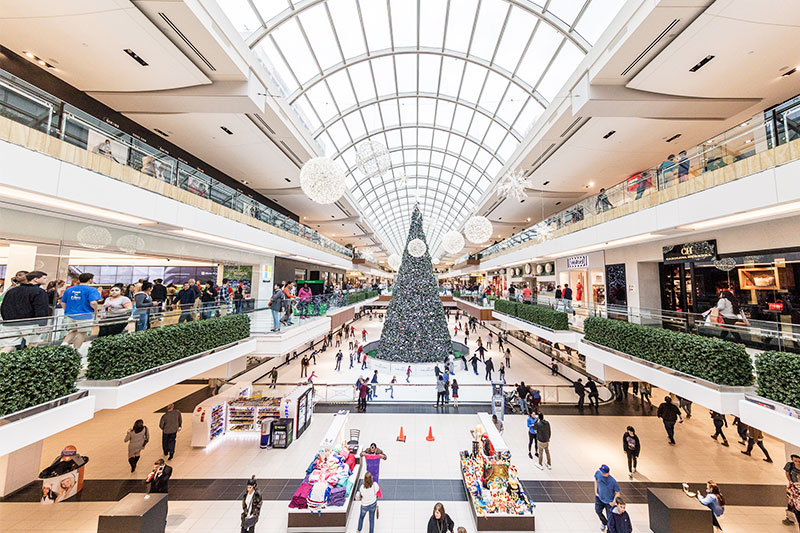 Shoppers are sure to find everything on their list at The Galleria, Texas' largest mall with over 375 stores. And, during the holidays, the Galleria offers a lot more than shopping. There's the requisite mall Santa, of course, available for photo ops (pets included) throughout November and December.
The Galleria's famed atrium ice rink may be open year-round, but the holiday season is especially magical. Take a break from shopping to spin around a dazzling 55-foot Christmas tree in the center of the ice. When the Galleria tree is first lit, crowds overlook the balcony for musical performances, a skating Santa, and an indoor firework display—yes, you read correctly.
Those who celebrate Chanukah can attend the mall's annual menorah lighting ceremony. Marvel at the stunning 12-foot candelabrum, play dreidel, and indulge on chocolate gelt.
River Oaks, adjacent to Galleria, is another shopping hotspot. The neighborhood is known for the River Oaks District, Houston's hub for haute couture and designer duds. River Oaks District is an outdoor shopping mall encompassing fashion boutiques, sidewalk cafes, and fine dining restaurants.
Though River Oaks is regarded as a shopping district, the neighborhood's only commercial area runs along Westheimer Road. Behind Westheimer, an opulent residential community unfurls. River Oaks is characterized by its surplus of grandiose mansions and ancient oaks that are elaborately decorated during the holiday season. Most homes stick with classic twinkling white lights, but River Oaks has cemented itself as the best Houston neighborhood for holiday light-looking.
Community Fellowship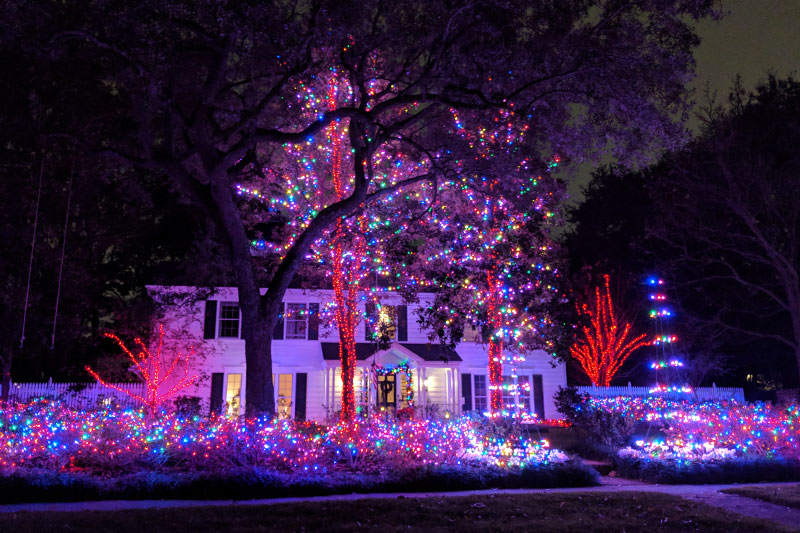 Each year, Woodland Heights hosts Lights in the Heights, a holiday walking tour of the neighborhood's lavishly lit Victorian homes. Stroll the streets with a warm mug of cocoa in hand, stopping in front of decorated houses where residents sing carols and play jazz from their front porches.
Head to historic 19th street to shop small and support local Heights businesses. The yearly Holiday on 19th Street festival features carolers, cocktails, live music, and in-store specials. This year's event promises real snow, a tricky feat in Texas.
Suburban Wonderlands
The Woodlands, a massive master-planned community north of Houston, unrolls a months-long itinerary of holiday programming. The Lighting of the Doves festival kickstarts the season with luminescent white doves lit to signify peace, children's entertainment (like snow slides and face painting), and Santa arriving by a sleigh-boat on the Woodlands Waterway.
Accommodating its large family population, the Woodlands has multiple Santa breakfasts, ice skating at the Town Center, and a 70-foot tree in the center of Market Street, as well as a variety of seasonal events throughout winter.
Sugar Land, a prosperous community southwest of Houston, has the best holiday lights outside the loop. Constellation Field provides the backdrop for Sugar Land's stunning suburban lights display. The nightly event invites visitors to walk a trail lined with over 2.5 million lights and intricate set pieces. The celebration also includes carnival games, rides, and food.