The Best Neighborhoods to Find Nashville Hot Chicken
The Best Neighborhoods to Find Nashville Hot Chicken
Every city has a food it's known for, like cheesesteaks in Philly or deep-dish pizza in Chicago. Nashville's hot and famous food is literally that: hot chicken.
Nashville hot chicken contains a spice mix that can include garlic powder, cumin, dill pickle juice, salt, pepper, and ground mustard, with cayenne and paprika giving the buttermilk-soaked chicken its signature red hue. While the rest of the country (and world) has taken note of hot chicken in the last decade—even chains like KFC are offering their own version—the origins go back 70 years to Prince's Hot Chicken Shack in Nashville.
Check out these neighborhoods to find hot chicken (and fish) in the city where it all began.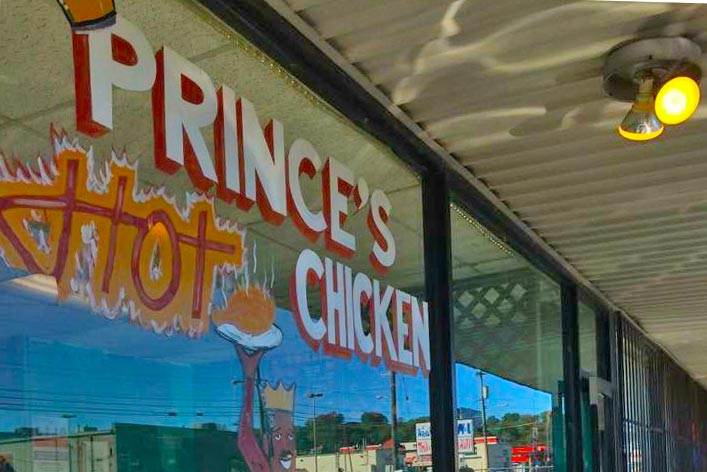 The heat level is almost palpable around Prince's Hot Chicken Shack, and the much-touted Prince's chicken was first served over 70 years ago. Prince's gives warnings about temperature, and they mean it: from mild to "XXXHot." And while "mild" sounds safe, it can still set your mouth on fire. Prince's doesn't mess with the classic form—natives and tourists agree they don't need to—serving the chicken between two slices of plain white bread with pickles on top.
Pepperfire Nashville Style Hot Chicken turns up the heat level. While their "Southernfied" is basically just fried chicken, Pepperfire's "XX hot" at the top of the hot chicken scale isn't for the faint of heart. Southern sides like collard greens and fried okra round out the Pepperfire experience.
Bolton's Spicy Chicken & Fish is another hot chicken hole-in-the-wall that brings in diners for hot chicken and fish with heavy breading and a dry rub. Owner Dolly Matthews has made hot chicken for over 20 years in levels starting with "very mild" on traditional chicken to tilapia.
Tenn 16 Food & Drink may not have "hot chicken" in their name but they do the classic right. After trying everyone else's hot chicken, Tenn 16's chef opened his own restaurant with a twist: The spice rub contains white pepper and ginger blended with traditional cayenne. There's even a menu warning that sums up most hot chicken: "This house-favorite is served HOT & SPICY, order at your own risk, no refunds."
Make plans to check out the annual Music City Hot Chicken Festival. Since 2007, this festival focuses on hot chicken with a Fire Truck Parade, samples to the first 500 guests, and a wide range of hot chicken and cold beer. Held on July 4th in the the East Park Community Center every year, the festival is free to attend.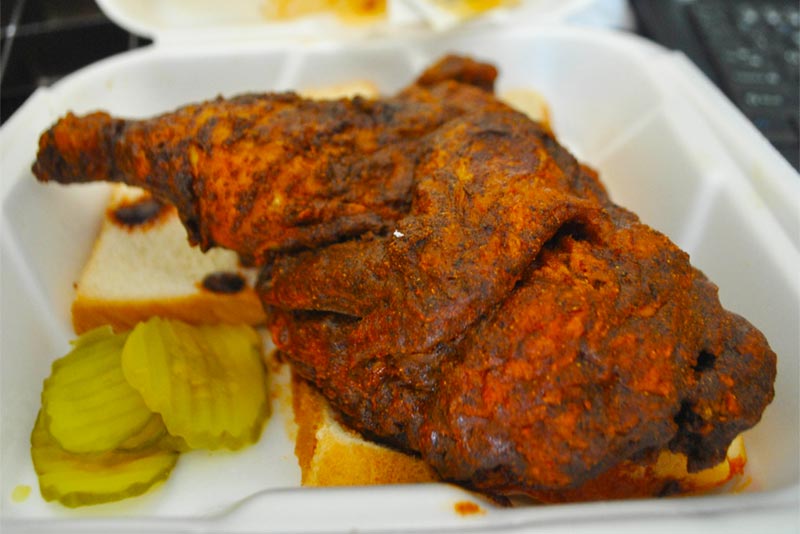 Subculture on the edge of Antioch looks unassuming in its strip mall location but never skimps on flavor. Keeping with their culture-focused name and menu, Subculture's chicken shows up in fusion dishes: southern style with waffles, over traditional ramen, and even in tacos.
When you visit Big Shake's Hot Chicken & Fish in Franklin, there's no mystery about what's on the menu. Diners can eat Big Shake's hot chicken in the original, not-so-hot version while adventurous eaters can choose a spice level from "Cry Baby" to "Executioner." While the main hot chicken is served up traditionally, they also offer menu items like hot chicken tacos and salads.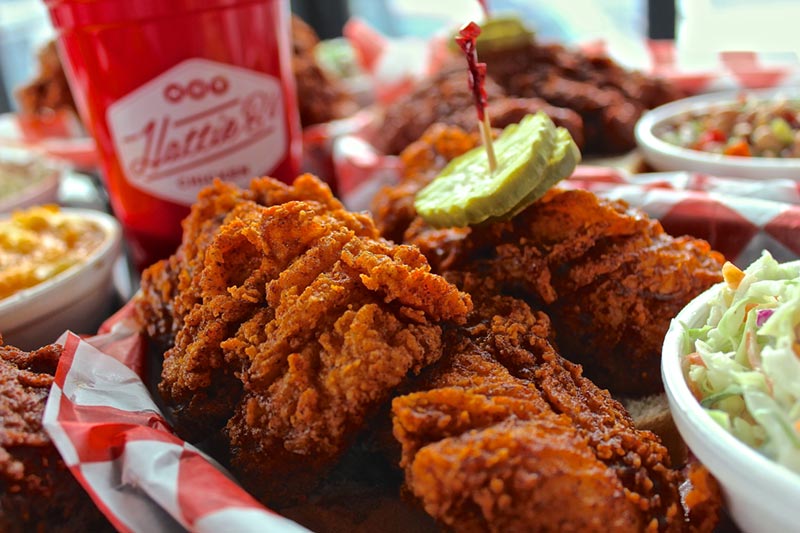 Hattie B's Hot Chicken in Midtown didn't join the hot chicken scene until the summer of 2012, but it's fast becoming a Nashville staple for tourists and residents looking to try the trend. You can also get side items like pimento mac and cheese and black-eyed pea salad.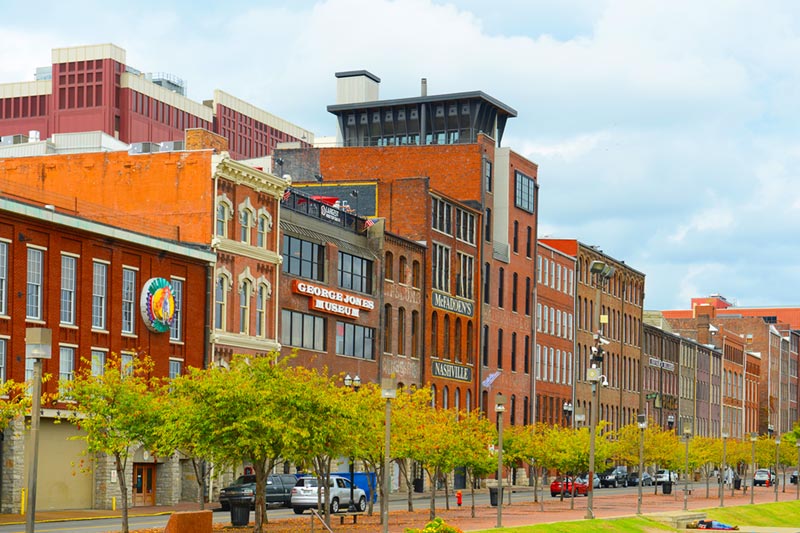 If you're in Downtown taking in Nashville's honky-tonks, Acme Feed & Seed gives you the best of both worlds. If you're in the mood for a lighter bite, their Little Bitty Hot Chicken Bites are a great sharing option. The Rule the Roost sandwich adds green peppercorn aioli and American cheese to the traditional hot chicken sandwich but keeps things recognizable with white bread and pickles.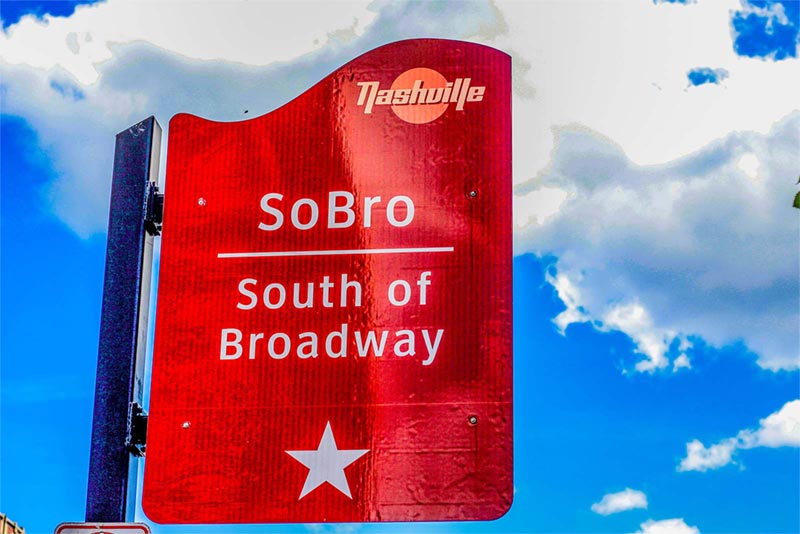 SoBro serves up their own version of Nashville hot chicken at 400 Degrees Hot Chicken, where owner Aqui Hines has a unique way of measuring heat level starting with zero degrees (plain hot chicken) going up to 400 degrees (not for the faint of heart or tongues). Hot chicken imitation is the best kind of flattery, and Hines' love of Prince's Hot Chicken inspired her to start her own restaurant. She deep-fries her hot chicken instead of the more traditional skillet-fried versions.