The Top 10 Best-Selling Master-Planned Communities in California
The Top 10 Best-Selling Master-Planned Communities in California
More than ever, homeowners are choosing to live in master-planned communities (MPCs) in California. These communities are pre-planned towns or neighborhoods that provide numerous benefits for residents—ranging from improved neighborhood safety to exclusive recreational amenities.
Homeowners enjoy living in MPCs due to the community benefits, which are designed to offer everything one might need within one place from working, living, and relaxation. Here are California's top 10 best-selling master-planned communities, according to MLS data from the last 12 months.
Median Home Sale Price: $945,000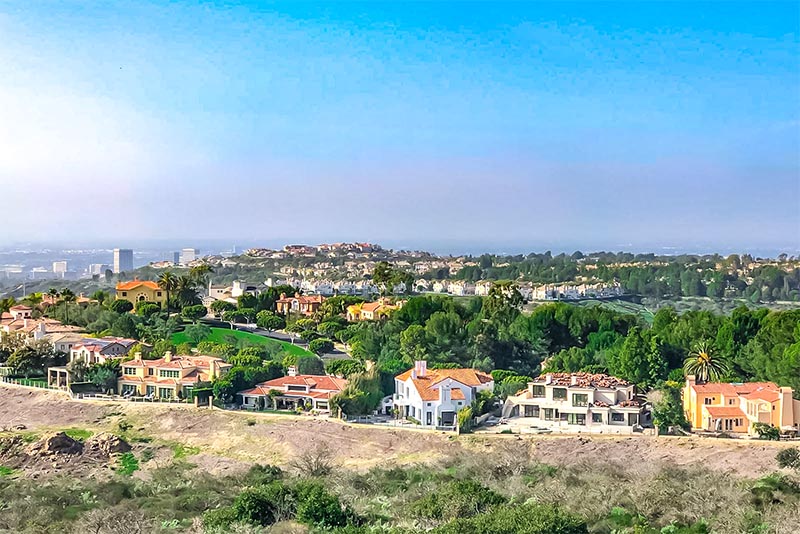 Irvine Ranch is California's top-selling master-planned community and one of the largest MPCs in the United States. This MPC includes over 36 villages with resort-style amenities such as shops, dining, recreational, and fitness options for residents.
Located in the heart of Orange County, Irvine Ranch is an approximately 93,000-acre development in the city of Irvine, sprawling about 10 miles along the Pacific Coast. This MPC offers its residents a range of home styles from condominiums, attached homes, and single-family homes, which is great for homebuyers who want several home options to choose from. Many potential buyers are drawn to Irvine Ranch thanks to its reputation for having award-winning schools, abundant greenspace (the community boasts of nearly 57,000 acres of protected natural space), and easy access to Orange County, Los Angeles and San Diego.
Median Home Sale Price: $435,000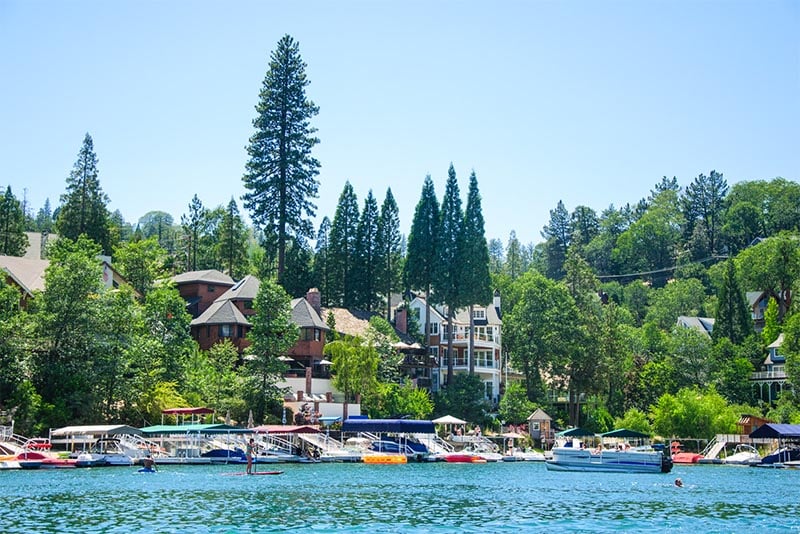 Head towards the city of Lake Arrowhead, and homebuyers will land upon another popular master-planned community, also named Lake Arrowhead. This MPC takes second among our list of top-selling communities, and it comprises 12 unique villages offering private gated communities, condos, townhomes, and single-family homes.
Residents in the serene and nature-filled Lake Arrowhead have exclusive benefits to amenities, such as beach clubs as well as dock and mountain access. There are also a number of reputable schools available for residents in this development, from elementary to high-school level. Residents living in Lake Arrowhead can enjoy the tranquility of nature while having quick access to Big Bear as well as the bustling city of Los Angeles.
Median Home Sale Price: $606,500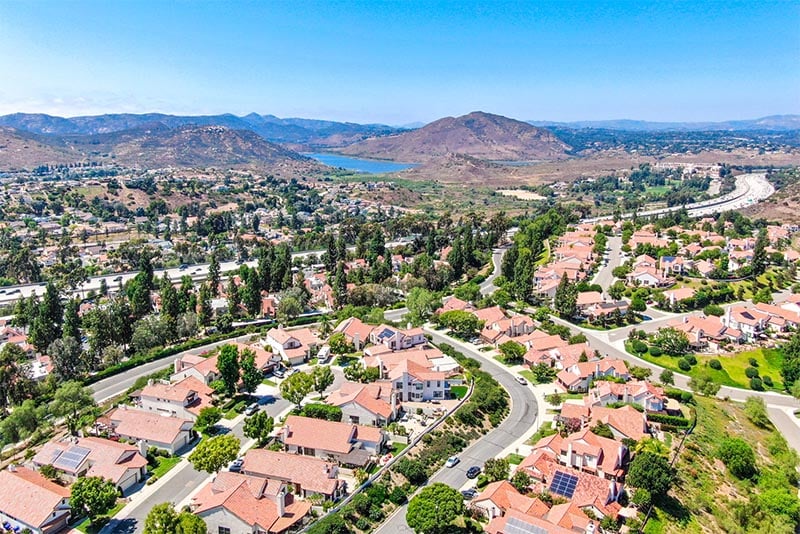 A bit farther out is Rancho Bernardo, a nearly 6,500-acre luxury community situated atop the hills of northern San Diego. This master-planned community consists of seven neighborhoods that provide homebuyers with a number of options to choose from when it comes to housing—from attached residences to one- and two-story single-family homes.
Exclusive community amenities include golf courses, spas, shopping, as well as access to one of California's most adored wineries, Bernardo Winery. Homeowners in the Rancho Bernardo community enjoy a relaxing and peaceful atmosphere while still being close to Downtown San Diego and nearby areas such as Temecula and Romona.
Median Home Sale Price: $550,000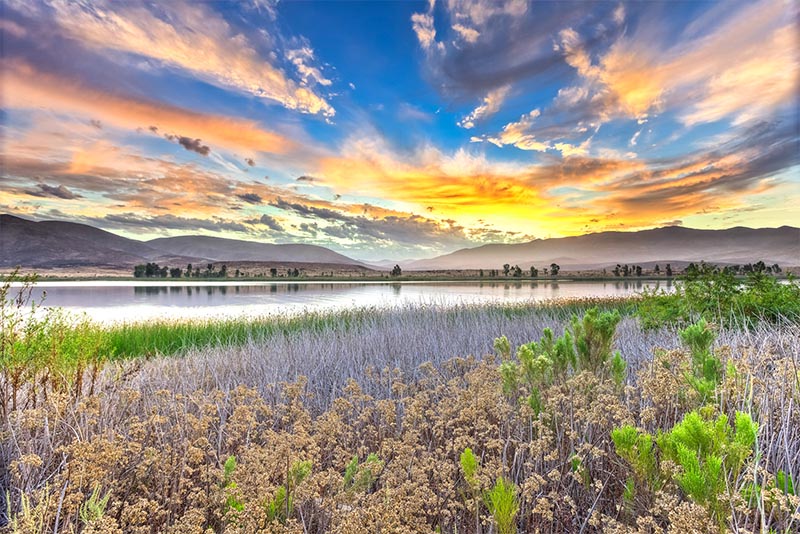 Located in Chula Vista, this luxurious MPC offers about eight communities for homebuyers to choose from, with home styles ranging from spacious single-family homes to attached homes such as condos, townhomes, and lofts. Many people are drawn to living in this area for the scenic mountain and park views. The resort-style amenities are also highly sought-after, and include benefits such as transportation, swim clubs with exclusive pools, top-rated schools, access to private parks and bike trails, and a popular town center.
Median Home Sale Price: $410,000
Rancho Belago is another thriving master-planned community on our list, and it's ranked as the 5th best-selling in California. This upscale community is in the southeast portion of the scenic city Moreno Valley and features spacious modern homes with mountain backdrops. In addition to offering homes with distinct architecture and fixtures, the Rancho Belago MPC also offers amenities such as community outdoor kitchens with barbecue grills, open-air lounge areas, a state-of-the-art fitness center, a resort-style pool, as well as an off-leash pet park for residents.
Median Home Sale Price: $880,000
North Valley is both a neighborhood in San Jose as well as a master-planned community. This neighborhood features mostly midsize homes for buyers looking to live in a safe and reputable area near San Jose and Silicon Valley. Residents living in North Valley enjoy being near top school districts, as well as having a variety of options such as shopping, dining, entertainment, and nightlife. This MPC is also close to major freeways such as the 5, 405, and I-210, and it's also close to San Jose Airport for residents who travel often.
Median Home Sale Price: $770,000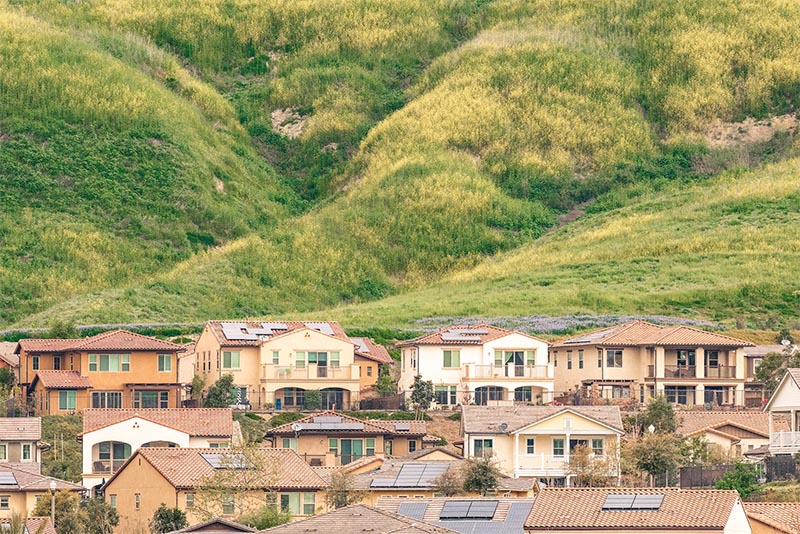 Rancho Mission Viejo is situated in the hills of Rancho Mission Viejo in California. Homeowners living in this community enjoy a close-knit neighborhood feel with ample amenities from open greenery, parks, and walking and bike trails. Homes in this master-planned community feature Spanish and contemporary-style designs from well-known developers such as Lennar and Shea Homes. Other perks of living in this community include access to parks and schools, recreational clubhouses, community farms, civic uses, childcare centers, places of worship, and up to 5 million square feet of shopping, dining, and employment centers.
Median Home Sale Price: $472,400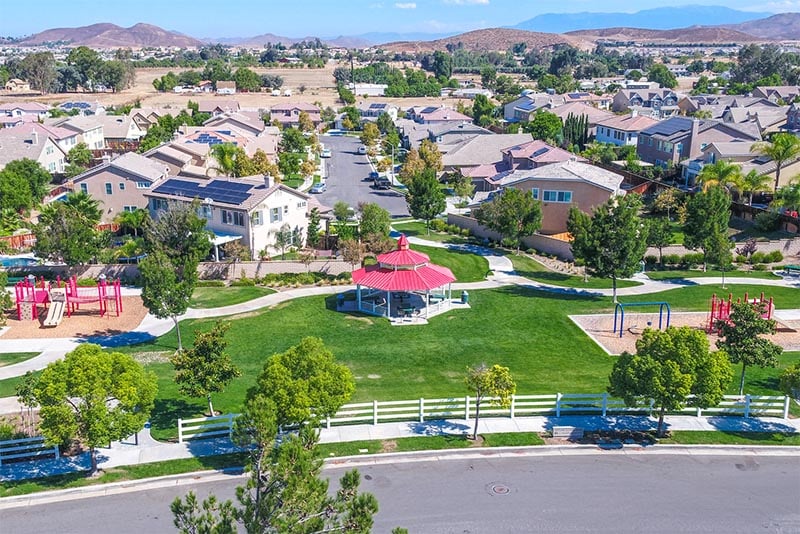 Situated in the census-designated city of Winchester in Riverside County is the large residential community Winchester South. This master-planned community features distinguished one- and two-story single-family residences located within a tranquil setting. Amenities for homeowners in this community include golf courses, various hiking trails, and scenic mountain views. Residents living in this community also enjoy easy access to district schools, local attractions, and big-city amenities from areas such as San Bernardino, Irvine, Los Angeles, and San Diego.
Median Home Sale Price: $555,000
If you're over 55, Rossmor in the city of Walnut Creek is a premier 1,800-acre active adult master-planned community packed with resort-style amenities. Rossmoor features numerous home options from condominiums to single-family homes, and even congregate living. Residents at Rossmoor can expect to be around lush greenspace, scenic views, and well-kept neighborhoods. Homeowners have access to amenities such as tennis courts and golf courses, while being near medical centers and community bus services.
Median Home Sale Price: $1,350,000
Last but not least is the residential community of Greater Wilshire Hancock Park, located in the heart of Los Angeles' Hancock Park neighborhood. This MPC boasts spacious mansions in Tudor and Italian-Revival style. Residents can enjoy a walk-friendly neighborhood close to the charming Larchmont Boulevard, which provides shopping and dining options.