National Local Life
What It's Like Living in Cabbagetown, Atlanta
Cabbagetown is a historic Atlanta neighborhood, originally built in the late 1800s to support the development of the South's first textile processing mill. It remained an industrial, working-class neighborhood for decades. Gradually, it's transitioned to one of the hippest neighborhoods in Atlanta. It's known for its bohemian sensibility, close community, charming craftsman homes and bungalows, creative residents, casual dining, and whimsical street art.
Cabbagetown has a distinct look, vibe, and culture that fosters a community of residents proud to call it home, but it's also a hot destination for visitors. Get a feel for what it's like to live in this quirky Atlanta enclave.
Read more:
Cabbagetown History
German-Jewish immigrant Jacob Elsas spearheaded the construction of the Fulton Bag and Cotton Mills starting in 1881, and subsequently the homes and community surrounding it, which ultimately established the Cabbagetown neighborhood. Back then, and for many years after, Cabbagetown was populated by the families who relocated to work at The Mill. They lived in humble, one- and two-story shotgun and cottage-style homes.
The Mill itself was added to the National Historic Register in 1976 and still stands with its original exterior intact—a preserved piece of Atlanta's industrial history. After The Mill shut down in 1977, the city pooled funding from several organizations to convert the historic building into residential lofts, now known as the Fulton Cotton Mill Lofts.
Cabbagetown Restaurants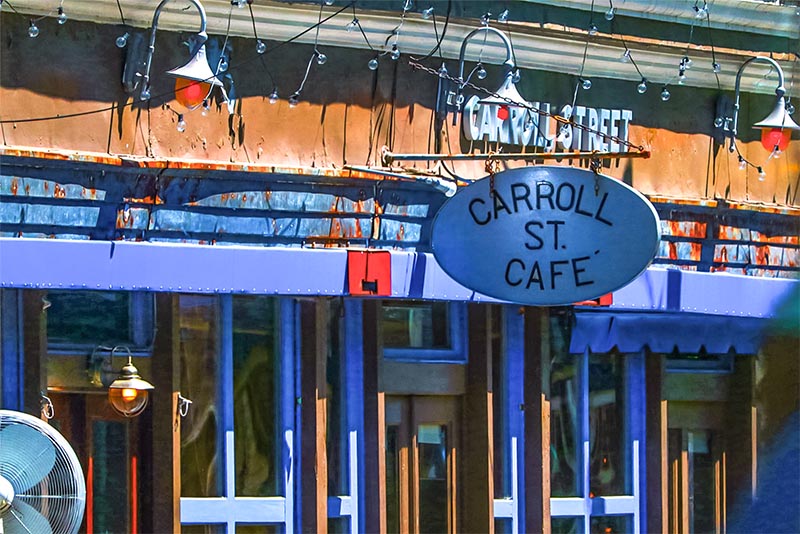 Cabbagetown boasts a collection of casual dining gems with a variety of tasty food and strong neighborhood vibes. Carroll Street Cafe is a longtime Cabbagetown favorite, serving European-inspired dishes and small plates in a relaxed setting. Agave is another Cabbagetown destination with a loyal following, featuring a Southwestern menu and an extensive margarita and tequila selection.
Petit Chou is one of the best breakfast spots in Atlanta, with must-try Belgian waffles and a variety of breakfast toasts, biscuits, and pastries. Sweet Cheats is located right on the edge of Cabbagetown Park, and it's the place for a great cup of coffee and a variety of bakery treats, from cupcakes to macarons, cruffles (their version of cake pops), brownies, and more.
Located on the Carroll Street corridor, JenChan's is one of the newer restaurants to grace Cabbagetown, serving a unique combination of Asian and Italian-influenced cuisine. They also offer a Supper Club, which is their prepared meal delivery service.
Little's Food Store is for those in-the-know ATLiens. This unassuming Cabbagetown bodega has everyday provisions, beer, wine, and cranks out some delicious burgers, hot dogs, and deli sandwiches.
Chomp and Stomp
One of the most sought-after events every year in Atlanta is Cabbagetown's signature festival, Chomp and Stomp. It's the ultimate fall fest with a 5K run, an amateur and professional chili cookoff, lots of beer, and live music on multiple stages. Chomp and Stomp also provides a great opportunity for attendees to shop for local art and crafts from the many local artists' booths.
This is one of the most fun events of the year for all ages, and proceeds from Chomp and Stomp go towards preserving and maintaining the parks and greenspaces in Cabbagetown. Chomp and Stomp is taking the 2020 year off due to the COVID-19 pandemic, but it intends to return in all its glory in November 2021.
Cabbagetown Street Art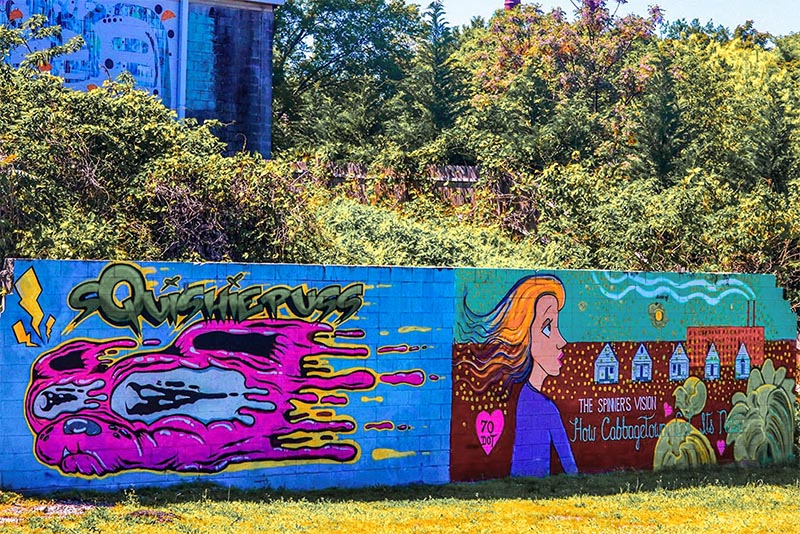 Cabbagetown has a history of attracting artistic residents, including photographer Raymond Herbert, a.k.a. Panorama Ray, who had a studio on Carroll Street before his death in 1997. The influx of this artistic community to Cabbagetown after The Mill closed down sparked a wave of new businesses, bars, and restaurants, bringing new life to the neighborhood. Over the past decade or so, Cabbagetown has become a popular place to live for film industry workers as well.
On the edge of the neighborhood is the famous Krog Street Tunnel, which connects Cabbagetown to Inman Park. It's treated like a public canvas for street artists who can be seen painting in and around it at all hours of every day. The Tunnel gets a lot of foot traffic, as it has a designated pedestrian path on either side and connects to one of the most popular parts of the BeltLine.
Read more:
Cabbagetown Real Estate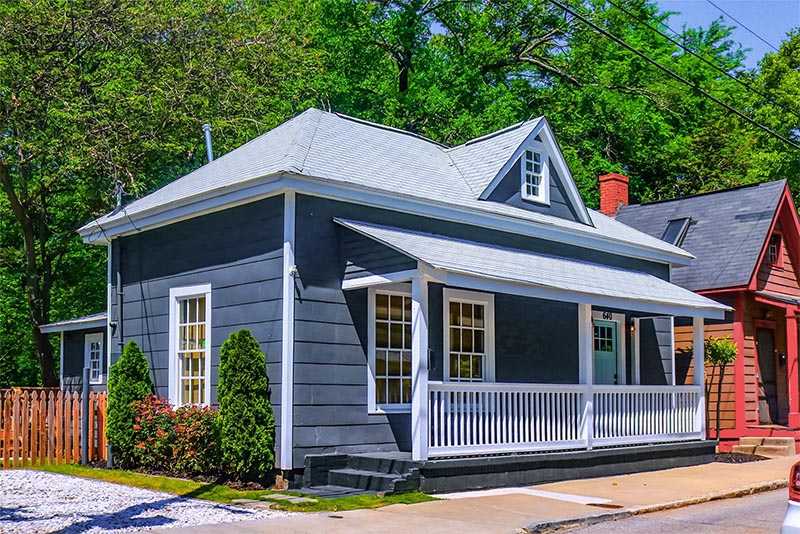 Cabbagetown is primarily made up of one- and two-story single-family bungalows and cottages with one to four bedrooms. The current median sale price according to neighborhoods.com is in the low $400s.
The signature residential building of the neighborhood—The Fulton Cotton Mill Lofts—is an industrial-chic building with studio, one-, and two-bedroom lofts available to rent or buy. The community has built-in amenities like a pool and fitness center. The historic building has been featured in several films and was the temporary home of the "Queer Eye" cast during their season filming in Atlanta.
Cabbagetown is in a prime location in Intown Atlanta, adjacent to desirable, vibrant neighborhoods like Inman Park, Grant Park, and Reynoldstown. It's a short drive from downtown Atlanta and within walking distance of plenty of bars, restaurants, and the BeltLine. It's family-friendly while also being a hot destination for millennials on the hunt for cool restaurants and street art.