What It's Like Living in Cinco Ranch, Katy
What It's Like Living in Cinco Ranch, Katy
Prospective homeowners considering master-planned communities (MPCs) have a lot to choose from in Houston. North of the city, The Woodlands, founded in 1974, is one of Houston's original MPCs. The suburbs of Cypress, Pearland, and Sugar Land also offer a variety of developments. In Katy, Cinco Ranch is a stand out option−even earning national recognition as one of the top-selling MPCs of the decade.
Cinco Ranch, established in 1991 by Newland Communities, takes its name from the five ranching families who sold their land for what's become an 8,092-acre community with 15,098 homes. The combination of family-friendly features, resort-style amenities, and nearby retail and restaurants attracts residents who want community and convenience.
Cinco Ranch Real Estate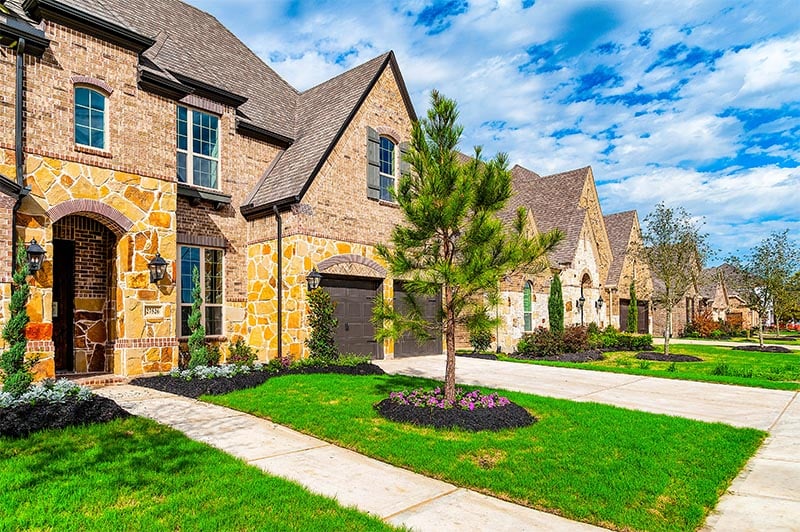 Cinco Ranch is known for its affordable homes, where square foot dollars stretch much further than the inner loop of Houston. Families looking for large lots with two to three bedrooms can find homes starting in the high $100s with a median sale price in the mid $300s. However, million-dollar mansions and grand estates featuring backyard pools and putting greens are also on the market. Gated neighborhoods also exist within Cinco Ranch, like the Enclave at Ridgefield Heights, developed by Toll Brothers.
Two homeowner associations (HOAs) serve Cinco Ranch's pocket neighborhoods with Katy-Gaston Road acting as the dividing line between Cinco I on the east and Cinco II, the newer addition, on the west. Amenities like parks, pools, and tennis courts are shared by both communities, as well as a traditional architectural aesthetic from a variety of reputable builders. Curb appeal can be competitive with Cinco Ranch II holding Yard of the Month contests from April through October.
Single-family homes make up the majority of the real estate inventory, but townhomes are available in Cinco Ranch Southwest. Property taxes hover just below $9,000, with older homes in Cinco I averaging slightly less per year.
Family-Friendly Features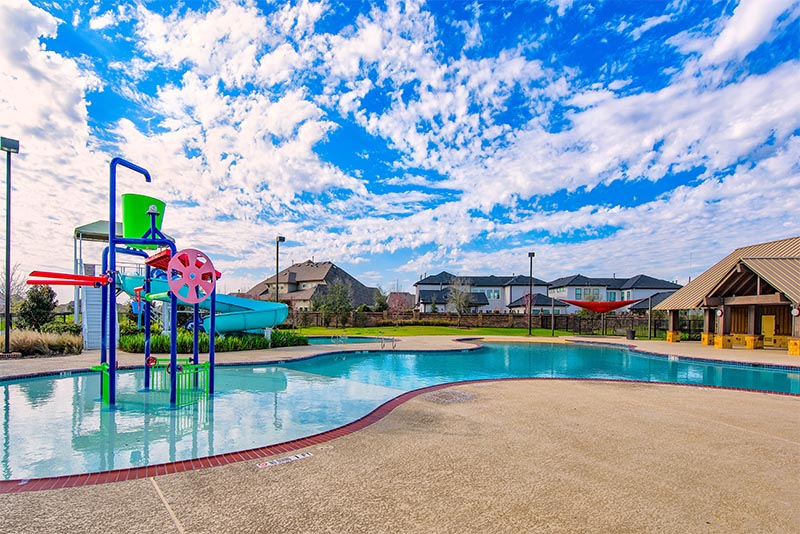 When relocating to Houston in 2013, Linda and Pete Ankner were looking for a neighborhood with spacious homes, top-notch schools, and a family-focused community that still offered the walkability they were accustomed to while living in a two-bedroom condo in Midtown, Atlanta. Cinco Ranch ticked all the boxes.
As a stay-at-home mom of a toddler, Linda could easily hop around the community's 63 pocket parks through the interconnected greenbelt trails to meet up for play dates with other young families. Now, the Ankner's six- and nine-year-old girls spend less time at the parks, but still enjoy the area's kid-focused amenities, such as the fishing ponds, swimming pools, tennis and basketball courts, soccer fields, and the Lake House's calendar of seasonal events, from summer camps to cookies with Santa.
The development's amenities also reflect the area's diversity, providing one of the few cricket pitches in the Houston area, which hosts the Katy Youth Cricket Club.
Having neighbors from all over the world is one of the things the Ankners love about living in Cinco Ranch. "It's been a positive experience for our kids. They benefit from going to school with classmates from different backgrounds who speak different languages; they come home curious," Linda says.
Where to Eat
The Cinco Ranch dining scene is as exciting and diverse as any of Houston's desirable inner-loop neighborhoods. Locals love LaCenterra, a mixed-use dining, shopping, and entertainment complex, for its variety of dining options and small-town, main street vibe. Denver import Snooze A.M. Eatery fills up quickly on the weekends as crowds crave their specialty pancakes. Take out from casual options like Dish Society and Torchy's Tacos are perfect for a picnic, while South African restaurant Peli and Perry's Steakhouse are popular for date nights.
The Ankners like to head to Katy Asian Town for dinner and movie nights, as their favorite cineplex shares the massive shopping center. Anchoring this concentration of restaurants is the South Korean grocery store, H-Mart, where you can pick up in-house specialty items like kimchi, noodles, and dumplings for a quick weeknight meal. Take a tour of Asian-Pacific cuisine with stops for Malaysian street food at Phat Eatery, ramen at Slurping Noodles, traditional Vietnamese dishes at Yummy Pho & Bo Ne, and "the world's best cream puffs" for dessert at the Japanese bakery Beard Papa's.
The area's numerous strip malls are a treasure trove of mom and pop restaurants that expand the suburb's worldly culinary tour. For instance, Sanskar serves an all-vegetarian menu of Maharashtrian specialties from India right next door to Roko Grill, a family-run restaurant serving Texas-sized hamburgers with South American flavors and toppings.
Getting Around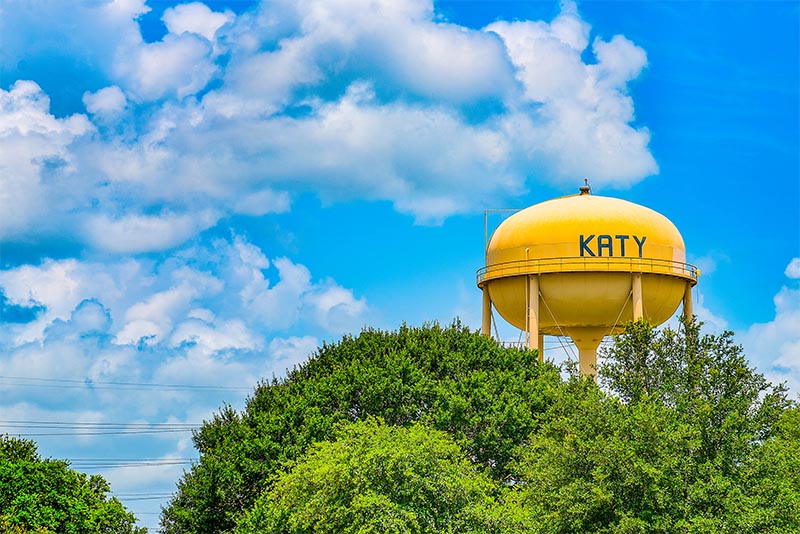 Cinco Ranch encompasses areas in both Harris and Fort Bend counties. Its location near I-10, Grand Parkway, and the Westpark Tollway make commuting a much easier drive, especially for homeowners who work in the Energy Corridor and the Texas Medical Center's West Campus. Linda's husband, Pete, avoids the freeways altogether and takes the back roads to his office in the Westchase area. For those heading Downtown, Metro's Grand Parkway Park and Ride provides an economical and car-free option for getting to work.
While the Cinco Ranch communities are quite walkable and bicycle-friendly for recreational purposes, residents opt to drive when running errands or heading to LaCenterra. Still, Cinco Ranch was designed so grocery stores, retail, and restaurants are in close proximity to the neighborhood−allowing for more quality time at home.