Los Angeles Local Life
Where to Experience Fall in Southern California
Many people often mistake Southern California as a region that doesn't have any seasons except summer. After all, the weather is consistently sunny for most of the year, and it's a hot spot for vacationers looking to relax by the beach. But believe it or not, Southern California is no stranger to fall and other cold-weather seasons, especially closer to mountain and lake areas. In some areas, visitors can even find places that get snow.
When the fall months arrive, the weather does indeed become a little cooler, and some trees change from green to yellow, red, or orange. In fact, there are several beautiful areas to go visit if you're looking for that quintessential fall experience. Before splurging on trips to the East Coast, here are some of SoCal's top destinations to visit if you want to experience fall in California.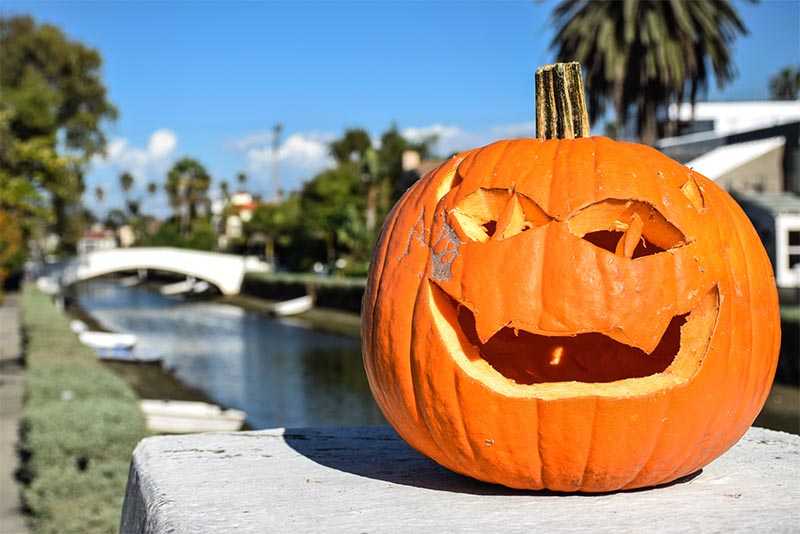 South of the San Gabriel Mountains and Angeles National Forest is the beautiful, peaceful suburb La Canada Flintridge. Newcomers to La Canada Flintridge enjoy the city's family-friendly, small-town vibes, but the show-stopper in this low-key city is definitely its scenic views of nature and greenery.
One of the city's most popular attractions is Descanso Gardens, a botanical retreat filled with lush gardens and floral collections. Head towards these gardens between October and December and you'll be sure to see a fall colorful garden, along with the attraction's seasonal pumpkin house, wooden jack-o-lanterns, pumpkin arches, and pumpkin mandalas.
The 1,492-square-foot recreational hotspot Whittier Narrows features flat and winding dirt trails, walking paths, lively birds, and a serene lake—all of which are surrounded by a variety of tall trees. Not only are visitors likely to see some of the recreation area's changing foliage towards the end of the year, but they also have a wide range of activities they can participate in, including fishing, golfing, boat rentals, barbequing, athletic courts, and tram tours.
If mountains and charming small-town communities are your groove, make your way towards the unincorporated city of Idyllwild, a forest community situated within the San Jacinto Mountains in Riverside County. This tranquil little area has kept its family-friendly and small-town atmosphere throughout the years thanks to its secluded location in the mountains.
It's also blanketed by tall pine trees and fragrant cedars that produce bright and vibrant colors in the autumn season. This community is one of the few cities in Southern California near Los Angeles that actually have regular seasons in the year.
Who says that fall can't happen with a beach nearby? Although the glamorous beachfront city of Malibu is well-adored for its hidden beaches and luxury, it's also home to the popular local hiking destination Malibu Creek State Park. The park is covered by greenery and trees, and for avid adventurers, this park has several small creeks for swimming. Like many SoCal areas with an abundance of trees, water, and wildlife, Malibu Creek State Park features some of the most breathtaking fall views during the end of the year.
Located a little further from San Diego is the mountain town community of Julian—it's also a census-designated place and historical landmark in California. The endearing village-like town features an exuberant tree-lined backdrop.
Although Julian is known in history as a prominent mining town, it has now become famous for its annual apple harvest and apple pie. The town of Julian is also one of the best spots to go apple-picking around San Diego. This is another location that defies the summer-only stereotype of Southern California; it's a town that experiences all four seasons.
For those who are looking for a vacation getaway and mountain lake escape that will also allow you to come across the red, orange, and yellow hues of the fall, take a trip to Big Bear Lake—where fall is so special that it's called "Falltacular Season." Located in the Southern California city of Big Bear, which is about a hundred miles northeast of LA, this site is one of the more popular weekend escapes among both visitors and locals. Although this attraction is also adjacent to a snow-filled ski resort on Big Bear Mountain, Big Bear Lake is surrounded by the San Bernardino National Forest and its rich and thriving trees and greenery.