Los Angeles Real Estate
4 LA Neighborhoods That Feel Like Suburbs
Los Angeles might be an active city, but that doesn't mean there's a lack of neighborhoods that offer homeowners a suburban feel. Believe it or not, LA is a lot bigger than you might think—spanning approximately 503 square miles with over 80 neighborhoods. That's nearly twice the size of New York City and almost triple the size of Chicago.
So while there are plenty of urban neighborhoods in LA that are fast-paced, filled with tall buildings and tourists, and brimming with nightlife, there are also many areas where locals can feel as if they're not in the city at all.
For those who are looking to retreat from the noise of the city while technically still living in it, here are four LA neighborhoods that feel like suburbs.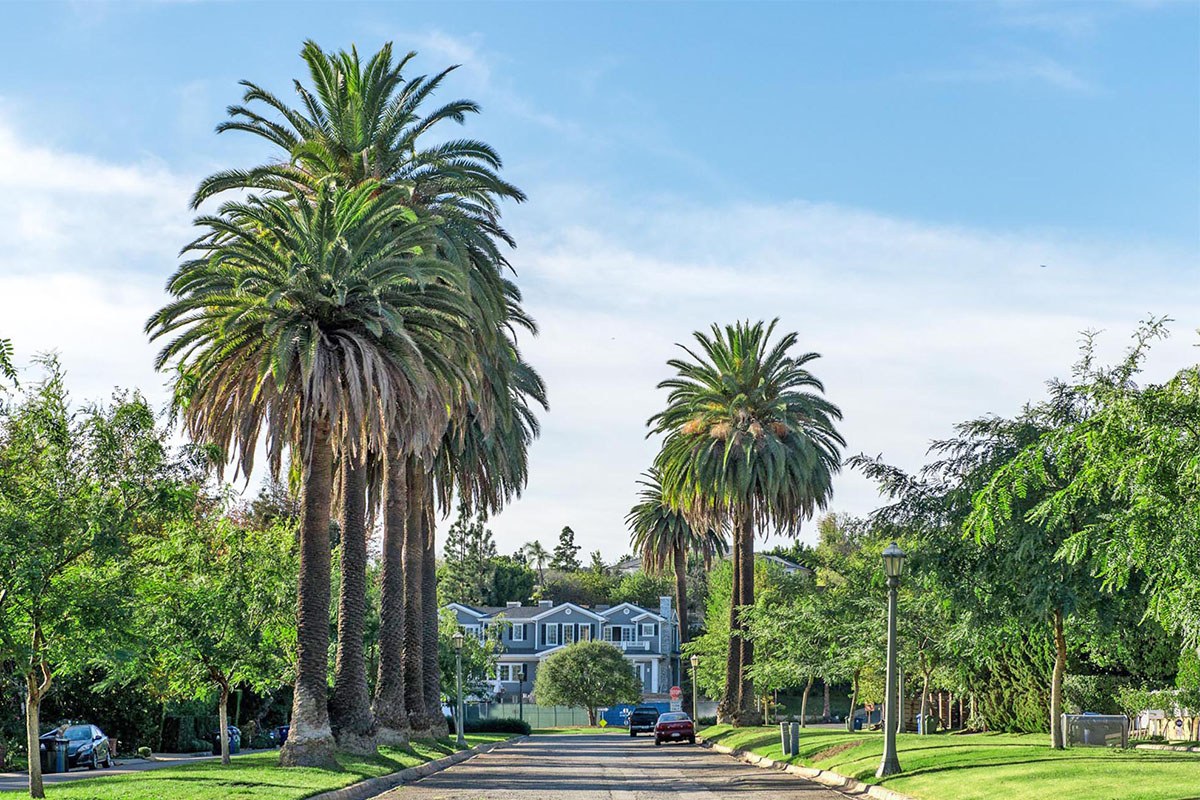 Quietly sandwiched between the upscale Westside neighborhoods of Bel-Air, Pacific Palisades, and Westwood is the family-friendly and affluent community of Brentwood. With tree-lined streets, lush green parks, and kid-friendly amenities, the Brentwood neighborhood is definitely suburbia in the middle of the city.
Because residents have a variety of dining options, cultural attractions, and homes showcasing unique architectural styles at their fingertips, Brentwood is considered one of LA's best neighborhoods for newcomers, and both single homeowners, as well as those with children, can enjoy living in this neighborhood.
Due to Brentwood's close-knit community, reputable public and private schools, and the multitude of amenities and shops, this neighborhood is a top choice for potential homeowners looking to live in a city neighborhood with a more suburban vibe. According to neighborhoods.com data, the median sale price in Brentwood is just under $2 million, and homes range in price from the low $600s to a whopping $55 million.
Toward central Los Angeles, smack dab in the middle of the city, is the unassuming but highly sought-after neighborhood of Hancock Park. The low-key neighborhood is tucked between the urban communities of Koreatown, Mid-Wilshire, and East Hollywood—all of which are busy areas that experience lots of noise and congestion.
However, because Hancock Park is a bit isolated from the main action of the city, residents living in the neighborhood enjoy a laid-back and tranquil suburban atmosphere, while being within walking distance away from a metropolitan lifestyle.
Although Hancock Park can hang with the likes of other affluent neighborhoods like Beverly Hills or Hollywood Hills, it exudes a more modest, family-friendly vibe versus being blatantly extravagant and ritzy. It's considered one of the best family-friendly neighborhoods in LA.
Because the neighborhood is so close-knit, there's never a shortage of kid-friendly events happening every weekend, whether it's at a nearby museum, school, or the local farmers market. The median sale price of a home in Hancock Park is approximately $1.9 million.
Cheviot Hills is a hillside residential neighborhood in the Westside of Los Angeles, bordered by Beverly Hills, Westwood, and Century City. It is a popular neighborhood that's known for its suburban feel and proximity to both recreation and major entertainment studios. In fact, it looks like such a stereotypical suburb that it's often used as a filming location for movies and television shows—many people might recognize it as the location of the popular ABC show "Modern Family."
The laidback community has plenty of family-friendly amenities, such as recreational parks and shopping malls, and it also boasts approximately 1,400 single-family homes. Residents in the neighborhood have easy access to athletic fields as well, whether it's tennis courts, baseball diamonds, basketball, or volleyball courts.
Due to all the development happening in surrounding neighborhoods like Century City and Westwood, the quiet Cheviot Hills community is poised to become the next highly desirable neighborhood in the Westside. Homes in this neighborhood have a median sale price of approximately $2.4 million.
Last but not least, Beverlywood, yet another Westside community, is a great option for potential homeowners to look at if they're searching for an area to live in LA that features suburban living. It sits between Pico-Robertson, Mid-City, and Palms.
This neighborhood also sits adjacent to the ever-popular city of Beverly Hills, and although it's not too far away from it, the prices are much more affordable. Despite having similar amenities and perks that Beverly Hills offers, many potential residents actually prefer living in the understated Beverlywood community. Residents are especially stringent on fighting major development, and so far, it has successfully kept big developers from building in the area.
Streets in Beverlywood are pristine, with sidewalks lined with palm trees, and it's also filled with both modern and historic single-family homes. Beverlywood residents enjoy having access to some of the city's best recreational parks, easy access to the I-10 freeway, and proximity to the latest restaurants. The median sale price of a home in this neighborhood is nearly $2.5 million, with prices steadily on the rise.