National Local Life
5 Family-Friendly Neighborhoods in Atlanta
Just because you currently have a family or you're planning on having one doesn't mean you're destined for the suburbs—at least not in Atlanta. While there are plenty of tame, family-friendly suburbs surrounding the city, there are also many in-town and slightly-not-so in-town Atlanta neighborhoods ideal for those who don't want to give up the city life but still want the best for their little ones.
With family-oriented communities and activities, great school options, and day-to-day conveniences—plus plenty of things to keep the adults entertained—these are some of the best neighborhoods in Atlanta that will keep both kids and parents happy.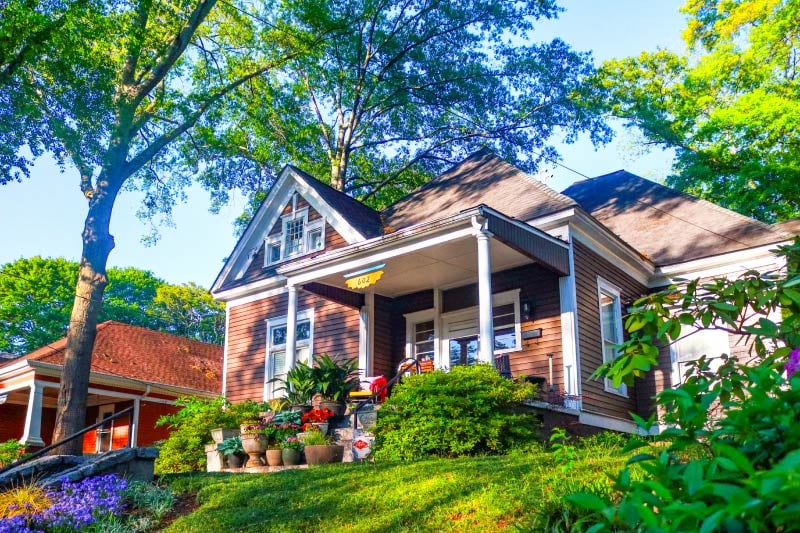 Median home sale price: $456,280
Located in eastern Atlanta, Grant Park is a charming neighborhood with cute bungalows and cottages adorned with their very own signature address signs. This neighborhood is very friendly with a strong sense of community.
Grant Park itself is Atlanta's oldest park, and it's a great source of greenspace and outdoor activities, including arguably the best local farmers market on Sundays as well as the Atlanta Zoo. Every August, residents look forward to the Summer Shade Festival in Grant Park which features live music, an art market, food tents, kids activities, a 5k run, and more.
The Beacon is a new retail area located just off of the newly opened Eastside Trail of the BeltLine; it includes local restaurants, a football-bowling hybrid bar, fitness studios, an artist workspace and gallery, a music school, and a brewery as well as plenty of shops. Other neighborhood restaurant favorites include Tin Lizzy's Cantina, Six Feet Under Pub & Fish House, and Grindhouse Killer Burgers.
Grant Park has become more expensive over the years, but it's still much more affordable than neighborhoods like Inman Park, Ansley Park, Midtown, and Buckhead.
Best Family-Friendly Activity: Zoo Atlanta
Situated in Grant Park is Atlanta's zoo, which, besides its variety of animals in spacious habitats, includes a few rides and a rope-ladder course. Don't miss the giant pandas and the zoo's LEED Gold-certified reptile and amphibian complex.
Median home sale price: $535,000
Candler Park has the look and feel of somewhere you'd want to grow up. This mostly residential neighborhood charms residents with its tree-lined streets, adorable houses, and high walkability with plenty of shops, restaurants, and cafes sprinkled throughout.
Some of Candler Park's family-friendly restaurants include the Flying Biscuit, Fellini's Pizza, Fox Brothers Bar-B-Q, and Dr. Bombay's Underwater Tea Party—the latter of which begs a visit just for the name alone. Lazy Betty offers a fine-dining option in Candler Park with a tasting menu of elevated small plates, adding to Atlanta's impressive upscale dining repertoire.
Best Family-Friendly Activity: Candler Park
The neighborhood's namesake park is a peaceful oasis with pavilions and playgrounds that beckon kids and families outdoors. In the spring and summer, the park hosts an outdoor movie series and the Candler Park Music Festival during the first weekend of June—both prime opportunities for fun family outings.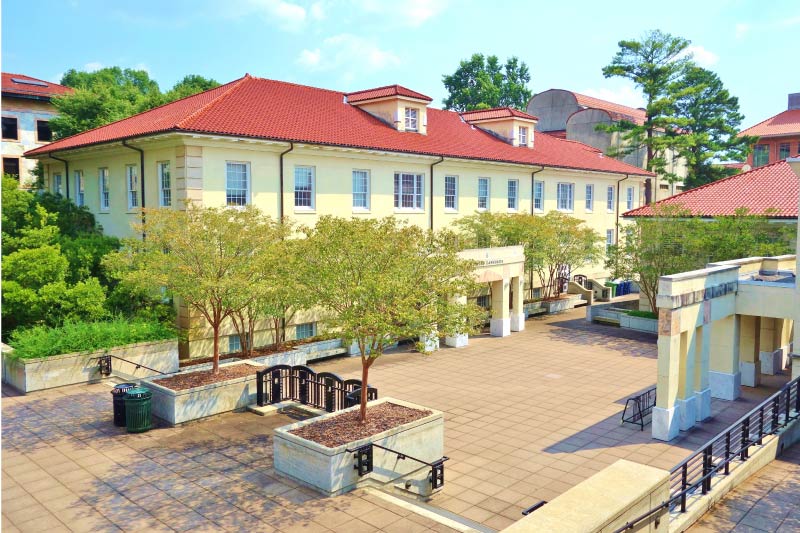 Median Home Sale Price: $615,000
Druid Hills, like a lot of other enchanting neighborhoods in Atlanta, is full of large trees whose branches cascade over many little winding streets. It's a lovely residential area with grand houses and mansions in the Tudor and Italian Renaissance style. Residents enjoy tending to their beautiful gardens as well as walking and jogging through the neighborhood.
One of the draws of Druid Hills for families is the access to high-quality schools, including Druid Hills Middle School, Inman Middle School, Druid Hills High School, and Grady High School. Both Druid Hills Middle School and Druid Hills High School offer immersive international programs.
Another highlight of Druid Hills is its location near many employment centers and things to do. The neighborhood is home to Emory University and Emory Hospital, the Emory Village commercial center, the Centers for Disease Control (CDC) headquarters, and Callanwolde Fine Arts Center.
Best Family-Friendly Activity: Fernbank
This kid-popular museum offers hands-on experiences to educate visitors in natural history, STEM, and the geography of Georgia. Highlights include outdoor exhibits in Fernbank Forest, dinosaur skeletons, and a 3D theater.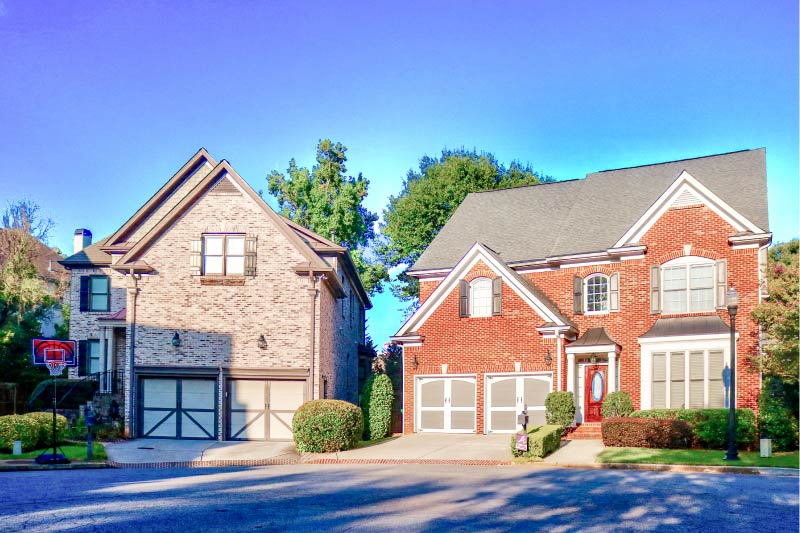 Median Home Sale Price: $564,100
Decatur is its own little city with its own government, but it's still inside the perimeter of Interstate 285 (or ITP as locals say) that outlines Atlanta, so it's still very much considered a part of the city.
Almost everywhere you look in Decatur, you'll find hip families with young kids alongside longtime neighborhood residents—Decatur is a place where you can lay down roots. This community has its own school district with some of the best public schools in the state, consistently ranking as one of the top 10 districts in the state for SAT performance.
In addition to the quality schools and its general loveliness, Decatur has fantastic restaurants, coffee shops, shopping, parks, annual festivals, and even MARTA access, making it a place that truly the whole family will love. Some of the excellent family-friendly restaurants include Farm Burger, Chai Pani, and Victory Sandwich Bar. Some of Atlanta's best restaurants more partial to adults are also in Decatur, like Kimball House, Leon's Full Service, and White Bull.
Best Family-Friendly Activity: The Comet Pub & Lanes
The remodeled 1950s-era bowling alley has vintage charm but with modern must-haves like craft beer and cocktails and TVs to watch sports. It's fun for the whole family.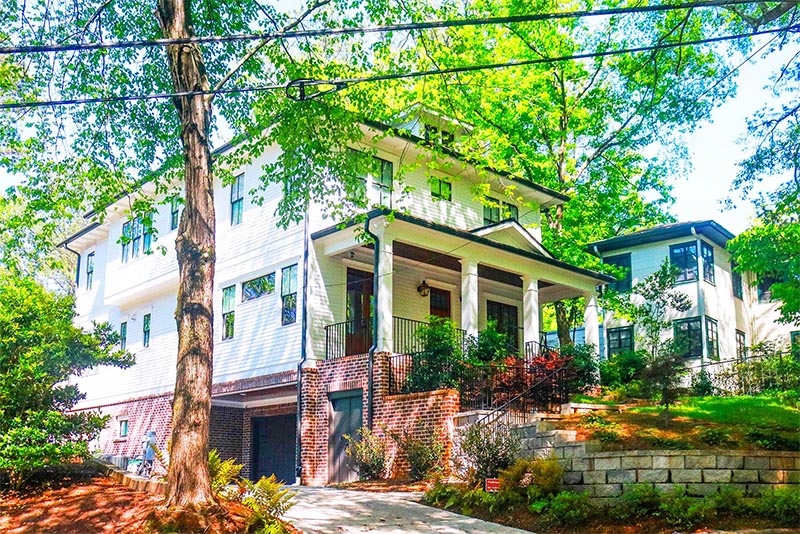 Median home sale price: $590,000
Pleasant is a word that often comes to mind when describing this neighborhood, which has home tour-worthy homes and commercial areas with cute local shops. With a Walk Score of 80, this neighborhood has the distinction of being very walkable in a car-centric city.
The homes here—eye-catching modern homes, charming bungalows, traditional brick homes, and more—and the neighborhood's walkable nature make strolls with the family enjoyable. Plus, the Eastside Trail of the BeltLine runs through the neighborhood. Residents are also in walking distance to the sprawling Piedmont Park.
The neighborhood is also accessible to several top-rated schools, including Inman Middle School, which has a GreatSchools rating of 8 and Morningside Elementary School, with a rating of 8.
Best Family-Friendly Activity: John Howell Memorial Park
This gem of a neighborhood park has a playground and a dog park for human and animal family members to run free. Visitors like that it's a respite between the more active parts of Virginia-Highland and the bustling Midtown. It also has a history: The park was named after John Howell, an activist who opposed building a freeway through the area who died fof complications from HIV.